Tired of winter yet? The Ridgid 18V cordless propane heater might be just what you need to send Jack Frost packing while you get to work! For most of us that live in colder climates, the cold and snow really grind our gears.
Heated jackets
are one thing, but when I want to heat a space, that's when I turn to a forced air propane heater and Ridgid's hybrid power option is enticing.
Pros
Runs on a Ridgid 18V battery or AC power
Electric ignition
Runs quietly
Excellent runtime
Excellent value at $129
Cons
Recommendation
This Ridgid 18V cordless propane heater is effective in areas up to 1350 square feet. The battery convenience is great, but you might want to switch to AC power when you're running at its full 60,000 BTUs.
Feature Set
In the Box
As a bare tool. you'll get the Ridgid 18V cordless propane heater and a 15-foot propane hose with regulator. The propane and power source are on you.
Hybrid Power Source
When Ridgid designed this heater, they did it right by making it a hybrid. This means the heater can be powered by either an 18V battery or by just plugging it in using an extension cord.
If you're new to this kind of heater and wonder why it needs power when it runs on propane, it's to run a fan. This belongs to a class called forced air heaters, and the fan is what forces the heated air out.
Ignition
Starting the heater is simple with its electric ignition. Just set the propane tank away from the heater, open the tank, hold the button down for 5 seconds, and it's alive!
Pro Tip: If the heater doesn't light within ten seconds, turn off the propane valve and let it rest for 10 minutes before trying again to avoid igniting the lingering gas around you.
Propane Fuel
Most heaters in this class will run on either propane or kerosene. Kerosene is strong on the heat side, but propane burns cleaner, is usually easier to get, and is less expensive.
Pro Tip: The Ridgid 18V cordless propane heater comes with a 15-foot hose. Use it to put plenty of distance between the heater and the tank.
Additional Features
Performance
BTU's and Runtime
The Ridgid 18V cordless propane heater produces 60,000 BTU, which is awesome even for Canada. If that's too hot, you can adjust it between 30,000 and its 60,000-BTU top end.
For runtime, Ridgid says that the heater will last about 7 hours on a 5 Ah battery, which is pretty impressive. It's not a huge surprise considering how much runtime we see from their hybrid fan. A standard 20-pound propane tank will net you up to 12 hours of fuel.
In my testing, the heater came up a little short at 6 hours, 45 minutes on the battery and a little shy of 12 hours from a 20-pound propane tank. That's still solid and keep in mind that the temperature does affect lithium-ion batteries.
That's on low, though. It's not cold enough here to need all 60,000 BTUs yet, but I have been using it at 45,000 quite a bit. With a 6 Ah Octane battery, I'm averaging 4 hours, 15 minutes on the battery and just under 9 hours on the propane.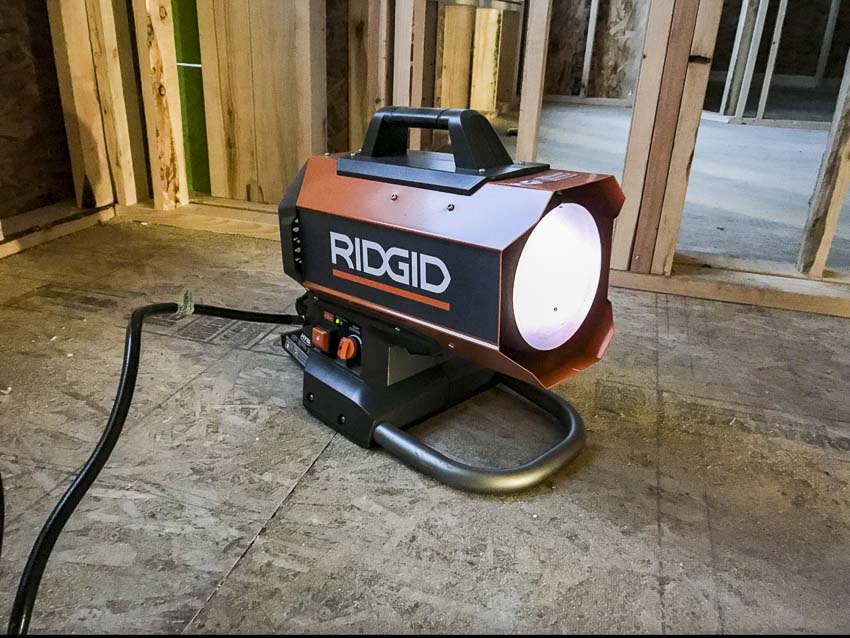 Talking to other Pros that own the same heater, they say running it at its peak output transforms the heater from the equivalent of a Civic to a Hummer H1 in fuel efficiency.
Pro Tip: Unlike natural gas (methane), propane is HEAVIER than air. If there's a leak, the invisible gas will pool on the floor below it and will stay for a time. Add a flame to the mix and you have a problem.
Other Field Notes
The heater sits at an upward angle on its stand, which is fantastic. Propane heaters that shoot straight out are great for warming your legs. Getting the heat up to your core is much more important.
This angle is also more effective at heating the full space when you're working outdoors and don't have walls and a roof to contain heat.
The fan is very effective at pushing the air out and it's also fairly quiet. It just fades into background noise without driving you nuts.
Pro Tip: Never use a propane heater indoors unless it's specifically labeled as indoor-safe. They produce carbon monoxide gas that can kill you.
Price
At $129 US ($189 CAD), this Ridgid cordless heater is less expensive than its major rival from DeWalt. Their DXH70CFAV gives you 27,000 – 68,000 BTU, doesn't have an AC option, and will set you back $159 US ($219 CAD) as a bare tool.
Ridgid also has a kit for US customers with a 2.0 Ah battery and charger for $228. I'd really like to see that with a 5.0 Ah pack to give it a shot at running the entire workday.
If you're willing to give up the cordless convenience, you can get a corded model with similar BTUs around $100.
The Bottom Line
The brushless Ridgid 18V cordless propane heater has been excellent throughout my testing so far. I've seen some online complaints of it stopping after ignition, but it's not something I've had an issue with.
For about $30 more than a straight-up corded model, Ridgid gives you the option to run cordless when you're on a jobsite with no power. That's an upgrade worth taking at a better price than DeWalt can offer for a cordless-only unit.
Ridgid 18V Cordless Propane Heater Specifications
Model: Ridgid R860422B
Power Source: Ridgid 18V battery or AC
Fuel: Propane
Area Rating: 1350 square feet
Heat Rating: 30,000 – 60,000 BTU
Weight: 13.5 pounds
Estimated Battery Runtime: Up to 7 hours (5.0 Ah battery)
Estimated Tank Runtime: Up to 12 hours (20-pound tank)
Price: $129
Warranty: 3 years