Last Updated on July 11, 2023
Ryobi HP Brushless 10-Inch Cordless Miter Saw Increases Cordless Capacity
While Ryobi isn't new to the miter saw game, they have made some advances over the years to make their saws more competitive, including shifting into more capable cordless models. We've already had our hands on the latest 7 1/4-inch model. Now the Ryobi 10-inch cordless sliding miter saw is on deck with its 18V One+ HP Brushless badge.
Pros
Lightweight and portable
Pro-level cross cut capacity
Easy-to-read markings
Smooth bevel and miter adjustments
Solid locking miter detents
Cons
Rails aren't as smooth as some models
No bevel stops (markings for common angles are present)
Using The Ryobi 10-Inch Cordless Sliding Miter Saw
Accuracy
Even though miter saws are typically calibrated before they leave for distribution, they can get a little off during shipping. Always make sure you go through the miter saw calibration process with any new tool and give it a quick check each day.
Our model was close—only about 1/16-inch off. Once we got that sorted, we were off to the races. In a series of test cuts, we were able to create some nice, tight joints that we wouldn't have expected from Ryobi a few years ago.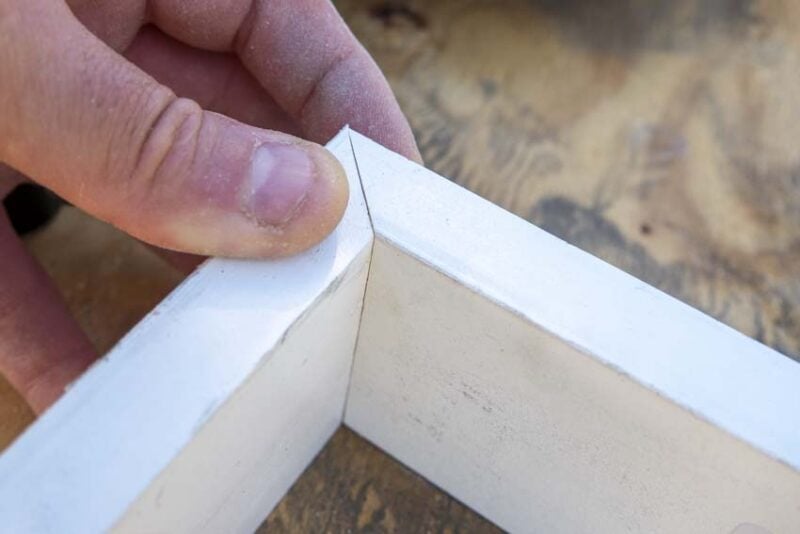 The saw miters to both sides up to 47° and has positive stops and all the standard angles with markings that are easy to read. The miter adjustment is a little stiff compared to some saws, but the action is nice and smooth and the detents lock confidently.
This is a single bevel saw with a max 45° angle and no stops. However, common angles have a marking.
Ryobi added a LED alignment aid to this saw to help improve cut accuracy. It casts a thin shadow of the blade teeth onto the workpiece and predicts the blade kerf on your cutline for making precision cuts. Between this style and a laser, we prefer the LED light.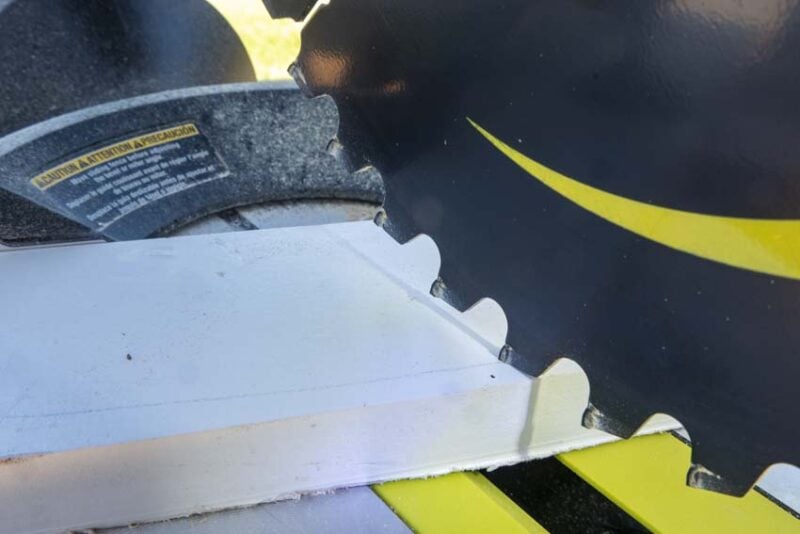 The light automatically clicks on when you pull the trigger and there's a momentary switch for when you want to kick it on without the trigger pull. When you're working in bright sunlight, the shadow can wash out. When that happens, turn the saw so you create a shadow over the workpiece and you're good to go.
Cut Capacity
The Ryobi 10-inch cordless sliding miter saw gets into Pro-level cut capacity. It's capable of making 90° cross cuts in both 2×12 and 4×6 materials. At a 45° bevel and on compound miter cuts, you can cut up to 2×8 lumber.
Similar to other sliding miter saws, Ryobi uses a dual-rail system to maneuver the saw back and forth. The sliding design provides maximum capacity for crosscuts up to 12 inches. The head unit is incredibly stable and there's very little play. As long as you don't push toward either side, the blade stays dead on over the entire length of the cut.
Power
While we primarily use miter saws for trim, we wanted to see how it performs on tougher cuts. The brushless motor spins the blade up to 4100 RPM. In 2x and 4x lumber, you definitely need to take your time. While it does have the capability to complete these cuts, it's a tough ask for this saw.
That said, there's more power than you might expect from an 18V miter saw, especially one that's not coming from a premium professional brand. Keep in mind Ryobi HP Brushless tools get the best performance from High Performance batteries and they're a must-have for this miter saw.
Runtime
Miter saw runtime numbers are relative since you're cutting so many different materials and sizes. That said, expect to make roughly 550 cross cuts in 2×4 on a 4.0Ah High Performance battery.
Ryobi 10-Inch Cordless Sliding Miter Saw Additional Highlights
D-handle with two-finger trigger

Two side handles and a top handle

1-1/4 in. dust port

Onboard wrench storage
Sliding fence
Trigger lock-out hole
Depth adjustment knob
Adjustable work clamp
35-pound bare weight is easy to transport
Ryobi 10-Inch Cordless Sliding Miter Saw Price
You can find the Ryobi 10-inch sliding compound miter saw at your local Home Depot for $349 as a bare tool or $399 as a kit which includes a 4.0Ah High Performance battery and charger. We definitely recommend paying the extra $50 for that battery and charger. Normally, the battery by itself is $119.
Ryobi warranties this saw for 3 years.
The Bottom Line
A $399 cordless miter saw kit is hard to ignore, especially with a 10-inch blade diameter. There are some fit and finish differences Pros will notice compared to premium models. Even though it's not Kapex-perfect, you can achieve excellent results and the Ryobi HP Brushless 10-inch cordless miter saw should be on your radar if you're a DIYer or value-focused Pro.
Ryobi 10-Inch Cordless Sliding Miter Saw Specifications
Model: Ryobi PBLMS01
Power Source: Ryobi 18V battery (High Performance battery highly recommended)
Arbor: 5/8 in.
Blade Size: 10 in.
No-Load Speed: 4100 RPM
Max Miter: 47°
Max Bevel: 45°
Weight: 35 lbs.
90° Cut Capacity: 2×12 or 4×8 nominal
Miter Stops: 0°, 15°, 22.5°, 31.6°, 45°
Warranty: 3-year
Price: $349 (bare tool), $399(kit)
To check out the full Ryobi 18V One+ lineup, click here