Dry Out 360° of Wet Floor Quickly Using AC or Battery Power
The P3330 Ryobi Floor Dryer Fan (or Hybrid Surface Dryer) brings a new level of safety and speed to drying up wet floors. And, with its ability to cut the cord, the new Ryobi Tools P3330 ramps up the convenience factor as well.
Who is the Ryobi Floor Dryer Fan For?
For small spills around the shop, or for when we need to dry up residual mop juice quickly, many of us will break out the trusty box fan. But, that particular situation is not ideal, as it can present a safety hazard or two. The Ryobi Surface Dryer improves upon that design with a form factor that emphasizes safety, convenience, and 360 degrees of airflow.
How might this surface dryer improve your life? Let us count the ways.
Hybrid Power
First of all, the Ryobi Hybrid Floor Dryer Fan runs on either AC power or the 18V One+ battery platform. We love how Ryobi places the outlet connection below the battery. You can't use both at the same time, so it's a great use of space.
By utilizing the cordless power supply (the battery), you effectively eliminate a trip hazard. You also avoid running an electrical cord through, or near, water. Plus, not having to horse around with an extension cord is always a plus. Still, if you need the cord—it's there.
As far as battery runtime goes, with the One+ 9.0Ah battery, Ryobi claims you can expect about 14 hours. Based on our experience, we can concur with that duration when using Low speed.
Secure Signage
Secondly, the Ryobi P3330 has a hook and loop strap that holds your "wet floor" signs in place on the dryer itself. Ostensibly, this would keep your sign from getting kicked over or otherwise moved to a place where it loses its ability to notify passersby that the floor is, indeed, wet. Of course, the floor dryer's mere presence should be all the warning someone would need—particularly with the included warning label.
Obviously, this feature won't see as much use in the home workshop setting. For instance, in our shop, we don't have enough foot traffic to justify owning a sign in the first place.
But, in places that see a lot of foot traffic, this is a great feature to have. It presents even more of a visual warning than Ryobi's Day-Glo green color scheme already does.
Quick-Dry Performance
Finally, the Ryobi Hybrid Floor Dryer Fan employs a bit of a unique design. It pulls air through the top of the fan and disperses it through the bottom in all directions. At a high setting of 300 CFM, you can dry out a lot of wet flooring quickly. Ryobi claims that the P3330 will work 4.5x faster than just air drying.
Ryobi hasn't posted any comparative performance results against the box fan, but we suspect that the P3330 will outperform it.
It is important to note what the P3330 is designed for and what it isn't. At a max setting of 300 CFM, it's not going to replace, say, a carpet dryer. But, it's not supposed to. With this type of power and design, you're really only looking to dry up things like post-mop wetness or a small spill.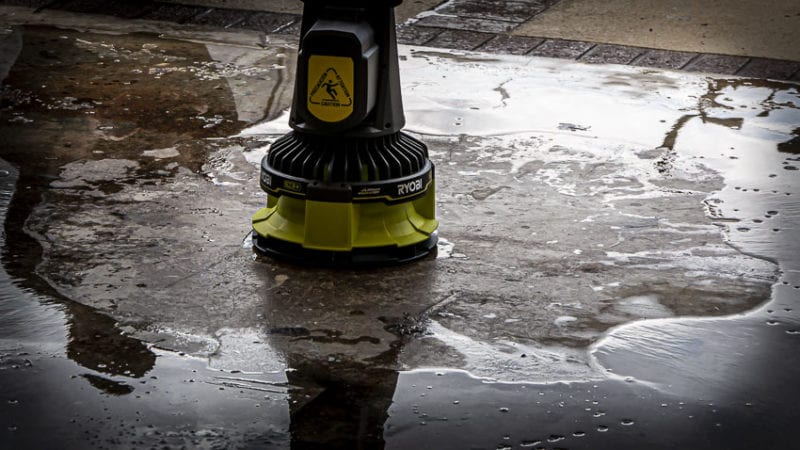 When we tested it on our concrete shop floor, we noticed that it could even dry standing water to a two-foot radius in all directions. It tended to push the excess water beyond that. Of course, you don't want to use this floor fan to dry out standing water. The true design is for drying a damp floor. We have no doubts that the Ryobi P3330 would handle that level of moistness with no problems.
Additional Points of Interest
Exceptionally Quiet: The Ryobi Hybrid Floor Dryer won't announce its presence audibly like a box fan. Ryobi states that, on the High setting, it reaches a max volume of 57 dB(A). We didn't measure its actual decibel level, but we did notice that holding a conversation while it ran was a complete non-issue.
Size: The Ryobi 3330 stands at about 17.5 in. high x 10 in. wide. At around 4.5 lbs, this dryer feels exceptionally portable.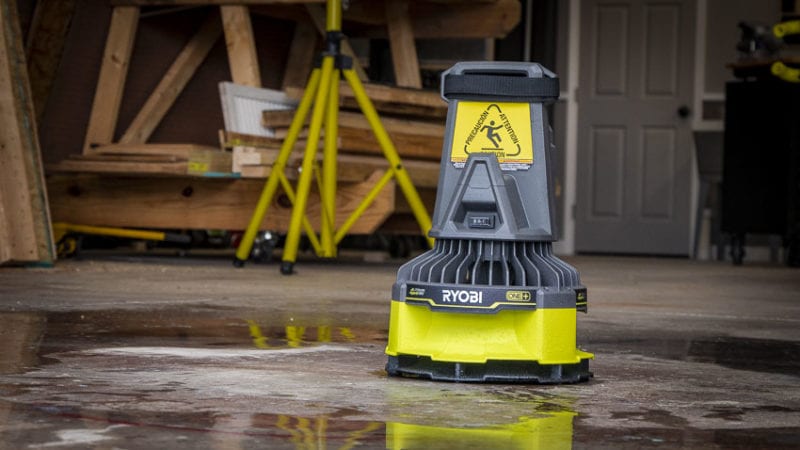 Ryobi Floor Dryer Fan Pricing
The Ryobi Hybrid Floor Dryer Fan runs $79.97 for the bare tool. It might also help to know that this price doesn't include a battery, charger, or power cable. If you plan to operate the P3330 from your outlet instead of using batteries you already own, be sure to pick up an extension cord.
Like all Ryobi tools, this one is exclusive to The Home Depot. Also like all Ryobi tools, the P3330 comes with a 3-year limited warranty.
Recommendation
The Ryobi Floor Dryer Fan handles damp conditions quickly, though it has its limitations. Buy if you'd find a lighter-duty, highly portable surface dryer helpful. Pass if what you really need is a carpet dryer or air cannon.
Ryobi Hybrid Floor Dryer Fan Specs
Model: P3330
Power Source: AC Cord or 18V One+ battery (neither included)
Low Speed: 200 CFM
High Speed: 300 CFM
Fan Diameter: 7.5 in.
Blade Material: Plastic (ABS)
Decibel Rating: 57 dBA
Warranty: 3-year limited warranty
Price: $79.97