Way back in 2009, Southwire acquired Maxis to expand its product offering and build upon the contractor-focused approach to tool development since, as Southwire said at the time, "great ideas come from the jobsite." Amen to that. One of those erstwhile Maxis tools to get Southwire's spin is the Max Punch Pro now known as the Southwire Max Punch XD Knockout Tool. It seems there have been some improvements on this already solid knockout, so let's take a closer look.
First Impressions
Main Body
Electricians have always had to punch holes in cans for wires to pass through but never has it been so easy. In the "old" days, our only choice was to use manual tools and, if you were lucky, they had a hydraulic assist. Today there are hydraulic knockouts that use battery power, but this Southwire knockout is a different animal altogether. It's gear driven, meaning it uses no fluid and requires no pumping to complete the knockout. You power the gear with any drill packing at least 550 inch-pounds of torque. A nut driver bit engages the knockout drive unit's chuck adapter. The beauty of the design is that there are no hoses or hydraulic fluid leaks down the road.
The main body of the tool is the drive unit that houses the gears and into which the threaded draw studs screw. Its form easily fits in the hand to allow a secure grip during the knockout. It seems a little bulky compared to all-in-one battery units, but not overly so.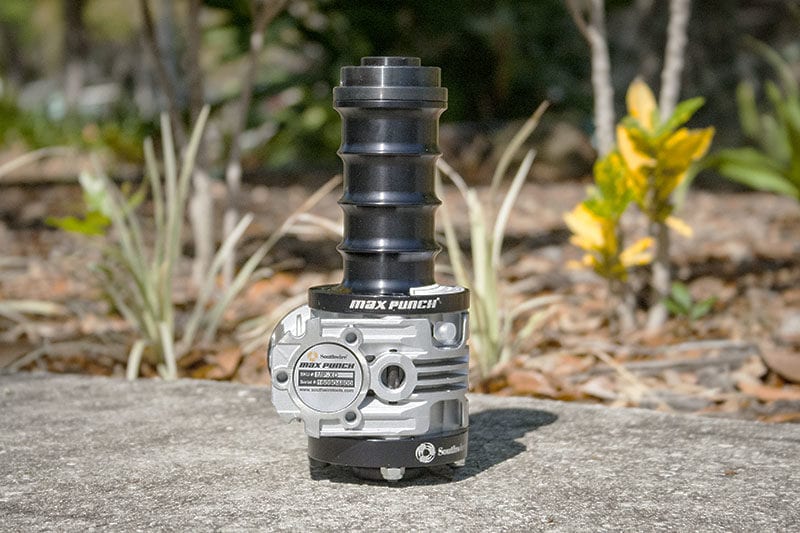 Accessories
The dies punch mild and stainless steel up to 10-gauge. No buying special stainless dies – Southwire scores extra points for that. The kit includes 1/2- to 2-inch dies, but you can purchase dies up to 4 inches (which we include in this review). A gold-colored step bit is included to drill pilot holes. And don't worry if the chuck adapter gets rounded and stripped – it's replaceable.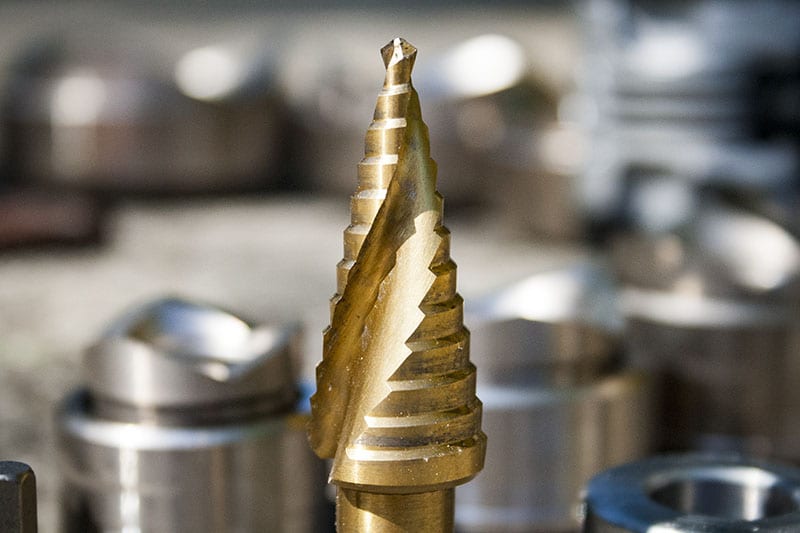 At first, I thought it was odd that Southwire uses separate cases: the drive unit and 1/2- to 2-inch dies in one, the 2-1/2- to 4-inch in another. After all, the Greenlee Intelli-Punch knockout tool which I've been partial to for the last few months came in one box. But just pick up the fully-loaded Greenlee box and compare its significant heft with the Southwire's drive unit box with smaller dies. Then remember you'll use 2-1/2- to 4-inch dies less often. It's a trade-off that your arms will appreciate.
Mike Tyson Never Had One Of These
If you've read any of my recent reviews, you know that I've been hard at work installing electrical service on a long-abandoned building that was gutted and completely refurbished into an event space near downtown. As you can imagine, the 800-amp meter bank required more than a few knockouts. It was tough to have a sub in for my Greenlee, but I wanted to give Southwire a shot at the big leagues.
How It Works
First things first: you have to have a pilot hole for the draw stud. You can use a hole saw, but that's really the step bit's job. I marked the first can and started the hole. The step bit chewed up the metal quickly and efficiently – and I found over the course of the review that there wasn't anything it couldn't handle.
From there, I threaded the appropriate draw stud into the drive unit, slid on the 1-inch cup, inserted the draw stud through the pilot hole, and fastened on the die. You'll need to change the draw stud for the 1/2-inch die or for the 2-1/2-inch and larger dies but that's simple.
The Southwire kit comes with a 7/16-inch nut driver for your drill, so I used that to engage the chuck adapter. About 12 seconds later, I had a perfectly shaped, burr-free hole in the can. The speed of the knockout is a function of your drill. Even at a high drill RPM, it isn't as fast as popular battery-powered knockouts, but it's still a heck of a lot faster than any hand pump or crank.
About that Adapter
The Southwire Max Punch XD Knockout Tool continued its exemplary work throughout the review. It cut big and little holes, all of them clean and neat. I really should underscore the usefulness of the replaceable chuck adapter:. If you use this a lot, the chuck adapter is going to get worn, and it's nice to know you don't have to send the whole thing back for repair.
Pro Tip: Keep the Southwire Max Punch XD Knockout Tool greased per Southwire's instructions to protect the gears in your investment.
Comparing Modern Methods
My Greenlee is noticeably quicker at punching a hole with less set-up, but there are trade-offs. Although the Greenlee's Makita battery is excellent, at some point it will need a charge. If you're not on the Makita 18V platform, it means you'll have to carry around a different charger.
The Max Punch XD works with the battery that powers your drill (or with a corded drill). Of course, your drill's battery might need a charge, too, but you're already used to carrying your platform's charger. You might certainly accept the trade-off of a slightly slower knockout when you consider you won't need a different charger.
The XD is also a few hundred dollars cheaper and has no hydraulic fluid that could theoretically leak. So there's your dilemma!
The Bottom Line
Powering the Southwire Max Punch XD Knockout Tool with my own drill is a bonus since there's no additional battery system to buy into. With dual-rated dies for 10-gauge mild and stainless steel ranging from 1/2 to 4 inches, it doesn't use a ratcheting mechanism or hydraulic fluid, so there's no chance of leaks.
From an ergonomic standpoint, the form fits my hand well, but it's not as sexy as the battery-powered units out there. The whole unit seems a little bulky, but that's the nature of these tools.
The XD's performance has been outstanding so far, leaving near perfect burr-free holes. The downside is that it's slower than battery-powered units. On the other hand, it's much faster than the hydraulic pumps of old.
Given the choice between the Southwire Max Punch XD and battery solutions, I'd take the battery. However, the XD comes in hundreds of dollars less expensive and more in line with hydraulic knockout prices. At roughly $1500, it's an excellent upgrade for electricians that aren't in a position to pull the trigger on the top solutions and may even save money over a hydraulic knockout.
Southwire Max Punch XD Knockout Tool Features
Drill operated
Three-point dies
Up to 4-inch knockouts in 10-gauge mild and stainless
Two-piece thread-in/thread-out removable draw studs (universal to fit most common KO dies)
Replaceable chuck adapter
Compatible with most industry standard dies
No hydraulics, no ratcheting, no mess
Minimum drill recommendations: 18v cordless, equivalent of 550 in. lbs. torque rated
Southwire Max Punch XD Knockout Tool Specifications
Model: Southwire MP-XD (drive unit only), Southwire MPXD-SD (kit)

As tested: stainless steel dies 1/2- to 4-inches (various item numbers)

Dies Included in kit: Six 1/2- to 2-inches
Minimum Drill Requirement: 550 inch-pounds of torque
Weight: 5.5 pounds
Height: 5 inches
Length: 11.5 inches
Width: 4.25 inches
Warranty: 5 years (1 year on dies)
Price: $1,632