Do advanced batteries really make that big of a difference? That's the question we're tackling in this standard vs advanced battery Pro Tool Reviews Thursday Throwdown!
Standard Vs Advanced Battery: What's the Difference?
In general, "standard" batteries use 18650 cells along with electronics packages and wiring that allows them to deliver solid power. Some of the numbers we see put them at about 800 watts of potential power output.
"Advanced" batteries use 20700 or 21700 cells and typically have advanced electronics, better cooling, and lower resistance wiring to allow much higher power output – as high as 1440 watts.
You can read more about Milwaukee's design for High Output advanced batteries in this article.
Milwaukee M18 Advanced Batteries: Get to Know Milwaukee High Output Packs
Standard Vs Advanced Battery Testing
Hammer Drill Testing: 2.0Ah Vs 3.0Ah High Output
Not all tools are designed to take advantage of the full power an advanced battery has to offer. We wanted to see if there's any advantage, so we grabbed our Gen 3 Milwaukee M18 Fuel hammer drill to run a few tests.
High-Speed Testing
To see what kind of speed difference you can expect in high-speed applications, we chucked up a Bosch Daredevil High-Speed Auger Bit followed by a Bosch Daredevil Spade Bit. Both are 1-inch bits with self-feeding threads on the front. Weaker drills might have to drop into low speed at this diameter, but more powerful premium models like the Milwaukee 2804 can run them in high easily.
We ran them through stacked and glued OSB subfloor layers. No, this isn't a standard real-world material sandwich, but it's a very consistent one. We don't have to worry about knots or density variance by using it.
Each result is an average of at least three tests.
1-Inch Auger Bit
Starting with the smooth-drilling auger bit, Milwaukee's compact 2.0Ah battery needed 5.30 seconds with individual tests ranging from 5.04 to 5.67 seconds.
The slim 3.0Ah High Output battery was a little quicker with a 4.92-second average. Its slowest run was 5.30 seconds and its fastest was 4.58 seconds. Overall, the High Output pack's advantage was 0.38 seconds – less than 10%.
Advanced Battery Advantage: 7.2% faster drilling
1-Inch Spade Bit
Using the rougher but faster-drilling spade bit, the gap widened a bit. The 2.0Ah pack's average of 4.44 seconds (4.35 – 4.53 range) was nearly 1/2 a second behind the High Output battery. It ranged from 3.84 to 4.10 seconds with an average of 3.96 seconds.
Advanced Battery Advantage: 10.8% faster drilling
Low-Speed Testing
For our low-speed testing, we switched over to a couple of sizes of Milwaukee Switchblade Self-Feed Bits. We also swapped the material, opting for a more real-world pair of untreated studs.
We paid close attention to inconsistencies, such as knots, and moved to avoid them. Realistically, the Milwaukee M18 Fuel hammer drill could make these holes in high speed, but we wanted to see what the low-speed effects were.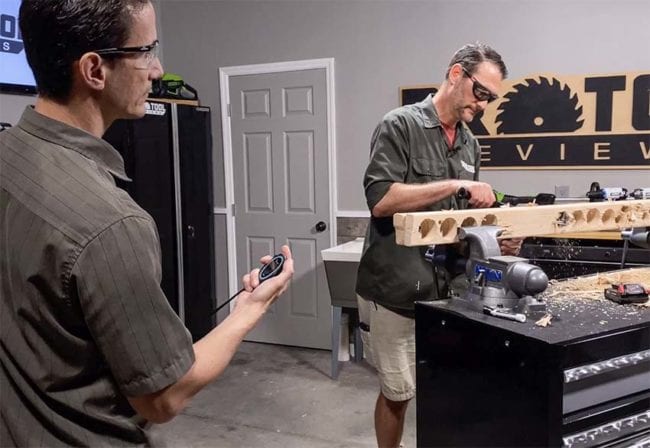 1 1/2-Inch Self-Feed Bit
Ranging from 11.49 seconds on the fast end to 12.64 seconds on the slow end, the 2.0Ah battery averaged 11.92 seconds. Again, the 3.0Ah HO battery was faster, driving its 11.83-second slowest test and 10.42-second fastest test to an 11.18-second average.
While the 0.74-second difference was the widest gap at this stage, the longer drilling times made it a closer result as a percentage.
Advanced Battery Advantage: 6.2% faster drilling
2 9/16-Inch Self-Feed Bit
Increasing the diameter to 2 9/16 inches didn't add too much overall drilling time to either battery. The 2.0Ah pack was 1 second slower on average (12.92 seconds), ranging from 12.50 seconds to 13.34 seconds.
There was less effect on the 3.0Ah High Output battery, though. Its average only changed by 0.02 seconds, moving to 11.20 seconds. Its fastest run was 10.95 seconds and its slowest was 11.47 seconds.
The overall advantage for the advanced battery was the highest here, sliding out well over 10%.
Advanced Battery Advantage: 13.3% faster drilling
Sawzall Testing: 9.0 High Demand Vs 12.0Ah High Output
Tools like the Milwaukee M18 Fuel Super Sawzall are specifically designed around the power of an advanced battery. With advanced batteries claiming as high as 60% more power than standard packs, we wanted to see how that translates into cutting speed.
As we switched tools, we also switched batteries. For this test, we decided to compare the 3P packs (15 cells each): the 9.0Ah High-Demand battery against the 12.0Ah High Output pack.
2 x 10 Nail-Embedded PT
Using a brand new Milwaukee Ax Carbide nail-embedded wood blade for each battery, we set up our standard reciprocating saw speed test. We shot five framing nails in the side of 2 x 10 pressure-treated pine and attached a 5-pound weight for consistent downforce.
We've done a lot of reciprocating saw testing and the 9.0Ah batteries 12.85-second average was nothing to shake a stick at (11.89 seconds to 13.74 seconds). But with the first cut using the 12.0Ah HO pack, we knew it was a much greater difference than we saw with the hammer drill.
The 12.0Ah pack averaged just 6.75 seconds with a slow cut of 7.13 seconds and a fast run of 6.51 seconds. The 6.10-second difference between the two batteries was nearly 50% faster for the advanced battery.
Advanced Battery Advantage: 47.5% faster cutting
Final Thoughts
Whether you're using a tool specifically designed for the power that advanced batteries offer or not, there's an advantage in using them over standard 18650 packs. On tools such as drills, the advantage may only be around 10%. If you can use an agreeably small advanced battery, why not take the advantage?
We might not go out of our way to buy an advanced battery for our 18V drills and impact drivers, but if we happen to get an advanced slim pack with another tool, we're absolutely going to use it in them.
With tools that are designed for advanced batteries, the difference between using one and a standard pack is massive. It makes them act like two completely different tools in our testing.
With these advanced tools, there's no point in spending the additional money on them unless you're going to pair them with the batteries that give them the best performance. Sure, you can use a standard battery to make the last couple of cuts in a pinch. We just wouldn't want to do that all the time.