We hang a lot of tools in our shop. Typically, we grab the traditional tool hangers available at Home Depot or Lowe's. Recently, however, we got a chance to look at some products from Tool Hangerz. That's not a typo, so be sure to spell it right when you look it up.
Pros
Lots of options to fit many tool types
Pegboard and direct-fasten styles
Free shipping when you order $25 or more
Cons
Fairly expensive for what you get
No hand tool holders
Not sold in kits
Recommendation
We like the build quality, options, and creative designs of the Tool Hangerz. While better and more flexible than most of the pegboard or direct-fasten hangers you'll find at your local home improvement warehouse, they do cost a bit more and focus primarily on power tools as opposed to an all-in-one solution.
Tool Hangerz – A New Hanger in Town
I'm simply not going to write a 900-word treatise on tool hangers. You use them. We use them. They're made of wire and hold your tools—either to pegboard or to plywood or some other material in your shop, shed, or garage.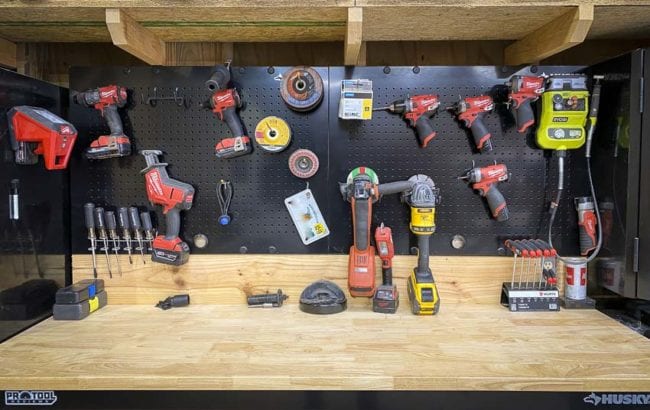 The trouble, as you see above, is that not many designs exist—at least not that we've come across. When Tool Hangerz offered to send us some of their tool hangers to check out, we gave them a hearty "yes" and had them sent them our shop.
Tool Hangerz operates under the guidance of Jordan and Hillary, a young couple who took over the business in October of 2018. These are American-made products they hope will work well for people ranging from DIYers, Pros, or even retailers looking to set up various display items in a storefront.
What Kind of Tool Hangers are Available?
While you can perhaps get something cheap at the local big box store to tackle a full-sized drill or some hand tools, Tool Hangerz expands their repertoire.
The company makes hangers for circular saws, jigsaws & batteries, large power tools, drills, nailers, sanders & routers, and more. Some of the hangers feature flat surfaces that you can set tools, accessories, or batteries on.
They also make these items in both pegboard style as well as direct-attach. For the latter, a simple large screw or screw/washer combo will affix it to any wood surface. We used a combination of Tool Hangerz products to redo our above "grab-and-go" tool wall that serves our Shop: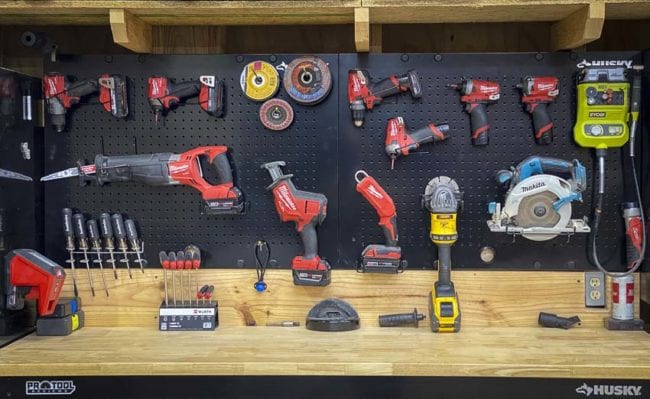 Of course, they also make locking J-hooks and other general utility hangers as well. Conspicuously absent are any hangers for hand tools like screwdrivers, pliers, and such. Instead, ToolHangerz focuses primarily on hanging power tools.
Here's a list of what's available (see the site—link below—for the full breakdown):
14-inch shelf
8-inch shelf
Battery/jigsaw holder
Circular saw hanger
Cradle/drill hanger
Large universal tool holder
Sander/router hanger
Small universal hanger
Vertical cordless drill holder
3-hook utility hanger
Locking J-hooks
Half-circle universal hanger (direct fasten only)
What Kinds of Tools Can I Use with Tool Hangerz?
You can hang any number of tools using the Tool Hangerz pegboard or direct-attach hangers. We tried out several, but these are a few of our favorite (things):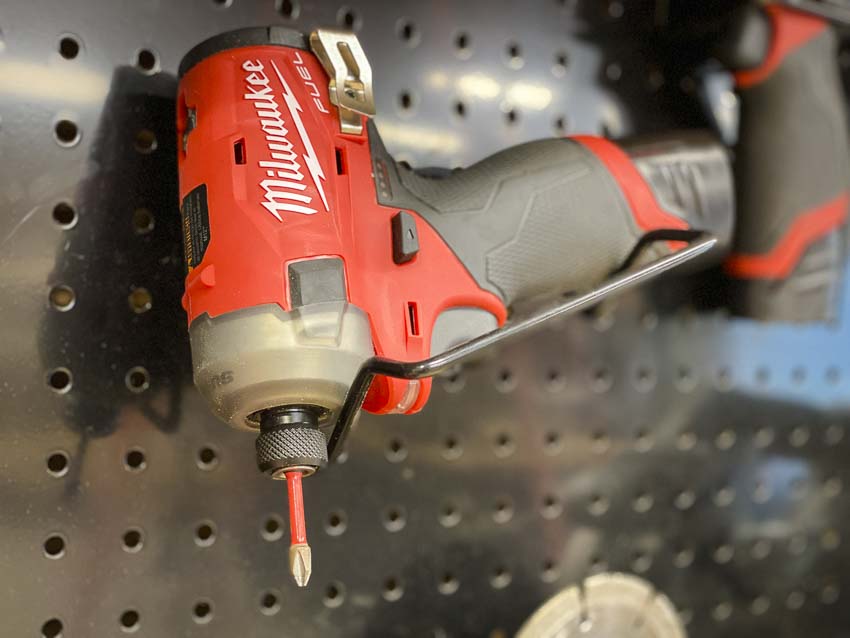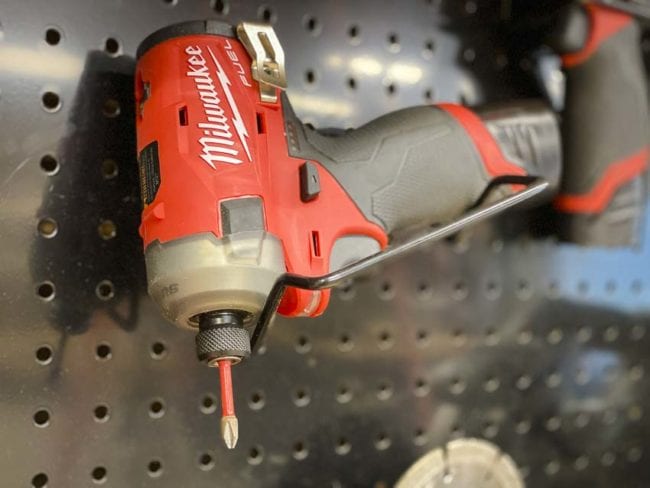 Everyone has drills. For the shop, you can just put them in a drawer. But, if you use them as frequently as we do, a cradle-style holder like this makes them easy to grab and replace.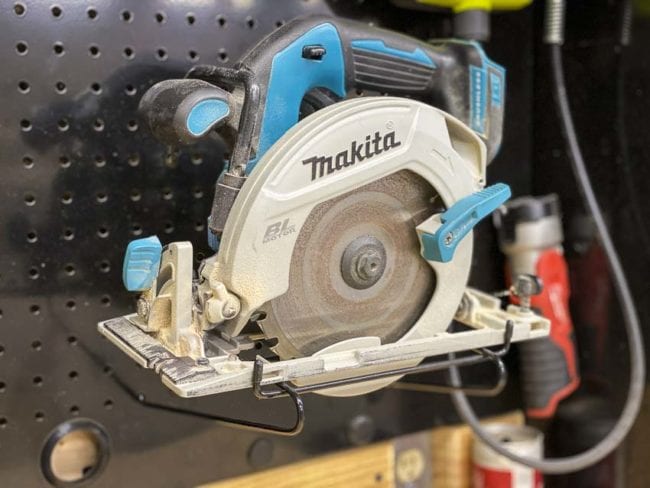 We were pleasantly surprised to find a way to easily store a circular saw on the wall. While not strong enough for rear-handle or larger circular daws, this Makita 18V brushless circular saw (one of our favorites) stores nicely.
Finally, we really like the large universal tool holder which lets us store a Milwaukee M18 FUEL HackZall right on the wall.
Conclusion
Whether you buy Tool Hangerz for hanging your tools on pegboard or other shop locations depends on your needs and budget. Compared to the $2 and $3 options at the home improvement warehouses, you should expect to pay a bit more. Still, Tool Hangerz fit our tools better—and a wider variety of them.
Perhaps the perfect solution is a combination of cheap hangers for what fits and Tool Hangerz for those tools that need a more specialized type of holder.
You can order Tool Hangerz online and get a 10% discount when you use the code PROTOOLREVIEWS (we may make a small commission when you do).
Shop with Code: PROTOOLREVIEWS