The iQ Power Tools iQMS362 is the world's first 16.5" dry cut masonry saw with integrated dust collection. Pro Tool Reviews checked out the iQTS244 Dry Cut Tile Saw—which really changes the way you think about cutting tile. No water. Very little cleanup. Before their tile saw, iQ Power Tools addressed dry brick and block cutting with larger, less mobile cutting tools.
This new saw ups the ante with both increased portability and more clearance for larger block. They also developed new blades to tackle hard concrete, masonry block, pavers, brick, granite… pretty much anything you would normally cut with a wet saw. I put this tool through its paces by working on several projects for The Joinery, an upper-scale "food hall" I'm opening up here in Lakeland, Florida. Inside, we'll have an on-site brewery and multiple food vendors—all occupying a very open, interesting, and inviting space that overlooks downtown Lake Mirror.
I was able to use the saw in multiple locations throughout The Joinery, including an outdoor patio and some interior spaces near the bar and brewery. The job included cutting both 4x8x16 solid partition blocks as well as custom ~15-inch cloverleaf screen blocks used as the base layer for a short patio wall overlooking the lake. We also cut plenty of two-cell "peanut" block along the way.
iQ Power Tools Dry-Cut Masonry Saw Features
Looking at the iQ Power Tools Dry-Cut Masonry Saw, you see a portable masonry cutting machine. A sliding table lets you move blocks and material toward the fixed 16.5-inch blade. Because the blade is fixed, an integrated dust extractor with a 3-stage cyclonic filter captures debris and dust as the blade cuts. Between the extractor, blade guard, rear dust guard, and louvered table, this saw actually meets the 2017 OSHA silica dust standard.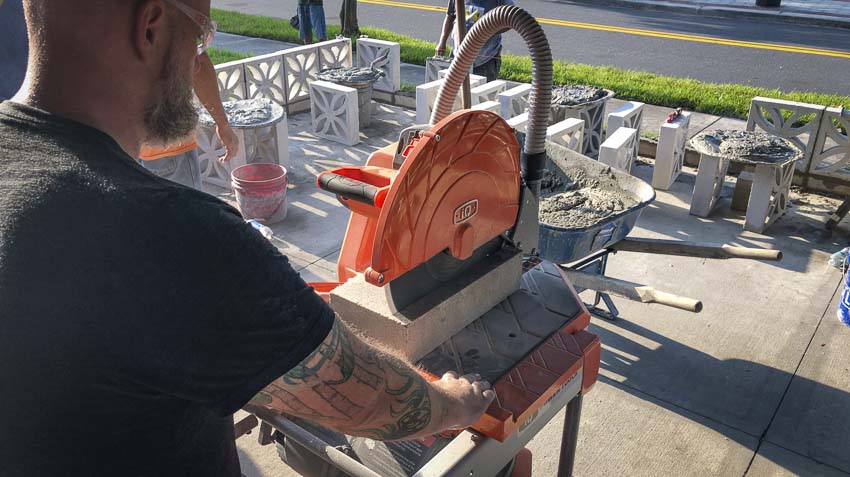 The airflow created by the dust extractor also serves to cool the custom blade while simultaneously removing debris. The result is a blade that's cool to the touch and operates with reduced friction and heat.
The tool has a nice soft-start, so it doesn't stress your circuit. We ran it off a standard 20A 110V outlet and had no problems—even using a 10-gauge 25-foot extension cord.
Cut Dust-Free and Water-Free
If you're reading this, it's likely you've done some masonry cutting. Since the '30s the most sophisticated masonry cutting saws created massive amounts of sludge—using water to cool down blades and make cuts on block and brick. The iQMS362 is a big deal and—dare we say—disruptively innovative.
The saw is virtually dust-free, and yet it cuts dry. You don't need to hook up a hose or otherwise bring water to the blade. IQ Power Tools actually designed the blade to stay cool while cutting, eliminating the need for water to cool it down.
Using the iQMS362 Dry-Cut Masonry Saw
Accuracy in Cutting
What I love about this saw coming from a woodworking and metalworking background is that it cuts very similar to a sliding table saw. I have a big Felder sliding table saw, and I love that you can just set your crosscut fence, which is what you can do here. You know that you're going to get a 90 degree cut every time. You just measure and set your stop block and go.
This thing is also so accurate. We're cutting down the 16-inch length of a block that's eight inches race on the back of this. And we're getting truly square cuts to form the corners of our patio breezeway and interior accent walls.
Dust-free Cutting
While we were using this saw, one of our masonry guys cranked up a handheld demo saw. He was just trimming up some brick along the concrete patio. It generated a literal cloud of dust. Fortunately, we're outdoors, but man, it just, it blew everywhere.
With the iQ Power Tools iQMS362, when you crank up the saw, your first bit of cut gets you a little puff of dust until you break through the bottom. However, once you break through the bottom portion of the block, it starts sucking the dust right through the table into the integrated cyclonic dust extractor.
I did notice that as you're cutting a two-cell block (or peanut block) you get a little bit more dust than you do with a solid block. That's because you have room for that dust to escape before the vacuum can suck in down.
Compared to any other method I've seen for cutting blocks and pavers, this tool is absolutely amazing. It generates such little dust.
Smooth Sliding Table Cutting Action
I love how simple it is to lock the table in place. So for transport, it doesn't move. When you unlock it, it slides back and then you can push it all the way forward through the cut. As you slide the block forward using the table, the shroud on the rear of the blade rises up to allow it to pass. The smooth action on the table comes from the robust bearings we found underneath.
At first, I found myself wanting to cut slower than I think the blade and the motor are actually capable of cutting. An average long cut through 4x8x16 solid partition block took about 23 seconds. Depending on the material and how aggressively you push the saw, that time will likely shorten.
Cross-cutting peanut block, for example, took between five and six seconds. I mostly had a sense of wanting to be more careful as we created these corner pieces. In actuality, the saw cuts through block like butter. That is to say, it cuts very quickly, and very accurately, with very little dust.
I had a full commercial masonry crew working on-site to create the long run of the patio breeze wall for The Joinery. All the guys were really impressed with this saw.
Getting the iQMS362 from Place to Place
The iQ Power Tools iQMS362 also transports easily—whether from site to site or even when moving it around the job site. With some saws, collapsing the tool just takes tons of time, so you tend to fight it and maneuver it without fully taking it apart.
With the iQ Power Tools dry cut masonry saw, it collapses down and folds very easily, rolling from one location to the next. You actually do have to push down pretty firmly to get it to collapse, but that also ensures it won't accidentally fold up on you. It's just very impressive.
Also worth mentioning how easy it is to clean up the dust. You simply drop a lever to remove the 3-stage collection tray. Looking inside after making a bunch of cuts, we could literally see all the dust we did not put in the air. Staring at the mound of silica, we realized we were only about a third the way through this one project. Several more walls still needed to be built inside the facility. In between periodic dust bin cleaning, you rotate a knob on the side of the tool to knock particles free of the filtering mechanism.
iQ Power Tools iQMS362 Conclusion
When you can dump out dust instead of breathing it in—it's a good day. The iQ Power Tools dry-cut masonry saw will completely change the way you cut block—for the better. We love it. If you work in masonry and need to cut pavers, block, or brick, you really owe it to yourself to demo this saw. Just bring your wallet because you'll want your own!