Not a day goes by that an Electrical Pro doesn't need to cut something – a wire, a screw, ACSR, you name it. So it makes sense that just about every third review that you've seen from me is a cutting implement of some sort. It's usually some variation of a diagonal cutter or linesman's plier but occasionally it's something a little different. Today, I have my hands on the Klein Tools 9-Inch Journeyman Diagonal-Cutting Pliers, part of the company's high-leverage, angled-head offering. It's a burly plier, to be sure. If it was a person, it would probably have a full beard and be wearing a flannel shirt – but can it make the cut? That's what we're going to find out.
If you're a regular reader, you probably know Klein Tool's interesting history. If not, it goes like this – Matias Klein, a German immigrant to Chicago in the 1850s, forged a half-pair of pliers for a telegraph lineman. When the lineman broke the other half of his tool, he returned to Klein. From there, the Klein Tool company was born and is still run by the family today. Alright, let's get to work!
Top Features
Cutting Knives
The business end of the Klein Tools 9-Inch Journeyman Diagonal-Cutting Pliers is two extra long induction-hardened knives with 1-1/4-inch jaws. That's not just some marketing jargon, either. Induction hardening is a sophisticated process that results in much more durable metal than steel that hasn't undergone the process. It's important for a cutting tool designed for ACSR, screws, nails, and hardened wire to be, well, tougher than nails, so to speak. Pros rely on this type of tool to do the most common, basic task in the trade – and do it over and over again.
Reinforced, Angled Head
Even if these diagonal cutters have the musculature of a linesman's plier, they still retain the traditional shape with tapered, angled head. The angle allows easy access to screws, bolts, and wires that might otherwise be tough to reach.
Any cutting pliers' unsung hero is the joint. It's the fulcrum of the force applied to the thing being cut. The closer it is to the jaws, the more force it exerts. The thick tool steel and hot-riveted joint close to the jaws on these Kleins visually hint at its strength and durability. We'll see if that's true soon enough.
Handles and Grip
Given that these pliers are comparable in size to beefier linesman's pliers, they should be able to handle the type of cuts the side-cutting linesman's can handle. The Klein Tools 9-Inch Journeyman Diagonal-Cutting Pliers scores some bonus points in the cutting power department for that. In case your linesman's aren't at hand, using these pliers offer a big advantage over standard sizes.
The tool's dual material Journeyman handles are 7-3/8 inches long and match the rest of the tool's burliness. It's important to note that these handles are NOT insulated. Plastic-dipped or slip-on plastic handles don't protect against shock. In any event, these Kleins seem to be a hybrid of sorts, and I've got plenty of stuff to cut.
Performance
Cutting Up
So with the Klein Tools 9-Inch Journeyman Diagonal-Cutting Pliers in my toolbag, I headed off to work. As you might imagine, over the course of several weeks I cut everything that could be cut with these pliers – all the way up to #4 wire. The grip is excellent – really quite similar to my linesman's grip and very comfortable. Unlike other diagonal cutters, I was confident that they wouldn't slip in a sweaty hand.
Not much gets in the way of this tool. There's a lot of leverage there – more than my usual favorite Southwire pair. You might remember that I reluctantly gave away my other pair of Klein diagonal cutters when the Southwire's came along due to their comparable leverage but shorter size (there's only so much space in a tool pouch!). Keep that in mind for later.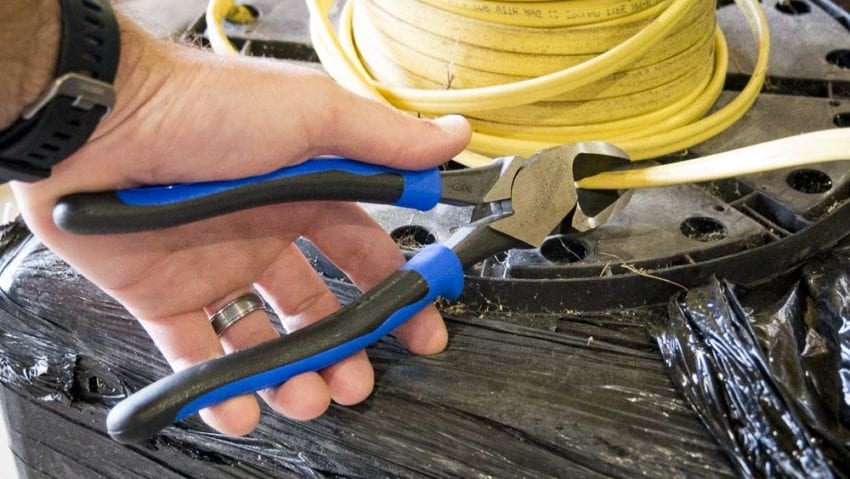 Not only do the longer knives cut bigger wire than a normal pair of diagonal cutters, they haven't started getting dull on me yet. Klein has the quality and durability down pat.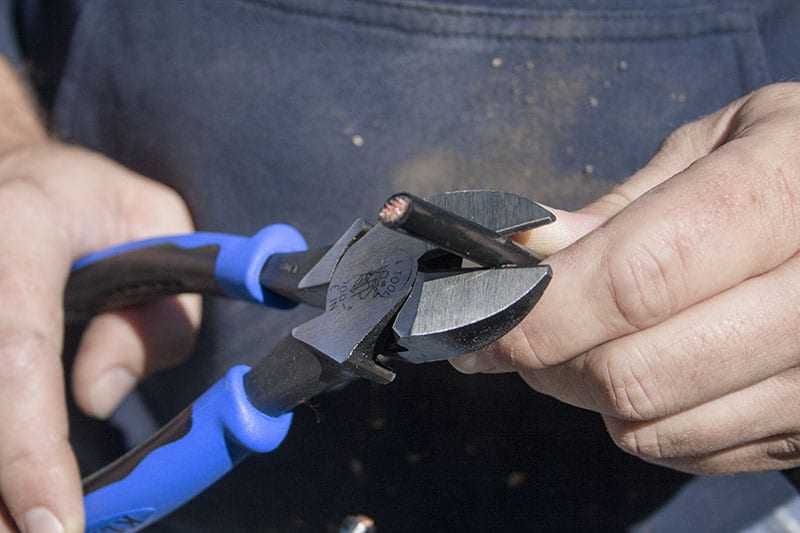 Double-Edged Sword (Knives)
Perhaps ironically, the greatest strength of the Klein Tools 9-Inch Journeyman Diagonal-Cutting Pliers is also its greatest weakness. When you're in the middle of a job, you often feel for a tool in your pouch or bag instead of look for it. But because this tool's handle design is nearly indistinguishable from a linesman's plier, I found myself with the wrong tool in hand more than once. A similar, but more specific problem rests on the same colors used in the handle of both my Klein linesman pliers and this diagonal cutter. If the tool is nose down, I have to pull it all the way out to see which one it is.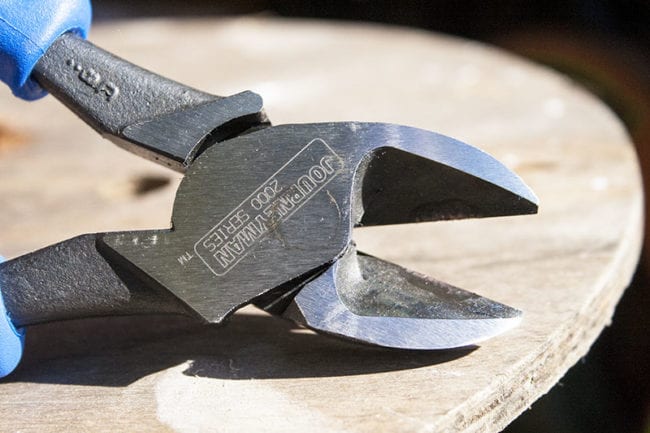 As I mentioned, the extra leverage given by the handles and reinforced head allow these Kleins to cut better than my go-to diagonals. But for the added length and weight in my small tool pouch, it's almost not worth it since I already carry a set of lineman's pliers for the tougher cuts. If you're working with a bigger bag or pouch, it's a different story. But if you're carrying a small pouch, it's a tough tradeoff.
Diagonal cutters, especially those with angled heads, are typically adept at getting into tight spaces to make small snips and cuts. But here again, the size that gives the Kleins its strength takes it back a step when I need a more compact plier.
But Wait
This might sound overly nit-picky, so let me emphasize that other things equal, this is a great tool. But because we don't use our tools in a vacuum, it's important that I report how these worked on the ground. If you use a bigger tool pouch, can easily distinguish between these pliers and your linesman's, and you don't do a lot of tight-space work, these Kleins have the horsepower to get the job done, no doubt.
The Bottom Line
The Klein Tools 9-Inch Journeyman Diagonal-Cutting Pliers deliver solid performance and are priced just about right for Klein at $40. You just have to realize the added size not only brings the benefit of strength but also the limitations of space. Depending on how and what you work on, you may decide that bigger, stronger diagonals aren't a hindrance. But if you carry a small tool pouch and often work in tight spaces, you may find the tradeoff is too great to make these the only diagonal cutters you carry.
Pros that have the budget will likely find a use for both standard diagonal cutters and the new Kleins. Either way, with longer knives and handles than most diagonal cutters, these pliers are capable of doing work that your standard size cutters have to pass on.
Klein Tools 9-Inch Journeyman Diagonal-Cutting Pliers Features
Extra-long cutting blades provide greater cutting ability
Beefier, more reinforced head lasts longer than standard diagonal-cutters
2000 series heavy-duty cutting knives cut ACSR, screws, nails and most hardened wire
Angled blade design for easier access to cut screws and bolts
High-leverage design has 46% more cutting power
Induction-hardened cutting knives for long life
Dual-material Journeyman handles provide better grip and added comfort
Klein Tools 9-Inch Journeyman Diagonal-Cutting Pliers Specifications
Model Number: J2000-59
Special Features: Angled Head
Length: 9 inches
Height: 25/32 inches
Width: 2-11/32 inches
Jaw (Knife):

Length: 1-1/4 inches
Width: 1-13/64 inches
Thickness: 5/8 inches
Capacity: 9/32 inches

Cutting Knives: Standard
Cut Style: Diagonal
Color: Blue/Black
Handle Finish: Journeyman
Handle Length: 7-3/8 inches
Weight: 1.0 pound
Price: $32.49