Tough Angles? No Problem for Crescent K9 Angle Access Jaws
Plumbers don't often get the most ideal workspaces. In fact, it's rare when they get unrestricted access to, say, a leaky pipe. Rather, plumbers often have to find the leverage they need from harsh angles, which often results in the wrench slipping off the pipe repeatedly, and the job taking longer than it would otherwise need to. Crescent has an answer: the K9 Angle-Access Jaws Pipe Wrench.
10-Second Summary
Better fit in tight spaces due to 30° arc bite
New design available on 5 products
Available in cast iron and aluminum
The Wrench According to Crescent
We just can't pretend that plumbers and other professionals have this ideal setup every time they go to work, because that's just not true. Other pipe wrenches aren't designed to bite at an angle, even though that's often how they're used. So, we redesigned the teeth so that our new wrenches will hold and still turn at tough angles.

—Noah Steen, Product Manager
A Wrench for All Angles
The Crescent K9 Angle Access Jaws Pipe Wrenches advertise allowing "the best-in-class access in tight spaces." That 30° bite arc that the Crescent K9 line features makes for a pretty strong case.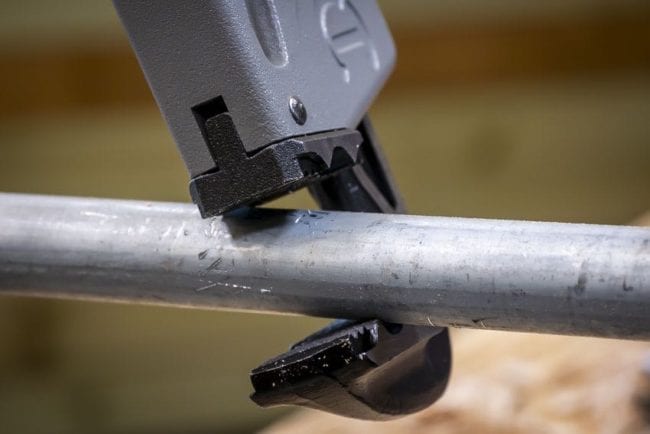 We had a chance to test them briefly at STAFDA and the teeth do indeed bite in at angles our pipe wrenches normally slip on. We'll need to put some in the field for a couple of months before we can make a firm conclusion, though.
With what we've seen so far, it will be a nice upgrade for plumbers and pipefitters, as well as MRO crews.
The Crescent K9 Angle-Access Jaws now come on 5 different products. The new pipe wrenches come in both cast iron and aluminum, including models that feature extended handles.
Shop Acme Tools
Shop Amazon
Crescent K9 Pipe Wrench Models
For more information about the Crescent K9 Angle-Access Jaws Pipe Wrench lineup, head over to the Crescent Tools website by clicking here.