The many types of table saws on the market today can lead to confusion when shopping. When it comes time to buy a new or replacement saw, it helps to understand how to choose the right type. Every serious contractor, home renovator, or do-it-yourselfer needs a table saw at some point. While the sheer volume of table saws on the market can set your head to spin, we can break it down and show you the advantages and differences between each.
Editor's Note: Check out our best portable jobsite table saws article for even more great recommendations. If you're just starting out, don't miss our how to use a table saw guide.
Quick Background on Table Saws
Most pros use table saws for precise ripping of wood and for making occasional cross-cuts. For repetitive crosscuts, you probably want to use either a circular saw or a miter saw. Table saws include fences and miter gauges to measure and guide wood through the blade. They also include blade guards and kickback pawls to ensure safety during use.
On that topic, regardless of which type you buy, you want to practice how to safely use a table saw. More and more table saws are incorporating new safety systems—particularly in jobsite and benchtop models. For some examples, check out the Sawstop jobsite table saw and the DeWalt DWE7499GD Table Saw with Guard Detect. A slew of table saw lawsuits should tell you that manufacturers take their safety features seriously.
Most table saws run on 120V power here in the U.S., though a handful of manufacturers now make battery-powered models. This includes—for now—DeWalt, Milwaukee Tool, and Metabo HPT. Notably, of those, only the Metabo HPT is a 10″ model.
Benchtop or Portable Table Saws
While three or four basic types of table saws exist, we choose benchtop or portable table saws for ultimate portability. These saws are the most popular among those looking for the conveniences of a table saw, but who want to spend the least amount of money possible.
Benchtop table saws can, as the name suggests, be placed right atop a bench or table. You frequently see these on jobsites, placed on top of a pair of sawhorses. Sometimes you can purchase separate folding stands or they may even have collapsing legs. Portability, however, remains their primary feature.
Because of their reduced size, the motors on these lightweight portable saws typically provide less power than contractor or cabinet-style table saws. When shopping for benchtop table saws, pay close attention to the quality of the fence.
You also want an easy-to-use blade lifting mechanism as well as sensible bevel controls. Less expensive models have fences that quickly adjust but may flex when you start feeding a board through the blade. With these types of table saws, look for fences that use a rock-solid adjustment system.
Jobsite Table Saws
Jobsite table saws are nearly identical to the benchtop portable saw, except that they typically add a more robust motor. More importantly, they also typically add a rolling, folding stand with wheels. That makes them the ultimate portable saws for the jobsite (hence the name).
These saws also tend to have higher quality fences for more precise measurements and better cut width adjustments. Look for smooth mechanisms, lightweight materials, and robust motor size to see which jobsite saw will work best for you.
When investigating the many types of table saws, a jobsite saw sticks out as one you have the "room" to take advantage of. It comes close in size to a small cabinet saw while still emphasizing portability. The goal is maximizing power while allowing the saw to move from your truck or trailer to the jobsite.

Contractor Table Saws
Much confusion exists with the term "contractor saw". If you look at brands like Sawstop, Rikon, and Delta, contractor table saws typically have a rear-mounted motor. They also include a more rigid stand with roller wheels.
These saws are the de facto standard for professionals who work on larger projects but may need to travel from job to job. You even see them getting popular with the serious do-it-yourself crowd since they provide increased cutting power and convenience. They also provide some added flexibility in a shop where space is at a premium.
Contractor table saws are heavier, but they have wheels mounted to the bottom of their rigid stand legs. Of all the types of table saws, the contractor saw provides the closest power to a cabinet saw while still delivering some portability.
Cabinet Table Saw
Cabinet table saws provide the most accuracy, control, and power. While heavy, they tend to stay in place once set up. The cabinet table saw has a closed base, hence the "cabinet" name. These typically require more power and require a 220V outlet or higher.
Cabinet saws can be expensive but probably will not bog down under the same condition that would stall a portable or contractor-style table saw. Since these are heavier saws, they often vibrate a lot less. That, combined with exceptional fences and build quality, contributes to their high accuracy when making cuts.
If you see wheels on a cabinet saw, the idea would be to shift it around a workshop as opposed to loading it up in a truck or trailer. In general, these powerful tools take a prominent position in the woodworking shop space.
Sliding or European Table Saws
Sliding table saws, also known as European table saws are industrial saws. They are huge. Much bigger than cabinet saws. The advantage of them is they can take full sheets of plywood and push them through the blade on a movable table. This makes them the ultimate saw for accuracy and efficiency. If you have the space for it (and the budget) a sliding table saw could rock your world.
With that said, they come with a rather high price tag. Even a modest sliding table saw starts at around $5,000. We've seen them as high as $25,000 or more.
Table Saw Motors and Drive Configurations
When you look at the many different types of table saws, it always surprises us that only two main motor styles exist. Let's look at both to see if they might influence which type of table saw you ultimately purchase.
Direct Drive Motors
Most portable and benchtop models use a direct-drive motor. This connects the motor directly to the blade. There is some speculation that this wears the motor out sooner due to the proximity of the motor to the sawdust generated by the saw. However, if taken care of you should enjoy many many years out of any saw designed in this manner.
It also goes without saying (but we'll say it anyway) that most battery-powered or cordless table saws use a brushless motor to drive the blade. This falls under the direct drive motor category.
Belt Drive Motors
These systems, typically found in both cabinet and contractor-style table saws, have a belt that transfers power to the motor. This lets the saw locate the motor away from the actual blade. This removes the motor further from dust for better protection. It also lets the motor be more easily removed (in the case of contractor-style table saws) for easier portability.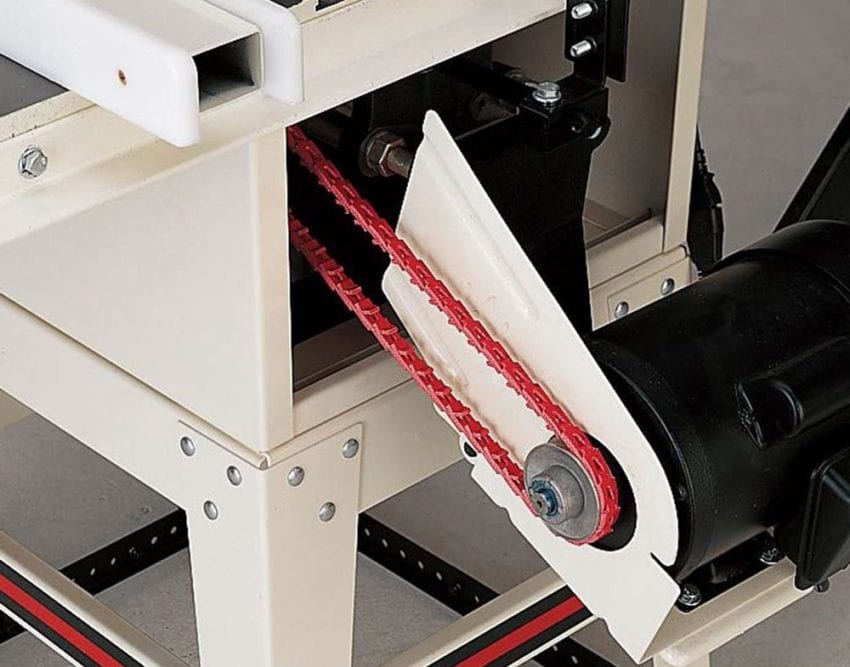 Accessories for All Types of Table Saws
Sliding Extension Table – As you would assume, this is any sort of extension which fastens to the table, extending its width and allowing for easier cutting of larger sizes of wood.
Dado blade kits – A dado blade kit is actually a series of blades that go onto a special dado plate, allowing a wide cut to be made at once. These can be used along with a sacrificial fence to create rabbet cuts.
Smooth Ripping Fence – This is a piece of metal that sits on top of the table and slides parallel to the blade in order to guide wood in a straight line to make an even cut.
Flexible Miter Gauge – The miter gauge sits in one of the two grooves located on either side of the table saw blade. The miter can be set so that accurate mitered cuts can be made to a piece of wood.
Crosscut Sled – A crosscut sled is an excellent tool that can be built yourself and which can make the process of repeated fixed-length cross-cuts much easier. It also adds a certain level of safety to the table saw in that it helps to prevent kickbacks by providing a very straight and accurate cut with ample rear support to stabilize the wood as it approaches the blade.
Tenon Jig – This is a jig (metal or wood) that holds a piece of wood vertically so that the table saw can cut across the end.
Blades Sizes and Types
The two most common sizes of table saw blades are 8-1/4″ and 10″ blades. You typically see 8-1/4″ blades on portable and jobsite saws as well as most cordless models. This size works well for 1X and lighter-duty work in general. 10-inch blades get you to the Pro level and work for thicker 2X stock as well as beveling when necessary.
Of course, all bets are off when you move to commercial-level cabinet saws which can have 16-inch blades or larger. When it comes to blades types, notice the following:
Blade Tooth Angle and Raking – The way a manufacturer orients the carbide teeth on a blade determines the type of cut you put into the wood. It also determines the maximum speed of cut and how the blade interacts with the wood. The right blade tooth configuration creates a nice, clean cut.
Blade Tooth Quantity – Fewer teeth on a saw blade typically produces a faster cut with a rougher edge. "Fine finish" blades typically have 80 or more teeth and produce a much more "sanded-like" finish on the ends of the wood you cut. Also, the larger the blade, the more teeth you need to provide the same level of cut.
Vibration Dampening – You may want to pay attention to the vibration dampening taking place in your favorite blades. A blade that doesn't vibrate also tends to cut more cleanly—not to mention quietly.
Editor's Note: You may also want to check out how the various blade tooth angles affect cutting in our best thin kerf miter saw blades article.
Wrapping It Up
Hopefully, this guide gives you enough information on selecting the right table saw for your needs. While most will opt for the less expensive benchtop models, we know there are more than a few woodworkers who will opt for the hybrid or cabinet model.