Yeti is probably the most recognized name in coolers. Here in Florida, it seems to be a status symbol among fishermen, hunters, and other outdoorsmen. The stickers are on almost every truck traveling our roads. The Yeti Tundra 45 is the company's most popular size with more than 1200 user reviews rating it at 4.9. But is Yeti here to stay as a premium manufacturer or is this just the latest fad fueled by hype?
Yeti Tundra 45 Features Worth Talking About
Build Quality
Yeti takes cooler construction up a notch by using a rotomolding process. Often used in kayak construction, rotomolding rotates the product around as the material cools to create a solid piece. This eliminates the seams found when multiple pieces are bonded together that tend to be weak points where failure often occurs. This strength is evident in the 45's five hundred pound weight bearing capacity.
I certainly haven't had any issues here. The fact that my entire family could stand on this cooler without breaking it is impressive. While I have no intention of drop testing it for the sake of a review, it definitely looks and feels tough enough to handle anything I could throw at it on the jobsite or on the weekend.
Insulation
Coolers use insulation and have thick walls, but the Yeti Tundra 45 has thicker walls than most. This gives the cooler as much as 2 inches of insulation which should lead to the level of ice retention you've likely heard about.
Yeti uses what they call PermaFrost Insulation made from polyurethane (PU) foam. PU is used in all kinds of products, including many of the best work boots. It's injected into the cooler's walls and then expands to fill every part of the space.
Aside from the PermaFrost itself, a thick freezer-quality gasket (called the ColdLock Gasket) is found in the lid to reduce heat intrusion even more.
The PermaFrost Insulation material clearly adds weight to the Yeti. That's the trade-off for getting killer ice retention. Yeti's ColdLock Gasket is a no-brainer to aid in that area and really does seal things off nicely.
Closure
One of my biggest complaints about nearly every cooler I've owned comes from trying to keep the lid down. Typically the first thing that happens is the plastic latches succumb to the sun's rays and break off. Then it's only a matter of time before the back hinges follow suit.
Yeti addresses both of these issues. Their T-Rex Latching System is made from flexible rubber that should stand up much longer than the rigid plastic ones.
The NeverFail Hinge System incorporates the connection points into the lid and main body design leaving a simple pin to connect the two directly.
Of the two systems, I'm not worried at all about the NeverFail Hinge. It's flush to the cooler housing and I'm having a hard time seeing a failure point on there short of somehow torquing the lid while it's open.
The T-Rex Latches are definitely a big step forward from the plastic latches on most coolers. It's thick enough that I'm not too concerned about ripping, but I do wonder how long it will take the sun to start breaking it down. It should be many years down the road, especially if it's not left to soak up the rays when you're not using it.
Carry On
There are actually two designed ways to carry your Yeti Tundra 45. The more obvious of the two is using their DoubleHaul Handles. As a fly fisherman, I can appreciate the name no matter how well they work. That said, the handles replace the typical pivoting plastic ones with soft military grade polyester rope and rubberized sliding handholds to stay secure.
The other designed carry method is the LipGrip Handles molded as part of the main housing. These simple handholds are pretty well hidden from plain sight.
You'll definitely use the Double Haul Handles as a first choice and when carrying the cooler with two people to bear the weight. When the load gets heavy and I'm on my own, I go to the LipGrips to put my arms in a better position to carry.
Running On Empty
When it's time to drain the Yeti Tundra 45, you can dump the whole thing over or make it easy on yourself with the Vortex Drain. Rather than a simple friction fit, the drain plug is threaded to give you a tight seal. A hole drilled in it will let you slowly drain by partially opening it. This will keep the plug in place so it doesn't escape like a lost sock in the dryer. You can also fully remove it for faster draining.
While the drain plug is at the bottom of a recess, you'll still want to finish drying out the cooler with a towel or let it air dry with the lid open as not every drop is going out of its own accord. I'd like to see the plug get an upgrade to keep it attached to the cooler so there's less chance of losing it.
Slip and Slide
One of the reasons Yeti is so popular with fishermen is because of the BearFoot Non-Slip Feet. More than just a silicon tab, these are 3 inches by 2 inches long and don't seem like they're going anywhere.
Fisherman chasing redfish, bonefish, snook, and more along the coastal flats are able to use the Yeti Tundra 45 as an alternative front casting platform thanks to how stable it is. I've had this on carpet, tile, linoleum, and cement – it just doesn't move. I haven't personally tested it on the front of a flats boat yet, but if someone would like to take me out, I'll be happy to feature your boat in the photography and buy lunch.
A Few More Quick Points
The Yeti Tundra 45 is certified bear-proof. Yep, slap locks on the two front corners, and neither man nor beast can get in. More importantly, it keeps the smell of food inside as well so you never attract wild animals.
AnchorPoint Tie-Down Slots are molded into the main housing just to make it easy for securing it on your boat, trailer, or truck. These aren't recessed quite enough to fit the hook of a bungee cord or motorcycle strap down. However, some creative looping or a flat clip will get the job done.
Yeti also includes a dry goods basket in each cooler. I don't know about you, but I like my sandwiches to stay cool and avoid being soggy when I'm out on the water for the day.
Performance
Size
Yeti recommends a 2:1 ice-to-beverage ratio in their coolers to get the best ice retention. You'll be able to get 26 cans into the 45 if you're taking their advice.
The Yeti Tundra 45 measures 15-1/2 inches high, 25-1/2 inches long, and 16 inches wide. These dimensions are one of the reasons it's so popular. It fits in nearly any boat, including many tandem kayaks and canoes. It easily stores in the trunk of a car, the bed of a truck, on an ATV, or hitch-mounted cargo carrier. It's the perfect balance of storage capacity for short trips and versatile size.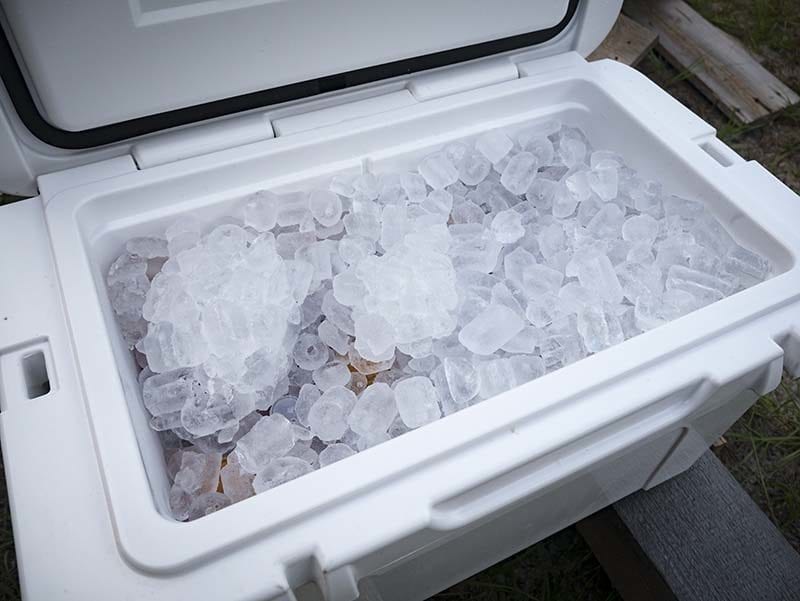 Ice Retention
We've been using our Yeti Tundra 45 all summer and it's been brutally hot. From the Memorial Day cookout in Georgia to Central Florida's summer, it's been used in temps that have touched triple digits and failed to fall below 75. Despite this, beverages have been kept cold with ice for up to 4 days – and that's with us getting into it constantly to retrieve drinks, replenish them and with about half the recommended amount of ice.
Actual ice retention data is hard to come by. Every time you open the cooler you skew the numbers a little bit. Given the ways I've used the Tundra, I'd put money on the ability for it to hold ice for a solid week easily if you fill it up. I've read other users who claim to get as much as two weeks out the ice in their cooler and I have to say I believe them given what I've experienced.
The Bottom Line
Everything I've seen from the Yeti Tundra 45 points to the fact that this cooler legitimately does what it claims to and that the excitement around the brand is certainly more than just hype. In all honesty, the $349 price tag is steep for a cooler. However, it comes with a 5 year warranty and it is clearly a top tier performer.