Last Updated on August 15, 2023
I have a confession—I love routing. I find it therapeutic and I enjoy using all types of routers. There's something about running a bit down an edge and adding an element of creativity that's enjoyable. Recent upgrades in battery and motor technology are letting us cut the cord on trim routers and making the experience that much better. We decided to bring in the best cordless router models and test them head-to-head in a review that also happens to be great for my mental health.
Editor's Note: Check out our article on How to Use a Router if you want some tips and tricks suitable for both beginners and experts.
Best Cordless Battery-Powered Wood Router
Metabo HPT took a while to get into the cordless router category—even taking longer than Milwaukee Tool! When they did, however, they quickly followed up with a full-size 36V cordless plunge router.
No one else in the industry—to our knowledge—released a full-size 1/2″ plunge router. This was big news. Add to that the fact that Metabo HPT remains the only tool manufacturer with an option to convert any of its 36V MultiVolt tools to corded, and you have a solid solution. The company claims the equivalent power of a 2.5 hp corded router. We believe it.
The $379 kit includes a soft tool bag, two collets, wrench, guides, dust collector set, 2.5Ah MultiVolt battery, and charger.
Best Cordless Trim Router for Pros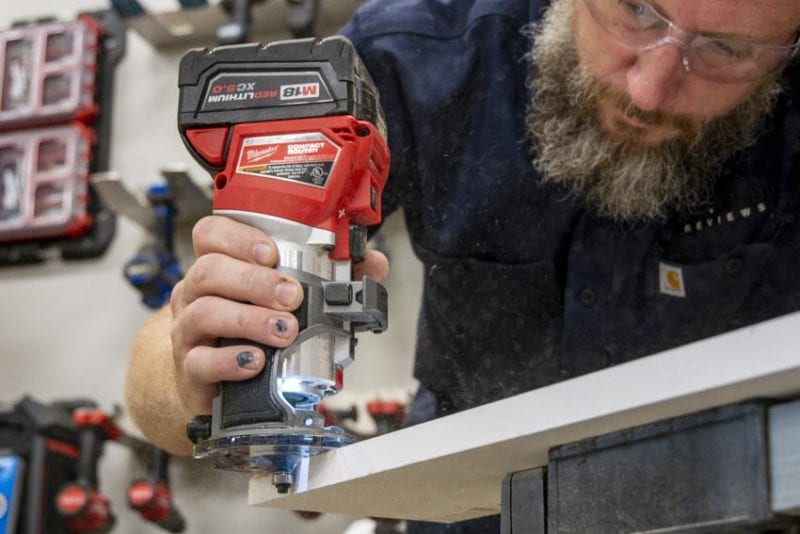 Milwaukee was one of the latest to the cordless router party, but the extra time allowed them to put together a complete package. It's near the top in bit speed and power. It also has excellent visibility to your workpiece, provides a solid grip, and features precise adjustments.
Even Milwaukee's add-on bases seem to be a notch better in design compared to the others. It's pretty clear the design team did their homework on this model. You can find this model for around $199 for the bare tool. For a little more you can find kits that include plunge and offset bases.
Best Cordless Trim Router for the Money
Ryobi is by far the least expensive of our cordless routers. In fact, $119 gets you the router, a 2.0Ah battery, and charger. Already have plenty of batteries? The bare tool costs around $99. No matter how you look at it, that's an easy way to get into cordless routing. Updating their single-speed brushed motor router, the new model features a variable speed dial and maxes out at 30,000 RPM.
It's fairly lightweight as a bare tool, weighing 2.6 pounds. You get an LED work light, a micro-adjust dial, and included dust port attachment. More compact than ever, this router simply amazed us with its affordable value for the performance you get.
The Router Bits We Used
There are a lot of routers bits to choose from. We frequently turn to Bosch for our router bits because of how long their carbide cutting edges last and the wide variety of bits they make. If all you need is a trim router, check out Bosch's 6-piece, 1/4-inch bit set (RBS006). It runs $115.99 and includes:
3/8-inch trimming
1/4-inch straight
1/2-inch straight
1/4-inch roundover
1 1/4-inch chamfer
1/2-inch dovetail
If a larger router is also in your future, Bosch RBS010 10-piece router bit set includes a mix of 1/4-inch and 1/2-inch shank bits for $165.99.
1/4-inch straight (1/2-inch shank)
3/4-inch straight (1/2-inch shank)
1/2-inch dovetail (1/2-inch shank)
1-1/4 inch roundover (1/2-inch shank)
1-3/8 inch Roman ogee (1/2-inch shank)
1-1/4 inch chamfer (1/2-inch shank)
1/2-inch trimming (1/2-inch shank)
1/2-inch straight (1/4-inch shank)
9/16-inch V-groove (1/4-inch shank)
7/16-inch core box (1/4-inch shank)
Best Cordless Router from Brands We Trust
Bosch's 12V router is specifically designed for light edge routing. Because of this, it's able to get away with a 12V power source and a slower 13,000 RPM bit speed. Don't try to push this one into other tasks—there's not enough power for that by design.
For what Bosch developed this to do, it's excellent. We love how easy it is to see the bit engage your material and the ergonomics are dialed in for edge routing.
On the convenience side, we really like Bosch's pullout collet lock that doesn't require you to hold a button down while you're tightening or loosening. This $159 router only comes as a bare tool, so add it to your existing Bosch 12V collection. We definitely have our eyes peeled for a more powerful 18V model.
Not to be left out, the Craftsman CMCW400B 20V trim router features a brushless motor and variable speed dial. It reaches up to the expected 30k RPM and has some excellent ergonomics in the form of nicely-textured grips.
A handy depth-adjustment knob and LED light round out the features. You can also use the included edge guide and dust port adapter.
At $99 for just the bare tool, this compact trim router might be the best competition for Ryobi's value pick.
DeWalt builds its cordless trim router on the foundation of the popular DWP611 corded model. It steps out from the rest of the group thanks to a full barrel twist adjustment instead of using smaller dials. It takes a little getting used to if you're moving over from another brand, but it's effective. The downside is that macro adjustments take longer.
It has one of the slower top speeds at 25,500 RPM, but the power level is right up there with the rest and it seems to make more efficient use of its battery.
It's heavier and bulkier in diameter than the others and some folks might be turned off by that. It didn't bother our testing team much, though.
This $219 bare tool router seems to lack any kit options. You'll also need to grab any bases or other accessories separately.
Greenworks has greatly expanded its 24V tool lineup to include a variety of specialized tools. The Greenworks 24V trim router gets them squarely into the DIY woodworker space with a value-oriented tool that offers some advanced options.
While a plunge base isn't on the menu, you do get 5 different speed controls. An integrated LED light illuminated the workpiece while micro adjustments let you dial in your bit depth. Perhaps most impressively, you get the entire kit with 2Ah battery, charger, and accessories for just $129.99.
HART 20V Cordless Trim Router
While the HART Tools cordless trim router costs just $88 as a bare tool, it also comes with bare-bones features. If you don't have much more to do than 1/4-inch roundovers this may be the coolest tool in your DIY workshop.
You won't get a plunge base or variable speed controls, but an integrated LED worklight and quick-release lever at least make this tool easy to use for basic routing tasks. We suspect this will add more capabilities to the DIY and maker crowds.
Kobalt's cordless router is less expensive than all but one of the routers on our list and doesn't sacrifice performance to give it to you. With 30,000 RPM on the top end, it's just slightly behind the top models in power and certainly not underpowered.
It has a good sightline to the bit and the controls are easy enough to use. However, the micro-adjustment's free movement might be an issue for some folks. On the other hand, it matches Makita in scoring top marks for its ergonomics.
On the convenience side, there's no way to change the bit without completely removing the router from its base because of the collet lock placement. It's usually easier to change bits on any trim router with the base off, so this isn't going to be an issue for everyone.
This is one of our best cordless router values that, for just $119, doesn't include a battery and charger. However, the fence comes with it and it has one of the better warranties out there at 5 years.
Makita's design is very similar to Kobalt's. It shares the free-sliding micro-adjustment that may frustrate some folks. The collet lock is in a similar position, but the cutout area of the base is more generous and you're able to change bits without removing the base if you like.
On the positive side, it matches Kobalt's top ergonomics score but isn't as top-heavy with a 5.0Ah battery on it. Its sightline is a bit better and it feels more powerful even though it has the same 30,000 RPM top speed.
Makita is the only model that includes an extra safety in addition to the power button. While none of these routers are likely to turn on rolling around your toolbox, it is a nice bit of insurance to carry. Both the power and lock/unlock buttons are blister buttons, something that PTR Reviewer, Tom Gaige doesn't care for.
What's interesting is that Makita makes a strong case for the best cordless router value. It's $159 as a bare tool—far less than either Milwaukee or DeWalt. You can also jump into the 40V XGT model, with similar features, for $214. So far, only the 18V router looks to be compatible with the Makita plunge kit.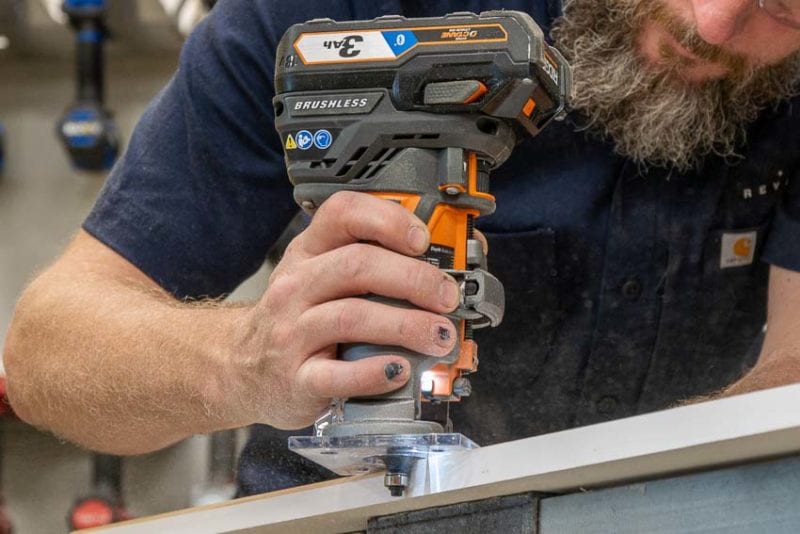 Ridgid stakes its efforts in pursuit of the best cordless router title by relying on Octane's improved performance. What actually sets it apart, though, is how lightweight it is. Weighing just 2.3 pounds, it's more than 1/2 a pound lighter than any of the other 18V/20V max models.
The Octane boost does help. It wasn't quite hit the same level as our top performers, but its 30,000 RPMs were certainly capable of the routing we tested it on.
One design quirk that you may have to get used to is that the micro adjustment and speed dial are on opposite sides. Another oddity is that you have to pull the power switch out rather than push it in. You can use your thumb to accomplish that easily enough, but it's counterintuitive.
Pricing on Ridgid's cordless router is $169 as a bare tool (look for frequent discounts). Ridgid has a $269 kit as well. As you're shopping, keep in mind Ridgid's Lifetime Service Agreement on the tool. It also now applies to any batteries and chargers you purchase separately.
Choosing the Best Cordless Router – What We Look For
Performance
As of right now, the best cordless routers are all trim routers. That may change in the future as battery and motor technology improve. The top speed we've seen is 31,000 RPM and anything closing in on the 30,000 RPM mark should have no problem with most 1/4-inch shank router bits.
Smooth operation is an absolute must. With a bit spinning at 10's of 1000's of RPMs, any wobble is an absolute failure for the tool. Beyond that, we check to see how well the router keeps up with the pace we naturally want to work. If it's slowing us down compared to a corded model, it lessens the value of cutting the cord.
That said, even lower-speed models can get the job done. Just understand that you'll need to slow down to let the motor keep its RPMs as high as it can.
As you're shopping, look for models with a brushless motor. They can extend your runtime up to 50% over brushed motors along with providing more power and extending the tool's overall life. It can make the difference between finishing your project and having to wait for an hour for your battery to charge.
Ergonomics
For cordless routers, weight isn't a huge concern, but it does come into play because you're almost always working on top of the material you're routing. Still, some people prefer lighter weights and that's perfectly okay!
Pay attention to the gripping surface. The size of your hands is a big factor in whether a slim or thicker barrel fits well. While we tend to prefer smaller diameters, it's just that—a preference. You might like a larger diameter.
Rubber overmold should also cover much of the gripping surface to provide some grip and comfort. Consider how latches and dials affect your grip along with how easy it is for you to reach any adjustments.
Features
What makes or breaks your experience with a router ties in heavily with the feature set. Here are the primary things we look for that can make our experience better:
Power switch design and placement
Speed dial placement for variable speed models
Micro adjustment design and movement
Macro adjustment design and movement
Base removal
Bit change design
View of the bit and material while you're working, including the quality of the LED lights
Presence of an electric brake to stop the bit quickly
Included and/or available accessories, such as additional base plates, fences, and bases
Value
Here at Pro Tool Reviews, finding the best cordless router value isn't just a look at the price. It's what you get for your money. A big part of that is directly tied to the tool itself. Also keep in mind how long he warranty is, how tough it is to get service if you need it, what other tools are compatible with the same battery, and the added value of combo kits.
Why You Can Trust Pro Tool Reviews
Ever check out a "review" site and you can't tell if they actually tested the tools or if they're just "recommending" the Amazon top sellers? That's not us. We won't recommend anything unless we'd actually use it ourselves and we don't really care who the primary retailer is. It's all about giving you a legitimate recommendation and our honest opinion of each product.
We've been in business since 2008 covering tools, writing reviews, and reporting on industry news in the construction, automotive, and lawn care industries. Our Pro reviewers work in the trades and have the skills and experience to know whether tools can perform well in the field.
Each year, we bring in and review more than 250 individual products. Our team will put our hands on hundreds of additional tools at media events and trade shows throughout the year.
We consult with innovators in the technology and design of tools to gain a broader grasp of where these products fit and how they work.
We work with more than two dozen professional contractors around the United States who review products for us on real job sites and consult with us on testing methods, categories, and weighting.
The end result is information you can trust because of the editorial, scientific, and real-world professional experience we collectively utilize each and every time we pick up and test a tool.