After recently testing over 50 drills and hammer drills to find the best cordless drill among dozens of brands, DeWalt stood out in the pack. In fact, we found the best DeWalt drill for nearly every application. If you're here, you obviously like the Yellow and Black brand—so we'll break down our favorite models for any application.
Keep in mind—these careful picks come after hours and hours of torque testing, runtime testing, and practical real-world use. We know the best DeWalt drill may not be the same for everyone. Rather than recommend a single tool for everyone, we recommend several different models that provide the perfect blend of performance, features, ergonomics, and value for different types of users.
From DIYer to Pro, this list should help you decide and choose the right cordless DeWalt drill.
Editor's Note: Think you know everything? Our How to Use a Drill article might still manage to show you a thing or two.
Best DeWalt Cordless Drill
Having tested dozens of DeWalt drills, the absolute best DeWalt drill has to be the DeWalt DCD998 20V Power Detect hammer drill. Measuring almost equally well is the DeWalt DCD999 60V FlexVolt Advantage Hammer Drill. Our preference for the DCD998 comes from the fact that you don't need to get into the bulk of FlexVolt batteries. If you want the absolute best performance, the 20V 8Ah pack takes care of you…and powers your existing 20V DeWalt rotary hammers, circular saws, and more. Don't have an 8Ah pack? The 5Ah will do nicely and give you almost identical power—just not as much run-time.
Editor's Note on "20V Max": 18V is just the nominal voltage for 20V Max, so comparing 20V Max vs 18V tools means nothing. The voltage is exactly the same—only the marketing differs. Same cells. Same voltage.
When talking about raw power, the DeWalt DCD998 produces over 1000 inch-pounds of torque. It beat the DeWalt DCD997 hammer drill in our testing, securing its position at the top of the DeWalt food chain.
Also the Best DeWalt Hammer Drill
Since it includes the impact mechanism, the DCD998 also makes for the best DeWalt hammer drill we've ever tested. DeWalt completed our hammer drill test track in less than 2.5 minutes—beating the former DeWalt flagship. It's not the fastest drill among all the brands, but it comes close enough. It certainly tops the lineup for the best DeWalt hammer drill. It even edged out the DeWalt FlexVolt Advantage hammer drill.
The key feature for drilling speed has to do with the DeWalt DCD998 and its three-mode transmission. Using that, you can prioritize speed, power, or a solid mix of both. It's that second gear that really lets it surpass many other tools that have to use their slowest gear.
DeWalt also managed to make this one of the lighter tools in our lineup of Super-Duty drills. In fact, it either won or held its own in nearly every category we tested. From the Pro who wants the most power to the DeWalt fan who needs a rugged serious DIY tool, the $299 DCD998 kit should fit the bill.
Best DeWalt 12V Lithium-ion Drill
In the past, even the best DeWalt 12V lithium-ion drill the company had to offer left us feeling "meh". Other manufacturers seemed to dramatically outpace their 12V line of cordless drills. Many of those newer models used brushless motors. Now, however, the newest DeWalt 12V lithium-ion brushless drills feature revamped brushless motors and put the company back in the game.
The DeWalt DCC701 12V brushless drill measures a more compact 6-inches. That's far less than the earlier brushed models. It even weighs less—just 2.4 pounds with the 12V 2.0 Ah battery installed. That drops 5 ounces off the former brushed model.
Most importantly, however, the new DeWalt DCC701 12V drill gets through wood and steel faster than any previous DeWalt 12V lithium-ion drill. It specs out with a 32% increase in power and torque. In a head-to-head against the Milwaukee M12 fuel drill, the 12V DeWalt drilled a bit more quickly and got through untreated 2x pine with a 1-3/8″ Bosch Daredevil spade bit.
It also doesn't hurt that you can pick up this drill plus its matching 12V impact driver for $199 or less with a pair of 2.0 Ah batteries, charger, and tool bag.
Best DeWalt Drill for Home Use
The best DeWalt drill for home use has to be their DCD797 hammer drill. This drill finished second place in our Compact Drill category. Overall, it had enough power, functionality, ergonomics, features, and value to put all but one competitor in the rearview mirror.
The DCD797 quickly asserted itself as the fastest drilling tool in the Compact class. Next, it had the highest efficiency where it maintained a high drilling speed even when under significant load. It also demonstrated the 2nd highest torque of the Compact drills we ran through our multi-phase tests.
Finally, the DCD797 includes Tool Connect for customizing the controls, running diagnostics, and tracking the drill when your neighbor borrows it!
With a 3/4″ auger bit, the DCD797 demonstrated a speedy 1,948 RPM. Incredibly, this number represents 98% of its no-load speed!
In Low, with a 1-1/4″ self-feed bit, we measured 512 RPM—97% of its no-load speed. No other drill touches DeWalt's speed and efficiency while drilling and driving.
Drilling 3″ deep into concrete with a 1/4″ Bosch Multipurpose bit, the DeWalt DCD797 smoked every other hammer drill in the 18V Compact division. Averaging just 5.92 seconds, this hammer drill beat the next fastest drill by over a second per hole! For $179 as a bare tool, this DeWalt drill should really go the distance.
Best DeWalt Drill Bits
You can't use a drill without drill bits. Making a recommendation on the best DeWalt drill bits depends a lot on your desired application. For example, do you want general-purpose bits or cobalt bits designed for use on hard metals? Because this guide assumes a general application across many areas of expertise we'll cover a few of our favorites.
For the absolute best DeWalt drill bits, we recommend their Cobalt Drill Bit Set with Pilot Point. You can find these in a number of kits online. DeWalt Cobalt bits are designed for maximum speed and life. You want to keep these bits a good long time and even possibly sharpen them when they eventually get dull. They use a Pilot point and split tip design so they don't "walk" or drift when you start drilling. Pull these bits out when you want to drill into hard metals.
Our next recommendation comes to the general user—be it the Pro or serious DIYer. We recommend the DeWalt Titanium drill bit set as a great all-around drill bit set. You can pick up a 21-piece kit for less than $30. It comes in a nice case and we found it easy to remove and replace the bits. These bits also use a hex shank, so in a pinch, you can chuck them into your impact driver.
Best DeWalt Rotary Hammer Reviewed
Making a recommendation on a related tool, the rotary hammer comes with more difficulty. A rotary hammer uses a different mechanism from a hammer drill to more quickly drill holes in concrete. DeWalt makes many different rotary hammers—across a wide range of sizes. We can only really suggest the best DeWalt rotary hammer reviewed by our team.
That would have to be the DeWalt 20V SDS Plus Rotary Hammer with Dust Extractor. For starters, this tool uses 20V Max batteries, so it works with all your other DeWalt tools. Secondly, it makes you OSHA Table 1 compliant with a replaceable HEPA filter.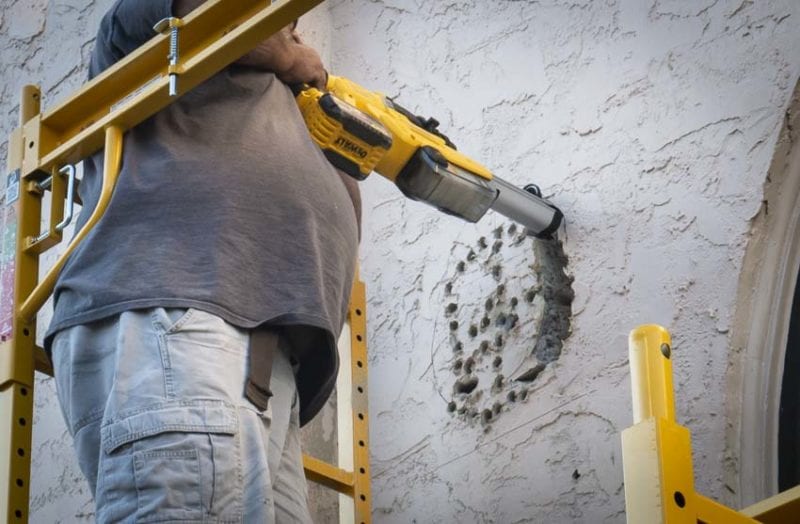 The DeWalt DCH263R2DH has plenty of power with 3 joules of impact energy. We love the dust collector and how it fits right on the tool and provides an easy way to empty the contents. The integrated SHOCKS Active Vibration Control reduces the fatigue inherent in using a rotary hammer for longer periods of time.
Finally, this tool weighs less than 6 pounds without a battery. DeWalt makes other tools, but we feel this is the best DeWalt rotary hammer reviewed by us to date for general users. At $629 for the kit, you really can't go wrong.
Best Priced DeWalt Drill
Without a doubt, we'd call the DCD708C2 the best-priced DeWalt drill. We've seen it as low as $129 for the kit with two batteries, charger, and tool bag (the normal price is around $159). This compact cordless drill definitely rules the roost when it comes to value.
A top performer in the compact cordless drill class, the DeWalt Atomic 20V drill replaces the need for a 12V tool. In fact, the DCD708 drill fits the same compact profile. You get a smaller footprint with less weight while getting better performance than you find in DeWalt's 12V drill.
We're seeing other companies (like Makita) also release sub-compact tools and it makes a lot of sense. We think the Atomic DCD708B makes the best-priced DeWalt drill for its perfect blend of power and size. It really hits the sweet spot.
Also, if you need to drill in concrete, DeWalt has a hammer drill version in the DCD709. Expect to pay a bit more for that function.
Best DeWalt Mixing Drill
When we had our reviewer, Dan Elms, "mix it up" for several weeks with the DeWalt DCD130 FlexVolt cordless mixer, he got a lot of work done. The DeWalt cordless drill mixer ain't your daddy's mud mixer: it's a protein shake-drinking, powerlifting, 60V FlexVolt beast that can mix multiple buckets of concrete on a single charge.
You can grab the tool for $269 and the kit for $100 more. Mud, thinset, cement…it doesn't stand a chance with this purpose-built drill.
Best DeWalt Drill Buying Guide / What We Look For
Speed Testing Under Load
We want to see how fast a drill gets work done. It's also important to understand how well these tools perform under increasing loads. There are several ways to do this effectively. You can give the drill increasingly difficult tasks by using larger and larger bits. You can even measure RPM at a specific point in a test to see how fast it drills under a full load.
The more the drill keeps up the RPM while working, the faster the bit moves through the material. On the other hand, the closer a drill is to its no-load speed, the more efficiently it's working and the lower the strain on the motor. A good balance between the two gives you optimal performance and motor life.
For most of our testing, we use layers of glued-up OSB (oriented strand board) subfloor. While not perfect, OSB definitely provides better consistency for us than 2X dimensional lumber.
For concrete testing, we use fully-cured 4000 PSI concrete and focus on speed while drilling to a particular depth.
Matching the Accessory to the Power Tool
Each class of DeWalt drill has a different amount of muscle. You shouldn't expect a compact DeWalt 12V drill to do what a heavy-duty 20V Max tool does. We use a variety of accessories to match the application to the tool. For heavy-duty drills, this includes everything from 1/2″ Milwaukee Shockwave Titanium twist bits to 1″ Bosch Daredevil high-speed auger bits and 2-9/16″ Milwaukee SwitchBlade self-feed bits.
Regardless of which brand you prefer, check out our best drill bits article. These should help your favorite drill work more efficiently over time and get the best performance and runtime.
For smaller 18V compact drills and DIY Prosumer drills, we test using smaller spade bits and self-feed bits. When testing 12V drills we tend to ditch self-feed bits altogether.
For power, we try to match the appropriate battery to the tool. The DeWalt PowerStack battery seems to offer the best performance in a smaller package—at least when compared to their 2.0Ah compact pack. For heavy-duty applications, we still reach for their 5Ah pack.
Testing Torque
One thing we always want to understand is how much torque a drill has for doing real work. We use a variety of real-world testing in 2X material and even scientific testing using a Skidmore-Wilhelm testing rig. Between the two, we can identify the strongest drills as well as those which perform well using traditional accessories like larger self-feed bits.
We pay attention to the type of work the drill can perform as well as the speed with which it accomplishes it. Combined, we can quickly determine the tools that stand out as having authoritative power.
Weight and Footprint
Weight matters—especially when using tools overhead. A super-powerful tool that edges out the competition by a small margin can lose the top spot if it weighs a full pound more than the #2 performer. We really value strong performers with a diminutive footprint!
Using a digital scale we can get to the heart of the matter and see which tools perform while saving on the weight. It also helps to understand how different batteries affect the weight of a tool.
To determine the size, we reach for our digital calipers and measure both the head length and height. Both are important, though we value the former over the latter for getting into crowded spaces.
Grip
Since the comfort of a drill's grip is subjective based on size, we don't let it affect the score. Still, we hold and use each tool we review with a bare hand to check for any uncomfortable seams or other oddities that might affect every user regardless of preferences.
Feature Set
In general, here are the features we look for on each drill:
Brushless or brushed motor
Number of standard modes
Smart controls
Smart tracking/inventory
Clutch design
Drill/driver/hammer drill selection design
LED light design
Chuck size/type
Belt hook
Unique features
Available Tools and Value
We don't tend to recommend "one-offs". A tool needs a solid foundation and family so you can get other products as needed without having to buy into multiple battery systems. A tool that has a good number of accompanying products tends to rank higher on our list for this reason.
When we talk about Value, we refer to more than just the price of the tool. Value takes into account the whole picture of what you get for the price you pay. That includes the performance, feature set, ergonomics, warranty, bare tool price, and kit price.
Why You Can Trust Pro Tool Reviews
Ever check out a "review" site and you can't tell if they actually tested the tools or if they're just "recommending" the Amazon top sellers? That's not us. We won't recommend anything unless we'd actually use it ourselves, and we don't really care who the primary retailer is. It's all about giving you a legitimate recommendation and our honest opinion of each product.
We've been in business since 2008 covering tools, writing reviews, and reporting on industry news in the construction and lawn care industries. Our Pro reviewers work in the trades and have the skills and experience to know whether tools can perform well in the field.
Each year, we bring in and review more than 250 individual products. Our team will put our hands on hundreds of additional tools at media events and trade shows throughout the year.
Pro Tool Reviews consults with innovators in the technology and design of tools to gain a broader grasp of where these products fit and how they work.
We work with more than two dozen professional contractors around the United States who review products for us on real job sites. We consult with them extensively on testing methods, categories, and practical applications.
Our site will provide more than 500 pieces of new content this year absolutely free for our readers. That includes objective evaluations of individual tools and products.
The end result is information you can trust because of the editorial, scientific, and real-world professional experience we collectively utilize each and every time we pick up and test a tool.