Last Updated on July 11, 2023
A Surprising Exit and a New Voltage Class Change the Best Hydraulic Impact Driver Results
Since we first published our review in search of the best hydraulic impact driver, two major changes occurred. First, we had the surprising exit of the Ridgid Stealth Force. Larger in size and weight than what Makita and Milwaukee offer, it had legitimate performance to warrant serious consideration.
We've also seen Milwaukee Tool introduce the M12 Fuel Surge as the only hydraulic impact driver available on a 12V platform from the major manufacturers. While it's in a different voltage class, we still want to see how it compares to the other oil impact drivers we tested.
Best Hydraulic Impact Driver Overall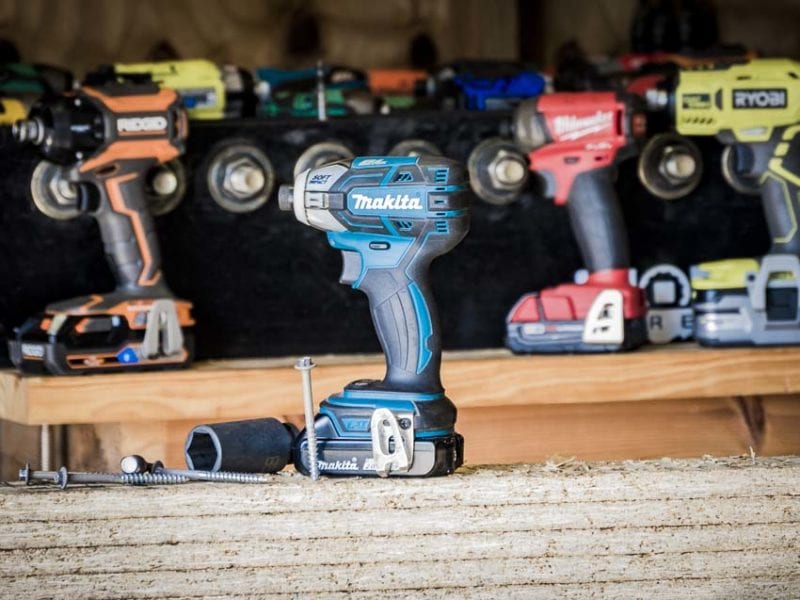 The Makita XST01 Oil Impulse Driver puts together a solid balance of ergonomics and performance to make it the Best Hydraulic Impact Driver overall in our testing. It is the lightest and fastest driving under load among the 18V models. While others were more powerful in our torque tests, the XST01 holds its own well.
The only chink in the armor is that there's no kit option. If you're new to Makita cordless tools, you'll need to add the cost of a battery starter kit to the $209 bare tool price. This won't present an issue for current Makita 18V LXT users.
Best Hydraulic Impact Driver Fastening Speed
Makita 18V LXT Oil Impulse Driver XST01
In addition to holding our top recommendation overall, Makita enjoys the highest fastening speed in its class, holding nearly 60 RPMs higher than the second-place Milwaukee M18 Fuel Surge. We tested it extensively using both hard and soft-torque applications. In the end, Makita drove fasteners more quickly—even under load.
Best Hydraulic Impact Driver Torque and Power
Makita 18V LXT Oil Impulse Driver XST01
Originally, the Ridgid Stealth Force held the top spot in power, but now that it's no longer available at Home Depot, Makita slides into its place. After all, we can't recommend a tool that you can no longer buy!
Milwaukee's M18 Fuel Surge and M12 Fuel Surge give it a run in nut-busting torque, but Makita has a solid advantage in fastening torque.
Quietest Hydraulic Impact Driver
Ridgid set the standard for noise level in our original testing, but Milwaukee's M12 Fuel Surge dropped down another 5 decibels. At 87 dB(A), it's the only impact driver we've tested to average less than 90 dB(A) under load.
All of the remaining 18V models had the same SPL level at 94 dB(A). At $179 for the kit, the Milwaukee M12 FUEL Surge makes for a relatively powerful, but quiet impact tool.
Editor's Note: Check out our Milwaukee M12 Fuel impact vs M12 Surge article to see how these tools compare.
Most Compact Hydraulic Impact Driver
Milwaukee M12 Fuel Surge 2551
Adding a 12V model into the mix gives the M12 Fuel Surge the win, but it's not a complete runaway. Its 5.2″ head length is actually 0.2″ longer than the M18 Fuel Surge, though its 6.8″ height is nearly an inch shorter than any 18V models.
On the weight side, the M12 Fuel Surge is a bit more comfortable. With a battery, its 2.4-pound weight is 0.4 pounds lighter than Makita's Oil Impulse.
Best Hydraulic Impact Driver Value
Tne Milwaukee M18 Fuel Surge has the performance to contend well with a compact design, a deep line of compatible tools, and the best warranty available in the class currently. Add in that they also are the only brand offering a hydraulic impact driver as a kit option with batteries, and it takes home the best value award in the class. At $329 this tool doesn't come cheap, but if you want a quieter impact, the value proposition makes sense.
The M12 Fuel Surge is no slouch in value, either. Consider that model if you like the smaller size and lower weight.
Best Hydraulic Impact Driver for DIYers
Carrying a $149 price tag on the kit or $79 for the bare tool, the Ryobi P290 QuietStrike Pulse Driver remains our top recommendation for the DIYer looking for a quieter impact driver. It offers ample power for basic fastening tasks and, while not terribly compact, Ryobi did a decent job producing a tool balancing the tool. It certainly gets the job done for less, so look here to save some money when you want to keep the noise down.
Testing Results
Note: To see details of our testing methods, please check out our best impact driver reviews article.
Speed Under Load
Driving deck screws is a pretty easy task, and our oil impulse drivers keep up with traditional models just fine. Adding the extra load of a 1/4″ ledger screw changes things, however. Makita tops the list at 503.8 RPM with Milwaukee's Surge bringing up 2nd place at 444.6 RPM.
Compared to traditional impact drivers, the average speeds here are a little lower. They're not painfully slow, though, and we often reach for a hydraulic impact driver for its lower noise benefits even though they don't drive as fast.
Fastening Efficiency
Having the fastest speed is great, but using your speed efficiently has its place, too. To measure efficiency, we compare the no-load speeds we tested to the speeds under load. The higher the percentage, the easier time the motor has. Putting less strain on the motor should result in a longer overall life for the tool.
Makita maintains its lead by posting a 17.7% efficiency followed by Milwaukee's M18 Fuel Surge at 15.4%. As a matter of interest, Ridgid's Stealth Force was pretty solid at 17.2%.
Standard 18V impact drivers had efficiency ratings as high as 24% while their average was closer to 16%. The 12V class averaged a little under 11%. That puts the hydraulic drivers right in line. Even though they're a little slower, there no real efficiency loss or gain there.
Fastening Torque
Our torque tests do not and cannot replace how manufacturers test for their specifications. Take a look at our Best Impact Driver main page to see the details of our testing methods.
Hydraulic impact drivers have a different mechanism than impact drivers and don't hit as hard. Some manufacturers are reluctant to provide torque data, so we were really anxious to see how this group compares to the traditional models.
Makita tops the group, requiring an average of 1871 in-lbs of torque to break its fastening job. Milwaukee's M18 Fuel Surge has only a small advantage over the M12 Fuel in third before a pretty large gap to Ryobi.
Our traditional impact drivers deliver up to 1413 to 2656 in-lbs of torque. While Makita's Oil Impulse gets into that range, all of these models generally have less measurable fastening torque than standard models.
Nut-Busting Torque
To test bolt-breaking force, we proof-loaded Grade 8 hardened nuts and bolts with a Gearwrench digital torque wrench and Gearwrench torque multiplier (when necessary).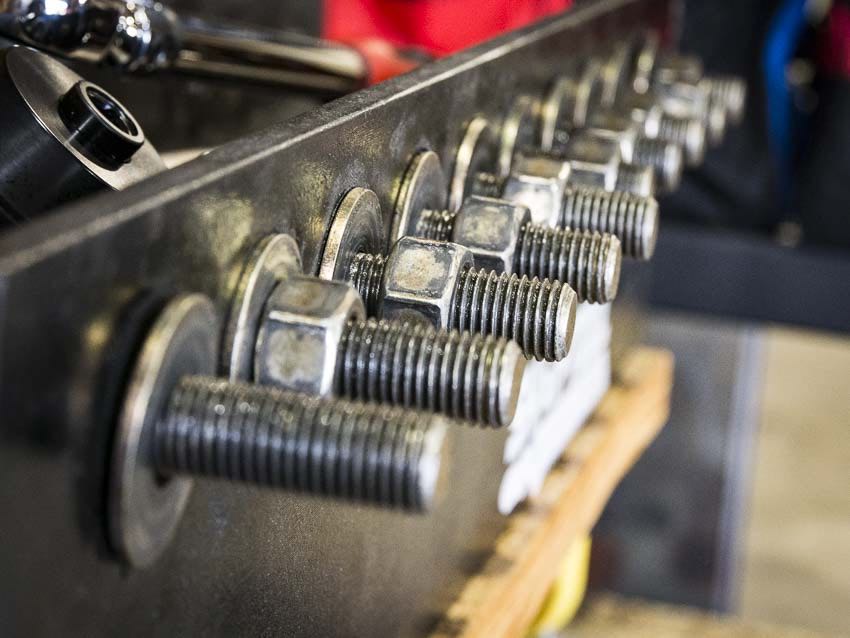 Milwaukee (2880 in-lbs) surges to the top of our nut-busting torque test with Makita close behind at 2760 in-lbs and the M12 Fuel Surge with a solid 2400 in-lbs. Ryobi could only muster 600 in-lbs of nut-busting torque on average.
With Makita and Milwaukee both posting 3600 in-lb efforts in our 18V impact driver class and the Ridgid Octane impact driver breaking 4800 in-lbs, hydraulic impact drivers are still pretty far back in torque.
Weight
Add an oil impulse mechanism to an impact driver, and you expect higher weight. There are no surprises there, but there is a wide gap in weight for these four tools. Milwaukee's M12 Fuel Surge is our lightweight at 2.4 pounds with its 2.0Ah battery.
Moving up to the 18V models, Makita is 2.8 pounds with its compact battery, giving it a 0.5-pound lead over Milwaukee's M18 Fuel Surge.
Looking back at the traditional models, these weights are mainly well within range and have just a little more heft to them. Makita is an exception, coming in slightly lighter than its XDT16 counterpart.
Footprint
Milwaukee's M18 Fuel Surge has the shortest head length at 5.0″, giving it a surprise advantage over its M12 companion. The M12 Fuel Surge takes the overall compact crown thanks to a significantly shorter height, though.
Realistically, 3 of the 4 tools in this class are very compact for impact drivers. Ryobi stands out from them with a fairly bulky 7.6″ head and 7.6″ height, though.
Feature Set
The main feature of hydraulic impact drivers is the hydraulic impact mechanism. Here's a breakdown of what else these tools bring to the table:
Makita 18V LXT Oil Impulse
Brushless motor
3 speed modes
Quick-Shift Mode (T-Mode for metal fastening)
One-hand bit insertion
Milwaukee M12 Fuel Surge
Brushless motor
3 speed modes
Self-tapping screw mode
One-hand bit insertion
Milwaukee M18 Fuel Surge
Brushless motor
3 speed modes
Self-tapping screw mode
One-hand bit insertion
Ryobi 18V One+ QuietStrike
Tri-beam LEDs surrounding the chuck
One-hand bit insertion
Bit ejection
Mag tray for holding bits and screws
Noise Level
Every one of our oil impulse drivers claims to significantly reduce noise. But which one is the best hydraulic impact driver at actually keeping it down?
That award goes to the M12 Fuel Surge, which measured an average SPL level of just 87 dB(A). The M18 Fuel Surge, Makita, and Ryobi are all 7 dB(A) higher.
Keep in mind that noise measurement isn't linear. That drop of 7 decibels is more than four times the sound intensity! As far as how loud it sounds (perceived loudness), every 10 decibels you drop makes it sound half as loud. Between the M12 Fuel and the others, you really can hear the difference under load.
The standard impact drivers we tested ranged from 97 to 105 decibels. In the best-case scenario, they have at least twice as much sound pressure as the worst hydraulic impacts. From the best hydraulic to the worst standard—that 18-decibel difference is 64 times the pressure level and nearly 4 times different in perceived loudness!
Value
Value is so much more than just a list of prices. We consider performance, design, what buying into a battery system opens up, and much more in our value calculation.
Milwaukee's M18 Fuel Surge earns the highest value score followed by the M12 Fuel Surge, Makita, and Milwaukee. None of these are a bad value, but none of them really reach the stellar ratings we see from some of the standard impacts.
That's because we rated them alongside their standard counterparts. Because the performance is generally lower and the price is a bit higher, the overall value proposition isn't as high.
However, everyone prioritizes different aspects in different ways depending on their preferences. If you work in an occupied space like a school or office building, the difference in noise level might be so significant that it skyrockets hydraulic impact drivers to the top of your value list.
*Note: The M12 Fuel Surge's value rating is based on its comparison to 12V models. All others are compared to 18V models.
Price List
Final Rankings
18V Hydraulic Impact Drivers
12V Hydraulic Impact Drivers