When you put your hands on and test over 50 drills a year, you get a feel for who makes the best cordless drill. After testing all those tools we really understand how each of the Milwaukee cordless drills fits into their lineup. The best Milwaukee drill for you may be the most powerful, the best value, or the most compact. It really just depends on what you plan to do with the tool and what kind of work you want to accomplish.
Our recommendations come after hours of torque and run-time testing as well as after giving the tools lots of real-world use. In the end, we may recommend a different Milwaukee drill for a journeyman electrician than someone starting out in construction. Recommending a single tool for everyone never works—so, hopefully, this article helps you find the model that fits your application and gives you the performance, features, ergonomics, and value you need.
Best Milwaukee 18V Brushless Drill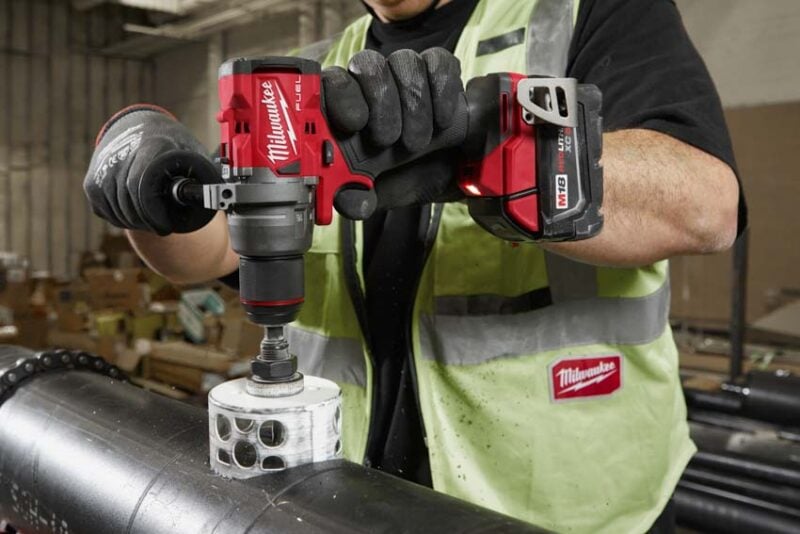 Based on our testing, the 4th-generation Milwaukee 2903 drill steals the show for the best Milwaukee brushless drill. Our pick comes as a result of several factors. First, we have a separate (but similar) pick below for the best Milwaukee hammer drill, so this pick assumes you don't really need that function. Secondly—we know Milwaukee Tool will eventually add the $50 premium version with Milwaukee ONE-KEY technology. If you want ONE-KEY, great. However, we know that most users probably don't need it.
Now, the Milwaukee 2903-20 brushless drill has 1,400 inch-pounds of torque. More importantly, however, it optimizes that torque for speed. This is one of only a very few drills that can drive a 2-9/16″ wood boring bit at High speed. That means you gain some serious productivity during rough-ins. It also now features AutoStop technology. That stops the drill during a bind-up event before it damages your wrist.
Lastly, we also like the 5-year warranty—which you'll see on all our recommended Milwaukee tool picks.
Best Milwaukee 18V Hammer Drill
It's not a far leap to go from the above recommendation to the 2904 for the best Milwaukee hammer drill. After all, you simply add the hammer function, increment the model number, and Bob's your uncle.
If you need the most power Big Red has to give, the 2904 is the best 18V Milwaukee hammer drill bar none. This compact tool drops a full 1.5 inches in length from Milwaukee's earlier hammer drills (like the 2704) while gaining several hundred inch-pounds of torque. What's more, the hammer drill adds nothing to the tool length—matching the drill-only model in size. It also weighs just 4 pounds 12.9 ounces with a 5.0Ah battery installed.
After extensive testing and use, we love the performance it delivers. When measured under load, the Milwaukee 2904 hammer drill maintains 84% of its speed—so it continues to drive fasteners quickly.
Concrete drilling also impressed, and Milwaukee gets top scores in a large group of heavy-duty hammer drills. This hammer drill tackles 2-9/16″ wood boring bits in High-speed—a feat very few hammer drills can match.
Best Milwaukee 12V Hammer Drill
We honestly love the fact that Milwaukee has a solid 12V offering in this category. With that said, we have two great recommendations depending on the power requirements and applications you have in mind.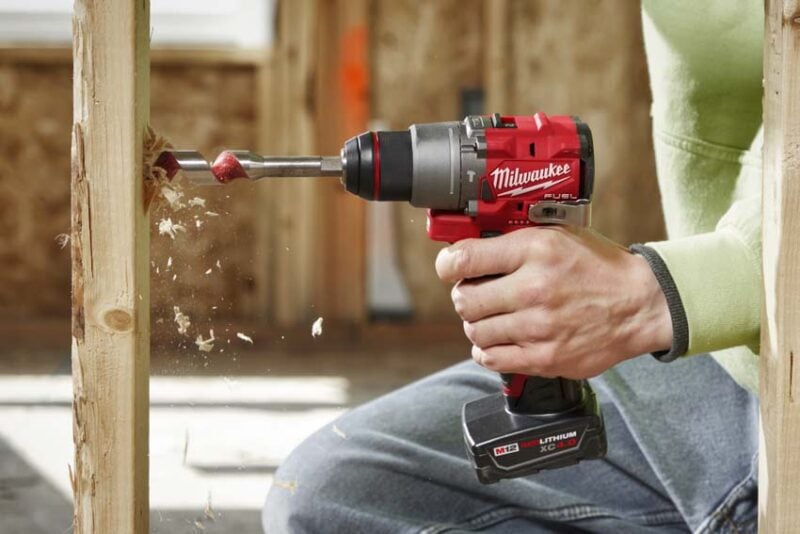 Starting small and working up, we find the Milwaukee M12 FUEL 3404 hammer drill hard to top. This M12 series hammer drill offers tons of power for its size. Milwaukee released this 3rd-generation tool in 2022, making it even more compact while not sacrificing any power. We tested this tool which puts out 400 in-lbs of torque vs the 350 in-lbs of the 2nd-gen 2504. We also like that Milwaukee Tool continued with the handy belt clip design.
If you want enough power to tackle up to 1/4-inch holes in block or brick, but don't plan on spending all day with your drill, this M12 series tool saves some serious weight. We know several MRO, HVAC, and electrical Pros who choose this line for their primary tools.
Best Milwaukee SDS-Plus Drill
It wasn't that long ago that the thought of a cordless Milwaukee SDS drill seemed impossible.
Make no mistake, a Milwaukee SDS drill will sink holes an order of magnitude faster than any traditional hammer drill. If you frequently drill in concrete, you want to own one of these tools. This goes for concrete professionals, HVAC installers, cable/satellite installers, and anyone else who frequently drills through concrete blocks, masonry & brick, or into pads.
By far, we think the Milwaukee 2915 is the best SDS-Plus drill with its 3.6 foot-pounds (4.9 joules) of impact energy. It delivers 4600 BPM and 800 RPM—perfect for dropping bolts into concrete for sign installation. The AVS anti-vibration system works well to reduce fatigue on your arms and hands when you use the tool. Even better, AutoStop Kickback Control prevents over-rotation by stopping the hammer if it binds up during drilling when hitting rebar.
Note that this tool works with the optional Milwaukee M18 FUEL Hammervac dust extractor attachment (2915-DE). That means you can have a truly dust-free solution for drilling into walls or even overhead.
Best Milwaukee SDS-Max Drill
Now, not only do we have battery-powered Milwaukee SDS-Plus rotary hammers, but we also have SDS-Max models with support for bits up to 1-3/4-inches. Milwaukee has several models to choose from, and the difference has to do with how much power you need and what size holes you anticipate drilling.
Moving up to the Best Milwaukee SDS-Max drill, you find support for larger bits and hole sizes. Our pick here falls squarely on the Milwaukee 2718 SDS-Max rotary hammer. This monster tool puts out 8.1 foot-pounds of impact energy—about doubling Milwaukee's best SDS-Plus rotary hammer drill.
On top of the sheer power, we love the 2718-20 because it adds several key features. The AutoStop E-Clutch stops the tool quickly when it runs into a bind-up situation (like hitting rebar, for example). You also get a nice trigger lock, and AVS shock absorption reduces vibration to your arms.
Use it with a Milwaukee High Output 12 Ah battery and this tool runs much cooler than the 9.0HD battery that came with the previous model. Lastly, you get One-Key integration that lets you track the tool and provide inventory control. Keep in mind that if you don't need quite this much power or One-Key features, the Milwaukee 2717-20 SDS-Max rotary hammer might also fit the bill. The only downside might be the price: $1099 for the kit with two 12Ah batteries.
While we love these two SDS-Plus and SDS-Max models, we don't particularly recommend the M12 SDS-Plus rotary hammer (2416-20) unless you're exclusively using 12V Milwaukee tools. If instead, you already use M18 tools, the extra $100 or so gets you into a more robust product with greater drilling capacity.
Best Milwaukee Compact Drill
Sometimes you don't need the maximum amount of power. If saving some money without sacrificing quality makes sense to you, check out the Milwaukee 2801-20 compact drill. Available as a kit with an impact driver (2892-22CT), the 2801 offers plenty of power, runtime, and speed. It also costs much less than an M18 FUEL drill.
Aside from the $139 bare tool price, we named this our best Milwaukee compact drill primarily because of its size. In fact, this tool is one of the most compact in its class. It also has the features we expect from a tool in this category. You still get a brushless motor, full metal chuck, and a tool that weighs just 3.4 pounds with a 2.0 Ah battery. Pair it with the 2850 impact driver, and you have a killer starter kit for any Pro.
Best Milwaukee 12V Drill
Milwaukee 3404 M12 FUEL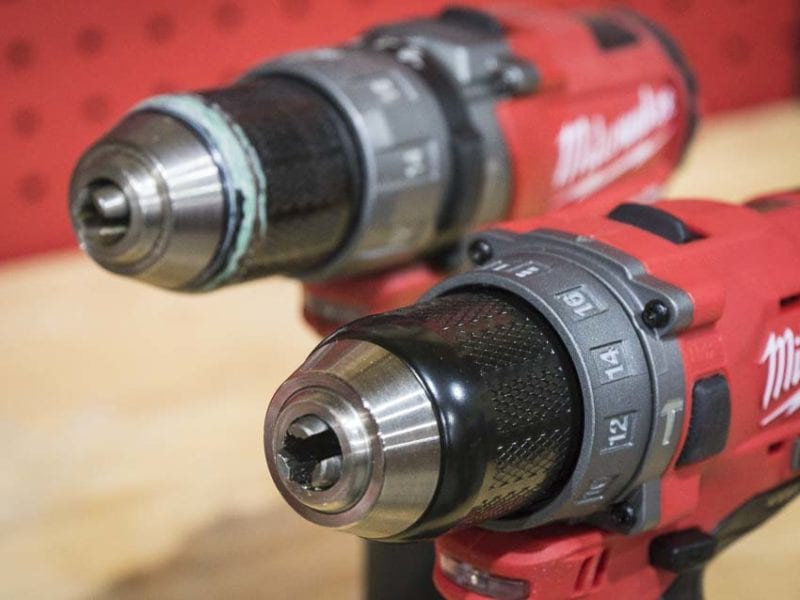 We really feel the best Milwaukee 12V drill is the 3404 M12 FUEL model listed above. The problem is that, often, pricing on the 3404-20 hammer drill often matches the standard drill model. On top of that, you can buy a compact M18 drill for the price of the Milwaukee M12—so you have to decide which platform you want to take advantage of. We recommend looking for a deal on a kit. From time to time, you can pick up the hammer drill and impact driver combo for a great price.
Best Milwaukee Drill Sets
Milwaukee tools are often best bought as kits. For the most part, we find that the batteries become much more affordable when you get them with some tools. As such, the best Milwaukee drill set could fall into the M12 or M18 category depending on what you need. We also see a difference between a simple 2-tool kit and what we define as a "starter" kit that includes enough tools to launch your career (or perhaps even switch platforms).
Best Milwaukee 18V Drill Combo Kit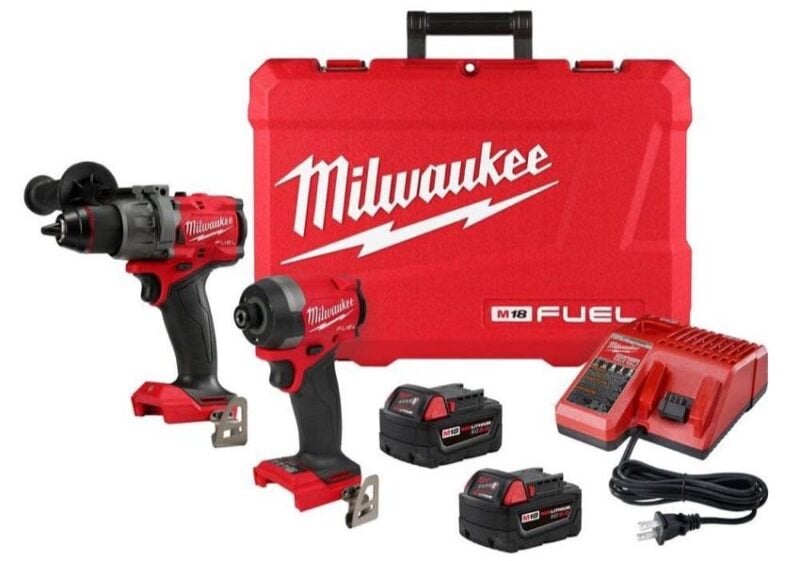 The Milwaukee 3697-22 M18 FUEL combo kit makes for such a great deal we can't recommend it enough. This 2-tool kit includes the latest Gen4 M18 Fuel hammer drill and Milwaukee M18 impact driver. It also tosses in a pair of XC5.0 Ah battery packs and an M18/M12 Rapid Charger.
These tools have everything except One-Key, but for most Pros, we think the blend of power and compactness matters most. At around $399 for the kit, you can spend less, but electricians, plumbers, and general contractors should find it a great value. The 5-year tool warranty also helps seal the deal.
Best Milwaukee M12 Drill Kit
We picked the 3497-22 M12 FUEL 2-tool combo kit as our best Milwaukee M12 drill kit. For starters, you can get larger kits—but they all have flaws. Some larger kits toss in a mediocre LED light that drives up the cost while the largest kits add tools you may not need.
For $199, this core tool kit gives you exactly what you need to get started. It pairs the latest 3404-20 Gen 3 hammer drill with the excellent 3453-20 Gen 3 impact driver. We hope to eventually see this kit in a Milwaukee Packout case.
Best Expanded Milwaukee M18 Drill Kit
Unlike the M12 2-tool kit above, we have different thoughts about the best Milwaukee M18 drill kits. The reason has to do with the application. For many Pros starting out, they need to ramp up their system quickly. We see no better way than to purchase a comprehensive Milwaukee starter tool kit. It won't be cheap, but it gets you up to speed quickly with the tools of the trade.
Our favorite kit is the M18 6-tool combo kit (2696-26). It includes a suite of solid M18 starter tools. You get a hammer drill, impact driver, Full-size Sawzall, 6-1/2-inch circular saw, angle grinder, and LED work light. The price is no joke at $749, but you won't need much else (except may a mid-torque impact wrench) to get up and running. Need more power? You can easily upgrade any of these tools over time to their M18 FUEL counterparts.
Best Milwaukee Drill Bits
A drill doesn't do much good without the proper bits. We can make some recommendations on the best Milwaukee drill bits, but it really depends on the material you intend to drill.
Best Milwaukee Drill Bits for Wood
For wood drilling, we like the Milwaukee Shockwave titanium bits. The titanium coats these bits to reduce friction. The advantage is they fly through wood. The downside is you eventually wear away the coating and don't really benefit (as much) from sharpening these when they go dull. These bits also feature a hex shank so you can use them with an impact driver.
Best Milwaukee Drills Bits for Steel
For drilling in harder metals, check out the Milwaukee Red Helix Cobalt Drill Bits. These bits drill faster than standard 135° split point cobalt bits and feature a Quadedge Tip that reduces heat. Since you can sharpen these bits, they can last a good long time. We LOVE these bits…but hate the case they come in (they are a tad difficult to remove).
Milwaukee Cordless Drill Buying Guide – What We Look For
Performance
Performance is our top priority when evaluating drills. We test in various materials, including concrete, wood, and metal, to gauge a drill's performance in light and heavy-duty tasks. However, we do not test every drill for every possible task, as some drills are not capable of certain jobs.
Additionally, we use our PTR Drill Test Track, which simulates real-world conditions and assesses a drill's control and ability to handle medium and heavy loads. The test concludes when the drill completes the final, heavy-load task, taking into account any bit changes or human errors.
Size and Weight
We generally prefer the most compact and lightweight drills possible. We find them easier to maneuver in tight spaces and they cause less fatigue when working overhead. We aim to use the smallest and lightest drill that can effectively complete the task at hand. If a drill weighing 4 pounds represents 100% power and a second drill weighs 3 pounds with 90% of that power, we'll take door #2 every time.
Ergonomics
Additionally, the ergonomics and handle design of a drill can greatly impact user comfort, and it's a good idea to try holding different drills in-store to find the one that feels best for you. Most of us prefer certain brands' handles over others. Our advice? See what works best for you.
Features to Look For
Today, drills include lots of features—many of which we find very helpful. While not all features are necessary, some can really help you finish up jobs much more quickly. We typically look for the following:
Anti-Kickback feature: stops the motor if the bit binds up
Brushless motor: Almost all drills include brushless motors vs brushed now, but it offers longer runtime, better performance, and longer motor life
Interchangeable chucks: switching to a specialized chuck can get you out of a sticky situation
All-metal chuck: better durability
LED light: nearly every drill has one, but our favorites put the light(s) around the chuck
More than 2 speeds: While 2 speeds are a must, more often speeds up your work because you can get a bit more speed when tackling higher torque applications
Belt hook: usually reversible, they're super-helpful when you have materials to carry or your climbing a ladder
Nice-to-have: Smart controls: helps with inventory management and tracking, some offer customizable controls
Price and Value
When buying a cordless drill, it's important to consider your budget and get the most value for your money. Additionally, look for compatibility with other tools, a longer warranty, and a convenient service center. Consider where you will get new batteries or expand your tool collection. For professionals, having a good dealer relationship can be beneficial.
Why Milwaukee Cordless Drills?
The best cordless drills, like those from Milwaukee Tool, are essential tools for both professionals and homeowners. These versatile tools let you to drill holes in a variety of materials like wood, metal, composite, and even drywall. They can be used for hanging pictures, running wiring and plumbing, creating pilot holes, and completing other projects.
The best Milwaukee cordless drills now include additional features such as AutoStop kickback control to protect you against bind-ups. We like their solid clutch settings that help when driving screws into softer materials. Their hammer drills do really well—even in harder materials like concrete and brick. Cordless drills allow for greater mobility and flexibility to work on different projects without the need for a power cord. They're all but ubiquitous at this point.
How We Test Milwaukee (and other) Drills and Hammer Drills
Speed Testing Under Load
To see how fast each drill could work, we put them through a series of relevant tests at high and low speeds. We find we can measure the RPM once a bit fully engages, letting us see how much of its no-load speed it maintains. The higher the RPMs a drill maintains, the faster the bit moves through the material.
On the other hand, the closer a drill is to its no-load speed, the more efficiently it's working and the lower the strain on the motor. A balance of both gives you optimal performance and motor life.
In some tests, we also measure the time it takes to drill to a specific depth or through a specific thickness.
Matching the Accessory to the Power Tool
Each class of drill has a different amount of muscle. You shouldn't expect a compact drill to do what a heavy-duty one can. We ensure that each bit type and size are within the design intent of the drill we're testing.
Torque Testing
We have several tools available to test torque. With drills, we use an inline torque device that lets us see the maximum soft torque a drill can produce when driving a 1/2-inch lag bolt into laminated OSB. We also do a fair amount of hands-on testing that lets us evaluate the drills in multiple gears to determine which models allow for high torque at higher speeds.
Weight
Using a digital scale, we measure the weight of the bare tool and the tool with the battery that comes kitted with the tool or is recommended by the manufacturer.
Footprint
Using a digital caliper, we measure the head length and tool height without a battery installed.
Grip
The comfort of each drill's grip is subjective based on size and does not affect the score. We hold and use the tool with a bare hand to see if there are any uncomfortable seams or other oddities that might affect every user regardless of preferences.
Feature Set
In general, here are the features we look for on each drill:
Brushless or brushed motor
Number of standard modes
Anti-kickback features
Smart controls
Smart tracking/inventory
Clutch design
Drill/driver/hammer drill selection design
LED light design
Chuck size/type
Belt hook
Additional unique features
Value
Value is more than just the price of the tool. We consider the whole picture of what you get for the price you pay. That includes the performance, feature set, ergonomics, warranty, bare tool price, and kit price.
Why You Can Trust Pro Tool Reviews
Ever check out a "review" site and you can't tell if they actually tested the tools or if they're just "recommending" the Amazon top sellers?
That's not us. We only recommend what we'd actually use, even if we don't earn a commission from it. It's all about giving you a legitimate recommendation and our honest opinion of each product.
We've been in business since 2008 covering tools, writing reviews, and reporting on industry news in the construction, automotive, and lawn care industries. Our Pro reviewers work in the trades and have the skills and experience to know whether tools can perform well in the field.
Each year, we bring in and review more than 250 individual products. Our team will put our hands on hundreds of additional tools at media events and trade shows throughout the year.
We consult with innovators in the technology and design of tools to gain a broader grasp of where these products fit and how they work.
We work with more than two dozen professional contractors around the United States who review products for us on real job sites and consult with us on testing methods, categories, and weighting.
We'll provide more than 500 pieces of new content this year absolutely free for our readers—including objective evaluations of individual tools and products.
The end result is information you can trust because of the editorial, scientific, and real-world professional experience we collectively utilize each and every time we pick up and test a tool.