Bosch Power Tools unveiled its Bosch CORE18V battery at the 2017 World of Concrete. Ten high-density Bosch CORE18V cells are welded and rail-connected to deliver what Bosch claims is 80% more power, longer runtime, and better heat transfer with updated CoolPack technology over previous generation Bosch batteries. The Bosch CORE18V battery is 100 percent compatible with all 18-volt Bosch Lithium-ion tools and chargers.
"Bosch looks at battery power from the user perspective. What do users want? They want greater power and more runtime in a compact size, which is what CORE18V is all about. CORE18V represents a big piece of the Bosch effort to build end-to-end product systems that offer superior performance, no matter what the job is. Based on increased power and runtime, plus backward compatibility across the full power tool lineup, we feel this is a step beyond battery power systems that are currently available."

Theron Sherrod, product manager, Robert Bosch Tool Corporation
Bosch Core18V Uses Panasonic 20700 Battery Cells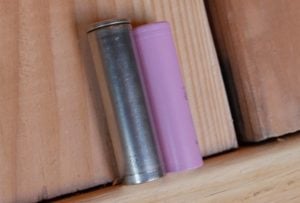 The "Core" of the new Bosch Core18V battery is the use of Panasonic 20700 cells. These are higher density, larger capacity cells that provide a lot more power than traditional 18650 cells. We've seen other manufacturers using these cells—the new Metabo LiHD batteries come to mind. While this is a big jump, Milwaukee is moving even further to a 21700 cell in the near future.
It seems like the bigger cells might be a natural transition for manufacturers looking to draw more power out of their packs. In the case of the Bosch Core18V packs, they can now draw up to 1440 Watts as opposed to a maximum of 800 Watts from their current 6 Ah packs. That's where they get their 80% more power stat (1440/800 yields an 80% increase).
Cool Under Pressure
The new Bosch CORE18V battery uses an updated CoolPack design. It manages heat in a more efficient way by separating each cell into its own compartment. It's more than just physical separation, though. The resin Bosch uses in their CoolPack absorbs heat to draw it away from the cells so they run cooler.
It also uses welds and copper to promote much quicker energy transfer between the cells (AKA reduced resistance). Copper offers a significant improvement in energy transfer compared to other metals and the weld is a marked upgrade from simple solder technology.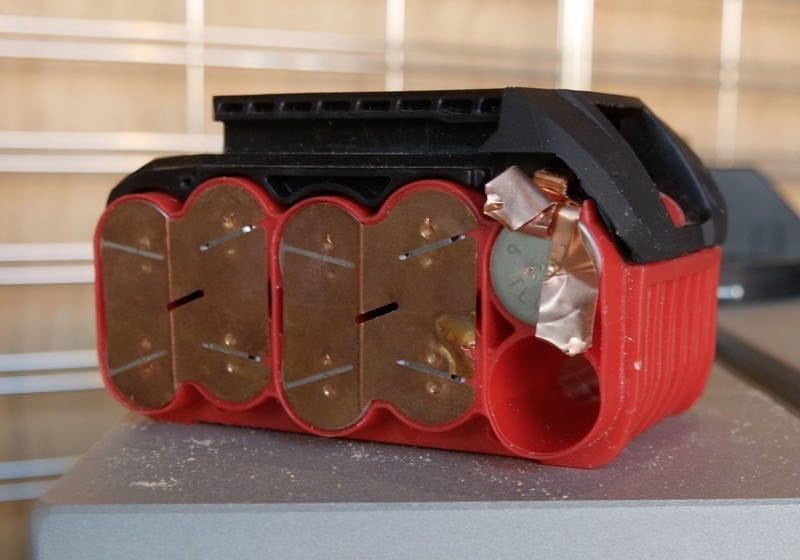 So How About that Performance Boost?
Reciprocating Saw Testing
I put the Core18V battery to work in Bosch's newest 18V reciprocating saw – the GSA18V-125 – to see what kind of performance it has against Bosch's current 6 Ah battery pack.  Regardless of what battery you use, you'll want to give the new recip a look. It's an impressive upgrade for Bosch.
As far as testing goes, I did some controlled environment cutting in 2 x 12 PT, both clean and with nails embedded. With a 10-pound weight ensuring consistent downforce, I made dozens of cuts to sort out the numbers.
When all sawdust settled, the Bosch Core18V battery really did provide a performance boost. In both orbital and non-orbital modes, the time gain is roughly 0.4 second or 4%. That's a far cry from the 80% Bosch is claiming, so what's the deal?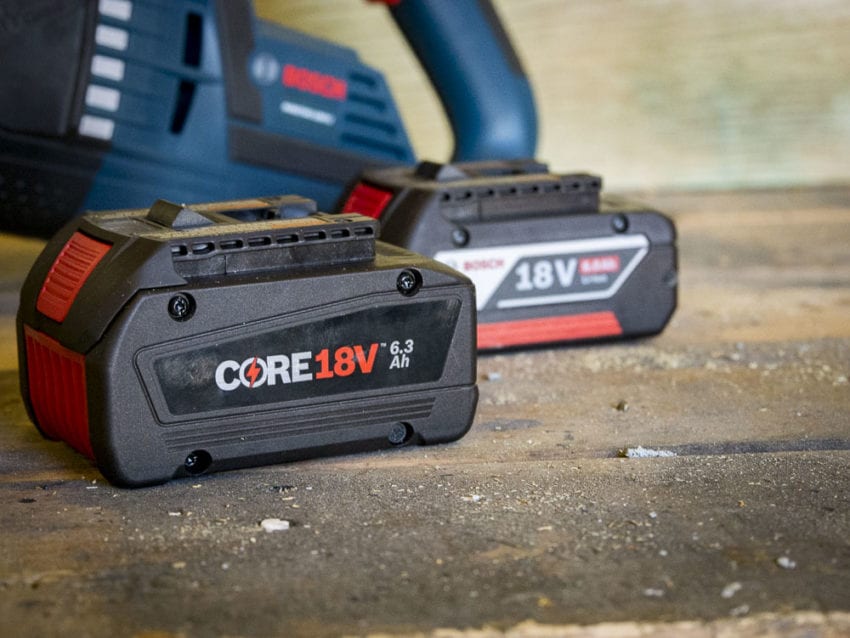 That test doesn't put the saw in danger of stalling, so neither battery is calling on all its available resources to keep the blade moving. If it did, the packs would have been much hotter than they were. However, since the Core18V can call on 1440 watts over the 800 watts of the standard 6.0 amp hour battery, it means cordless tools in Bosch's future can be much more powerful – just because the battery can deliver more. What this test shows is that you do get a slight performance boost even when you're not putting a ton of stress on the tool.
Grinder Testing
From there, we also ran some testing using the Bosch 18V Connected Grinder. Running through full battery cycles for the 6.0 Ah and Core18V packs in 5/8″ rebar put a little more perspective on the difference.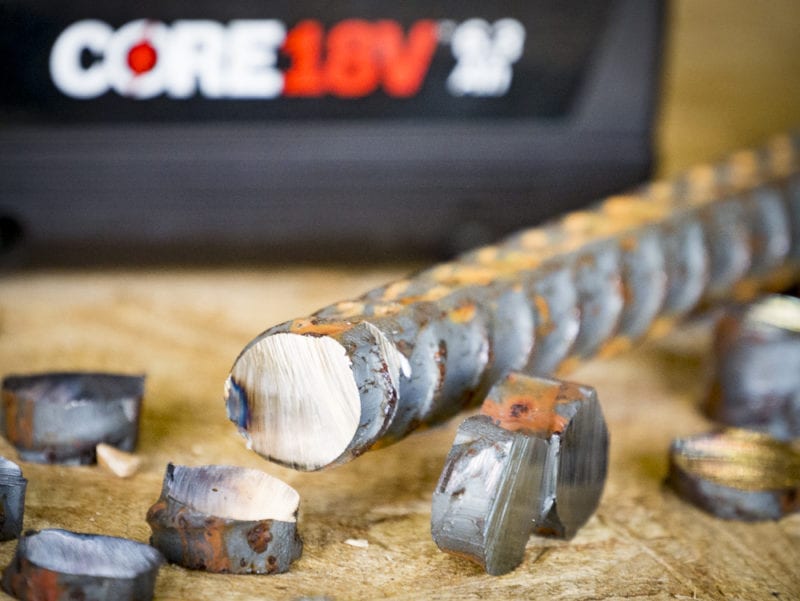 The fastest cut we could make with the 6.0 Ah battery was 18.3 seconds while the Core18V managed 10.7 seconds. That's a 42% increase in cutting speed.
For runtime, the 6.0 Ah pack made 15 cuts, while the Core18V finished 21 – a 40% increase. Even just looking at no-load speed, the Core18V battery spins a grinding wheel 360 RPM faster than the 6.0 Ah pack.
What About the Future?
Bosch has a reputation for producing high-quality tools that are tough on the job site, but several categories have lagged behind the industry in terms of performance the past couple of years. Aside from the fact that simply inserting the new battery pack will give those tools a boost, it opens the door for more powerful tools. Being able to pull 1440 watts from the pack instead of just 800 opens some pretty large doors, in fact.
So what should we expect?
First of all, Bosch is tight-lipped on development, so this is completely conjecture at this point. However, I expect to see Bosch's first 1000+ in. lbs. drill or hammer drill along with an SDS-Max rotary hammer before too much longer. We can certainly expect a power boost in any of the new 18V tools they bring out, but these two, in particular, would be good targets. Bosch's 18V Connected Grinder is actually the first tool they've launched built around Core18V as a foundation.
Core18V Slim Pack and 8.0Ah Fat Pack
One of the things Bosch has done really well with their increase in amp-hour capacity is to keep the pack size from swelling to an obscene amount. Tools like impact drivers and drills can benefit from Core18V technology, but don't really need 6.3 amp hours if you can trade off some weight. The new Bosch Core18V 4.0 Ah slim pack battery answers that call.
We mentioned earlier the possibility of 21700 cells for future Core18V batteries and the 4.0 Ah pack has them. There is also an 8.0 Ah pack that's on the market as well.
Any Chance of a 9 Ah Core18V?
Don't hold your breath for a 3P pack (15 total cells). Bosch is being very intentional about keeping their 18V battery down in size. After all, we're talking about 18V tools. Big, heavy 36V tools are generally accepted, but Bosch wants to keep the 18V line manageable. A big part of that is keeping the battery pack down in size and weight. Look for Bosch to continue developing even better battery pack design and moving to the 21700 cell – just don't expect the pack to accommodate another row of cells.
Pricing
Here's the basic pricing structure if you just want to get your hands on a single battery:
4.0 Ah Core18V (21700 cells): $71
6.3 Ah Core18V (20700 cells): $159
8.0 Ah Core18V (21700 cells): $149
At the time of writing, retail prices were running the same for the 6.3 Ah and 8.0 Ah batteries, making it a pretty easy choice.
There are also plenty of starter kits, multiple battery packs, and tool kits that come with Bosch Core18V batteries to choose from.
The Bottom Line
The Bosch Core18V Battery Pack is opening up some significant doors for Bosch's current and future cordless lineup. Our testing shows a clear boost in both power and runtime for the Core18V pack and we're still in the beginning stages of Bosch cordless tools designed for the higher power output the battery offers.
Bosch CORE18V Battery Features
Greater power (up to 43%) than the previous generation Bosch batteries
Longer runtime
Updated CoolPack technology for better heat transfer
Compatible with all Bosch 18V tools and chargers
Bosch CORE18V Battery Specifications
Voltage: 18V
Lithium-Ion Cells: 20700 (6.3 Ah), 21700 (4.0 Ah and 8.0 Ah)
Amp-hours: 4.0, 6.3, or 8.0
On-Board Fuel Gauge
Temperature Range: Down to -4ºF
Price: $79 – $149