Last Updated on August 13, 2022
We recently tasked ourselves with figuring out which portable dust extractor has the best combination of performance, feature set, and value. With the recent updates to the OSHA regulations for acceptable levels of airborne silica dust, the ability to capture debris was our highest priority. Basically, we wanted to know which dust extractors sucked the most…but, y'know, in a good way. This week, we're taking a closer look at the Bosch VAC090A Dust Extractor.
There are many classes of portable dust extractor you can look for. Bosch's class happens to be portable units in the 8- to 12- gallon range with a CFM rating up to 150. These dust extractors range in price from the low $500's to nearly $900. So where does the Bosch VAC090A land when all the dust settles?
OSHA Compliance Features
HEPA Rating
What makes a dust extractor OSHA-compliant? Well, one of the requirements for OSHA compliance revolves around the inclusion of a HEPA filter. Not every application requires a HEPA rating, but enough of them do that we consider it a must-have feature. A HEPA filter needs to catch 99.97% of particles 0.3 microns and larger. The OSHA-compliant Bosch VAC090A, of course, features a HEPA filter to catch all the debris that would otherwise be floating around in the air. Just note that you'll need to purchase your HEPA filter separately – it doesn't come with one.
* Editor's Note: Bosch has just released the VAC090AH – the same dust extractor with HEPA filter for the same price. The VAC090A will be disconinued as the new model rolls out. Also, using Bosch's fleece bag will greatly improve the life of your HEPA filter – check out how little dust makes it through to the canister!
Automatic Filter Cleaning
Bosch's dust extractor also includes an automatic cleaning feature. It uses a reverse air flow to clean the filter, and it cycles through a cleaning interval about once every 15 seconds while the vacuum runs. While frequent cleaning is nice, there is a downside – performance levels drop while the unit cleans the filter. This lull in performance isn't unique to the Bosch model, though. Every dust extractor that utilizes reverse air flow suffers a bit.
If you're not working in a concrete application – say, carpentry – you can turn the auto filter cleaning feature off. When you notice the vacuum performance drops, turn it back on and let it run a few cycles to clean itself out.
Other Features
Automatic Tool Activation
Like all of the models we tested, this dust extractor features pass-through power. The outlet on the extractor lets you to plug in a power tool. Going this route allows the extractor to sense when power goes to the tool and the vacuum automatically comes on as well. Likewise, it will sense when your tool quits running, give a few more seconds of suction, and then power down.
Power Broker Dial
When you're using the tool activation feature with a tool greater than 5 amps, you'll need to dial down the suction. Bosch does better than average, giving you up to 7.5 amps for your power tool to work with – but at the cost of vacuum power.

Cord/Hose Management
The Bosch VAC090A also features the best hose/cord wrap system of all the models we looked at. It has integrated hooks to hang the hose on and some elastic wraps to tie it all down.
Bosch VAC090A Dust Extractor Manufacturer's Features
Automatic filter cleaning – cleans filter every 15 seconds to maintain maximum suction power
L-BOXX integration – instantly creates a mobile workstation
Power tool activation – allows power tool's switch to turn vacuum on and off
Power Broker dial – for allocating power between vacuum and connected power tool; also allows suction control for specialty applications
EPA lead Related Renovations Repair and Painting (RRP) rule compliant – when accessory VF120H filter is used
High suction force – high CFM for excellent dust extraction capabilities
Flat filter design – maximizes canister capacity
Lightweight and portable – for easier lifting and transportation
Vacuum hose wrap – keeps hose secure and out of the way during storage or transportation
Cord wrap – for convenient storage of cord
On-board accessory storage – convenient storage for easy access to optional wands, nozzles, and other accessories
Wet vacuuming water level sensor – automatically shuts down vacuum when water reaches a maximum height to protect motor
Rugged construction/polypropylene tank – durable and rust free
Rubber wheels and locking caster – built to withstand the demands of a jobsite
Performance
We tested all of the dust extractors' suction power, as well as how the air flow affects the area around the nozzle. We looked at each test with clean filters installed, and then again with filters that had seen some use. For a more in-depth look at our testing process, I'll refer you back to our shootout.
First up, we looked at each dust extractor's sucking power through our water lift test. With fresh, new filters installed, the Bosch VAC090A pulled water up 75.5″ of 2-1/2″ pipe. Bosch did, however, lose about 6% power after we ran 20 lbs of concrete dust through it.
We ran through the same process with our CFM testing; we used clean filters first, then ran 20 pounds of concrete dust through. With clean filters, the Bosch fell to the bottom in this category. However, it still did 86% of the work that our winner did. With dirty filters, the Bosch did 91% of the work as the winner. This is one of the times the ranking is bit misleading – Bosch carries Pro-level performance in every test we put it through.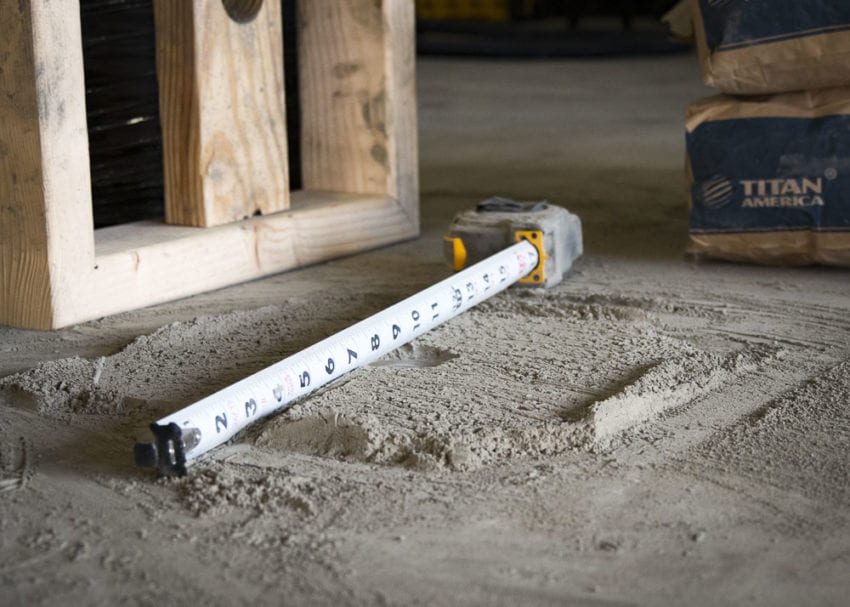 Final Thoughts
It's a good day when we walk away from a shootout knowing that every participant easily gets our Pro recommendation. Even though Bosch finished third, you have to go up in price significantly to crack the top two. In the sub-$600 category for portable dust extractors, the Bosch VAC090A is going to be your best bet when you look at the whole picture. And it's the only one at this price point to give you 150 CFM – a rating that will let you use a 6-inch grinder instead of capping you at 5-inch models.
Bosch VAC090A Dust Extractor Specs
Model: Bosch VAC090A

Motor: 15 amps total (9.5 vac only)

CFM: 150

Tested Water Lift: 75.50″

Capacity: 9 gal

Hose Length: 20.5″

Warranty: 1 year limited
Shop Amazon