On the 6th day of Christmas, PTR gave to me… Festool gifts from Germany! Day 6 shifts over toward woodworking with our top 5 best Festool gifts for Christmas!
Best Festool Gifts for Christmas 2017
Why we'd love to have it:
Jobsite radios have to decide what they're going to be – large site-filling units or smaller, individual units. But the smaller you go, the worse the sound quality gets. Not so with Festool's SYSRock! You get quality sound in a small package that's perfect for the shop or the jobsite along with Bluetooth connectivity and FM radio tuner.
Get it for:
With the ability to use a Festool 18V battery or AC cord, this is a great gift for anyone needing a small radio/speaker option.
Check out more details here.
Price – TBD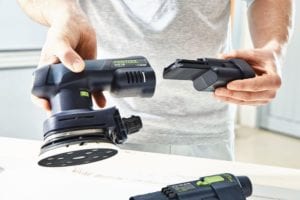 Why we'd love to have it:
Festool decided not to make you decide between corded and cordless sanders by introducing hybrid models. By changing the battery form factor, you still get Festool's outstanding ergonomics and sanding performance with or without the cord. Better yet, you can go with a circle, rectangle, or delta pad design. Or do what we did – get all three!
Get it for:
Hybrid sanders are a jobsite carpenter's dream, but even the shop guys will appreciate losing the cord.
Check out more details here.
Price – $200.00
Festool Syslite STL 450 Surface Inspection Light Set W/ Tripod
Why we'd love to have it:
Where the SysLite Duo does its best work by lighting up the work area for you, Festool's SysLite STL is the inspection light tradesmen will want to get their hands on. The design allows you to cast light next to the surface you're inspecting, exposing defects in workmanship so you can correct them before signing off on job completion. It'll make your finished work even better. And we all know that happy clients love to tell their friends who did quality work for them.
Get it for:
This is a great light for painters, drywall Pros, and other interior tradesmen.
Check out more details here.
Price w/Tripod – $520.00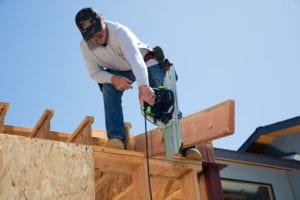 Why we'd love to have it:
Festool's HK and HKC 55 Carpentry Saws combine the function of a circular saw, table saw or track saw, and miter saw in one set. What sets this saw above most track saws is the FSK rail system featuring a design that allows you to make accurate, repeatable miter cuts. It's an all-in-one solution for jobsite wood cutting.
Get it for:
Carpenters constantly on the go will love the versatility of this model.
Check out more details here.
Price – $605.00
Festool CT 36 AC Dust Extractor With Autoclean
Why we'd love to have it:
Festool makes some of the best dust extractors available. In addition to their standalone quality, they're an integral part of the Festool system of thinking when it comes to tool design. It's more than just a vacuum that attaches – it's intentionally designed to maximize the performance of Festool tools that are used with it.
Get it for:
Every tradesman using Festool products will get the best performance when they pair their tools with a Festool dust extractor.
Check out more details here.
Price – $915.00
Shop Amazon
Disagree with our best Festool gifts for Christmas? That's okay – every Pro has their own needs! Let know what your top 5 are in the comments below or hit us up on Facebook, Instagram, and Twitter!