The DeWalt 5-inch Random Orbit Sander smooths with such efficiency and finesse that you may find yourself looking for new projects. It helped me bring a remarkable softness (and safety) to a pine box I made for my infant son, finish a laundry room shelf so it didn't look so utilitarian, and salvage some stained wood I'd have otherwise thrown out.
Pros
Lots of power in a conveniently cordless package
Comfortable overmold with easy access to power and speed dial
Power switch is dust sealed for longevity
Uses common 8-hole hook and loop paper
8,000 to 12,000 OPM gives you solid control
Nearly an hour of run-time on 5Ah battery
Cons
Can start to feel a bit heavy with 5Ah battery
Non-standard dust extractor connection (requires expensive adapter for non-DeWalt vacs)
Protection and Performance
As a kid, I helped my parents restore a dilapidated farmhouse by sanding nearly every inch of the woodwork…by hand. The DeWalt 5-inch random orbit sander wouldn't have been appropriate for the more ornate molding, but it would have done wonders for all the board work!
This sander became one of my favorite tools over the course of this review. I say that not just because it produces a satisfying finished project, but also because of how darn easily and quickly it does it.
Starting at the top, the dust-sealed power switch engages easily. The 8,000 to 12,000 OPM dial lets me control speed for finer work—great for sanding between layers of clearcoat. The controls sit right at your fingertips when you place your hand on the comfortable rubber overmold grip.
For novices, the most difficult part of using this sander might be lining up the 8-hole hook-and-loop sanding paper. The rest should come easily.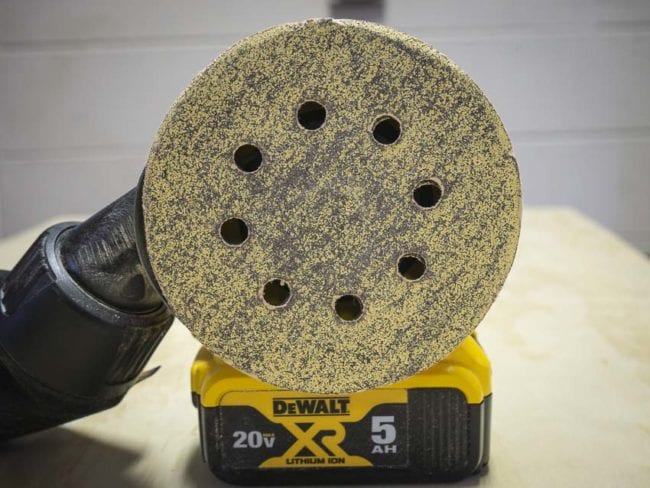 Creating a Scarf Box
My favorite use of the DeWalt DCW210 random orbit sander (so far) was sanding to a buttery-smoothness this scarf box I made for my infant son. It's a sensory toy designed to engage babies to learn by playing and feeling textures.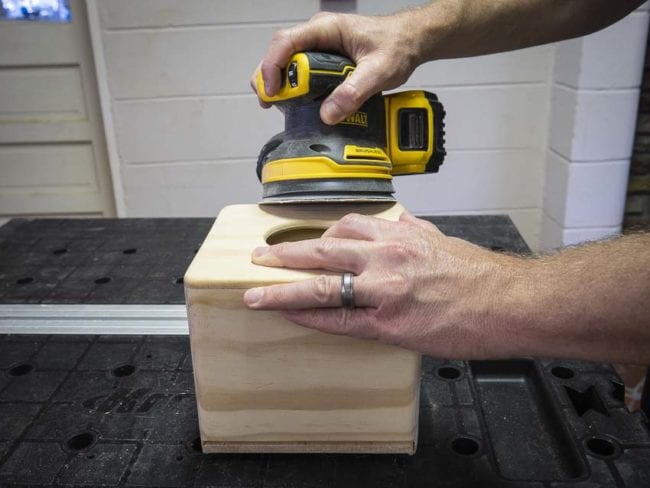 I'd have been happy if my son simply looked at the box and maybe knocked it over—but he quickly understood he could pull the scarf out of the top. At 8 months, he understood there were more scarves inside and began to reach through the hole to get them. That's pretty satisfying.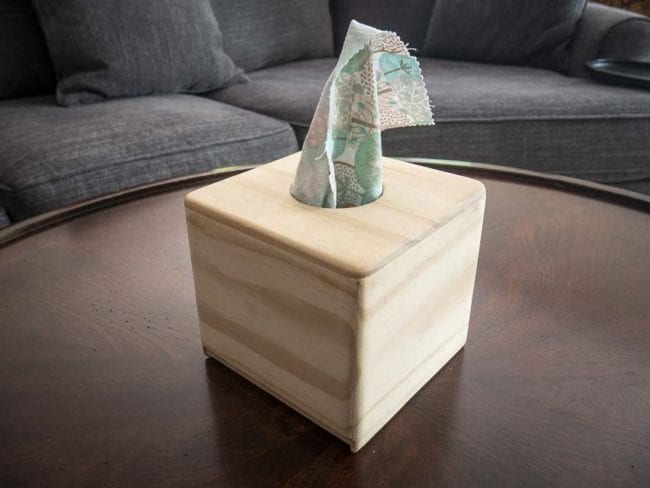 Sanding Pine Shelving
As I looked for ways to build on my sanding success story, I remembered that we needed a shelf in the laundry room. In just a few minutes, I had the pieces cut and ready. Soon the DeWalt 5-inch random orbit sander had the shelf sanded perfectly smooth. This cordless sander makes it easy to remove blemishes and bring out a brighter character even in mundane pine boards.
Of course, the random orbit pattern is very forgiving because it's less apt to leave distinct sanding marks. You just need to focus on applying the sander evenly to the surface.
How Long Will It Run?
Everyone wants to understand just how long a cordless sander runs on battery. The DeWalt DCW210 ran for almost an hour during light 150-grit sanding on pine using a single 5Ah battery. That means that you can use this sander more or less non-stop if you have a pair of batteries and charge one while you work.
Run-time drops considerably, however, if you engage in heavier-duty use on lower grit paper. Take off a layer or two of paint, for example, and you could see that time drop by half or more.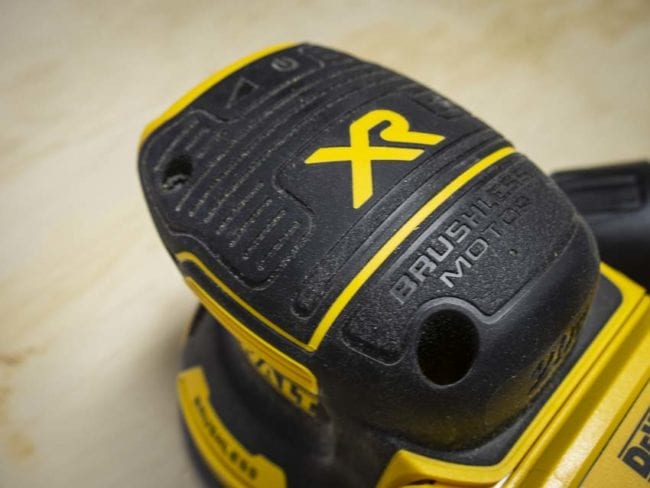 How Much Does the DeWalt DCW210 Cost?
There's some competition in the 5-inch, cordless random orbit sander space—check it out:
Black & Decker BDCRO20C (kit with 1.5 Ah battery): $59.99
Ryobi P4111 (bare tool + $99 for two 3Ah batteries): $144
DeWalt 5-inch Random Orbit Sander DCW210D1 (kit with 2.0Ah battery): $158
DeWalt 5-inch Random Orbit Sander DCW210P1 (kit with 5.0Ah battery): $217
Makita XOB01T (kit with 5.0Ah battery): $213
The Bottom Line
Sanders don't get much more convenient than the DeWalt 5-inch random orbit sander. It accomplishes its purpose with ease whether you need to take off a little or a lot. Just two controls—power and the speed dial—disturb an otherwise simplistic design. We love the comfortable overmold grip and the ease with which we could access the controls.
The proprietary dust port connection presents a minor annoyance. You can hook it up to a non-DeWalt dust collector's 1-1/4″ hose using the optional DWV9000 adapter. Of course, the onboard bag works fine for smaller jobs. It also gives you the full freedom of movement and convenience of this great cordless tool.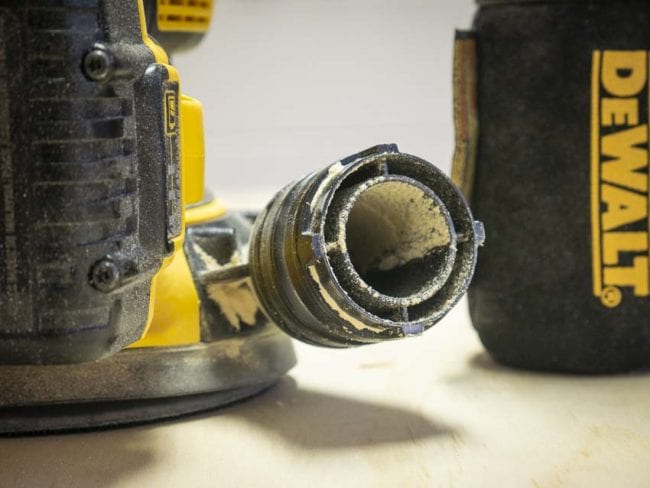 With excellent run-time and great ergonomics—the DCW210 cordless sander presents a solid option that only gets better if you already find yourself on the DeWalt cordless platform.
DeWalt 5-inch Random Orbit Sander Specifications
Item Numbers:

DCW210B (Bare Tool)
DCW210D1 (kit with 2.0Ah battery)
DCW210P1 (kit with 5.0Ah battery)

Sander type: Random Orbit
Dimensions (HxL): 5.1 x 7.1 in.
Weight: 1.9 lbs.
Pricing: