Last Updated on June 8, 2021
As cordless tools continue their meteoric rise thanks to lithium-ion technology, circular saws are finally catching up. For a while, we had to be content with 6-1/2-inch models that have what it takes to get the job done, but with a little loss in capacity and not-so-corded power. Now 7-1/4-inch models are making headway with several claiming to match corded performance. That's always debatable, so we have the brand new (like so new it was announced earlier today) DeWalt DCS570 20V Max Circular Saw to see what it can do in the 7-1/4-inch cordless class.
If you're thinking the DeWalt DCS570 has a strikingly familiar appearance, you're absolutely right. Essentially, this is the fraternal twin brother of the FlexVolt 60V Max Circular Saw – nearly identical with different motors. Of course, this DeWalt 20V Max circular saw is on the 20V platform, not the 60V, so I expect some loss of power. The question is whether this is the 6-1/2-inch model with a bigger blade or if the new motor has some additional torque behind it with its brushless motor.
Editor's Note: This is the original review, but the ratings have been updated to reflect the results of our Cordless Circular Saw Shootout.
DeWalt DCS570 20V Max Circular Saw Top 5 Features
You can read the full list of features below, but here are top 5 that stand out to me.
Brushless Motor
The brushless motor has to be there in this class. Ridgid's Gen5X model came out with a 4-pole brushed motor and did okay, but brushless is really what you need if you're going to go for a head to head comparison to what Pros expect from corded models.
Blade Brake
Blade brakes on brushless motors aren't mechanical, they're electronic. This makes it easier to engineer a solution that stops quick and the DeWalt DCS570 circular saw's brake stops very fast to reduce the risk of injury to you or damage to your workpiece.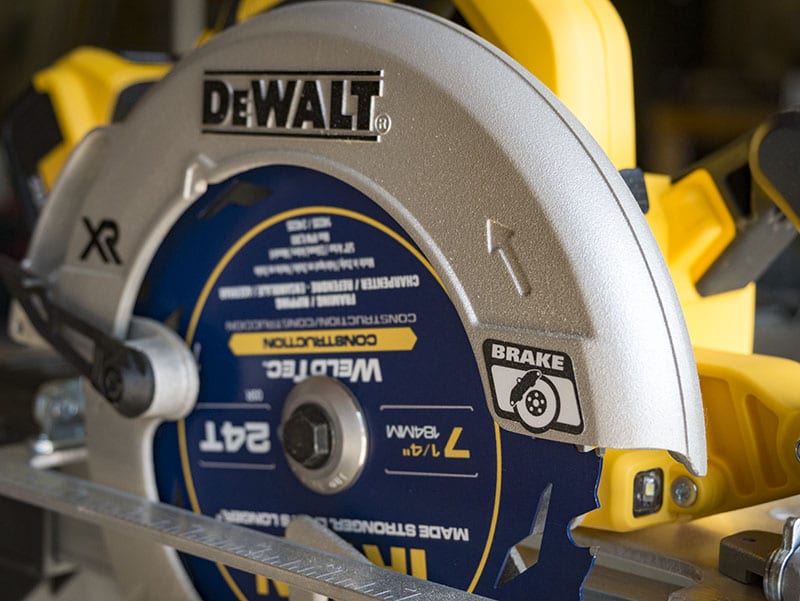 Ergonomics
I'm a fan of DeWalt's cordless tool handles and you get the same one here. It contours my hand nicely and makes for a comfortable grip along with the overmold. The support handle – called a pommel – is offset to relieve some of the strain to your wrist while cutting.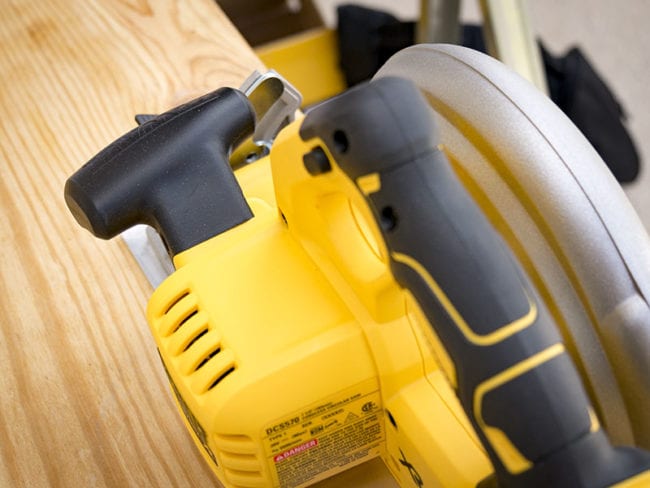 One downside is the push in trigger safety. I greatly prefer a push-down style safety. It's all about creating two distinct motions to engage the trigger, but I find the push in safety to be tougher to defeat. Then again, maybe that's the reason for it.
Adjustments
Both the depth of cut and bevel angle adjustments are agreeably smooth to operate. The locks hold securely without being obnoxiously difficult to loosen. One bonus is that DeWalt includes detents on the bevel adjustment at 22.5 and 45 degrees. These are easy to feel and lock in for those common cuts.
Rafter Hook
Maybe it's just me, but I want a belt hook or rafter hook on most all my cordless tools. Sometimes I'm climbing a ladder and want it on my tool belt rig. Other times I need to set it down and would rather not bend to do it. Regardless, the lack of a rafter hook on the DeWalt DCS570 is a noticeable omission.
DeWalt 20V Max Brushless Circular Saw Key Features
Brushless motor
Bright LED cut line light
Bevel detents at 22.5 and 45 degrees
Metal blade guard
Blade brake
7-1/4-inch blade
No rafter hook
Right side blade orientation
Performance
Over several weeks, I put the DeWalt DCS570 through cross cuts and rip cuts in plywood, rough lumber, PT, and even some MDF (I hate that stuff). I started with some test cuts in 1/2-inch plywood using an Irwin Weldtec blade. Unsurprisingly, it cut through just fine. But really, if a circular saw struggles in this, just return it or throw it away and start over.
In 3/4-inch plywood, the saw maintains its confidence with plenty of speed. It was here that I began to think that it might just keep up with a corded saw. Making mainly cross cuts – but throwing in a rip cut for good measure – in rough 2 x 6 lumber confirmed that this model is a legitimate contender in the 18V/20V Max class.
Flipping the bevel angle to 45 really made me appreciate how easy the bevel adjustment and detents are to use. The base plate slides easily and it's very clear when you hit the detent and to lock it in place.
Making 45-degree cuts in PT (along with a few test cuts in rough lumber) leaves me with the impression that the DeWalt DCS570 can replace your corded circular saw without any performance trade-offs. That's leaving out the runtime issue, of course. Still, you should get a solid day's work out of the saw. But even if you're pushing the limit, it will be awfully hard to work faster than you can cycle two batteries on the charger.
One issue with the FlexVolt circular saw is that the coating on the base plate doesn't slide as easily as we'd like. The aluminum plate on this model doesn't suffer from that issue and we find it easier to glide across material than its more powerful brother.
The Bottom Line
The DeWalt DCS570 has the power to be a replacement for your corded sidewinder model. A worm drive will still have more torque and both the DeWalt FlexVolt Circular Saw and Makita 18V X2 LXT Rear Handle Saw will give you a power boost. However, it gives DeWalt 20V Max users a good reason not to jump ship on DeWalt's deep flagship cordless line.
The major features are all present with the XR brushless motor and a blade brake highlighting things along with bevel detents. I'm a little disappointed that there's no rafter hook, but the performance and ergonomics are enough to overcome that minor complaint.
As a bare tool, the DeWalt 20V Max Brushless Circular Saw rolls in at $159. That's an excellent price for the performance you get and easily one of the best values currently available.
DeWalt 20V Max Brushless Circular Saw Manufacturer's Features
Brushless motor provides 5,200 RPM maintaining speed under load
7-1/4-in blade provides 2-9/16-in cutting capacity at 90°
57° bevel capacity with positive stops at 45 and 22.5 provides increased versatility
Offers rubber overmold for better control
Stops the blade after trigger is released
Delivers corded capacity
Durable high-grade aluminum base for accurate cuts
Maximized for runtime and durability delivering excellent performance
Includes 7-1/4-in (184mm) circular saw, 7-1/4-in blade, and blade changing wrench
DeWalt 20V Max Brushless Circular Saw Specifications
Model: DeWalt DCS570B (bare tool), DeWalt DCS570P1 (kit)
Power Source: DeWalt 20V Max or FlexVolt battery packs
Blade Size: 7-1/4″
No Load Speed: 5200 RPM
Max Cutting Depth: 2-9/16″
Max Bevel Angle: 57 degrees
Bare Weight: 8.16 pounds
Weight with 4.0 AH Battery: 9.52 pounds
Weight with 9.0 AH FlexVolt Battery: 11.04 pounds
Warranty: 3 years
Shop Amazon