Dremel Multi-Max MM50 Takes a New Angle on Oscillating Multi-Tools
The Multi-Max line of oscillating multi-tools is getting an upgrade with the Dremel Multi-Max MM50. More than just bumping up the motor power to 5.0 amps, there are a couple of features that should make life easier on DIYers and may even catch the attention of a few Pros.
Pros
More powerful motor than the MM45
Easy blade changes
Angled head improves cutting access
Very good cutting performance
Cons
Some blades that work with the MM45 won't work with this design
Above-average heat buildup on longer cuts
Blade change knob may be a long-term liability
Performance
Speed
Dremel upgrades the MM45's 4.0-amp motor with a 5.0-amp motor for the MM50. That's more power than Fein offers in their outstanding Fein MultiMaster design and the Fein SuperCut models and less than the 7.0-amp Dremel Velocity.
The MM50 uses a standard 3.2º oscillating angle and 10,000–21,000 OPM to get the job done. Those are solid numbers that compete with the best oscillating multi-tools.
But does it translate into fast cutting speeds?
It does a pretty fine job. I don't have any complaints even though there are a few models out there that can plunge cut faster. The bigger deal is the amount of control you have over the speed. It lets you cut metal faster and with more control (yes, a slower blade speed can actually increase your metal cutting speeds) while extending the life of your metal blades.
One thing I noticed is that the tool gets pretty warm if you use it for an extended period. It's not something that pops up if you're just cutting out an outlet box in drywall. You will if you're taking several minutes to make a cut through material that makes the motor work hard, though.
Sanding
I'm a bit of a tool snob and generally turn up my nose at sanding with an oscillating multi-tool. That's what I have a suite of sanders for, after all. That said, If you have to sand with an OMT, the Dremel MM50 really isn't bad. It owes that to its angled head that gets your hand up and lets you keep the sanding pad flat on your material better.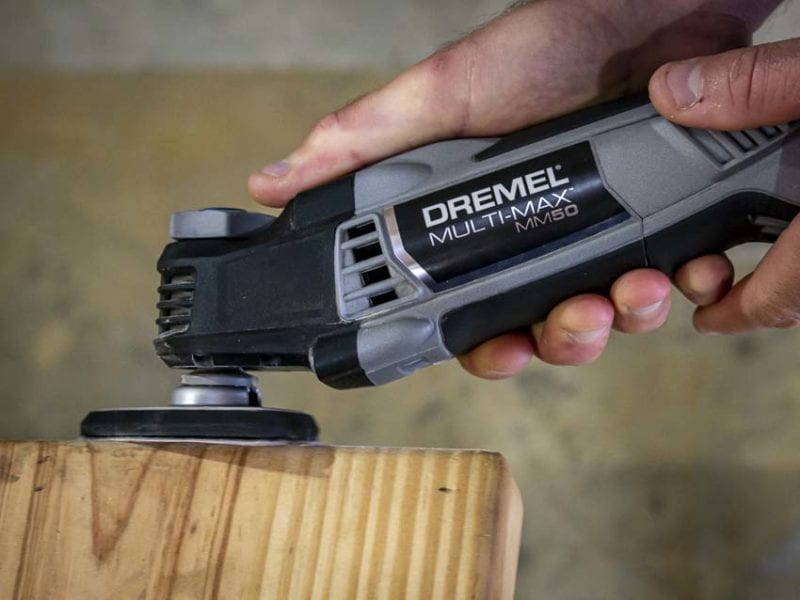 It's still a multi-tool, though, and the sanding delta pad is smaller than almost any other power sander. There's also no dust collection. However, the upside is that you can work in tighter spaces where other sanders are too wide to fit.
If you think of this primarily as a saw for awkward cuts that happens to let you sand in a pinch, you're on the right track.
Vibration Control
Fein owns vibration control in oscillating multi-tools and it's no surprise that Dremel doesn't challenge its dominance. On a broader scale, its vibration is in the middle of the pack based on what we can feel when we're cutting. You definitely feel it, but it's not quite at the teeth-chattering level of some models.
Ergonomics
The Dremel Multi-Max MM50 uses a standard grinder-style design that leaves a large diameter handle. It's not unwieldy and my medium-size hands easily find a comfortable grip. Rubber overmold on the bottom and top help secure it and damper some of the vibration.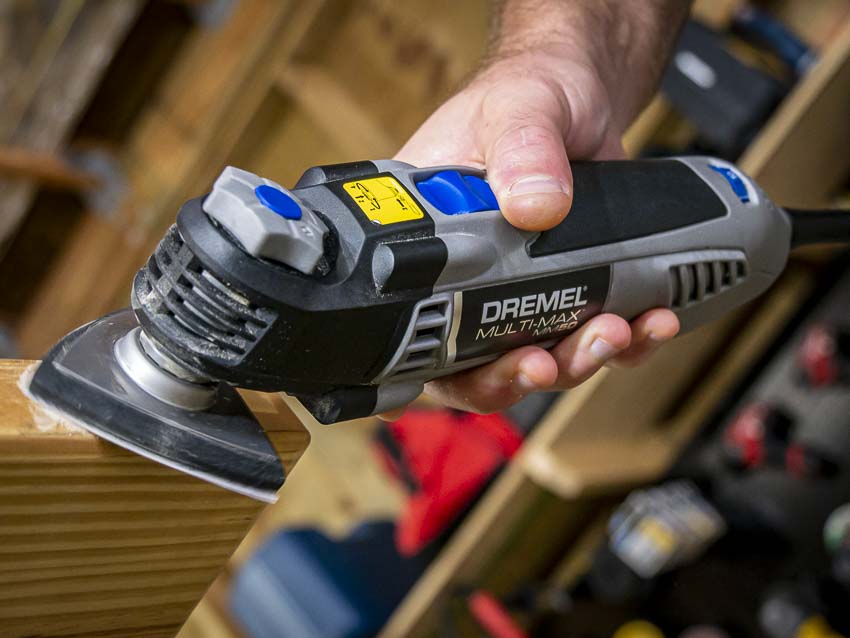 Without the cord, you're looking at 2.8 pounds of tool, making it one of the more reasonable options available.
The power switch is in easy reach of your thumb during use. It's easier to turn on and off than I expected. For the most part, that's a blessing. If you like to leave your thumb in front of the switch as your natural grip, it's easy to accidentally flip off.
Feature Set
Angled Head
The Dremel Multi-Max MM50 angles its head, getting the motor housing out of the way when you're flush cutting baseboard. It's a steep enough angle to offer some relief, but not so much that it feels burdensome when I'm making other cuts. It does take a little getting used to when you're cutting boxes in drywall or making other vertical cuts.
I don't know if any of the Pro brands will make try a similar design. It seems like a win so far, though.
Easy Blade Changes
Blade changes are super-simple, though the system isn't as advanced as Starlock. To install an accessory, unscrew the knob at the top and press down on it. Slide your blade or accessory in place and reverse the process. No tools needed, no 12-step program.
One thing that pops up is how many times you have to turn the knob. It takes quite a few, meaning the threads are pretty close together with a shallow angle. A more aggressive thread pattern would make it quicker, but I'm not complaining. It's still a lot easier than several of the Pro brands we've used.
The knob seems to be a lighter tool plastic construction. With how often this part has to function for you, it's the one place I'm concerned on long-term durability for DIY and occasional Pro use.
I really like the design and the star-shaped dial is easy to use with or without gloves. The issue I ran into was my blade choice. Our Made in the USA One-Fit Imperial Blades don't quite fit the new system. The clamp is just a millimeter or two too small and doesn't fully engage the blade even though the hole pattern fits. We didn't have that issue with the Dremel MM45 and its level-action clamp system.
I've seen other comments about different blades not fitting, so check your favorites on one in the store to know for sure. If you find other types that don't fit, leave us a comment so other readers can know about it.
Variable Speed Dial
The Dremel Multi-Max MM50 uses a variable speed dial and power switch rather than a trigger system to control its speed. It has 10 settings to cover its 10,000–21,000 OPM no-load speed.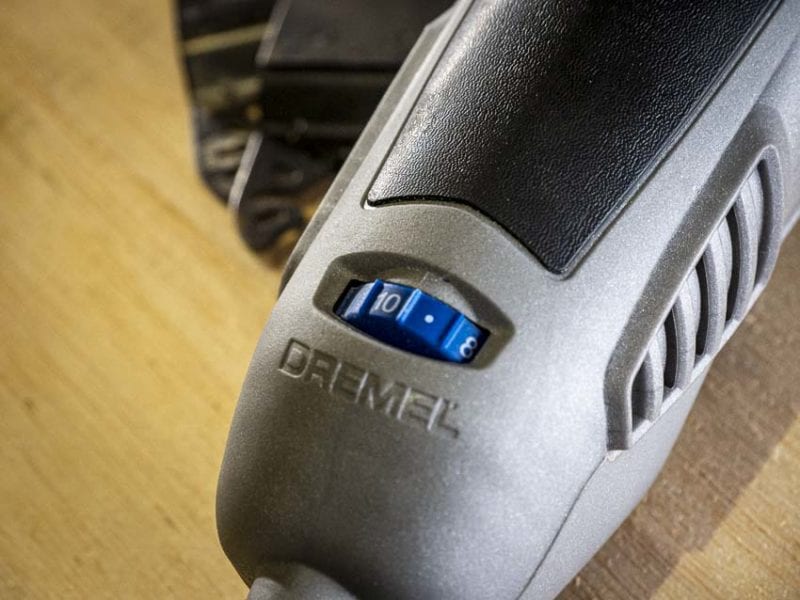 The consequence is that you can't feather into your cuts like you can with a trigger. However, only a few brands like Ridgid Jobmax oscillating multitool and the DeWalt oscillating tool go the variable speed trigger/paddle route on their multi-tools. Most brands, including Fein, stick with a dial like the MM50.
Variable Speeds
2: 10,000–11,000 OPM
4: 11,000–13,000 OPM
6: 13,000– 16,000 OPM
8: 16,000–19,000 OPM
10: 19,000–21,000 OPM
Included Accessories
Dremel includes 30 accessories in its MM50-01 kit. Here's what you get:
Drywall Jab Saw blade
1-1/4″ Wood blade
(2) 1-1/4″ Wood and Metal blades
Half Circle Wood and Drywall blade
Sanding pad adapter
4 each: 80, 120, 240-grit sandpaper for paint
4 each: 60, 120, 240-grit sandpaper for wood
Soft bag
Price
The Dremel Multi-Max MM50 runs about $139. That's well under the price of most Pro-level multi-tools, making it a pretty attractive value for the initial performance we're seeing.
Incidentally, the MM45 is down to just over $70 at the time of writing, making it awfully tempting at almost half the price. It has 20% less power, so factor that into your decision.
Dremel backs the MM50 with a 2-year warranty.
The Bottom Line
The Dremel Multi-Max MM50 introduces a more powerful 5.0A motor along with an angled design that's genuinely helpful and an update to their tool-free blade clamp. While I have a little concern about the long-term knob durability and accessory compatibility, its performance and design offer a good bang for your buck.
Like its MM45 predecessor, this model does its best work for DIYers and occasional Pro use.
Dremel Multi-Max MM50 Specifications
Model: Dremel MM50
Motor: 5.0A, 120V
Oscillating Angle: 3.2º
No-Load Speed: 10,000–21,000 OPM
Cord Length: 7′
Length:
Weight:
Price: $99
Warranty: 2 years