After spending some quality time with the best oscillating multi-tools in a head-to-head review, we're taking a closer look at each model. Today, we're looking at our shootout winner, the Fein Supercut Oscillating Tool.
Noteworthy Features
Included Standard Pro Features
Variable Speed Dial: Setting your multitool at the appropriate speed for the task can take your efficiency to the next level. Some manufacturers opt for a variable speed trigger instead, but most stick with a dial. This feature allows you to lock in the right speed while keeping your hands free to go where you need them to control those awkward cuts.
On/Off Switch: Having a switch, as opposed to a trigger, allows you to lock the multitool on or off. Again, this feature helps free up a hand for better control over what you're cutting (or sanding, or scraping, etc.). Most Pro-level models opt for the on/off switch, but there are a couple of popular models that go with a trigger.
Included Bonus Features
Stability: We'll definitely come back to this point later, but the Fein Supercut Oscillating Tool uses ball and needle bearings along with a heavy-duty motor and gearbox. These inclusions help the tool maintain stability, which makes for a smoother, more powerful cutting experience.
Missing Features
LED work light: For whatever reason, this feature doesn't pop up on a whole lot of corded multitools. The corded Fein Supercut Oscillating Tool doesn't have it either.
Ergonomics
The ergonomics on the Fein Supercut are pretty solid. The barrel-handle, a design scheme that can sometimes feel clunky and clumsy, feels comfortable, sturdy, and maneuverable. It has some overmolding that helps maintain a solid grip on the tool as well.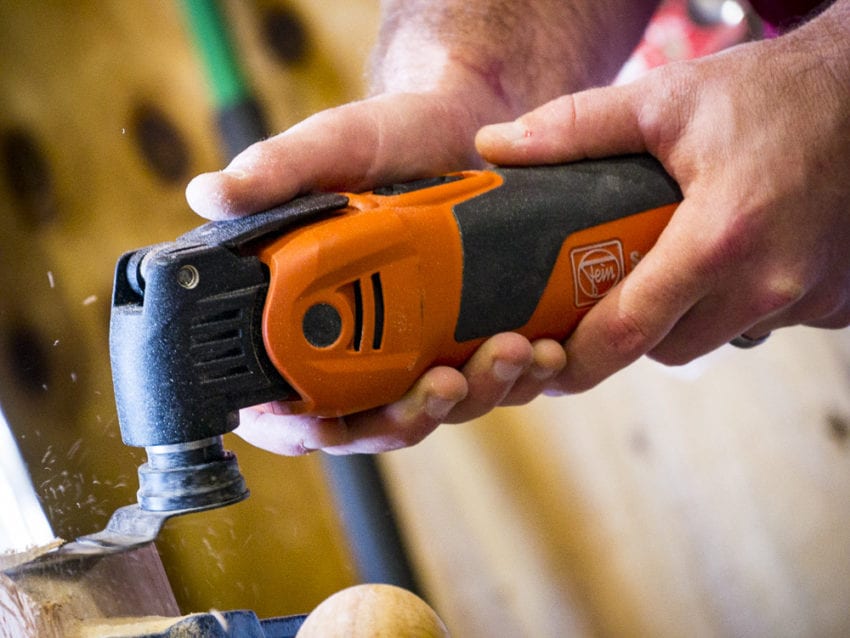 At 3.54 lbs, the Supercut really isn't the lightest tool we put our hands on. It's also not so heavy that holding onto it for longer cuts feels cumbersome.
Vibration Control
While weight and ergonomics play a part in the overall comfortability of the multitool experience, a tool's vibration control also makes up a significant part of that equation. This happens to be one of the areas where Fein excels. In particular, the Fein Supercut Oscillating Tool barely registers on a vibration level. In fact, it came in 2nd overall in our vibration control rankings, beat out only by the corded Fein MultiMaster. Combined with the already solid ergonomics of this tool, its vibration dampening feature makes cutting with the Supercut a real joy.
Blade Changes
The Fein Supercut Oscillating Tool finished in a 6-way tie for first in this department. Its co-winners all come from the Fein and Bosch camps. This comes as no surprise, as both Bosch and Fein co-developed the fantastic Starlock system, which allows for hands-free, tool-free accessory changes. Read more about the Starlock system below.
QuikIn Rapid Clamping System
Technically, Starlock is the mount for the system and the clamp gets a separate name. The QuickIn Rapid Clamping System, combined with the StarLock Max System, helps to make blade changes exceedingly easy. Basically, you push the lever forward on the top of the tool, releasing the blade. Push down on the accessory to snap it into place and pull the lever back to lock the new blade down. Simple.
Noise Level
Fein falls into the middle of the spectrum as it relates to the noise it generates while cutting. Finishing in a 4-way tie for 7th place, the Fein Supercut Oscillating Tool earned 3.5 stars in our rankings. Learn more about how decibels work in this helpful article on hearing protection below.
Cutting Speed
The Fein Supercut Oscillating Tool uses a 4.2° oscillation angle and 3.7-amp motor to help it achieve an overall 4th place finish in cutting speed. With an average plunge cut speed of 13.2 seconds through untreated 2X pine, this multitool does its job quickly. It earns just shy of 5 stars from us in this department.
Price And Value
The Fein Supercut Oscillating Tool retails for $459 as a kit. This presents the only real sticking point with this multitool, as it finishes as the third most expensive kit we tested, costing roughly 3 or 4 times more than some of our other multitools. Of course, as our winner, it stands to reason that, at this price, you're paying for a durable, quality product. You'll have to run through your own personal cost/benefit analysis with this tool to see if the price here is justifiable.
The Bottom Line
The Fein Supercut Oscillating Tool earned itself 89.9 points in our shootout making it our 1st-place finisher. Obviously, between its stellar vibration control, superb blade change system, and fantastic performance, we feel that this multitool presents the best option for Pros. Of course, that's without taking into account the price. At $459 for the kit, you might think twice about purchasing this model. But if you can stomach the cost of this one, rest assured that you're getting the best model on the market right now.
Fein Supercut Oscillating Tool Key Features
Highest quality and stability due to the use of ball and needle bearings together with a motor and gearbox designed for continuous use and heavy loads.

Convenient QuickIn rapid-clamping system

StarlockMax tool mount with outstanding torque transfer, fits all Starlock, StarlockPlus and StarlockMax accessories.

Powerful oscillating motion for maximum work progress.

Electronic speed control.

Fein High-Power-Motor for outstanding performance.

Wide selection of accessories available for all applications.
Fein Supercut Oscillating Tool Specifications
Model: Fein Supercut FSC 500 QSL

Power Source: 120V

Motor Size: 3.7 Amp

Oscillations: 10,000-19,500 RPM

Oscillation Angle: 4.2 degrees

Weight: 3.5 lbs.

Length: 14.25″

Warranty: 1 year, 2 years with product registration

Price:

$459