So it's time for a new rotary hammer and you're ready to make the upgrade to Hilti. While there are plenty of options to choose from, the Hilti TE 3-C is a relatively light and compact SDS-Plus model to get you started on light- to medium-duty masonry applications.
Top Features
You'll find all the features you expect on a Pro-level rotary hammer in this class. There's an adjustable side handle that rotates 360° around to match whatever position you're working in. There's also a depth rod to help you drill consistent depths. The Hilti TE 3-C takes things a step further at just about every point around the tool, though. So let's look more closely at how this Hilti rotary hammer goes beyond the basics.
About That Depth Rod
There are several methods of installing and adjusting depth rods on rotary hammers. Hilti makes it easier than most. There's a release on the side handle that you pull with your thumb. It's a natural position and action that's a bit better than some of the other methods out there.
3 Modes with a Twist
You expect 3 modes on premium rotary hammers (drill, hammer drill, and chisel) and you get them with the Hilti TE 3-C. There a twist, though – quite literally. Between hammer drill and chisel modes, you'll find a rotation stop to let you twist your SDS-Plus chisel to the angle you need. That's really helpful as you move from horizontal to vertical demo surfaces.
Reversing Direction
The trigger is a two-finger design with a lock on button. The lock on button is great for chiseling applications, but don't use it when you're drilling or hammer drilling. This model doesn't have Active Torque Control, so you can cause some serious injury by trying to drill with the lock on engaged.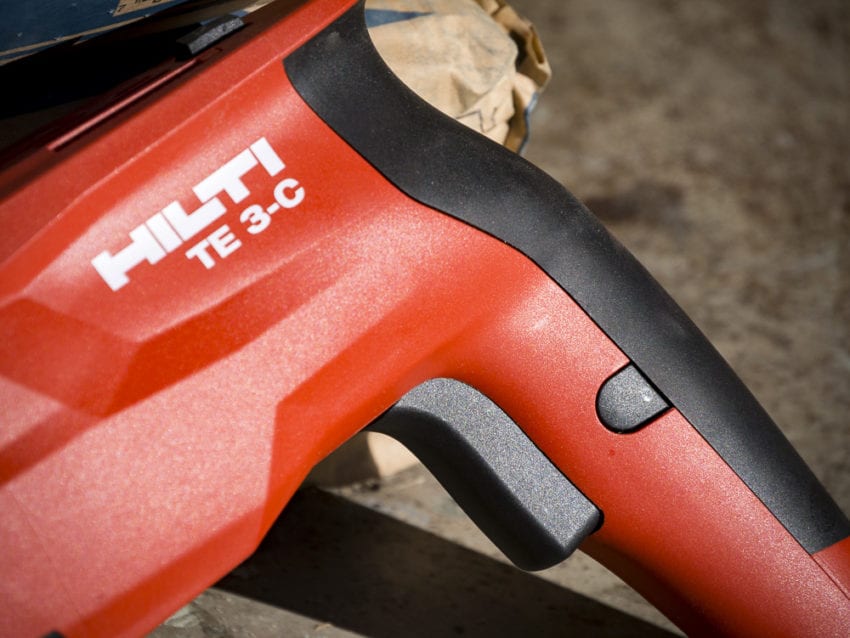 Hilti includes a forward/reverse switch and it's something you expect to have at this level. The reverse is particularly handy when you bind up a bit and need to back it out or break it free.
Chuck it
The chuck features a quick release design – just pull the side of the chuck down to release or install a bit. It also allows you to fit Hilti's TE DRS-S dust collection module to help in on jobs that fall under OSHA's silica dust regulations.
Hilti TE 3-C Rotary Hammer Manufacturer's Key Features
Triple-mode SDS rotary hammer (hammer drilling, rotary-only drilling and chiseling) for multiple applications
TE-C Click chuck and user-friendly selector switch for high working convenience
360° side handle with improved depth gauge design – easily adjustable to the required length or for use in tight spaces
Lock button for continuous chiseling
Reverse rotation is useful for removing stuck drill bits
Getting to Work
Applications
Like I said earlier, you're looking at light- to medium-duty concrete applications with the TE 3-C. What that means in practical terms is that you can drill up to 1-1/4″ holes in concrete and that you get 1.8 ft. lbs. (2.5 joules) of impact energy for chiseling or hammer drilling.
If you've been around masonry for long, you know there's a difference between what a rotary hammer can do and what's in its wheelhouse. For the best performance, stick with the Hilti TE 3-C for holes up to 5/8″ in concrete and move up to a more powerful model for larger holes if you have access to one.
Masonry comes across more than just concrete and this model is a nice addition for remodelers as well. When you have to work with or through multiple materials, plan on boring up to 3/4″ in wood or 1/2″ in metal.
Ergonomics
The lighter weight and pistol grip of the design feels more natural for drilling than larger models. Don't think it mimics your cordless drill, though. It's still a stout 6.6 pounds of concrete chewing muscle.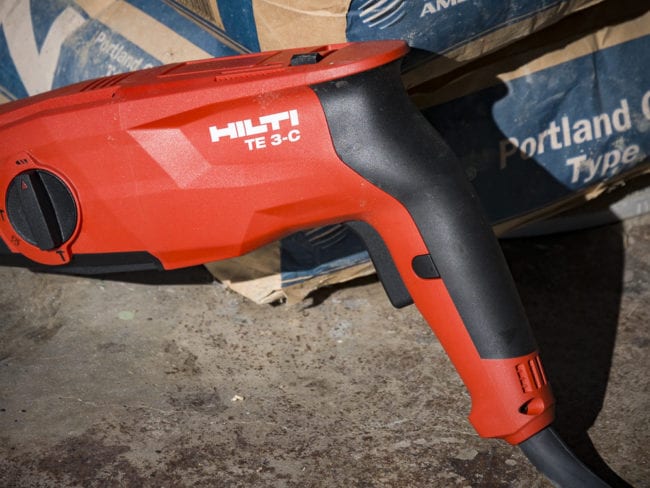 The two-finger trigger and rubber overmold make for a pretty comfortable grip as far as rotary hammers go. Should you need it, you can your last two fingers to operate the trigger as you move your hand up to put force directly behind the chuck. It's similar to the way you operate a drywall screwgun – just with a lot more power and weight.
The Bottom Line
For the lighter side of rotary hammers, the Hilti TE 3-C is a capable option with an impressive feature set that comes with a premium price tag. Running about $100 more than similar models from brands like Bosch, you trade off a little bit of power and price for better build quality and peace of mind. Hilti backs this model with their 20-2-1 guarantee: 20-year warranty, 2 years wear and tear, and 1-day turnaround on repairs.
Hilti TE 3-C Rotary Hammer Specifications
Model: Hilti TE 3-C
Rotation speed gear 1 under no load: 1,300 RPM
Full hammering frequency: 5,160 IPM
Single impact energy: 1.8 ft-lbs
Reversing switch: Yes
Optimum drilling diameter in concrete: 1/4″ – 5/8″
Dimensions (LxWxH): 14.8″ x 3.5″ x 8″
Weight according to EPTA-Procedure 01/2003: 6.6 lbs
Dust removal module: TE DRS-S (optional)
Includes: TE 3-C 120V Rotary hammer, (64) Hammer drill bit TE-C 1/4″ x 6″ 32 pk
Warranty: 20 years limited
Price: $379.40
Shop Amazon