Having already reviewed the ISOtunes Xtra earphones and ISOtunes Pro earphones, we feel the brand has done its homework. When they recently announced the ISOtunes Free wireless earphones we saw a product that takes on Apple Airpods with OSHA specific noise limits in mind. All the sound quality with none of the ambient noise issues or dangers of playing content too loudly.
That seemed like a win so we brought them in for review. We tried them out while performing various construction-related and landscaping tasks.
10-Second Summary
Excellent high-frequency fidelity
Great bass response
Above-average ambient noise rejection
Meets OSHA 85dBA limit requirements
22 dB NRR
What You Should Know About ISOtunes Free Earphones
ISOtunes Free wireless earphones take the company's technology and ramp up the portability. You get a set of Bluetooth earphones that lack any cables and only slightly reduce the feature set. Versus the ISOtunes Pro 2.0 headphones, you get a little less NRR and a bit less water/dust protection.
You also get half the run-time—until you factor in the charging case. If you can take some breaks in between listening you get up to 21 hours total before everything requires a recharge.
You also gain complete freedom of movement, however, and a truly portable solution that travels well and minimizes interference with how you work and play.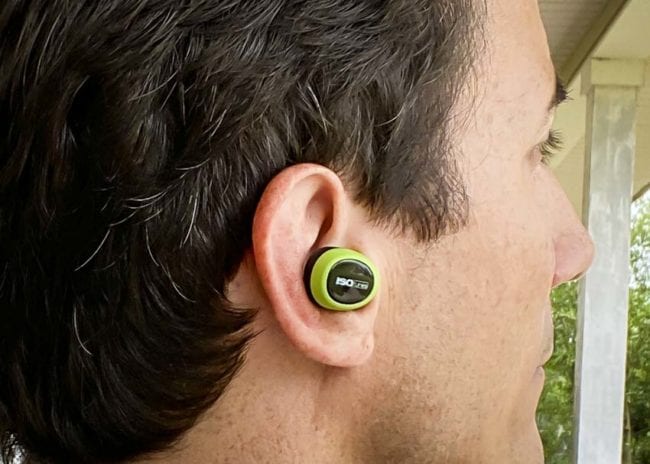 Do They Stay in Your Ears?
These wireless earphones do indeed stay put. Not once did I feel like the ISOtunes Free earphones would drop out of my ears. In fact, once inserted correctly, they stay put even when you whip your head around. Unlike the stems on Airpods, nothing sticks out to give them an incentive to leave your ears. They also lack wires, so you don't catch them on anything. I've pulled out many an earphone from snagging them on chairs, tools, shirt collars—you name it. ISOtunes might be going after OSHA and NIOSH safety, but they also keep you from yanking out your earphones on equipment—which could prove dangerous.
How Do You Charge Them?
Charging the ISOtunes Free wireless earphones takes very little thought. They begin to charge immediately when you place them into the charging case. You then charge the case (and, simultaneously, the earphones) by connecting a power-supplied USB-C cable.
We charged them via laptop and wall-outlet via the included cable. The case wants 5V, so don't get overzealous and feed it more than that using a third-party fast-charger. It could damage the case. It takes around an hour or so to charge the earphones in the case and around 2-3 hours to fully charge the case itself (figure 3 hours if everything is dead).
The lights tell you the charging status. The center charging light flashes every 5 seconds. You get anywhere from 1 to 4 flashes to tell you when the battery is at 25%, 50%, 75%, and 100% respectively. The light turns off when charging is complete.
Which ISOtunes Earphones Should I Buy?
Currently, ISOtunes has six wireless products. Here's how they compare to each other:
| | | | | | | |
| --- | --- | --- | --- | --- | --- | --- |
| | FREE | PRO 2.0 | ISOtunes PRO | PRO Industrial | XTRA | Orig |
| Bluetooth | 5.0 aptX | 5.0 aptX | 4.1 aptX | 4.1 aptX | v4.1 | v4.1 |
| NRR | 22 dB | 27 dB | 27 dB | 27 dB | 27 dB | 26 dB |
| Battery life | 21+ hours* | 16+ hours | 10 hours | 10 hours | 8 hours | 4 hours |
| Protection | IP45 | IP67 | IP55 | IP55 | IP45 | IPX3 |
| OSHA/NIOSH | 85 dB(A) | 85 dB(A) | 85 dB(A) | 79 dB(A) | 85 dB(A) | 85 dB(A) |
| NC Mic | Yes | Yes | Yes | No mic | Yes | Yes |
* 7+ hours music + talk time plus 14 additional hours factoring in the charging case.
How They Sound & Conclusion
The main thing should be how they sound, right? I became more than a little enamored at how excellent these earphones performed. My normal testing ranged spanned classic rock, classical music, pop, country, and even some fun music from Canadian EDM label Monstercat of Rocket League fame.
Bass, surprisingly, dips very low for earphones at this price. Bass drops in tracks from Seal, Propellerheads, and Pixel Terror impressed me to no end. You shouldn't be able to hear frequencies that low in a tiny earphone speaker. Bass definition also proved to be excellent. You can hear this in tracks like "New York Minute" by Don Henley.
High-frequency response has lots of clarity and doesn't sound "crispy" or distorted. That partially has to do with the built-in limiter that keeps these earphones from surpassing 85 dB SPL but also speaks to the quality of the drivers and the aptX Bluetooth CODEC (of which I'm a fan). Queue up some Steely Dan "Hey Nineteen" or "Deacon Blues" and you can really hear the detailed nuances in those tracks.
On a final note—wireless convenience matters. One thing I really appreciated was that I could leave the source of my music, walk further than 30 feet away for a bit and then come back to my music. It didn't reset the Bluetooth connection and picked right up where I left off. With other headphones I've used, the connection drops as soon as you go out of range. With two independent earphones, this gets more complicated. With the ISOtunes Free wireless earphones, maintaining stereo sync is all handled "automagically" and without ever hassling you to…er, repair the re-pairing.
ISOtunes Free Wireless Earphones Specifications
Model IT-14 V1
Portable charging case & USB C-charging cable
Great bass response
Above-average ambient noise rejection
Meets OSHA 85dBA limit requirements
22 dB NRR
7+ hours music + talk
120 hours standby
Charge time (earphones/case): 1-2 / 2-3 hours
IP45 rated
Bluetooth 5.0 w/aptX
3 pairs silicone and foam eartips
Noise-canceling microphone
Weight (earbuds): 9 g
Shop Amazon