Last Updated on August 18, 2020
The Klein Tool Station Backpack literally stands out among Klein's solid backpack lineup—and many of its competitors. Many bags—even some with hard-molded bottoms—easily tip over once you add a few tools. The main zippers on the Klein Tool Station go all the way to the bottom. This creates a stable bag and provides ample access to your stuff.
Pros
21 pockets of storage and exterior holders for water bottle, tape measure, and tape
Main flap fully unzips to reveal entire contents and create a small work area
Won't topple over like most other bags
Comfortable straps
Worklight option is handy
Cons
Recommendation
In addition to its ample storage and organization options, the Klein Tools Tool Station Backpack doesn't tip over even when fully loaded. That's more than most tool backpacks can boast, even those with hard-molded bases, and many non-tipping bags cost hundreds of dollars more. Instead of just a convenient way to organize and carry your tools, the Tool Station creates its own work area, making you more efficient on the job. It's comfortable to wear and the optional work light is a nice touch. This backpack adds value to your work life at a reasonable price.
Using the Klein Tool Station Backpack
I've been on the job about a year and learned many things, including how inefficient it is to lug around your tools in a duffel bag. But like a lot of guys, I told myself that I'd earn some money and then gear up. It also gave me some time to see what other Pros were using and what would work for me.
Backpacks, I've observed, are a convenient way to organize and carry tools. But they often tip over when set on the ground. That makes accessing your tools a bit of a pain and puts a lot of wear and tear on the bag.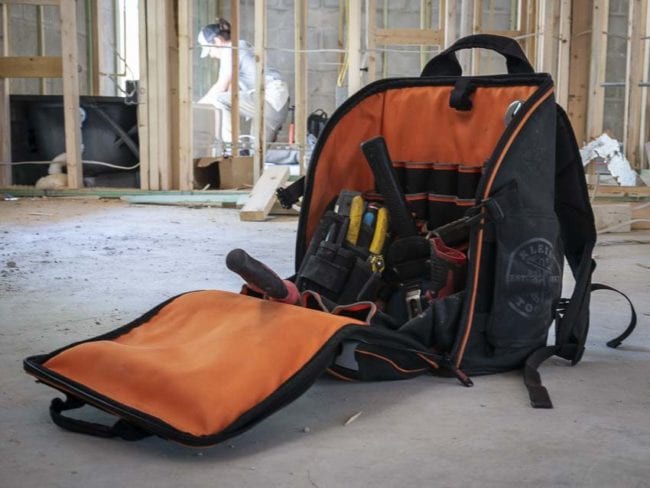 That's why the outstanding feature Klein Tools Tool Station Backpack is its ability to stand up – and stay up. It's got a wide, sturdy base that supports it when zipped up and fully loaded. Even better, the main compartment's zippers unzip all the way to the bottom, which opens up the entire side of the bag to create your own small, mobile work area. The base keeps it upright in this case, too.
I suppose you could argue that you give up some potential storage space on the large flap. However, I like that it becomes part of your work area on which you can lay tools or parts. You can certainly get tool backpacks with more pockets, but 21 pockets isn't too shabby. Since I'm doing rough-in, trim out, and some service work, the Klein Tools Tool Station Backpack has plenty of room for a loaded tool pouch to grab and go.
Love the Easy Access
Let's say you need to grab a Klein Kurve wire stripper from the Tool Station Backpack without opening up the entire station. Just half-zip the main compartment for access to the entire thing. I found myself using the backpack in this form when I was doing quicker tasks.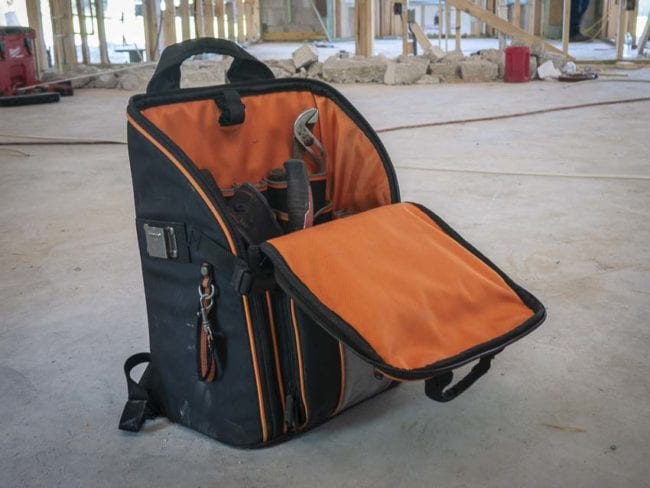 The front compartment is pretty standard but still amply-sized. I really appreciate the exterior water bottle pouch, tape measure clip, and tape thong, too.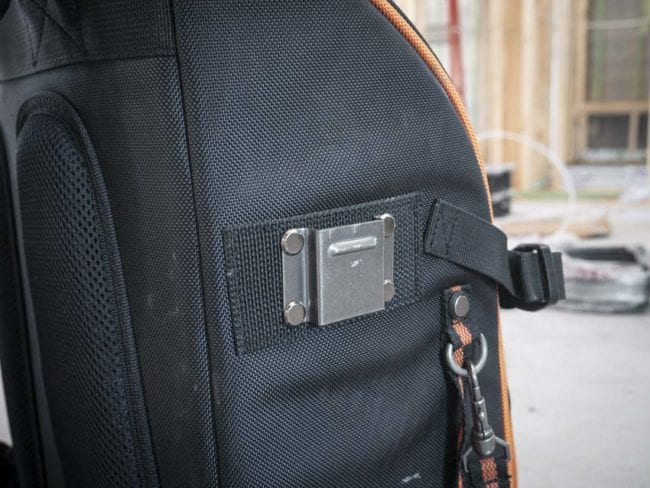 You might notice the Klein Tools Tool Station Backpack comes in two different models with the difference being the inclusion (55655) or exclusion (55482) of the magnetic worklight/flashlight. The worklight model is about $15 more which I think is easy to spend for the small but capable light to illuminate the bag's interior or your work area.
Well-Padded and Durable
You probably won't have to hike to your jobsite, but the Klein Tools Tool Station Backpack has a padded back and shoulder straps that feel good. It has standard chest and lower straps for fit and comfort, too.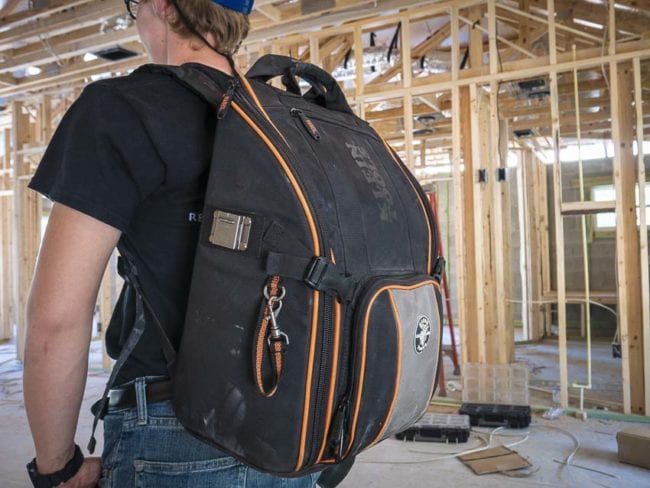 The 1680d ballistic weave material is common on backpacks in this price range. It's certainly pretty tough stuff but if you are particular about treating your gear well, you may consider throwing a small towel in the bag to set it on. Over time, the concrete floors of rough-ins and trim-outs will take their toll. Just a thought. I know, I know, I didn't have one for photography day.
Price
There's a fairly wide price range for tool backpacks and making comparisons can be tricky. Here's a quick look at some competitors' bags that are designed to stand up without tipping.
Shop Amazon
The Bottom Line
The Klein Tools Tool Station Backpack doesn't tip over even when it's fully loaded and unzipped which allows more efficient work. Instead of righting the typically tipped-over bag and then rifling through it, the Klein Tool Station backpack creates a small work area with easy access to your tools. You can certainly find backpacks with more pouches/pockets. Still, the 21 pockets provided by this backpack give ample organization with lots of room for drills and tool pouches. The water bottle pouch, tape measure clip, and tape thong are nice touches. And it's comfortable to carry around, too. If you've grown weary of your tipping bag (or disorganized duffel bag!), you should really consider the Tool Station.
Klein Tool Station Backpack Specifications
Item Numbers:

55482: without worklight
55655: with worklight

Number of Pockets: 21
Interior Pockets: 18
Exterior Pockets: 3
Length: 13.5 inches
Height: 17.25 inches
Width: 8.5 inches
Material: 1680d Ballistic Weave Body
Capacity: 745 cubic inches
Weight: 7.2 lb
Prices: