Last Updated on December 7, 2021
I have high hopes for the Klein Tradesman Pro Camo Backpack. After all, what's just as fun as getting new tools?
Well, getting tools that organize and carry your other tools, of course. There's not a Pro out there who doesn't suffer through the (often self-inflicted) frustration of leaving an important tool at the shop, at home, or in the truck when he or she is on a jobsite.
What's worse, you might be staring right at the tool you need in the toolbox but because it's disorganized, you waste time finding it regardless. And let's not get started on loaning tools—"just for a minute", right?
If only there was a way to easily organize, transport, and identify missing tools before you get started. That's the hope I have for Klein's latest storage solution. I really got to put it through its paces: I had my normal service work to perform but I also flew to Dallas with it as a checked bag when to visit a buddy who needed electrical help.
First Impressions
The backpack is the perfect color with its Realtree AP-Xtra camouflage, so it has that going for it. I realize it may be a Southern thing, but camo is king down here and Realtree is a popular choice.
It also boasts a front zipper compartment for smaller tools, a hard-molded compartment for delicate items, and a total of 39 tool pockets inside for quite a bit of organizational storage capacity. The inside is a bright orange color that makes it easy to see what you've got – and what you don't! The entire bottom of the backpack is a hard-rubberized mold that allows the back to stand upright and protects it from puddles.
Finally, the 1680D ballistic weave material makes the body of the pack feel quite durable. It's a material that's already proven itself on PTR jobsites to be tough with the Milwaukee Jobsite Backpack.
I've Got Your Back(pack)
I've only had one other tool backpack like this before – also a Klein – but I've most often used a regular tool bag. Populating the Klein Tradesman Pro Camo Backpack with my gear made me wish I'd had this a whole lot earlier in my career. You can keep as many or even more tools in this backpack than a normal bag, but in an organized manner, and you can conceal your tools a bit more than a tool bag.
This doesn't have to do with the camouflage (ha!) but rather that the backpack doesn't scream "I'm full of expensive stuff!" as a tool bag or toolbox does. This isn't the only tool bag with organizing pouches. However, the number of them, the compact design, and the ability to throw it on your back and have your hands free are a big help on the job. I found that by having a specific pouch for each tool, I can immediately identify missing items. This has already saved me a ton of time and headache since I'm not wasting time searching for one I need nearly as much.
Standout Design Features
I love the hard-molded case for safety classes, headlamps, my cell phone, and really anything fragile. This provided peace of mind when the backpack became checked baggage and I imagined it getting tossed around with heavier luggage. Of course, the abuse of a work truck is probably worse and this compartment is doing its job perfectly.
The hard-molded rubberized bottom is another standout feature allowing the backpack to stand up and stay dry. I did find, however, that the fully-loaded backpack could have some balance issues, rendering this fine feature ineffective. But that's more user error than design flaw – I suggest finding a packing method that stabilizes the backpack.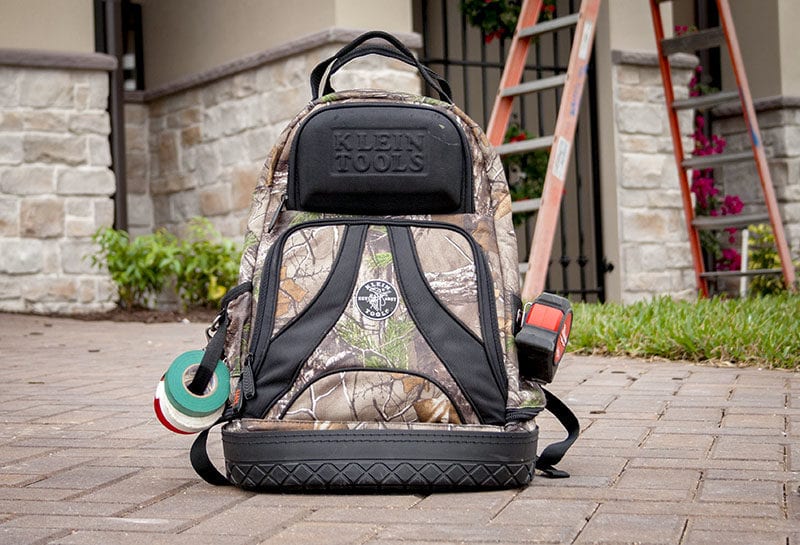 My amp meter fits in a pouch just fine, but my Fluke multi-meter had a pretty tight fight. I would like to see one of the pouches grow in size to accommodate larger meters.
When it comes to seeing what's in your bag, Klein's use of an orange interior helps tremendously. There are times when the light gets low that you may still use your flashlight or headlamp, but it is a big step forward over dark colors. If you're one that would like a bag with an interior light, Klein has options there as well.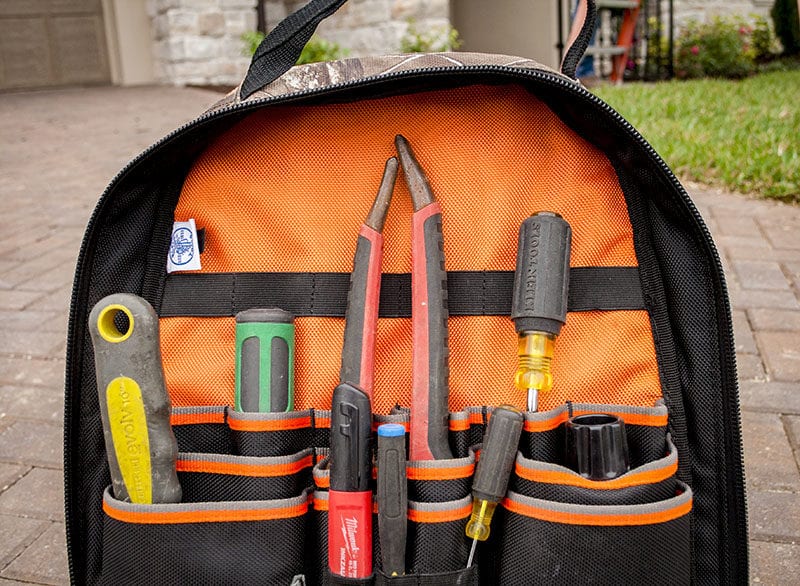 Comfort
The Klein Tradesman Pro Camo Backpack is surprisingly comfortable. The easily-adjusted straps are padded as is the back of the bag which keeps a column of air between it and your own back. Since this isn't a hiking backpack, it's not likely that you need to be sure the backpack doesn't smother you, but it's certainly an added comfort.
Oh, the Weather Outside
My plane landed during a heavy rainstorm in Dallas so the bag got wet on its way to baggage claim. This is where the Klein backpack fell a bit short since it got damp inside. It wasn't soaked and it only took an hour or so to air dry, but since I'd packed drills, knives, and measurement equipment in it, this stood out as a bit of weakness. The rubberized base is great for keeping the bag dry on wet ground. However, in this line of work you expect exposure to the elements to hit your gear from all directions when you're stuck outside. The rain in the Florida summers can come upon you just as quickly as I'm sure it can in other places.
I would love to see the next version have some effective waterproofing. A durable water repellent (DWR) coating would be a good place to start even though it will eventually wear off. The trade-off between a material that's both tough and water-resistant is likely an increase in cost, but one that Pros are likely to take in wetter climates.
The Bottom Line
There's a lot to love about Klein's design with this backpack. Realtree camo is not only a cool design, but it also gives my bag a little more of an incognito appearance that doesn't scream out "Take me, I'm full of tools!"
39 pockets offer enough space for me to keep my key tools and instruments organized and ready to go. The exterior hard pouch is now on my list of must-have features. Although the capacity is solid, I'd like to see at least one pouch grow in size to accommodate a larger meter.
Comfort can be tricky when it comes to shouldering the heavy load of a tool bag. However, Klein gets that right as well with adjustments that suit my large frame and a design that allows airflow around your back.
I'd like to see some waterproofing on the next generation even if it means a slight price increase. The durability of the 1680D ballistic weave already gives this Pro-level toughness, and I'd be willing to pay a little more for water resistance.
It is exceptionally convenient to have the Klein Tradesman Pro Camo Backpack organized and locked in my truck's toolbox. I just have to grab the pack to start my work and I know I have everything I need on my back. At $90, I definitely recommend the Klein Tradesman Pro Camo backpack to other Pros. Few tool bags in this price range are as well built or thought out.
Klein Tradesman Pro Camo Backpack Features
Realtree AP-Xtra Camouflage Design
39 pockets
Hard, molded front pocket protects fragile items
Front zipper pocket for small parts and tools
Orange interior for easy tool visibility
Klein Tradesman Pro Camo Backpack Specifications
1680D ballistic weave
Length: 14.5-inches (368 mm)
Width: 7.25-inches (190 mm)
Height: 20-inches (508 mm)
Price: $109 .76