Whether it's the pocket hole jig, the bench clamps, or the Rip-Cut, Kreg products have made woodworking projects remarkably better in terms of ease, aesthetic, strength, and accuracy. Today, I have a couple devices that I hope will follow suit: the Kreg Tool 90-Degree Corner Clamps. While I can contain my bias long enough to find the pros and cons, these clamps have started out on the right foot with the promise of instant clamping. Most 90° clamps take a little bit of time to tighten down onto both pieces. How long are we talking? Maybe eight seconds depending on the design?
Well, that doesn't sound like a whole lot of time when I write it, but trust me, it feels like a long time when you have to do it. Let's see if Kreg has a better solution.
Key Features
Automaxx
The Kreg Tool 90 Degree Corner Clamps include my favorite feature from the bench clamps that I liked so much – their Automaxx Technology. This proprietary system allows the clamp to automatically adjust to any material thickness in its capacity. Although there is a thumb wheel that allows you to modulate the pressure, there's not a lot of monkeying around.
Pocket-hole Cutout
It's no surprise that Kreg made these new clamps to integrate with the pocket-hole system it has championed for so long. To that end, there's a small cutout in both sides of the clamps outer "V" to allow a fastener to pass through on its way to pocket-hole town. It's really pretty slick – an example of Kreg's think-of-everything designs. But there's room to fasten your work with nails if you prefer that.
Performance
Put That In Your Back Pocket-Hole
It's hard to understate the utility of pocket-hole joinery, and Kreg acts as your Sensei in the proverbial pocket-hole dojo. It's easy to accomplish and results in a very strong joint. All you have to do is abut the two pieces and drive the screw. Ah, but therein lies the challenge, especially if you're particularly concerned with accuracy.
By virtue of the screws' angled approach, it draws the pocket-holed piece further up the other piece in the direction of the screw. You'll avoid this by clamping properly – the two pieces will cinch up tightly and end up where you want them.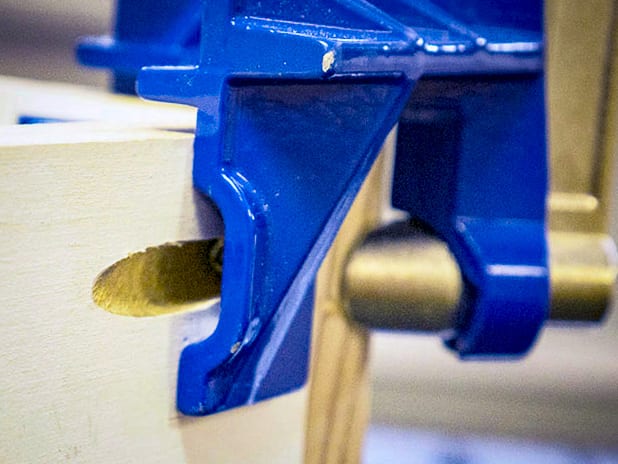 To use the Kreg Tool 90-Degree Corner Clamps effectively, all you have to do is set the two pieces on their sides at a 90° angle. You'll put one of the clamps at the intersection with the cast aluminum "V" on the outside, and the wedge on the inside. One quick squeeze and the Automaxx technology works its magic. Voila, you have a 90° corner.
But, perhaps you have a bit of gap between your pieces. I find that gently tapping the ends of the pieces with a mallet brings them into alignment. You must be sure that the pieces fit snugly in the aluminum "V".
Hang In There
After you clamp the first two pieces, the job becomes easier. However, there's enough of an awkward dance with those first two pieces to cause even some of the diehard faithful to gripe about the Kreg Tool 90-Degree Corner Clamps. In full disclosure – I even found myself in that camp at first.
After using the clamps for a few days, I came around for two reasons. First, this maneuver can be a challenge with any 90° clamp. You feel like you need one or two extra hands no matter what.
Secondly, there's a simple and repeatable method for those first two pieces. Here's how it works:
Holding one piece firmly on the work surface with your left hand, place the open Kreg clamp on its corner with your right hand. Fit the piece snugly in the "V", and hold it in place with your left index and middle fingers.
With your right hand, slide the second piece in the "V", and abut it snugly against the first piece.
Draw the wedge side of the clamp in with your left thumb to temporarily hold both pieces in place.
Using your right hand, squeeze the clamp handles. You've successfully just clamped the first two "problem" pieces.
Inside Information
Others have griped that the Automaxx wouldn't let the clamp fully engage. One of my two Kreg Tool 90 Degree Corner Clamps seemed to have this problem, and at first, it felt impossible to close.
After working with it, I was able to loosen it up. Still, when disengaging the clamp, it wouldn't completely release and hitched before it fully opened up. At that point, I used both hands to pull the handles apart to fully disengage it. I had to work the Automaxx spring up and down a few times before it straightened out.
A second oddity: the Kreg Tool 90-Degree Corner Clamps place the pocket-holes on the outside of the box. It seems more natural to design the clamps with the pocket holes inside the box. This is certainly not a huge deal, because I can always use pocket-hole plugs to have no visible holes whatsoever. And, for smaller casework, perhaps you won't be able to easily access the pocket-hole from the inside anyway.
If you really want the pocket-holes on the inside of the box, you can just forgo the clamps and join the boards using some bench dogs for support. I would prefer for the clamps to allow me to put the holes inside. Of course, you may think differently.
The Bottom Line
As they say, you can't have too many clamps, and that includes Kreg Tool 90-Degree Corner Clamps. I can't think of a reason to spend time turning individual sides of traditional corner clamps when you can clamp it and forget it with these guys. It's not a perfect solution and you'll have to get used to outside pocket holes if you're drilling them, but it's a big step forward from screw down styles.
Kreg Tool 90-Degree Corner Clamps Features
Works on 90° corners and "T" joints
1-inch maximum capacity
Cast aluminum "V" and wedge clamp pads
Automaxx auto-adjust technology
Easy-to-regulate clamping pressure with thumbwheel
Cutout allows driving a pocket-hole screw without removing clamp
Padded, ergonomic handles
Kreg Tool 90-Degree Corner Clamps Specifications
Item Number: KHCCC
Clamping Capacity: 90° corner and "T" joints in materials up to 1-inch thick
Materials: Forged, heat-treated steel, cast aluminum, "V" and Wedge, padded grips
Design: Self-squaring; automatically aligns joints to 90° angle; Automaxx auto-adjust technology
Adjustment Knob: Provides easy-to-regulate clamping pressure
Price: $33.57