Makita JR3050T Recipro Saw Nails an Excellent Head-to-Head Performance
As compact reciprocating saws go, few match the overall package you get in the Makita JR3050T 11-amp Recipro Saw. It notched a second-place finish in our head-to-head review, but depending on your preference for features, it may be the best one for you.
Pros
Excellent cutting speed
Top-ranked vibration control
Compact form factor
Very good value rating
Cons
Recommendation
Buy it if you're looking for a lightweight, compact reciprocating saw with solid cutting speed in all materials. Pass only if you need faster cutting speeds and are willing to trade lower size and weight for a bigger motor.
Makita JR3050T Recipro Saw Cutting Speed
Most saws in this power class hit stroke rates from 2800 – 3000 SPM and stroke lengths from 1-inch to 1-1/4 inches. Makita is on the lower end of the scale with a 2800 SPM no-load speed and in the middle for stroke length at 1-1/8 inches.
We ran three different speed tests for saws in the 10 – 12-amp power class and you can read the full details of the setup here.
In our nail-embedded wood test, this smaller Makita Recipro Saw averaged a respectable 20.53 seconds per cut despite not having orbital action to help it out. That would have been the fastest in the group, but Metabo HPT's CR13VST put a huge gap on the rest of the field by cutting in 12.86 seconds.
Makita takes over in metal cutting, though. Its 6.98-second average in 2″ EMT was a close second place with the group ranging from 6.36 seconds (Milwaukee 6519) to 10.92 seconds (Ridgid R3002).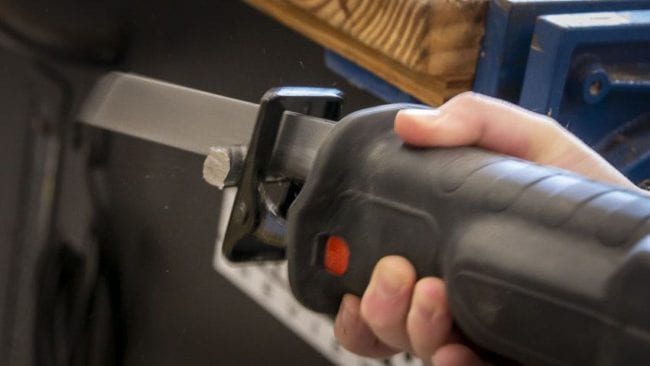 In our thick metal test, Makita had the top average, taking 8.23 seconds to make the cut. Ridgid was again at the bottom, taking 18.74 seconds.
Without Metabo HPT in the mix on wood cutting, the Makita JR3050T would easily take home the crown as the fastest cutting saw in the class. Still, it's a close second and an easy saw for us to recommend in any material. It's particularly helpful in metal and PVC cutting, so it's a great fit for electricians and plumbers. Realistically, it's a great performing saw no matter why you're looking at the 10 – 12-amp power class.
Vibration Control
To test the vibration of each saw in this class, our three-man testing team cut to our hearts' content to rate them and averaged the results to get a final ranking. Makita earned the highest score in its class with Metabo HPT and Milwaukee hot on its heels.
Feature Set
There are two models you can go with here. The one we're reviewing is the JR3050T and it includes a lock-on button. The JR3050TZ is the exact same saw without the lock-on feature.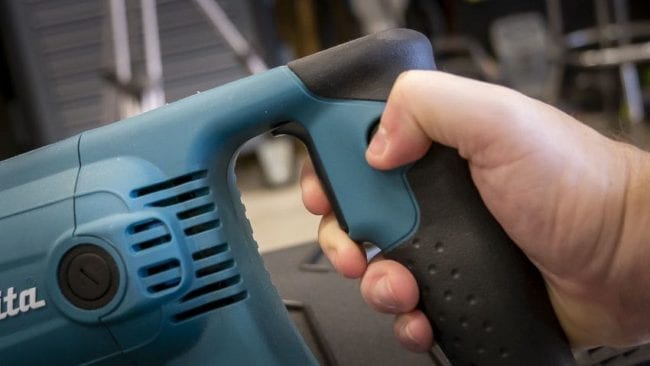 Aside from that, this Makita Recipro Saw is a little light on features and it's the only thing close to a chink in its armor. It includes a pivoting, tool-free adjustable shoe. Makita chooses to unlock the shoe with a red switch toward the front. It's a simple and effective design that some of our Pros like more than the lever-style releases on other saws.
We definitely like the two-finger trigger over a one-finger design to help with some of the finger fatigue that sets in on long days. It might not be as big of a deal on this model since you get the lock-on switch, but it's something you'll really appreciate on the JR3050TZ model.
The front handle comes down to a pretty manageable size, so even smaller hands can get a secure grip on it. There's plenty of rubber overmold of both handles and it's a pretty comfortable saw to hold.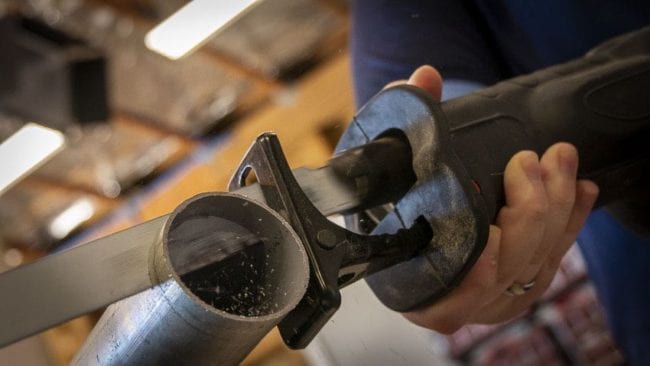 Missing Features
Here are some of the things you can find on other saws that Makita doesn't include on this model:
Orbital action
Variable speed dial
Lever-action blade release
LED light
Rafter hook
Size and Weight
The Makita JR3050T is one of just two reciprocating saws to make it under 18 inches on the corded side. Its 17.8-inch length is 0.3 inches longer than DeWalt's DWE305. To put that in perspective, the longest in this class is Milwaukee's 6519 at 19.2 inches and Skilsaw's two Buzzkill models are the longest corded models overall (21.9 inches).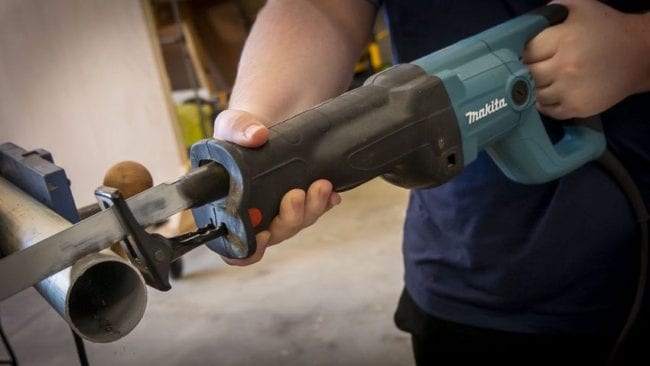 Most of our Pros don't cite length as much of a concern as weight, though. However, if you're looking for something to get you into tight spaces, there are some excellent cordless compact models to consider.
In the overall landscape of corded reciprocating saws, Makita is definitely on the lightweight side of the scale. It weighs 7.8 pounds with the cord. That's well under Skilsaw's beefy 12.2 pounds in the 15-amp class and a pretty nice drop in weight over Metabo HPT's 8.7 pounds in this class.
There are a couple of lighter saws to consider. Most notably, Ridgid's R3002 is a full pound lighter while Ryobi (7.3 pounds) and DeWalt (7.5 pounds) are much closer.
The takeaway here is that this is a relatively lightweight and compact reciprocating saw. That's why most Pros look at saws in this class instead of going with something more powerful and Makita does a very nice job of delivering keeping it in focus.
Price
You can pick up this reciprocating saw for $84 at the moment, giving Makita a pretty solid value score. If you'd rather not have the lock-on switch, the JR3050TZ model runs a bit more—$104.99.
The rest of this group starts around $65 for Ryobi all the way to $119 for Milwaukee's 12-amp model. Of the standard Pro brands in our list, only Metabo HPT comes in lower at $79.
The Bottom Line
The Makita JR3050T Recipro Saw scores a close second place in our testing and is clearly a step ahead of most other saws in the 10 – 12-amp power class. Its consistency in cutting speed combined with a more compact and lightweight frame makes it easy for us to recommend. Best of all, its $84 price tag is low enough to make it easy on Pros and put a much better tool in the hands of DIYers.
Buy it if you're looking for a lightweight, compact reciprocating saw with solid cutting speed in all materials. Pass only if you need faster cutting speeds and are willing to trade size and weight for a bigger motor.
Get it on Amazon
Get it at Acme Tools
Makita JR3050T Recipro Saw Specs
Model Number: Makita JR3050T
Stroke Length: 1-1/8 inch
Strokes Per Minute: 0-2800 SPM
Orbital Settings: No
Variable Speed: Yes
Weight: 7.3 lbs
Warranty: 1-Year
Price: $84