Makita is pushing hard to make the convenience of cordless tools Table 1 compliant for OSHA silica dust standards along with adding convenience to other cordless tools in concrete and woodworking. One of the major focal points of this effort surrounds AWS – Auto-Start Wireless System. With several tools available now, at the heart of the system is the Makita AWS Cordless Dust Extractor (XCV08).
Keeping Cordless Convenient
Brushless Motor
It's taken quite a while to get cordless dust extractors into the mainstream conversation. Having a brushless motor to improve the runtime is critical to a successful design and Makita designs and builds their own.
Standard HEPA Filter
Not every task required a HEPA filter, but you get one standard with the Makita AWS Cordless Dust Extractor so you're ready to go out of the box no matter what application you're working on.
18V X2 LXT Power Source
Rather than needing to find an outlet, Makita uses 2 of their 18V batteries to give you 36V power. After all, what good is having a cordless tool if you need a cord for the vacuum?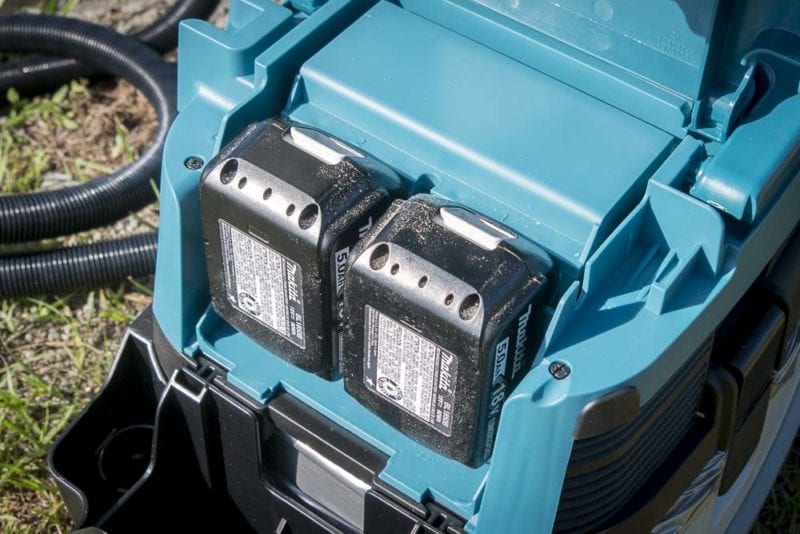 Small Capacity, Light Weight
When you trade the nearly infinite power of a corded tool for cordless, portability becomes a bigger point of consideration. With a 2.1-gallon canister, the extractor weighs just 18.4 pounds with the batteries. That's really helpful if you're working from a bucket or have to carry your tools to work somewhere other than the ground floor.
Oversize On/Off Switch
Most dust extractors use a dial to turn the power on or off. The Makita AWS Cordless Dust Extractor has the dial, but you'll need one more step to turn it on or off. AWS is one option we'll dig into more in a minute. The oversize switch to turn it on or off manually is the perfect size to use your foot on. While that may seem unnecessary on paper, it's all about preserving battery power by only powering up the vac when you need it.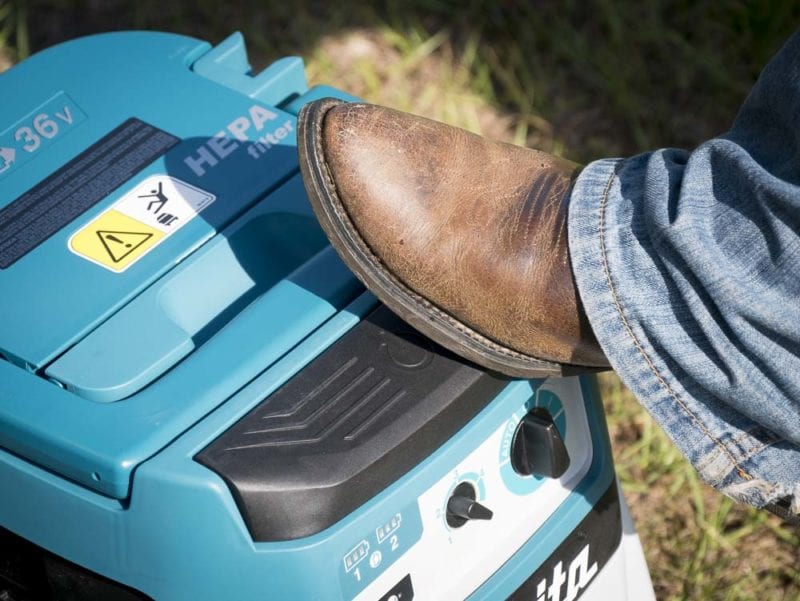 The one downside of the switch is that it's easy to hit accidentally when working right next to it. Most of my accidental triggers turned it on when the switch hit my leg while carrying it.
Other Features
Dual LED battery level indicator
Rubber bumper
Locking rear casters
Removable accessory storage box
Included accessories
1-1/2″ x 8′ anti-static hose
1″ x 11′ anti-static hose
22 mm adapter for 1″ hose
24 mm adapter for 1″ hose
38 mm adapter for 1″ hose
Curved tube
Straight tube
Floor nozzle
Crevice tool
Damper filter
Pre-filter
HEPA filter
Plastic disposal bag 10-pack
Makita XCV08 Performance
In order to get the 75 minutes of continuous runtime that Makita boasts with their cordless dust extractor, you can expect lower performance values on the suction side of things. You'll get 74 CFM with 39″ of water lift. That's significantly less than anything we see in our recent dust extractor shootout, so what's the deal?
Keep in mind what a dust extractor can be and what it needs to be. For Table 1 compliance with the 18V X2 AWS SDS-Max rotary hammer, add the dust extraction kit and you have all you need.
Editor's Note: Under option 3, this dust extractor is compliant when using the associated 4-1/2″ grinders listed on Makita's OSHA Compliance website.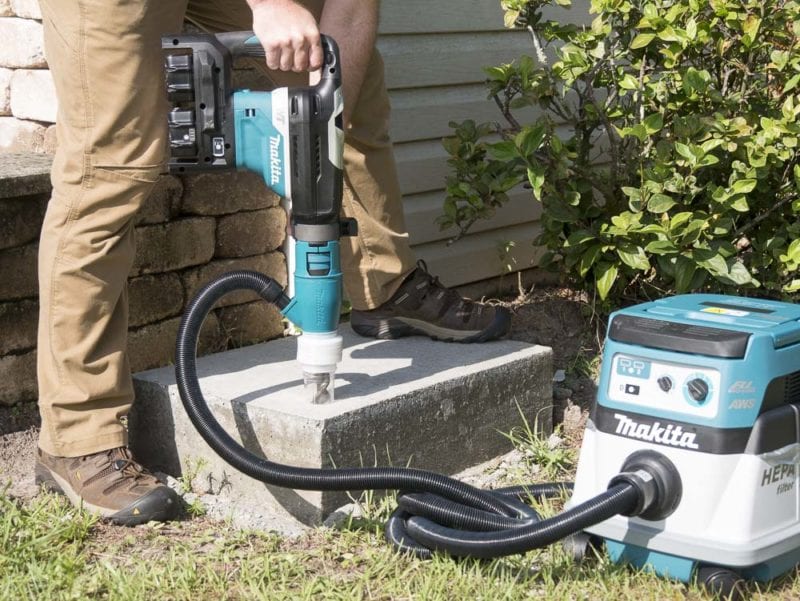 Makita gives us a rating of 66 dB(A) for noise level and our tests confirm that number exactly. I verified it by taking a reading at my ear while standing next to the unit. More than likely, the noise level of using any of the AWS tools will exceed what you're getting from the extractor by a significant margin.
What about that runtime claim? The Makita AWS Cordless Dust Extractor ran for 46 minutes, 48 seconds using 2 fully-charged 5 Ah batteries at full power.
To get the full 75 minutes, you can dial down the power. However, if you're like most of us, you want the best suction performance, so 45 minutes or so is a reasonable expectation.
Let's Talk AWS
The Makita AWS system is easy to pair. Hold down the Bluetooth button on the extractor until it blinks rapidly, then repeat the process on the tool. The two will find each other and link up. While some Bluetooth connections can be temperamental, the extractor and rotary hammer linked up on the first try for me.
Once the connection is in place, ensure the dust extractor is in the "Auto" position and it will fire up as soon as you pull the trigger. I don't notice any delay compared to using a standard tool activation extractor. Like corded models, it will also run for several seconds after you let go of the trigger to clear the hose.
There are some limitations with the Makita AWS Cordless Dust Extractor if you want to use a corded tool. There's no tool plug, so you'll need to manually power up the vacuum rather than relying on an automatic system. While that's a little inconvenient, it's understandable. Makita would have to ensure you could run the tool and the extractor on two batteries to make it work and that's a lot to ask.
Learn more about AWS below.
Price and Value
The Makita AWS Cordless Dust Extractor isn't cheap – $539 without batteries. That's not chump change, but it's the price you'll have to pay to get the convenience of AWS technology since this is currently the only dust extractor option available for the system.
The Bottom Line
The Makita AWS Cordless Dust Extractor gives you the performance and convenience as a supplementary tool for Pros that need it. When a power supply is close, you'll get higher suction performance from the Makita VC4710 with no runtime concerns. Where Makita's AWS system really earns a living is in those applications where hauling a larger portable dust extractor is inconvenient or there's simply no reasonable way to get power to it or your tools.
Makita AWS Cordless Dust Extractor Features
Powerful Makita-built BL Brushless motor delivers 74 CFM and 39″ water lift of suction using two 18V LXT Lithium-Ion batteries
Efficient three stage HEPA filtration system captures 99.97% of particulates .3 microns and larger
Filter cleaning system is designed to maintain optimal suction efficiency and longer filter life
Auto-start Wireless System (AWS) utilizes Bluetooth technology for wireless power-on/off communication between tool and dust extractor
Up to 75 minutes of continuous run time on low setting and 40 minutes on high setting using two 18V LXT Lithium-Ion 5.0Ah batteries BL1850B
Efficient BL Brushless motor is electronically controlled to optimize battery energy use for up to 50% longer run time per charge
The BL Brushless Motor eliminates carbon brushes, enabling the BL Motor to run cooler and more efficiently for longer life
Precision lightweight motor components and efficient air ducting produce an overall weight of only 18.4 lbs with batteries (batteries not included)
Oversized on-off switch for operator convenience
Motor chamber constructed of quality sound-absorbing materials for quiet operating sound levels of 66 dB(A)
Variable speed control dial for a variety of applications
Large rubber bumper helps prevent damage to the work environment
Locking cover for added protection of batteries
Quick-release metal latches for easy removal and disposal of debris from canister
Rear casters feature locking levers to prevent the vacuum from moving
Removable storage box for storing attachments and batteries
Equipped with two anti-static hoses (1-1/2″ x 8' and 1" x 11-1/2′) and four adapter cuffs for versatility of applications
Dual L.E.D. battery indicators show charge level for each 18V LXT Lithium-Ion battery
Makita AWS Cordless Dust Extractor Specifications
Model: Makita XCV08
Power Source: 2 x 18V Makita LXT batteries (sold separately)
CFM: 75
Water Lift: 39″
Stock Filter: HEPA
Sound Level: 66 dB(A)
Weight: 18.4 lbs with batteries
Warranty: 3 years
Price: $539 (bare tool), $789 (kit)