Some years ago, I taught my youngest son to clean the inside of my truck. I believe he was 5 at the time. I'd pull out the vacuum and he'd go to town. It was a horrendous mess, but he was learning. Back then we used a full-on Ridgid SmartCart Vacuum, and it did a great job. Even in the hands of a first-grader. The new Milwaukee M18 Compact Vacuum nicely splits the difference between the company's M18 Cordless 2-gallon wet/dry vacuum and their M12 Vacuum. Priced the same as the Wet/Dry vac ($119), the new M18 compact vac presents another cleanup option for Pros.
The new compact vacuum opens up the possibilities for more portable cleaning. While the Wet/Dry offered a great solution for attaching it to, say, a Milwaukee cordless miter saw, it was too unwieldy to clean up a larger work area. While it worked well for the truck (and my son found it easier to get out), it lacked the portability of the M12 model. And while that M12 vacuum is handy, it didn't have the suction of the larger wet/dry vac.
So this new Milwaukee M18 Compact Vacuum really fills a need in the line. We used it extensively in the shop and in our vehicles. I'll cover that right after I go over some of the more stand-out features.
Milwaukee M18 Compact Vacuum Features
The Milwaukee M18 compact vacuum is like a transformer…except for the robot thing. It switches from a handheld vacuum to a stationary vacuum at will. It also has attachments that turn it into a push model for vacuuming up the floors of your garage or shop.
Somehow, Milwaukee got 40 CFM of suction out of this model, even though it's considerably more compact than their M18 Wet/Dry vac. The canister holds 36 ounces, roughly 72% less volume than the 2 gallon M18 Wet/Dry model. What you gain is portability and flexibility. You don't want to walk around much with that 2 gallon model. Slap on the two extension wands and floor tool, however, and you can vacuum until the battery runs out. Speaking of batteries, Milwaukee's numbers aren't far off. With minimal load we got over 20 minutes of run-time from a 5.0Ah battery. Given our experiences vs Milwaukee's numbers, you could expect over 35 minutes using a 9.0Ah battery. I have a Hoover Air cordless vacuum for in the house, and it doesn't last quite that long on a single charge.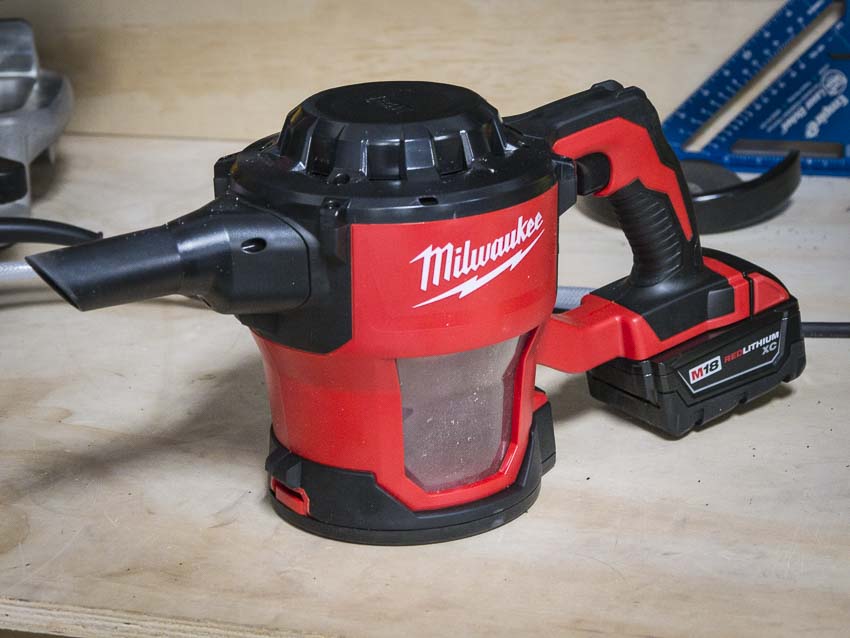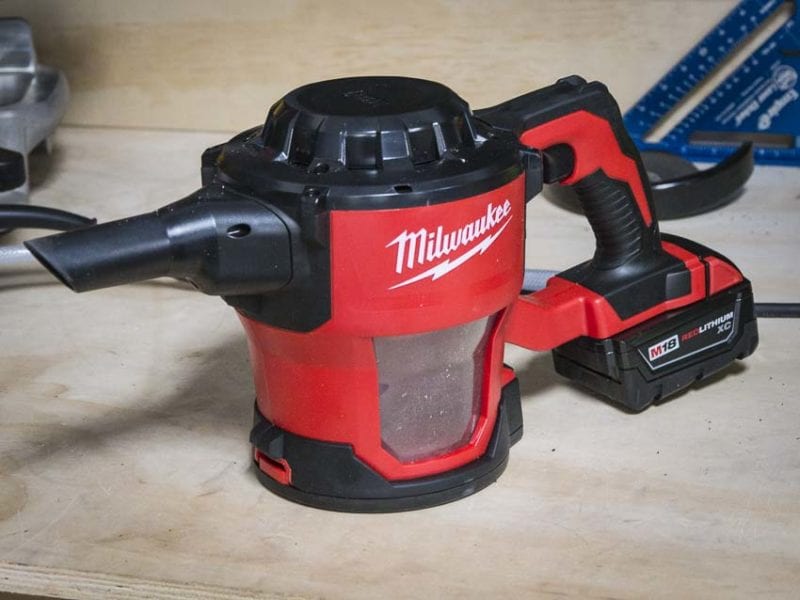 While everyone wants more run-time, I think that 20-25 minutes is plenty. That's especially true considering we rarely run the vacuum non-stop for more than several minutes at a time.
Milwaukee 0882-20 Compact Vacuum Quick Specs
Suction: 40 CFM
Removable HEPA filter
Clear view 36 oz. canister
Inlet Diameter: 1-1/4 in.
Battery: 18V M18 RedLithium (not included)
Runtime: 25 minutes (XC5.0 battery); 43 minutes (High Demand 9.0Ah battery)
Dimensions: 16 x 7 x 8.6 in.
Weight 4.22 lbs
Includes: Extension wands (2), 4 ft. flexible hose, crevice tool, floor tool, and removable HEPA filter
Price (bare tool): $119
Emptying the Vacuum and Changing the Filter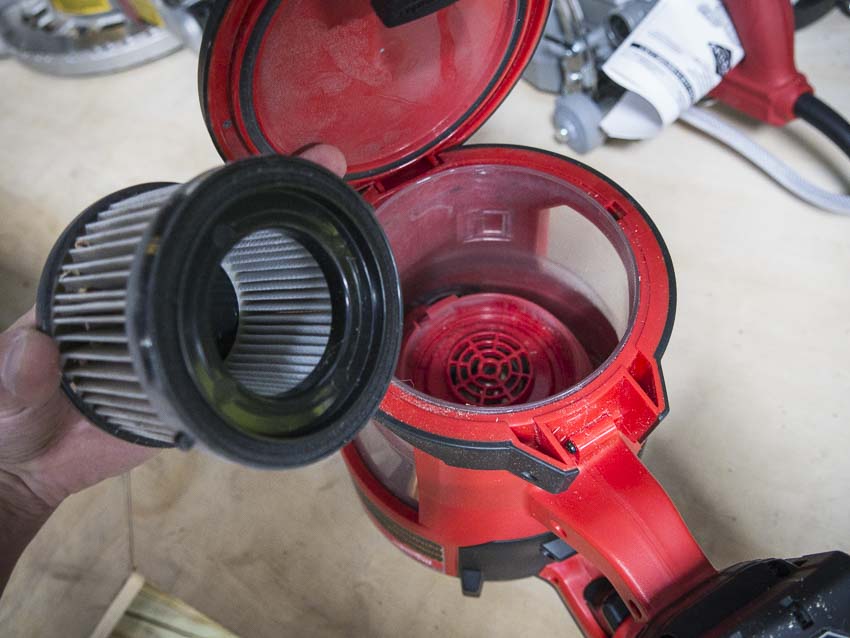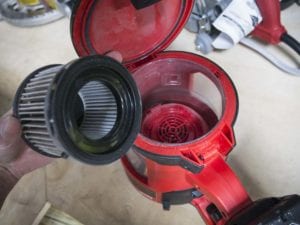 I liked how easy it was to open up the bottom of the Milwaukee M18 Compact Vacuum and twist out the included HEPA filter. To clean it, you just bump it against something—unless you happen to have a Tornado F4 filter cleaner. Unlike the filter of the Milwaukee Wet/Dry vac, you can't wash and dry this filter. Then there's this gem on page 2 of the user manual:
To avoid spontaneous combustion, empty dust canister after each use.
Best empty that container regularly, folks…who knows what could happen! ;-)
Using the Milwaukee M18 Compact Vacuum
As mentioned above, we used the vacuum in the "stick" mode to clean the floors of our shop. It's easy to convert from one mode to another. We kept a handy Milwaukee soft case around to hold the additional parts. I found the vac operated quite easily when I held it in my right hand while operating the flexible hose in my left. The crevice tool made quick work of cleaning up miter saws.
In the truck, I simply placed the Compact Milwaukee Vacuum on the WeatherTech floor mats and went to town. Alternating between the floor tool and crevice tool I was done in no-time…much to the chagrin of my son who didn't get paid to clean the car that week.
To give yourself some additional mobility you can use the two extensions as well as the coil hose, but it's not as easygoing as plugging them right into the canister. We did this when we needed to get underneath cabinets and shelves.
Conclusion
There's no doubt that Milwaukee filled a space with this new compact M18 vacuum. They now have three models that fit every small-job need. At $99, this vacuum is certainly priced right (and identical to the Wet/Dry). It presents a "no-brainer" purchase for those already on the M18 platform. This also begs the question as to whether a larger full-size model is in the works. It's anybody's guess, but we imagine it would need to use a couple 9.0Ah batteries to really pull off the run-time. We'll let you know if that turns up anywhere in our travels. For now, I'm handing the Milwaukee M18 Compact Vacuum back over to my son. He's eager to get back to earning his allowance!