If you followed along with our coverage of the 2018 New Product Symposium, you're well aware that there's a new Milwaukee 12 Ah High Output battery in play for the M18 system. It's more than just additional capacity, though. There's some serious tech to talk about along with the fact that the 12 Ah pack isn't alone.
Let's dig a little deeper into the new battery and see what we can find.
Milwaukee 12 Ah High Output Battery Capacity
The Milwaukee 12 Ah High Output battery is still an 18V battery. A little quick math (or peek at the bottom label) tells us that you get a total of 216 watt-hours of energy storage. Here's how that compares to some of the other Milwaukee batteries available:
567% more energy than a 3.0 Ah M12 battery
233% more energy than a 6.0 Ah M12 battery
500% more energy than a 2.0 Ah compact M18 battery
140% more energy than a 5.0 Ah M18 battery
33% more energy than a 9.0 Ah M18 High Demand battery
Footprint
To get that kind of capacity, the Milwaukee 12 Ah High Output battery has to make some changes. The 9.0 Ah High Demand pack uses 15 cells – three sets of five 18650 cells (3P5S). To make the jump to 12 Ah, Milwaukee could have tried to add a fourth set, but that would be a heat dissipation nightmare. So the new pack goes with 15 cells in the 21700 size. These are longer and wider than 18650's, so you'll notice there's a size increase even over the 9.0 Ah pack.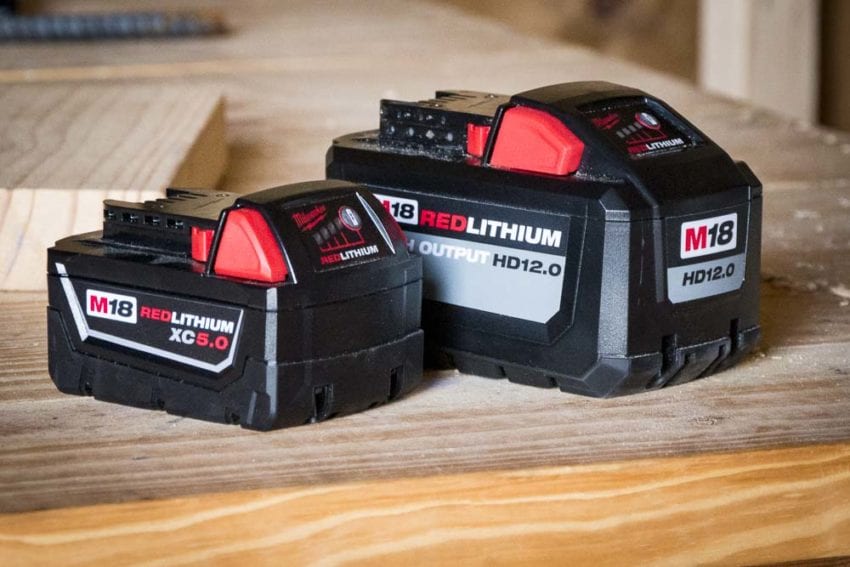 This one is 3.89″ tall and 3.38″ wide with a weight of 3.35 pounds. That's a big pack for an 18V battery. Even so, the Milwaukee High Output battery is compatible with all Milwaukee M18 and M18 Fuel tools. You just probably won't want to use one on something like the Milwaukee Surge.
The Milwaukee 6.0 Ah High Output Battery isn't half the size – it's not using the same 21700 cells so it's a 10-cell pack.
Power
There isn't a lot of benefit in just getting another 3 Ah of runtime with a battery this size. Milwaukee worked on more than just the cells to create an 18V battery that's capable of delivering much more wattage than their standard batteries. It's still the same 18 volts, it's just able to deliver more current (amps) without overheating.
More Power, New Motors
The new battery opens up the door for more power and with it comes the possibility for bigger motors to take advantage of it. You'll see a split in the M18 Fuel line between small frame brushless motors for compact tools like drills and impact drivers and large frame brushless motors for larger tools like the new 9″ grinder and table saw.
Performance
I'm still waiting for some of Milwaukee's new tools to come out from "The Next Breakthrough" series designed around the High Output batteries. However, I got my hands on the new M18 Fuel Super Sawzall and ran some tests with several batteries, including the Milwaukee 12Ah High Output battery pack.
In speed testing, the High Output pack cut 22% faster than the 9.0 Ah battery and 13% faster than the 5.0 Ah pack. All the batteries had a full charge, so I don't have the answers as to why the 5.0 was faster than the 9.0. But that's how the average cut speeds came out.
What's exciting is that a nail-embedded pressure-treated wood cutting test doesn't push the new battery to its absolute limits. So while we see significant improvement in performance, there's the potential to get even more in something like a grinder.
We'll keep running tests as we're able and update this article with the results.
The Bottom Line
The Milwaukee 12Ah High Output battery pack does more than just increase your battery capacity, it greatly improves the number of available watts Milwaukee can draw from it. The result is that it validates Milwaukee's claim that the M18 line has not reached the limit of what 18 volts are capable of.
The new battery has a large footprint, but we can expect to see it powering larger tools. There's already the Super Sawzall, a table saw, 9″ grinder and more coming under the M18 Fuel name. That's just the beginning, so what's next?
I think we can count on another miter saw for sure – perhaps a 12″ model. I'm counting on more on the rotary hammer side and perhaps an M18 Fuel mower to expand OPE.
One thing is for sure – they're matching the power output of several 15-amp tools now. But could we see a shift next to a 2-battery system?
There's no indication so far, but going that route would cover virtually every tool that runs on a 110V outlet regardless of current. If you're dreaming of a completely cordless job site with zero compromises in power, Milwaukee has the battery to power it.
Milwaukee 12 Ah High Output Battery Key Features
REDLINK Intelligence: Provides optimized performance and overload protection using total system communication between tool, battery and charger
Best-in-class construction: Offers long-lasting performance and the best protection against job site conditions
Fuel gauge onboard: Displays remaining run-time
Versatility: Powers more than 150 M18 cordless solutions
Milwaukee 12 Ah High Output Battery Specifications
Model: Milwaukee 48-11-1812
Battery: M18 12.0Ah
Dimensions (LxHxW): 6 x 3.9 x 3.4 in.
Weight: 3.35 lbs.
Price: $199