Milwaukee M18 Fuel Cordless Chop Saw Cuts the Cord on Another Benchtop Tool
We got an early sample of the Milwaukee M18 Fuel 14-inch cordless chop saw (2990) and tested it on a lot of materials to test power, cutting speed, vibration, and runtime.
Highlights
Full 15-amp power with 12.0Ah High Output battery
Fully tool-free adjustments and wheel changes
Rapid Stop wheel brake
LED overload indicator
Milwaukee 2990 M18 Fuel Abrasive Chop Saw Overview
We'll get to the performance in just a second. First, let's take a quick tour of the features. Built to be a replacement for your 15-amp model, the Milwaukee M18 Fuel chop saw shares a very similar design to the corded 6177-20.
Tool-Free Adjustments
First of all, the entire saw features tool-free adjustments. The fence is adjustable up and back, and a multi-hole system lets you set a variety of miter angles.
The vice on the Milwaukee 2990-20 chop saw rotates to tighten or loosen and has flip-up threads to make macro adjustments faster and easier.
Even the spark guard is adjustable without the need for a tool. If you want to take it off, you'll need a hex wrench, but you can adjust the angle by hand where you like it.
Milwaukee 2990-21 Tool-Free Wheel Changes
A huge THANK YOU goes out to the design team for including a tool-free wheel change system! Just hold down the spindle lock below the handle and give the flange a twist—it's that easy! Reverse the process once you have your new wheel in place and you're back in business much faster than wrench-based changes.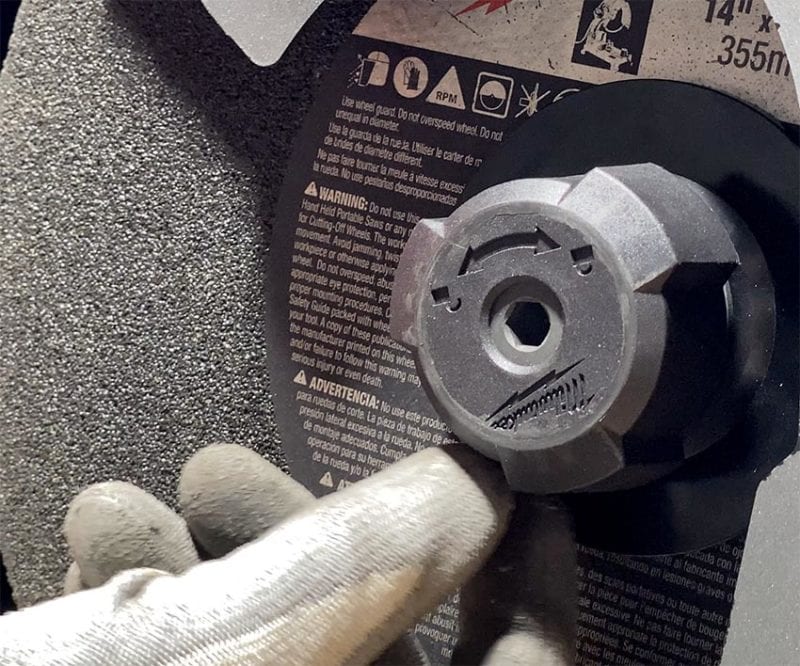 Overload Indicator
Milwaukee gives you an LED light just below the handle that serves as an overload indicator—and we love the active feedback. As you put additional pressure on your cut, it starts flickering orange before turning solid. Try to keep the pressure just before flickering to get the most efficient cutting you can from the system.
Rapid Stop Electronic Brake
One of the major benefits of having a brushless motor's electronics package is the ability to program a brake into the system. Even with the wheel spinning at 4,000 RPM, it only takes about 3 seconds for it to come to a stop once you take your hand off the trigger.
Milwaukee M18 Fuel Abrasive Chop Saw Cutting Performance
The Milwaukee M18 Fuel 14-inch abrasive chop saw is capable of cutting stock up to 4 inches square or 5 inches round. If you're currently cutting it with your corded 14-inch chop saw, the M18 Fuel can handle it, too.
We made cuts in a variety of stock, including #5 rebar, cast iron, conduit, angle iron, and steel stud bundles. The cutting power is impressive, especially considering it's coming from a single 18V battery.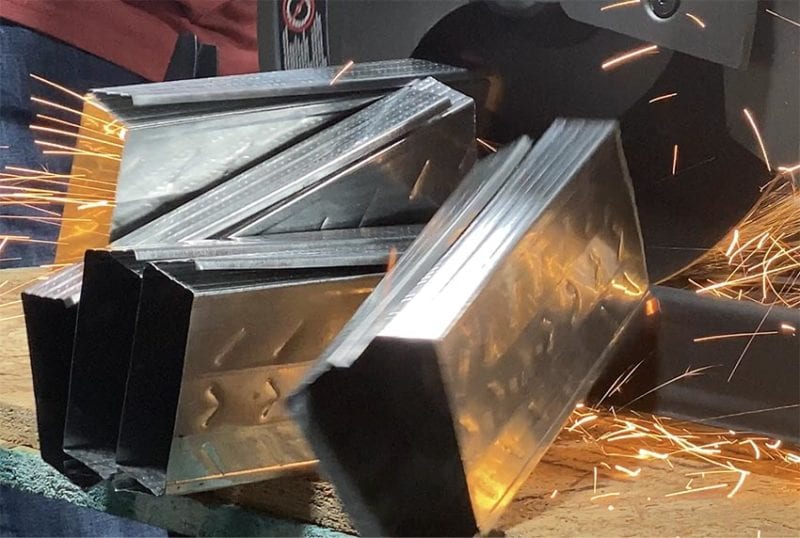 This is a tool that's designed to take advantage of Milwaukee High Output batteries. You'll get the best performance and runtime from the 12.0Ah pack. As just one example, you can expect up to 200 cuts in 20-gauge steel studs (3-5/8 inch) with that pack. Practically, a Milwaukee Super Charger and a couple of 12.0Ah batteries will keep you working non-stop—aside from wheel changes, of course.
What About Using Cold Cut (Toothed) Blades?
At 4,000 RPM, the wheel spins faster than a cold cut blade is rated for (usually under 2,000 RPM). For that reason, this isn't a saw you can use that type of blade with. However, a diamond grit blade such as the Milwaukee Steelhead works great.
Milwaukee 14-inch Cordless Chop Saw Specifications
Model: 2990-20 (bare tool) and 2990-21 (kit)
RPM: 4,000
Rapid Stop
Cut capacity: 5 in.
Wheel diameter: 14 in.
Spindle lock
Arbor size: 1 in.
Miter capacity: 45°
Tool-free fence adjustment
Tool-free blade change
Dimensions (LxWxH): 20.2 x 11.5 x 16.5 in.
Weight: 42.5 lbs.
Kit includes: 14″ Abrasive Chop Saw, M18 High Output 12.0Ah battery, and Rapid Charger.
Additional Features
Folding arm lock
Rubber feet
Carry handle
Milwaukee 2990-21 Chop Saw Price
The Milwaukee M18 FUEL 14″ cordless chop saw retails as a bare tool for $399 and as a kit with a 12Ah battery pack and charger for $599.
Milwaukee M18 Fuel Cordless Chop Saw: The Bottom Line
Like I said at the beginning, we received a very early sample, so we're going to withhold any final judgments until we're able to wrap up more testing with the same finished model that will be on store shelves.
With that said, the Milwaukee M18 Fuel cordless abrasive chop saw… it's pretty impressive. On the convenience side, we love the tool-free adjustments and wheel changes. There's also plenty of power with the combination of its PowerState brushless motor and High Output batteries, and the overload indicator really helps you make the most out of the saw.
While corded chop saws are still going to be less expensive, this tool lets you move from area to area without having to drag a series of extension cords wherever you go. It also sets some new expectations for tool-free wheel changes and adjustability.
Have any questions or feedback for us? Feel free to let us know in the comments!