Just a decade ago, cordless miter saws were unthinkable. While you can get a lot of power and runtime out of an 18V drill or reciprocating saw, trusting a cordless miter saw seems like a jump for many. In 2016, Garth Remick had some success with the Ridgid cordless 7-1/4″ miter saw, and that gave us some confidence that batteries could match or top the corded saws we used and loved. Around the same time, our Editor-in-Chief Clint reviewed the Milwaukee 10-inch cordless miter saw. Since then, those handsome and highly intelligent PTR guys have A) seen and reviewed even more battery-powered miter saws and B) inserted some complimentary things about themselves in these articles during the editing process. So when the Milwaukee 2733 M18 FUEL 7-1/4 inch cordless miter saw showed up I went all in.
Editor's Note: Check out our best miter saw article for our top recommendations.
Top Features
Fueled By Milwaukee
If you're a Milwaukee user, you know the "Fuel" designation means this miter saw takes advantage of a brushless motor. And you really need it to get the most power and battery efficiency out of the motor.
Rail Design
A keen eye will notice Milwaukee didn't simply shrink its 10″ cordless miter. Rather, there are important design differences between the two saws, most notably in the rail design. Clint mentioned that the bottom-mounted rails of the bigger saw were "unusual" – and that this design located the dust port away from the blade. Although the dust collection was better than he first anticipated, it wasn't the best.
It might be for this reason – or several others speculated upon in the interwebs – that the company decided to go with a top-rail design for the Milwaukee M18 Fuel 7-1/4″ Miter Saw. This change necessarily changes the pivot point design, too. We'll see how it works soon, but we suspect it's an improvement.
Bevels, Miters, and 90°s
A compound miter in a package this small – if it has the power – is a beautiful thing. This saw offers dual bevels (a first for the cordless compact class) with stops at 45° and 48°. It miters 48° in both directions with cam locking detents. There's a 3-1/2″ vertical cutting capacity with the base against the fence, a 2-5/8″ nested crown capacity, and a 2″ x8″ horizontal cutting capacity at 90°.
Blade, Cut Line, Fences
As Garth Remick noted about the Ridgid cordless miter, a 7-1/4″ blade diameter makes it easy to find an appropriate blade in nearly any hardware store. You might even scavenge one from your best circular saw in a pinch. There's no hunting around for specialty blades or other diameters. Just grab one that will fit a 5/8″ arbor with a max kerf of 1/8 ". The Milwaukee M18 Fuel 7-1/4" Miter Saw comes equipped with a carbide-tipped trim blade – plenty of teeth for finish cuts. Couple that with the no-load 5000 RPM and you have a recipe for a smooth finished product with minimal tear-out.
Milwaukee's LED shadow cut line seems quite popular with tradesmen – and for good reason. It might appear as a low-tech substitute for the red laser line – and perhaps that's true – but it's better than a laser. First, there's no delicate and relatively expensive laser diode that can malfunction. Secondly, why aren't red lasers (or even brighter green lasers) used outside and/or in bright light? Because they are quite difficult or impossible to see. But you can see a shadow in full sun.
Both fences adjust by sliding outward for more material support. They can even be removed for cuts that require it.
Handles and Weight
Part and parcel of this saw's compact nature is its featherweight nature. What's that? I don't have to expect a herniated disc lifting this into and out of the truck or trailer? At 28 pounds with a 5.0 battery, the Milwaukee M18 Fuel 7-1/4″ Miter Saw is among the lightest in its class (depending on the battery, its Ridgid counterpart might edge it out). And it has three handles – one on top and two on the sides – to make transport easier.
Other Notable Features
Including a safety on the D-handle trigger is a nice complement to what seems like a smooth-operating blade guard. Milwaukee included a blade wrench and material clamp, too.
Kenny took an in-depth look at the Milwaukee folding miter saw stand back in October. I won't spend a lot of time on it here except to say it looks like the perfect partner for this saw. With long material support extensions, adjustable feet for stabilization, and an accessories tray, it's worth considering.
Performance
Pick Me Up
Our company, QMBS, provides the full spectrum of building and maintenance services from new construction to property management. So you can probably imagine that a tool like the Milwaukee M18 Fuel 7-1/4″ Miter Saw won't sit idle! There's no shortage of trim work and smaller cuts for the Milwaukee.
We used the saw on several jobs including rehabbing a friend's childhood home. The utility of the saw's small profile can't be understated. It's easy to pick it up, put it in the truck or trailer, and bring it to the next job. In fact, if this was a big, heavy miter saw, you might find yourself avoiding it and opting instead for a circular saw and speed square. But you lose some stability, accuracy, and a measure of safety doing so.
As it is, it's not a problem to bring this saw where you need it – even up a flight or two of stairs. In that way, you save time and effort by making the cuts in the work area instead of trudging down the stairs and outside as you might have before. Keep in mind you can still work when there's no power or no outlet nearby. Although we found it more than capable of a full day's work on one battery (for medium-duty work), it's the perfect tool for punch list tasks. That's all aided by a pretty solid dust collection system that left very little debris or dust.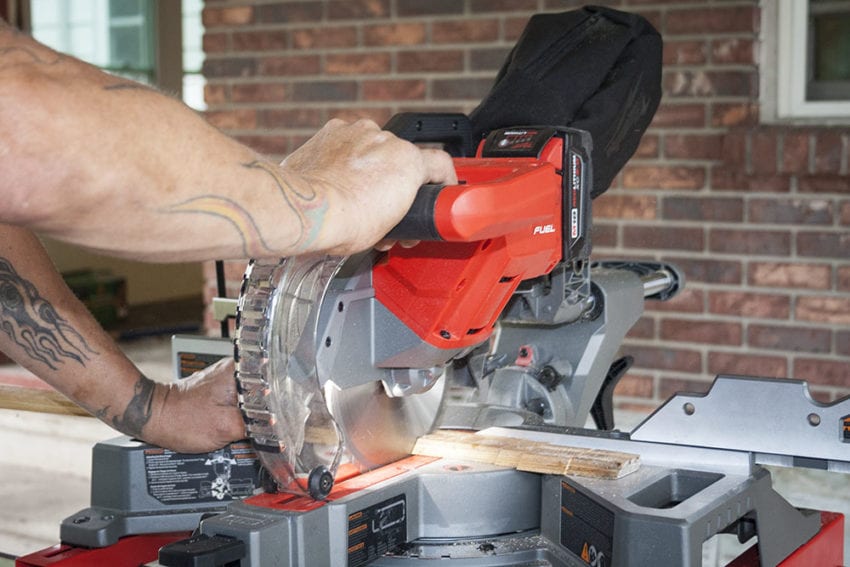 Me And My Shadow
I found the up-and-down pivot action to be easy and smooth as was the saw's sliding along the rails. The light touch required to move the saw throughout the cut allows you to give your full attention to accuracy and safety. Speaking of accuracy, the LED shadow cut line is spot-on – easy to see and perfectly accurate. With some of the laser-equipped miter saws we have on jobs, we have to teach our crew that the cut is created to the right of the red line. Furthermore, the red line gets obscured as the blade approaches and enters the wood. It just invites inaccuracy. With the shadow, however, the blade enters the wood exactly at the line and remains on the uncut part of the material until the cut is complete.
Braking It In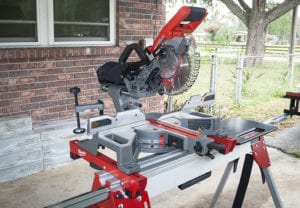 I admit that even with Milwaukee's excellent reputation and the buzz surrounding this particular saw, I was a little skeptical that it would have the speed and power to do a satisfactory job. But it didn't take long to be quite impressed with it. Milwaukee claims you can get about 600 cuts out of the 5.0 battery and I believe it.
The days that I used it before I reluctantly let it go with the crew for their input, I cut loads of 2-1/4″ molding, 5-1/4″ baseboard, and made a bunch of 90° cuts in 2×6 lumber. It wasn't just the speed and power of the saw that was impactful; it was the speed of adjustment. Adjusting the miter is quick and easy with the cam locking system as is adjusting the bevel. Of course, the shallowness of the saw from front to back makes that easier than on a traditionally-sized saw. I also really liked the blade brake on the safety side of things.
So are there limitations? Well sure, it's not a framing saw, but Milwaukee never made that claim. It's a solidly conceived trim/finish saw that can handle the vast majority of tasks after rough-in. It trims beautifully. It adjusts smoothly and quickly. Milwaukee has made an impressive, easily portable saw.
The Bottom Line
If you have any doubts that a cordless miter can get the job done, the Milwaukee M18 Fuel 7-1/4″ Miter Saw puts them to rest. It has the chops to trim and finish a space with smooth, accurate cuts. Then you quickly and effortlessly secure the blade, pick it up, and move to the next job, bringing the saw anywhere you need to work. Its size, battery power, and dust collection system will save you time and hassle that a big, corded saw would not.
Carpenters rejoice – Milwaukee must have taken the input of experienced tradesmen and effectively incorporated it into this design. You're not going to frame with it, but that was never the idea. You can do just about everything else.
Milwaukee M18 Fuel 7-1/4″ Miter Saw Features
Only 28 lbs with Battery
Dual Bevel with stops at 45° and 48°
Over 600 Cuts per Charge
3-1/2 Inches Vertical Capacity (base against fence)
2×8 Horizontal Capacity (lying flat at 90°)
2-5/8 Inches Nested Crown Capacity
Cam Locking Miter Detent System
Shadow cut line indicator for quickly lining up cuts
Integrated top and side carry handles for easy transportation
Milwaukee M18 Fuel 7-1/4″ Miter Saw Specifications
Model Numbers:

Milwaukee 2733-20 (Bare)
Milwaukee 2733-21 (Kit)

Voltage: 18V
Battery: M18 RedLithium
No Load RPM: 5,000
Maximum Bevel Capacity: 48° / 48°
Tool Warranty: 5 Years
Weight with battery: 28 pounds
Prices: $449 (bare), $549.00 (kit)