We've been making a lot of sawdust as we review the latest generation of jig saws from the big names. These saws differentiate themselves by more than just a battery platform. Today, it's the new Milwaukee M18 Fuel Jig Saw's turn to show us its stuff. Let's see what it has to offer.
Pros
Faster cutting that DeWalt and Ridgid
Dust port attachment and cutline blower off switch
Tool-free bevel adjustment and blade release
Tool-free blade ejection
Brushless motor
Cons
No lock on button
No variable speed dial
Standout Features
Dust Port Attachment
Milwaukee joins the ranks of jig saws with dust collection. Just push the collection attachment in the port on the shoe and connect your vacuum.
Milwaukee sets itself apart by including a cutline blower off switch. That way, the blower isn't fighting against the vacuum and you collect more dust.
Tool-Free Blade Release
Having a tool-free blade release is pretty much the industry standard now. The front lever lock releases the blade, identical to what we see from Ridgid and DeWalt.
Standard Features
3 orbital modes plus off
Tool-free bevel adjustment
LED light
No-mar shoe pad
Lock off rocker switch
Missing Features
Milwaukee passes on the variable speed dial and opts for a two-finger variable speed trigger instead. I'm good with this for most general wood cutting, but I prefer the control of a dial for hardwoods and metal.
Additional Field Notes
I like that the Milwaukee M18 Fuel Jig Saw includes bevel stops at 0, 15, 30, and 45º. However, they're a little tough to read. You'll get used to which one's which after some use, you might just want a magnifying glass until you do.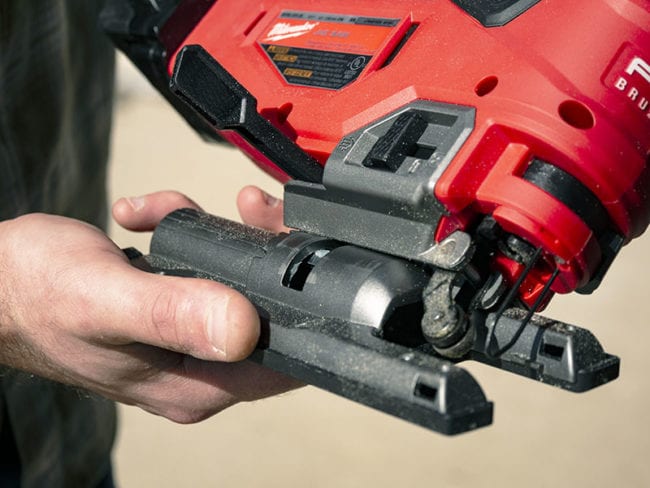 Ergonomics
The Milwaukee M18 Fuel Jig Saw makes cuts that are pretty easy to control thanks to its comfortable handle design and grip. A two-finger trigger and extra overmold invite you to try additional hand positions when you're cutting.
While this may boil down to mere preference, I miss the convenience of a lock on button. When I'm making longer cuts that have a curve to them, I prefer a lock on button so I can focus more on my grip and accuracy than keeping the trigger down. Milwaukee is far from being the only one to forgo it on a D-handle, though.
At 4.9 pounds bare and 6.5 pounds with a 5.0 Ah battery, the M18 Fuel is a little heavier, but still in the ballpark with the 18V competition. Carrying a few extra ounces isn't a big deal since the material you're cutting will be supporting it.
I'm a barrel grip guy when it comes to jig saws. If you're in the same boat, there's a barrel grip model available as well (2737B).
Performance
Milwaukee Tool fans will already know that this jig saw's Fuel designation means it features the company's trifecta of performance: a PowerState brushless motor, a RedLithium battery, and RedLink Plus intelligence.
All of the jig saws we've reviewed recently have their own competing versions of these elements. But there's something about this combination that gives it an advantage. Despite having the same top speed of 3,500 RPM and 1-inch stroke length as the DeWalt and Ridgid versions, it's clearly faster.
The cutline blower works well, though the dust collection leaves something to be desired. That's not a surprise at all, though. Dust collection on jig saws pulls through the base and starts behind the blade. Because the blade is spitting debris forward, you need more suction than most vacuums can provide to capture everything. Still, Milwaukee's system does as well as anyone's and turning the cutline blower off gives it an advantage over most others.
Price & Value
The $199 Milwaukee M18 Fuel Jig Saw is near the high end of the competition's price range, but still competitive with DeWalt and well under Makita. As a kit with one 5.0 Ah battery, it runs $299. Here's how the competition looks:
Ryobi 18V One+ Brushless P524: $119
Ridgid Octane 18V R8832B: $129
Bosch 18V JSH180B (brushed model): $149
DeWalt 20V Max XR DCS334B: $179 (bare)/$329 (5.0 Ah kit)
Milwaukee M18 Fuel 2737-20: $199 (bare)/$299 (5.0 Ah kit)
Makita LXT 18V XVJ02Z: $269
The Bottom Line
The Milwaukee M18 Fuel Jig Saw excels in the cutting speed department. If you want the D-handle style, you'll have to give up a couple of features that some of its competition includes.
Milwaukee M18 Fuel Jig Saw Specifications
Model: Milwaukee 2737-21
Battery Ampere-hour: 5.0 Ah
Input Voltage: 120 V
Metal Cutting Capacity: 0.38-inch
Strokes per Minute – No Load: 3,500
Wood Cutting Capacity: 5.5 inches
Number of Orbital Action Settings: 4
Weight: 6.49 pounds
Warranty: 5 years limited
Price: $206.95 (bare tool), $299 (kit)