Last summer we raved about the Milwaukee 60-inch Mobile Work Station and there was more than a little discussion on who was going to get it. In the end, Clint DeBoer played the Editor-in-Chief card and claimed it for review. That's not something he does often, but when he does, it's typically for something really solid. Time heals all wounds and the release of the new Milwaukee 52-inch Mobile Work Bench is just the medicine I need.
Maybe I'll even speak to Clint again.
The first of this generation of Milwaukee storage was the 46-inch tool chest and cabinet. That strong foundation doesn't need much tweaking to it, so most of the recent storage is more form factor than anything else. Sure, there have been a couple of little things here and there, but much of the foundation remains.
That's a good thing. I love the powder coating matte finish over glossy. It simply stays looking nice longer than the glossy finish that shows every greasy fingerprint with great detail. There's also the angle iron reinforced frame. It provides a solid base for the steel walls and gives it that Nothing But Heavy Duty DNA profile. As the saying goes, some things change, some things stay the same. Let's take a closer look.
Assembly
Assembly of the Milwaukee 52-Inch Mobile Work Bench isn't difficult, but you'll want a friend to help move it around. You'll also want to ditch the wrench that comes with it and grab an impact driver instead.
There are some options between the left and right sides for where you can install several pieces. Basically, if the holes line up, you can install it there. The exception is the power strip, which is already in place.
All of the things you need to install really do go on easily. You're responsible for the casters, lower bumpers, side handle, tool hanger, cord hanger, and lower storage tray. By myself, assembly took 30 minutes including gathering the tools I needed and muscling the unit around.
One thing you need to be aware of is that the cord needs to go through the knockout. You'll need to release whichever drawers you prefer to get behind them and thread it through.
Top Features
Soft Close Drawers and Layout
When Milwaukee launched that 46-inch chest and cabinet, we loved the soft-close drawers. It feels like a luxury to have them and keeps your tools from being jerked around quite as much. With the Milwaukee 52-Inch Mobile Work Bench, you get 11 sets – 9 drawers and 2 pull out trays.
The 2 pull out trays sit up top and are really just open top drawers. Because of the raised top, you get some extra clearance that you don't have in other drawers. That said, I'd like one of these to have a lockable tray top like the 46- and 30-inch chests. It's useful for laptop/document use and storage. Of course, you do have some lockable storage and you can write or use a laptop on the workbench, I just like having that dedicated space that's not also where greasy tools work and sawdust settles.
The other 9 drawers are a mix. Moving from top to bottom, there's one long shallow drawer medium drawer. Then to the left and down, you have 3 small shallow drawers and a deeper one at the base. On the right side are two medium depth medium width drawers and the deepest drawer at the base.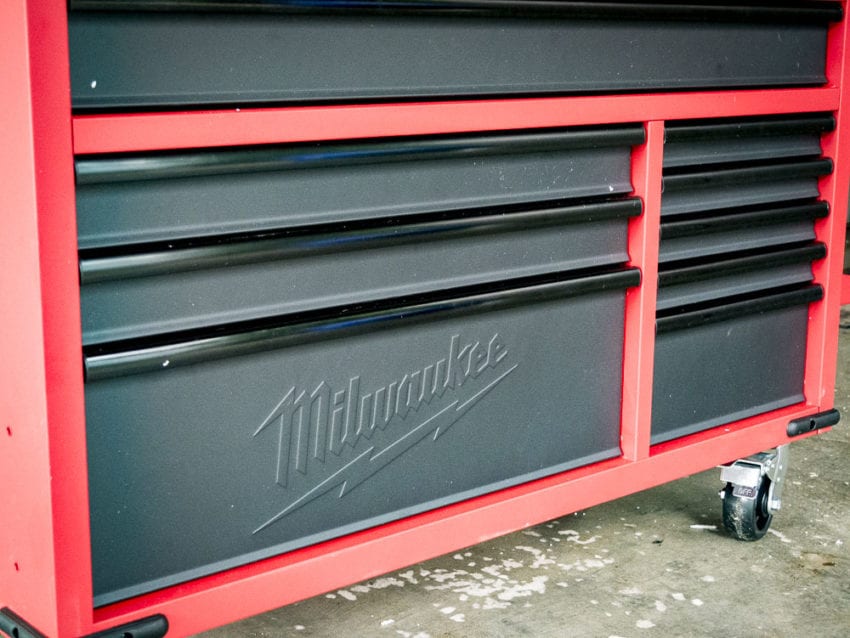 That deep drawer includes a power tool organizer and separator. The power tool organizer holds up to 8 tools and is really a defining feature of Milwaukee's storage solutions that all the Pros at PTR love.
Each of the drawer slide pairs carries a 100-pound rating. That means each drawer will hold 100 pounds except the one with the power tool organizer which holds 200 pounds. So even though the unit has an 1800-pound rating, the total capacity of the drawers is 1200 pounds.
Power Strip with USB
Power strips are just about standard on any new storage solution as are USB ports. On the outside, you'll find a 6-plug power strip with 2 USB ports. The USB ports carry a 2.1-amp rating, so they're going to charge devices at a fairly quick rate.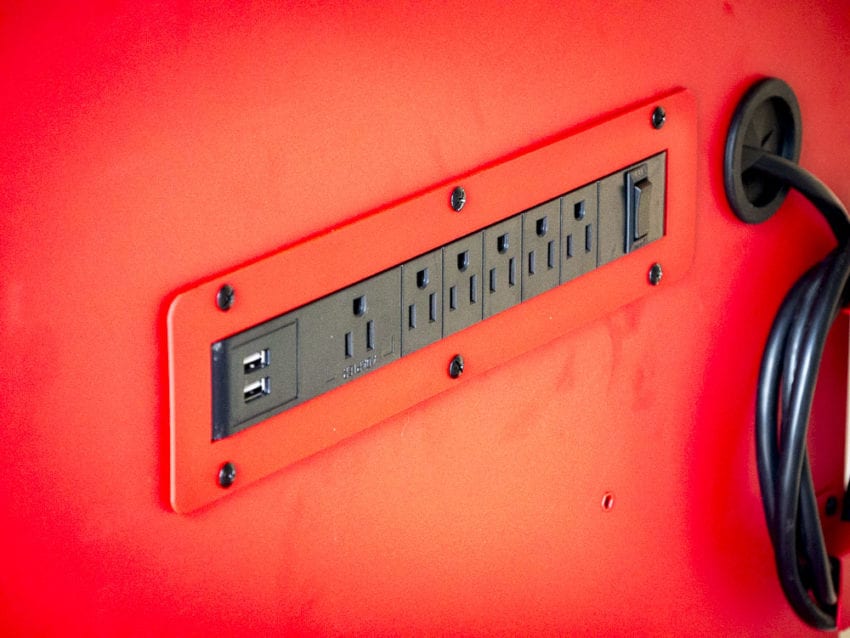 Screw Points
Several screw points are on the side. They have perfect spacing to hold you Milwaukee chargers. Others can also mount there, though the spacing is likely to be off. I just used one screw to secure my Ryobi charger via keyhole.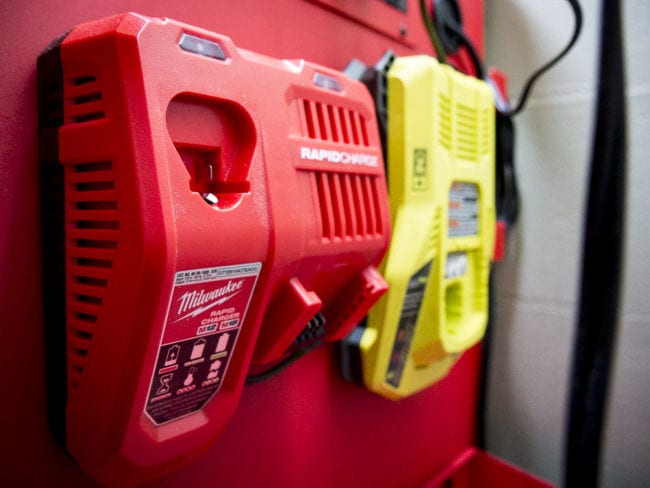 Lower Storage Tray
There's a lower storage tray that you can use to set things that you don't want on the floor or in any of the drawers. Liquids and chemicals are all good candidates to be out here. Just be aware of what you're storing there if you have chargers and batteries right above it.
Tool Hanger
A tool hanger holds up to 6 hand tools – more than likely screw or nut drivers for most people.
Raised Work Surface
The star of the show is the raised work surface. A 1-inch wood tabletop in reversible as you'll inevitably get scratches and marks from time to time. That also means you can replace it down the road if you like.
With clearance above the pull out trays on three sides, the entire purpose of the design is to be able to clamp to the bench top. That's great for woodworkers particularly, but nearly everyone can use that function at some point.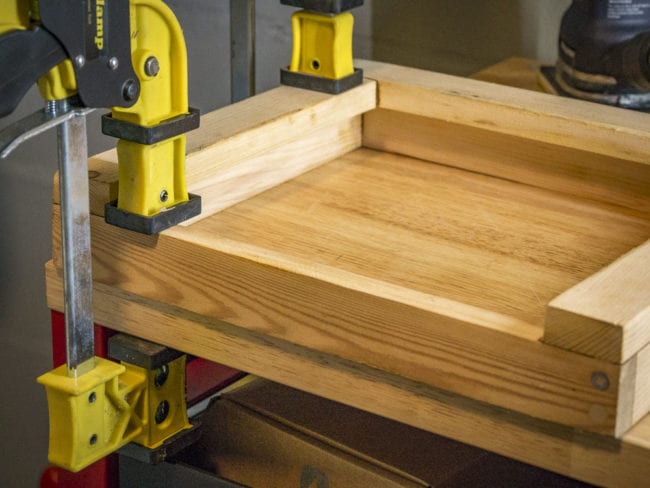 What really wish Milwaukee would include with the work bench or as an option is a metal peg board. I realize why they didn't. The Milwaukee 52-Inch Mobile Work Bench is set up so you can work all around if you have space. That's great on many shop projects. But for those of us that have it against a wall, a pegboard sure would be nice.
Functionality
The Milwaukee 52-Inch Mobile Work Bench is my all-in-one home shop tool organizer and work space. Since we keep most of our tools at the shop where there's a ton of space and storage, I don't need as much at home. So this unit has to be a jack of all trades, storing the hand tools, power tools, and PPE that I use on a regular basis away from the shop. So it's a one-stop-shop for electrical, plumbing, and maintenance tools. Fortunately, the OPE can live in the shed.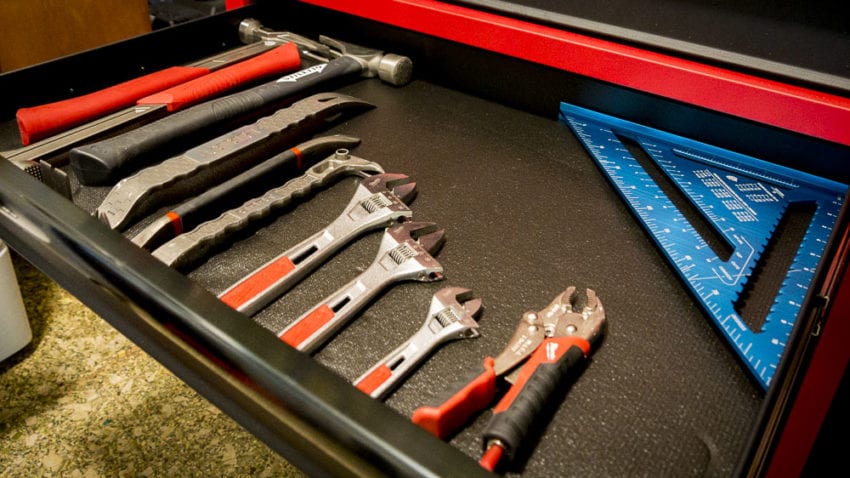 I find there's plenty of space and versatility to perform this function well. I still need shelf space for tools that larger and/or live in hard cases, but that's not unique to this unit.
The best part is that the same unit storing my tools is also my workspace. I can leave it in place most of the time, but when I'm working on a larger piece, it rolls out easily to accommodate my moving 360 degrees around it.
The Bottom Line
The integration of storage and work space in one unit isn't a new idea. However, it's great for your home shop, woodworkers, mechanics, and a plethora of hobbyists. Any project that requires just a tabletop to work on will feel right at home with the Milwaukee 52-Inch Mobile Work Bench.
Milwaukee brings their NBHD and disruptive innovation philosophies to bear down here. From the simplicity of lower corner bumpers and a raised work surface to considerations like angle iron framing and heavy-duty, easy rolling casters, there's a lot to be excited about.
Overall, the volume of storage is on par with this size of tool chest. You can get up to 1200 pounds of tools in the drawers and a total of 1800 pounds with what you have on the table top. It's possible to engineer more, but I don't think it's necessary for this size. While I'd love to see a metal pegboard for the back, you can pony up an extra $100 to get it on the 60-inch model.
On the pricing side of things, this model will set you back $498, though MSRP is set at $599, so current prices may change. That's a pretty good price considering the build quality, storage, and work space.
Related Reviews
Milwaukee 52-Inch Mobile Work Bench Features
Angle iron frame
5-inch industrial casters
100-pound soft close drawer slides
Raised work surface with pullout trays
Built-in power center
Multi-position tool tray and integrated organizers
9 drawers & 2 pull-out trays
Milwaukee 52-inch Mobile Work Bench Specifications
Model: Milwaukee 48-22-8552
Width: 52 inches
Weight Capacity: 1800 pounds
Depth: 24″
Width: 52″
Height: 42″
Drawers: 9
Pull Out Trays: 2
Cabinets: 0
Weight: 380 pounds
MSRP: $599 ($498 currently)