Milwaukee Multi-Tool Blades Expansion Coming in August
Milwaukee Tool continues to expand its line of cutting solutions with the introduction of carbide-toothed multi-tool blades. The expansion, slated for an August release, will tackle multi-material, metal, wood, and specialty oscillating multi-tool blades. You can also expect the lineup to feature the Universal Open-Lok Connection for quick blade changes. Overall, this looks like the largest expansion since Milwaukee Tool acquired Imperial Blades back in 2018.
Milwaukee Multi-Tool Blades Expansion
Clearly, Milwaukee Tool has thrown out the rules with this latest expansion. It clearly shows that they are putting a significant amount of resources into the development of not only standard material cutting, but specialty uses as well. That makes sense given the company's focus on MEP and tradesmen. Below we go through the lineup which includes everything from metal-and wood-cutting solutions to innovative 5-in-1 blades and curved solutions for carpet installers. If you start with one of the best cordless oscillating multi-tools and then add one of these blades—you should find yourself in very good shape.
Titanium Enhanced Extreme Materials Carbide Teeth Blades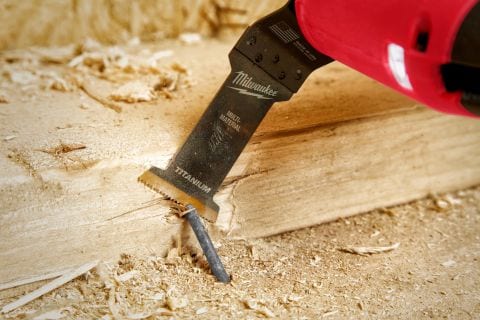 Intended for use with wood, screws, cement board, plaster, and other cutting applications, the Titanium Enhanced Carbide Teeth Extreme Materials Blades offer as much as 50x the life of standard bi-metal blades. The blades also feature a thinner and aggressive tooth design that cuts more quickly, particularly in wood. This blade measures in at 1-3/8″ wide.
Titanium Enhanced Extreme Metal Carbide Teeth Blades
Similar to the aforementioned blades, the Extreme Metal Blade can tackle a wide range of materials, though these will focus primarily on the world of metals. Screws, bolts, metal pipe, and nails all fall into this blade's wheelhouse. You should have an instant appreciation of this blade if you ever made a couple of cuts with bi-metal only to find most of the teeth flattened out.
Milwaukee claims that the titanium enhancement gives these carbide teeth the durability to last up to 50x longer than standard bi-metal blades. They feature the Open-Lok connection and are 1-3/8″ wide.
Milwaukee Titanium Enhanced Bi-Metal Multi-Material Multi-Tool Blades
These Open-Lok connection blades are made from high-speed steel and enhanced with Milwaukee's titanium coating. They're suited for work with wood, nails, PVC, and drywall. You can pick them up in 3/8″, 1-1/4″, 1-3/8″, 2-1/2″, and 3-1/2″ widths.
Titanium Enhanced Bi-Metal Metal Blades
For soft metals, the Milwaukee Titanium Enhanced Bi-Metal Metal Blades fit the bill. Made from high-speed steel and featuring a unique tooth form, they excel in cutting anything from soft metals and wood to PVC and drywall. These blades are available in 1-1/8″ and 1-3/4″ widths.
Japanese Tooth Hardwood Blades
For even more control in hardwood cutting applications, Milwaukee has the Japanese Tooth Pro-Curve Hardwood Oscillating Multi-Tool Blades. These also feature the Universal Fit Open-Lok connection, and they're made from high carbon steel.
The precision tips on these blades have triple-ground Japanese teeth with Milwaukee's Pro-Curve technology. This not only increases your accuracy, but it also speeds up your cuts by up to 2 times when compared to standard wood blades.
These blades are our favorite for hardwood applications (think flooring). However, you can also use them with softwoods, PVC, drywall, and other soft materials. They come in 1-3/8″ and 2-1/2″ widths.
Milwaukee Wood Oscillating Tool Blades
The Milwaukee wood blades utilize a high-carbon steel with edge-ground teeth to give users great performance in wood, drywall, and other soft materials. These multi-tooth blades have a longer blade body and aggressive tooth design to deliver faster cuts than Milwaukee's previous generation of wood multi-tool blades. They come in 1-3/8″, 2-1/2″, and 3-1/2″ widths.
Milwaukee Oscillating Multi-Tool Blades Expansion Summary
These blades cover just about everything—and in a way that makes them last longer in your tool bag. We like that. It also doesn't go past us that these blades bear the Milwaukee Tool logo in lieu of the Imperial Blades markings. That's just good marketing and we suspect the SKUs are identical in all but the labeling and where you can find them for sale.
Does it sound like the Milwaukee Multi-Tool Blade line overlaps in a lot of places? Is it difficult to nail down exactly what the best blade for your project is? Well, Milwaukee has provided this helpful table to help you tailor your selection to the project at hand.
Milwaukee Specialty Blades for Oscillating Multi-tools
But wait, Milwaukee hasn't finished with this Multi-Tool blade expansion yet. They've also got a stable of specialty blades for more particularized jobs.
All of Milwaukee's specialty blades feature the universal fit Open-Lok anchor for quick blade changes.
Triangle Sanding Pad: Utilizes a dense foam backer for flexibility and durability to sand in hard to reach places.
Rigid & Flexible Scrapers: Constructed of solid stainless steel for versatile and quick removal of paints, adhesives, and sealants.
Multi-Cutter Scraper: Constructed of solid stainless steel with three different cutting edges for cutting through carpet, roofing paper, asphalt roofing, shingles, and cardboard.
Sealant Cutting Blades: Equipped with a wide or tapered edge for easy sealant removal in expansion joints and a Mushroom sealant scraper is complete with a flexible mushroom sharp for delicate sealant removal around glass.
Hybrid Carbide Grit Boot Blade: Incorporate a 2-in-1 shape for fast grout and mortar removal.
Diamond Grit Boot Blade: Constructed with a more durable diamond grip for fast grout removal and up to 5x longer life than standard carbide grit blades.
5-in-1 Drywall Blade: Precision laser-cut to deliver 5-in-1 functionality for all drywall cutting needs.