Milwaukee headlamps mark a pretty big push for the company. This moves them beyond the more powerful work lights to styles that nearly every tradesman carries at some point. The Milwaukee RedLithium USB Hard Hat Headlamp is just one of a series of lithium-ion rechargeable lights that have caught our interest.
In a big shift, these lights don't run on M12 or M18 battery packs. If they did, they'd have to be much bulkier or connect to a belt clip and run a wire – neither of which fits this category of lighting well. These are part of the USB Rechargeable series that runs on a single 4V lithium-ion cell. It's one cell of what we normally find in sets of three in the M12 battery or sets of five on the M18 packs.
The benefit is that we lose the need for a separate charger. Each of these lighting solutions charges directly with a micro USB cord connected to an AC outlet or a USB power supply. But this is all really just a recap.
Editor's Note: Check out our article on the coolest and most comfortable hard hats to see our top recommendations and we can also help you when choosing the best hard hat!
Headband Strap and Clips
The Milwaukee RedLithium USB Hard Hat Headlamp has a pretty obvious design—use them on your hard hat! The strap and back pad of the lamp's frame offers an adjustable fit that grips your hard hat so it won't slide up. A set of clips ensure that it isn't going anywhere, even if you're in a confined space and bump against an entryway or other object.
The downside is that it doesn't make for the most comfortable fit when you're not wearing a hard hat. The strap itself isn't bad, it's the rubber pad on the front that can use a more gentle approach. That said, if you wear a head cover of some sort, it helps. You can also fashion a stick-on pad if you don't wear a hard hat often.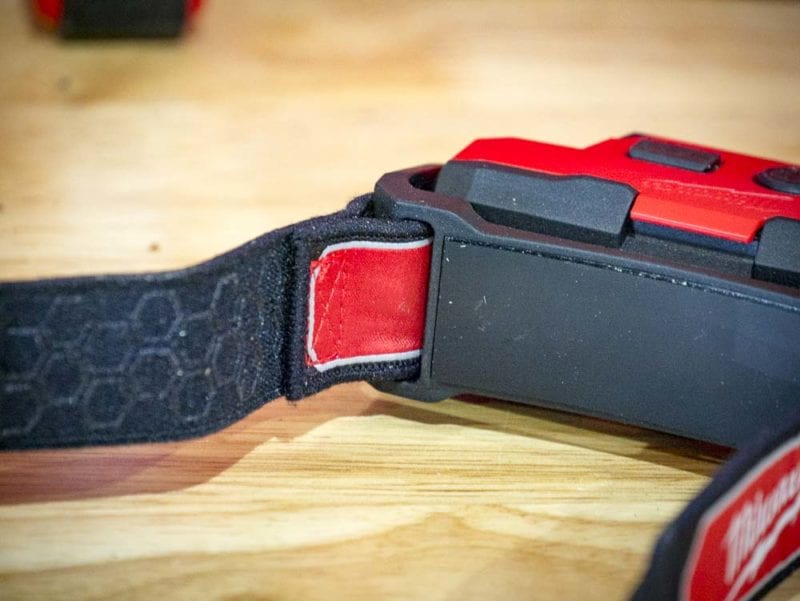 Durable Housing
The light itself is built around a tough ABS plastic housing that looks like it will stand up over time. Rubber overmold surrounds the lens and covers the battery door. Obviously, it will scuff with some abuse, but I expect it will take a lot before you manage to actually break something.
Arguably, you could swap out the plastic for a more rigid blend, but the brittleness that comes with it would make it more prone to breakage. You could also make the argument for more metal in the connections and design. That's a bit more legitimate a claim. The tradeoff is the price point.
Battery Access
If you look inside the battery door, you won't find an o-ring. It's more along the lines of a gasket in thickness, providing a decent barrier to water and dust and earns an IP54 rating.
The only potential early failure point I see is the battery compartment door. Held together with a small pin running the length of the hinge, it won't take a ton of force to snap it off. But there's protection against this in the design. The easiest way to access the battery door is to swing the frame down below the door – a move that prevents the hinge from opening all the way out and avoiding undue risk.
When you open the battery door, you'll notice the battery falls out easily. This doesn't have a tight friction fit like most flashlights and headlamps. The positive and negative connections aren't on the top and bottom, but rather the edge of one side. That means you'll need a perfect fit in the housing to make the proper connection. You can't seat the battery fully in the housing unless it is lined up perfectly. If you're a little off, just rotate the battery until it slips into position. Despite sounding complicated, it's actually very easy to work with.
The reality is you rarely if ever, need to access the battery. Since you can recharge it directly by plugging in the micro USB at the base of the lamp, it can remain sealed. Of course, if you're running long enough to need to swap batteries, you can do that. There's also a separate charger available.
Usable Controls
The Milwaukee RedLithium USB Hard Hat Headlamp clicks softly into 11 different pivot positions to give you an angle on your work and covers 180 degrees. It's unlikely you'll catch yourself working in a space where you don't find a good position to light up the job at hand.
Controls are simple with just two buttons to operate. One button controls the power, the other cycles through your mode options. If you want to see a headlamp with complex controls, check out my review of LEDLenser's XEO19R.
There are three modes to choose from – spot, flood, and spot/flood combo. The spot and spot/flood modes have just one level of brightness, but the flood only mode cycles through several. This is very beneficial when you're working in tight spaces that reflect a lot of light and get overlit easily, like the cabinet hiding your bathroom sink plumbing.
Realistically, I use the flood light more than the other two for work, but the other modes are useful to navigate jobsites safely. The spot beam offers a long enough throw and the three modes have enough versatility to make this a compelling option for recreational outdoor use as well.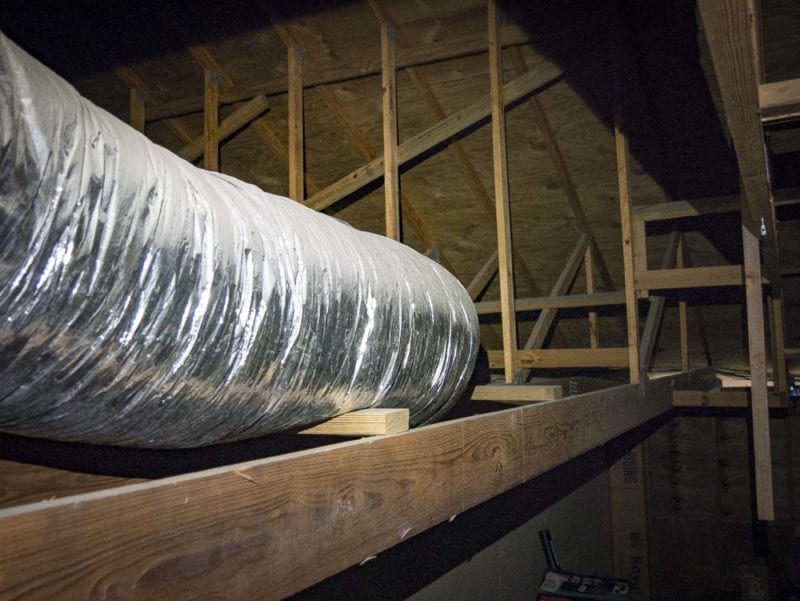 Milwaukee RedLithium USB Hard Hat Headlamp Light Quality
Milwaukee sticks with their TrueView light color and quality. It's not as easy to pick out that the Milwaukee Hard Hat Headlamp has a 5000K color temperature, but it's there. It's a good temperature and quality to keep color identification accurate.
On spot mode, more of the warm color tones creep into the throw while flood mode just shows it on the outside of the corona. In Spot/Flood mode, you get the warm tones infiltrating from the middle and the edges. It's not a deal-breaker, just a point worth noting.
Milwaukee RedLithium USB Series
I'll say it with each one of the reviews in this series – while I like the Milwaukee RedLithium USB Hard Hat Headlamp on its own as a standalone product, the series is greater than the sum of its parts. The single-cell design keeps the headlamp, pocket floodlight, and flashlight slim enough that you can carry all three in your tool bag pockets without taking up a ton of space. The line as a whole gives you the ability to carry a lighting solution for nearly every job you'll come across so you always have the right light on every job without having to remember which one to pack.
The Bottom Line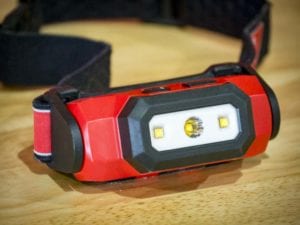 Overall, I like what Milwaukee is doing in the personal lighting solutions category. As someone who uses these lights for both jobsite use and recreational outdoor gear, my only gripe is that the pivoting connection between the light and frame on the strap can stand to be more solid. I'd also prefer a more comfortable pad for where it contacts my forehead, but keep in mind that it's designed to be a hard hat lamp first and foremost.
I like the simplicity of the controls and the versatility of the modes that include multiple output levels in flood mode. For the jobsite and most outdoor applications, there's plenty of light available and the runtime is sufficient.
Probably best of all is that the battery system is easily rechargeable onboard and simple to swap if you need to cycle batteries.
The performance and overall design are there as a hard hat headlamp even though the fit and finish are still a little rough. Price is the only remaining consideration. The Milwaukee USB Rechargeable Hard Hat Headlamp comes in at $59.97 with battery and charging cord – a price that's solid for this output level as a rechargeable unit.
Milwaukee RedLithium USB Hard Hat Headlamp Specifications
Model: Milwaukee 2111-21
Power Source: RedLithium USB 4V battery
Output: 475 (Spot/Flood), 300 (Spot), 300/150/25 (Flood) lumens
Modes: Spot/Flood/Combo
Stated Runtime: 2 hours (Spot/Flood), 4.5 hours (Spot), 4/8.5/31 hours (flood)
IP Rating: IP54
Weight: 0.37 lbs w/battery
Price: $59.97
Warranty: Limited Lifetime