While other saws are playing at being tough, the 12-inch sliding Ridgid MS1290LZA miter saw takes a different approach. In fact, it takes the competition to task with just the right blend of features and finesse. Case in point: show me another miter saw whose miter angle can be changed using just your pinky finger? Can't find any? Welcome to Ridgid.
When we first laid eyes on the MS1290LZA we didn't think much of it…but when we started playing with it we quickly realized our mistake. To see how the similar but more modern Ridgid R4120 miter saw did against a lot of the competition, check out our Best 12-inch miter saw reviews article.
Ridgid MS1290LZA Miter Saw Build Quality
Starting at the top, the Ridgid's sliding compound miter saw is heavy. It's not as heavy as the Milwaukee 6955-20 12-inch miter saw. It does weigh enough that you won't want to lug it from site to site unless you're a glutton for punishment…or perhaps related to a certain former governor of California.
This weight (and the immense size of the table) makes the saw incredibly stable. The blade slides from miter to miter like it was flying over soap-covered glass. The miter extends from 65 degrees to 65 degrees—far beyond the range of most saws. Using the palm of your hand, you can easily activate the switch interlock button. Even lefties can do that and depress the trigger switch without any difficulties.
Unlike the popular Dewalt DWS780 miter saw, the transparent blade guard gives you a clear line-of-sight to your cutting edge from any angle. We'd like to see this universally applied to all miter saws.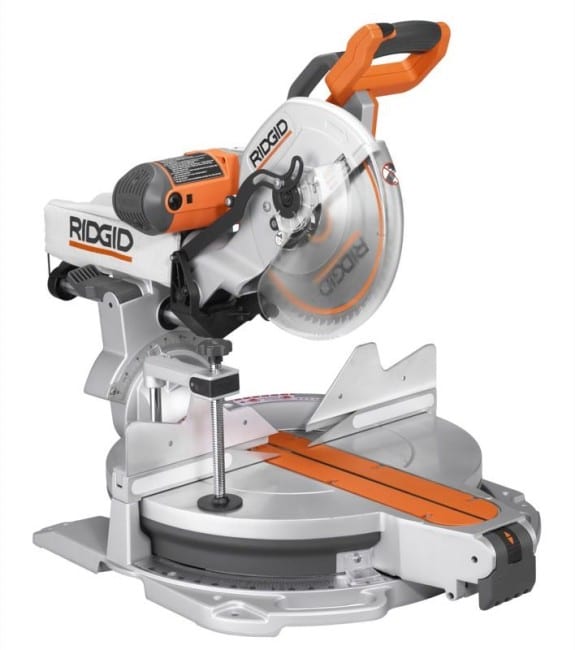 Maintenance and Setting Cutting Depth
The MS1290LZA has user-replaceable motor brushes that you can easily access from each side of the motor. Adjusting the bevel angle comes nearly as easy as the miter. A simple flick of the miter lock lever fixes the saw at the desired angle and a bevel index pin makes it easy to find those perfect crown molding bevel positions.
You can lock down the blade arm with the depth adjustment clamp. It has a hole to lock the head and set various cutting depth limits. We found it easy to move the clamp. Just pull it out, rotate it, and let it snap back in place.
Ridgid MS1290LZA Convenience Features
Ridgid included a clamp with the saw. It has a quick release so you can easily lock it into place and then screw it down for a tight grip. Ridgid also included a nifty "Repeat-a-Cut" writing surface on the left side of the table. On it, you can mark in pencil for noting multiple cut measurements. This saved us tons of time for repetitive cuts. The marks also erase easily enough after you're through. Innovative? Yep.
The Ridgid MS1290LZA miter saw has two cord wrap brackets on its right side. We found that extremely convenient and sensible. The included hybrid Allen wrench/Phillips head screwdriver stores on the right rear leg of the saw.
Ridgid MS1290 12-inch Sliding Compound Miter Saw Specs
Speed (no-load): 4,000 RPM)
Max bevel: 47° left/right
Max miter: 60° left/right
45° crosscut: 9.5 in.
90° crosscut (left/right): 13.5 in.
Arbor: 1 in.
Miter detent release and bypass thumb wheel
Expandable table
Exactline laser alignment system
Repeat-A-Cut marking surface
2-1/2 in. dust port with collection bag
Weight: 68.46 lbs.
3-year warranty and lifetime service agreement
Includes miter saw, Exactline adjustable laser guide, carbide-tipped blade, dust bag, dust guide, work clamp, blade wrench, and hex keys
Price: $499
Shop Amazon
Conclusion
For someone looking for a professional miter saw, this is one of the better models we've seen at this price. It actually embarrasses (or should) some of the competition and puts forth some innovative and exciting features that we're sure will become standard fare from competing brands over time. For now, you can reap the benefits of the Ridgid MS1290LZA miter saw while everyone else catches up.