Skil PWRCore 40 Chainsaw Tackles Homeowner Needs with Ease
When our friend Eli Mosley called us up with some tree work to do, we thought it would be the perfect opportunity to see how well the Skil PWRCore 40 chainsaw stands up against homeowner needs. We had some not-so-light oak to cut and used it put Skil's 14-inch bar and chain through its paces.
Oak Tree Vs Skil PWRCore 40 Chainsaw
We have a lot of oaks in our area and they're a great species to test chainsaws on. The wood challenges underpowered saws that work just fine in softer pines. When hurricane season rolls through, it's the oaks we're most concerned about and a saw's ability to cut it effectively is ultimately what earns our recommendation.
A lot of the work was on smaller branches in the 4-inch range, but we also had some tougher work in bringing down 12-inch main branches. With its 0.043-inch chain, the Skil PWRCore 40 chainsaw makes quick work of those smaller branches.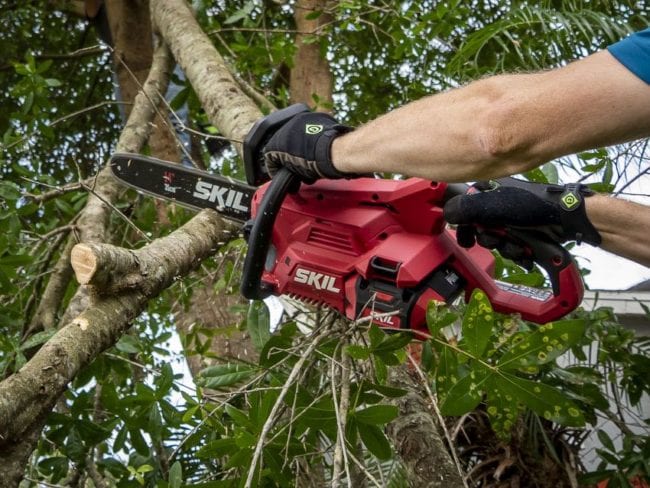 When the going got tougher in the thick branches, the saw was able to keep up. It didn't have the same kind of power we see in something like EGO's 18-inch model, though. We had to take some pressure off to allow the brushless motor to keep its RPMs up, but it was able to keep the teeth cutting all the way through the heartwood.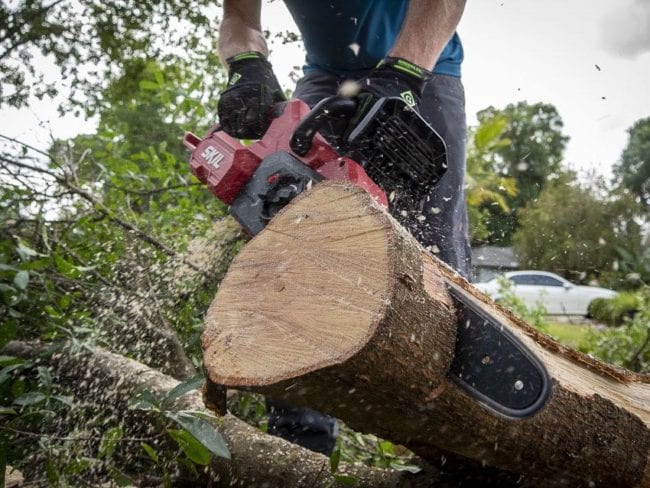 Pro Tip: Keep your chain sharp and replace it when necessary to get the best performance, especially when you know you have heavier cutting to do.
That's exactly the kind of cut that underpowered saws we test fail on. So while you can move up in power (and price) to get better cutting torque, Skil works well for a lot of your maintenance, storm cleanup, and even smaller felling needs.
Once you get the chain warmed up, you'll need to adjust the tension. That's very easy using the red dial on the side.
Access to the full bar is also simple and tool-free right next to it. As a model targeting homeowners, we appreciate that Skil printed a chain direction reminder on the bar. It's a simple thing that makes using it that much easier for folks that only need a chainsaw occasionally.
The plastic bucking spikes give you a little bit of help when you're right up against a branch. Metal spikes bite in better, but we don't mind the call with this size bar and power level. On the plus side, you gain a little bit of bar length since the spikes are so close to the housing.
Runtime
Nailing down runtime is always a challenge with chainsaws since branches vary in diameter and different species have different densities. The 2.5Ah battery that comes in the kit balances the weight well and is a great choice when you're limbing or cleaning up branches that fall during a storm.
There's also a 5.0Ah battery available and that's what we suggest you turn to if you need to cut up an entire tree. You may need more than one battery on those bigger jobs. The PWRJump charger that comes in the kit gives you a pretty good shot at cycling two batteries until you're done.
PWRJump Charger
The Skil PWRCore 40 chainsaw comes with a PWRJump charger. Like its counterpart on Skil's PWRCore 12 and PWRCore 20 lines, it gives you a really fast initial charge to help you get the last bit of work done. In this case, it charges the 2.5Ah battery from 0% – 30% in just 15 minutes. Some of the competitors may need more than an hour to reach the same level.
Additional Features
Anti-kickback brake
Auto-oiling
Translucent oil tank to easily see oil levels
Additional Field Notes
Battery Placement
The side entry battery design is an interesting call. There's always the danger that higher capacity batteries might throw the balance off. That doesn't look like it's the case here as long as the battery gets taller and not longer with additional cells.
Chain Gang
Like most saws in this class, Skil pairs a 0.043-inch, 3/8-inch pitch chain with the saw's 14-inch bar. It's a standard configuration that's easy to get replacements for when the time comes.
Soft Start
There's a bit of a soft start when you pull the trigger. It's a preference thing as to whether you like it or not, so it's good to know it's there before you commit. Our testing team didn't mind it.
Pricing
The Skil PWRCore 40 chainsaw is available with a 2.5Ah battery and PWRJump charger for $219.99. That's a little more than what you pay for Hart or Ryobi, and a little less than Craftsman's V60. However, none of those are packing an upgraded charger.
The Bottom Line
We really like the Skil PWRCore 40 chainsaw as a model for homeowners that want the benefits of battery power but don't really need the cutting performance of more powerful and expensive models. If your main goals include tree maintenance along with storm prep and cleanup, Skil is an excellent choice.
Skil PWRCore 40 Chainsaw Specifications
Tested Model: Skil CS4555-10
Power Source: Skil PWRCore 40 battery (40V)
Motor: Brushless
Bar: 14 inches
Chain: 3/8-inch pitch, 0.043-inch gauge
Oil Tank Volume: 5 ounces
Weight:
Price: $219.99 with 2.5Ah battery and PWRJump charger
Warranty: 5 years