Skilsaw used STAFDA 2018 as a launchpad for its new Skilsaw Worm Drive Miter Saw. Yep, they put a worm drive on a miter saw. Many of us in the office wanted to get our hands on this new first-of-its-kind product. We also don't see a lot of hubbub over corded power tools these days. We'd already reviewed the Skilsaw portable job site table saw and the heavy-duty worm drive table saw. We use the heavy-duty model as our primary model, in case you're wondering.
Pros
Outstanding cutting power
Excellent accuracy
Highly visible bevel gauge
Shadow cut line indicator
Rock solid sliding rails
Lightweight for a full-featured 12″ miter saw
Cons
Fence extensions can wobble left and right
Stock blade has a little chatter
Dust collection has room for improvement
Editor's Note: Check out our best miter saw article for our top recommendations.
Skilsaw SPT88-01 Worm Drive Saw's Impressive Crosscuts
We included and recommended this saw in our best 12-inch miter saw reviews article. It handles an impressive 4 x 14 cross-cut at 90°. It bevels 48° left and right and has all the expected stops.
Skilsaw goes with an LED shadow cutline indicator—a move we prefer over lasers. Lasers dim in daylight and often fall out of calibration (if they were ever accurate, to begin with). Cutting with that shadow cut line means you always see your blade mark on the material.
Low Weight Makes This Miter Saw Portable
Skilsaw claims this is the lightest in its class at 51 pounds. A quick survey of other major Pro brands' 12-inch sliding miter saws will give you a range of 51–65 pounds, so this is definitely about as light as you can hope for. We found it easily portable once fully mitered and locked in place.
Powerful Worm Drive Gearing and Motor
Skilsaw uses one of their 15-amp Dual Field motors. We expect a 15-amp motor on any 10- or 12-inch miter saw, so that's no surprise. Skilsaw's Dual Field design claims to run the motor cooler, giving it a longer life and reducing the risk of overheating.
Pro Tip: Mind your oil levels. It's not something you have to worry about on a standard miter saw, but the worm drive design requires oil. Check the oil levels every day. Plan on replacing it after 10 hours of initial use and every 60 hours (or once a year) after that.
Skilsaw Worm Drive Miter Saw Cutting Performance
The 15-amp motor on this saw spins the blade at 4,000 RPM. With worm drive gearing you do get some additional torque as well. I quickly got some cuts under my belt to experience this first-hand. Without a belt to drive it, the Skilsaw Worm Drive Miter Saw feels different than other models.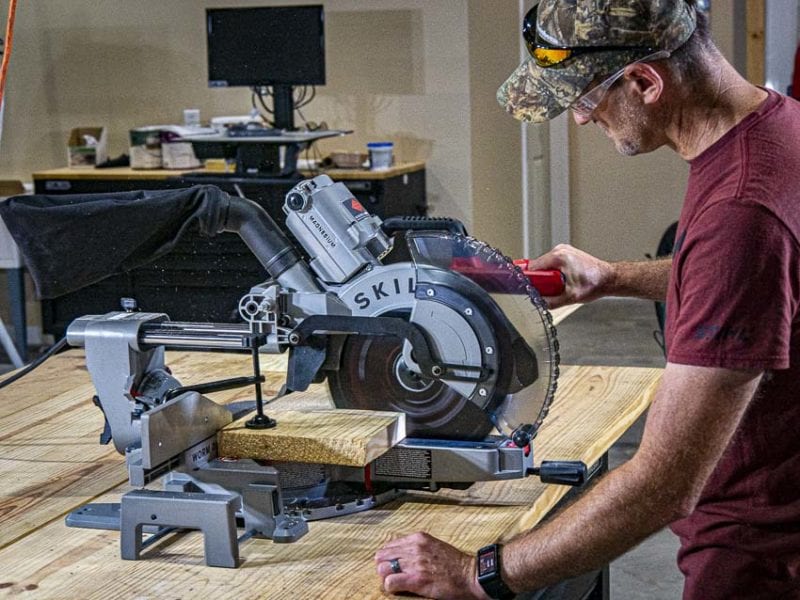 The Skilsaw SPT88-01 is smooth—really smooth. Where you feel a touch of hesitation with a belt-driven saw, you don't get any of that on this model. It's also tougher to bog down. I believe the technical term for this is "oodles of power".
Finding the Right Amount of Cutting Speed & Power
Even with all this power, I don't like to force the blade through. You get better results when you let the motor and the blade do the work. It feels like this saw is able to maintain its high RPMs easier than many of the belt-driven models we use. You can, however, introduce some chatter and blade deflection if you force it.
There is a little native chatter with the 60T stock blade on 2X lumber. However, it leaves a cut with no more or less sanding than I expect with that blade. I switched over to a Guhdo 100T fine finish blade and a lot of that chatter smoothed out.
When you let the blade and the motor do the work for you, you get the best results.
While the direct-drive cutting action of the Makita 10-inch miter saw produces a smoother cut, Skilsaw closes the gap better than any other model we've tested.
Skilsaw Worm Drive Miter Saw Cut Accuracy
Out of the box, the Skilsaw SPT88-01 was about 1/2º to 1º off on the bevel. That's one of the reasons the first thing you do is calibrate your miter saw before you start using it. Keep a square handy to give it a quick check at the beginning of each workday for the best results. It took just minutes to get everything squared away.
The Elephant in the Room
One of the reviews out there found some issues with the squareness of the fence and the table. We verified the deck using an Empire Level rafter square and didn't find any part of our sample to be out of square.
It was also pointed out that you could wobble the fence extensions left and right against the bolt that holds it in place. That happens on our saw, too. What's interesting is that it remains square to the fence. While disconcerting that it can move, it doesn't shift during cuts. Just tighten it down and go.
They also noted that the table extensions aren't level with the table when they're out. Again, our rafter square found ours to be level. The rails that hold them out could potentially bend, I suppose. If you had a lot of weight on just one side, it's possible that it could lean down a hair. That shouldn't be a huge issue since you really need a miter saw stand's extensions to hold material that hangs off one side more than a few feet.
It may be the guys who did that original review got an early sample, possibly pre-production. I have zero doubt that their experience is genuine for the saw they received, but it doesn't appear to represent models now on store shelves.
Making Bevel Cuts with the Skilsaw Worm Drive Miter Saw
The bevel stops use a sliding step system. They're easy to use and see, but sawdust can collect on it while you're cutting. Be sure to blow them off if you're making frequent bevel cuts.
The bevel lock is in the back, and there's no doubt we prefer models that have it in the front. However, a back lock is still the standard design for this class of miter saw. Even several flagship models from other brands use this style.
How Does the SPT88-01 Handle Miter Cuts?
Miter adjustments are pretty standard with a front lock and detent override. The nice thing is that the detents are nice and solid. So far, we're not seeing any wear on the plate that would cause us to lose accuracy.
A Smooth Rail System
The Skilsaw Worm Drive Miter Saw uses a 2-rail system set in line with the saw instead of offset to one side. It's rock-solid with no wobble and gives the saw a smooth sliding action. It's not one of the space-saving designs, however. You'll need to make sure you leave room to the wall for the rails.
Between the rail and the worm drive motor placements, the perhaps unintentional upside is that it makes the bevel gauge easier to see.
Checking Dust Collection
Onboard dust collection on this model is okay. If you're concerned about keeping the mess to a minimum, definitely connect a vacuum. Even with one, plan on a few minutes of cleanup around the saw. While other saws may do a better job of dust collection, I haven't found a job site model that eliminates the need to clean up around it, so take all that with a grain of salt…or dust.
Skilsaw SPT88-01 Price
Pro-level 12″ dual bevel sliding compound miter saws start around $369 and go up from there. Skilsaw isn't positioning itself as a budget brand, and their $629 retail price tag puts them at the same level as other premium models. Here are how some of the other flagship miter saws compare:
There are certainly a lot of players in the miter saw category. You can save some money if you want to drop some features. If you're looking for the best that each manufacturer has to offer, Skilsaw's price is right in line with other top names.
Skilsaw Worm Drive Miter Saw Specifications
Model: Skilsaw SPT88-01
Motor: 15 amps
No Load Speed: 4000 RPM
Blade Diameter: 12″
Bevel Range: 0° – 45° left and right
Bevel Stops: 0°, 22.5°, 33.9°, 45°, 48°
Miter Range: 60° right, 50° left
Miter Stops: 0°, 15°, 22.5°, 31.6°, 45°, 50° left, 60° right
90° Cut Capacity: 4 x 14
Weight: 51 pounds
Price: $629
Warranty: 1 year
The Bottom Line
While the Skilsaw Worm Drive Miter Saw can improve in some areas, it's a powerful, accurate saw. It's also easier to move around the jobsite than most of its full-featured competition.
This is a fantastic miter saw for framers and remodelers thanks to the power. Keep an eye on your calibration, and it's a solid fit for carpenters and woodworkers as well. Just be sure to watch that oil level since you're working with a worm drive. Trim carpenters and fine woodworkers should plan on a blade upgrade to get the best results.