Stihl Dynamic BT Ear Protection Adds Music Streaming To Ear Protection
Hearing protection is definitely important when working around loud equipment, but does it always have to be boring? Why settle for listening to a reduced-volume version of your tired, old mower or string trimmer when you can pipe some sweet tunes straight into your earballs? The Stihl Dynamic BT Bluetooth Ear Protectors give you the hearing protection you need while providing the auditory stimulation you want while you work.
Pros
Streams music from your phone via Bluetooth or aux input
Limits sound level through speakers to 82 dB to avoid hearing damage
Does a great job of blocking out dangerous sound levels, especially at higher frequencies
Built-in microphone for phone calls
Electronics are sealed off from dust, sweat, and other moisture
Controls are glove friendly
Long runtime, quick recharge
Cons
Might be a tight fit for large heads
Sound quality and clarity have room for improvement
Limits sound level through speakers to only 82 dB
Pricey for the sound quality
Build Quality
The Stihl Dynamic BT Ear Protectors hold to the classic Stihl aesthetic that you've come to expect from the brand. High viz orange couples with a delicate battleship grey striping and coalesces with a black headband to create a handsome piece that is sure to make you the envy of your crew. Seriously though, they look like just about any other set of earmuffs you'd find on the market.
The build quality feels pretty solid overall. Stihl uses a variety of thermoplastic compounds in the construction of the headband and earcups, giving the Dynamic BT a rugged, impact-resistant feel. It has that rigid flexibility (I realize that's oxymoronic, and I'm sticking with it) that you get from ABS and POM materials. As far as the cushioned bits go, Stihl uses a polyether and PVC foil. The fit and finish here are decent, though we did find a few rough spots on the edges of the earcups.
The end result of all of this is a headset that looks about as sharp as you can make hearing protection look. It feels like it can withstand a fair amount of job-related abuse without getting too dinged up as well, which is definitely a plus for this kind of PPE.
Fit
Let's talk about how the Dynamic BTs fit. Putting these on is not an uncomfortable experience. In fact, I've put in a fair few uninterrupted hours wearing these without experiencing too much discomfort.
However, where a good pair of headphones will rest comfortably over your ears, these clamp down over them. Thankfully, the cushioning is adequate.
These feel a bit heavier than your standard headphones, and the weight likely comes from a bigger battery (more on the runtime later). Still, they weigh in just under a pound. Considering you won't be wearing these all day without taking them off, it's not enough weight to cause any undue fatigue.
There are some concerns about fit for those of us with larger heads. I feel like I have an abnormally large cranium; I like to tell people that I need more room for my big, juicy brain. It's hard not to think of "So I Married an Axe Murderer" and its references to Sputnik, though. However, extra brain-space notwithstanding, my oversized melon can present sizing issues when it comes to headwear.
With the Stihl Dynamic BT ear protectors, I have to pull the adjustments all the way out. It fits and actually does it with enough room that I don't have to take off my hat. But if my head was any bigger than it is, I might really wind up testing the headband's ability to hold together under great strain. For most people, this won't be much a concern. For those of you who struggle to fit into a one-size-fits-all snapback hat, I recommend you try on a pair at your local Stihl dealer before taking them home.
Sound Stuff
EPS
Stihl's ultimate aim with the Dynamic BTs is to provide a listening experience that still keeps your hearing intact. To do that, they can't let you blast your music as loud as headphone speakers are capable of. Instead, the speakers feature an Electronic Protection System (EPS), a sort of governor that limits the sound level through the speakers to 82 dB.
Since Stihl's hearing protection conforms to OSHA standards for PPE, these earmuffs also protect from excessive noise coming from outside the speakers. It has a noise reduction rating (NRR) of 24, which means that if you're getting blasted by 104 dB of lawn mower noise, this ear protection is dropping the sound level to 80 dB.
The problem – if you want to call it that – is that for these headphones to maintain OSHA standards, the music you pump through the speakers will only clear this 80 dB noise reduction by 2 decibels. It's not enough to clearly hear your music over the mower.
This is not a problem with your hedge clippers and string trimmers and its plenty for the casual listening experience when there aren't any nearby engines running. But when it comes to a loud mower or backpack blower, you'll wish you could turn up the volume. This feature is common with this kind of product, and it will keep you from blowing out your eardrums, but it can be frustrating.
Sound Quality
Volume concerns aside, how is the actual sound quality? I wanted to get a decent handle on how the speakers actually sound when unencumbered by outside noise, so I've been putting in shifts listening with these headphones while in the office.
Overall, the Stihl Dynamic BT ear protectors sound okay for what they're intended to do. You're not getting anywhere near the same level of clarity you would from professional, studio-quality over-ear headphones. The bass could feel more present, articulate, and warm. You likely won't pick up on the nuances of any particular vocalist. Anything at full volume will likely get smashed flat by the noise limiter.
But when you've got engines chattering and clanking all around you, you're not going to get a real sense of the texture even with professional headphones.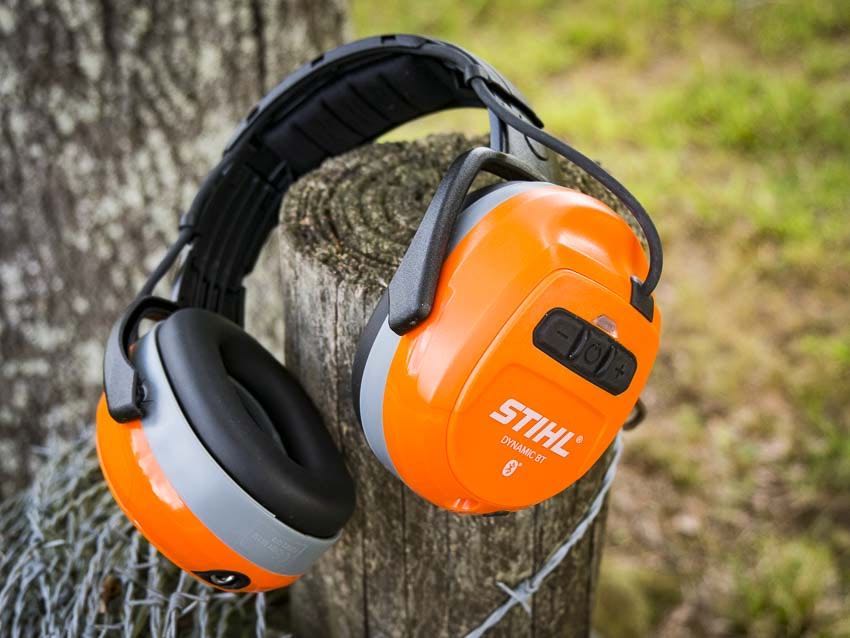 Suffice to say that sound quality of the Stihl Dynamic BT is fine for what it's intended to tackle, but it doesn't take the place of a decent set of headphones.
Features
Controls
The Stihl Dynamic BT features large, ergonomic controls that you can easily use with gloves on. Substantial ridges separate the volume down, power, and volume up buttons so that you don't have to feel around too much to be able to adjust the volume or pick up a phone call.
Built-In Mic
Speaking of picking up phone calls: when you have to take that call, you don't have to fish your phone out of your pocket to do it. The Stihl Dynamic BT has a built-in mic that keeps your phone calls hands-free. You'll still need to step away from any loud engines to be heard on the other end, but, hey, what do you want here? This thing can't perform wizardry.
Runtime
Low power-consuming components mean that you'll get a good bit of runtime out of the Dynamic BTs. Stihl promises up to 38 hours of audio streaming and up to 100 hours on standby. And when it is time to recharge, you're back up and running after 3 hours of charge time.
Other Features
Electronics sealed off in a separate compartment, keeping them safe from dust and moisture
3.5mm aux input in case you're using an audio source without Bluetooth
Charge from your PC or your car via the included USB cable
Value
The Stihl Dynamic BT retails for $119.99 at your local Stihl dealership. For the sound quality you're getting with these, that price point feels steep. As hearing protection alone, it feels really steep. So, how do they compare to some of the other models on the market?
Stihl Dynamic BT: $119.99

24 dB(A) noise reduction with EPS
38-hour music playback; 100 hours standby

ISOTunes Pro Noise Reducing Bluetooth Earbuds: $89.99

26 dB(A) noise reduction with EPS
10-hour music playback; 240 hours standby

3M WorkTunes Hearing Protection: $59.97
The Bottom Line
The Stihl Dynamic BT Ear Protection falls on the expensive side, which is pretty true-to-form for Stihl. But what is also pretty standard for the brand is a quality product.
As headphones, these have a pretty incredible runtime that can keep you jamming for most of the week without needing to recharge. The actual sound quality could be better, but for working outside with loud equipment, we don't see clarity as a primary concern.
As hearing protection, the Dynamic BT has some decent noise reduction, particularly at the higher frequencies and they feel durable enough to take a beating.
Between the noise reduction qualities and the limited volume, you shouldn't need to worry about damaging your hearing, which is the whole point of the Dynamic BTs.
Stihl Dynamic BT Ear Protector Specs
Model Number: Stihl 0000-884-0519
Headband: POM
Earcups: ABS
Ear Cushion: Polyether and PVC Foil
Headband Cushion: Polyether and PVC Foil
Spacer: ABS
Foam Liner: Polyether
Knobs: TPE
Bluetooth: Standard 4.1, A2DP 1.2, HSP 1.1, HFP 1.6
Sound Reproduction: Stereo
Sound Level Limit: Max 82 dB
Noise Reduction Rating: 24
Weight: 13.29 oz