The Milwaukee Rover Magnetic Flood Light follows on the heels of one of my favorite RedLithium USB lights – the Rover Personal Flood Light. While the basic form is similar, there are some significant changes, including the price.
Pros
Compact size is easy to carry to every job
Multiple magnets let you direct light where you need it
Drop tested to 12 feet
Accurate color definition
Relatively low price
Cons
Lens creates an elliptical artifact
Some users may need more than 300 lumens even on a small area light
Recommendation
If you're willing to replace batteries, the Milwaukee Rover Magnetic Flood Light is a really handy light for working in small areas, especially when you have steel to stick it to. I like it for electricians, plumbers, HVAC, and automotive mainly, but it's something most Pros will find a use for at some point.
Design
Hang On
Fans of Milwaukee's personal lighting solutions will recognize the narrow form factor. In this version, 5 LED chips fill the row.
You get two sets of magnets for Pros working around steel. One is on the battery cap, the other hides behind the clip.
That's where things get interesting. You can rotate the clip around to reveal the magnets. But why not just put the clip there in the first place?
It actually acts as a base, letting you direct light at a slight upward angle, straight up, or any angle in between. There's also a small hole in it that you can use to hang the light from a finish nail if you like.
I've Got the Power
The original personal flood light uses Milwaukee's RedLithium USB battery. The Milwaukee Rover Magnetic Flood Light goes with two AA's instead. You'll trade buy more batteries over the long haul, but your upfront cost is going to be less.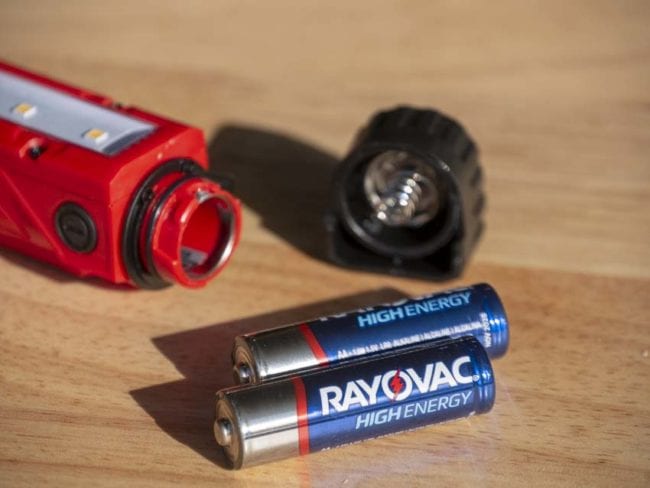 It only takes about 1/8-turn to open the battery compartment. I've accidentally opened it a couple of times, so I'd actually like a little more security with more of a turn there.
Performance
Output
The Milwaukee Rover Magnetic Flood Light is designed to be used pretty close to your workspace. In high, you'll get 300 lumens and low will give you 100. The rechargeable version gives you a bit more on the high side at 445, so this is a little bit of a step down.
The beam is really wide – something you expect from a flood light, but almost surprising for such a small one. It's great when you're working under a cabinet, on an electrical box, or on a vehicle.
Runtime
There no doubt that part of the output reduction is to get the most out of your runtime since you'll be replacing batteries. On high, you can expect roughly 5 hours of light and 16 hours on low. Those are pretty solid numbers.
Light Quality
With Milwaukee's TrueView output, the light has a neutral color that lets you see colors accurately. Even on white, it does a nice job of not shifting to the blue or orange sides of the spectrum.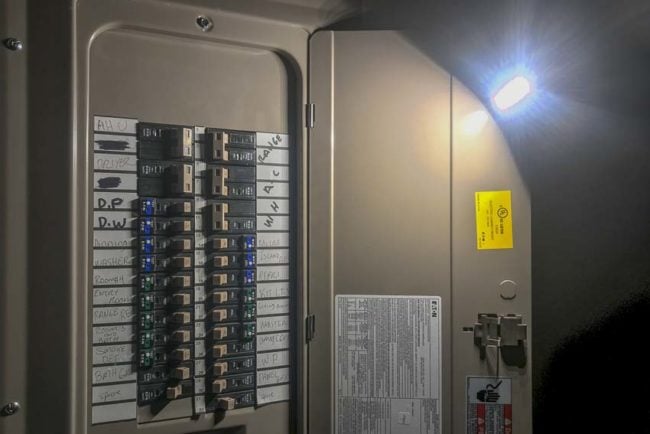 The lens does give an elliptical artifact line that shows up on the long sides of the beam and disappears on the short edges. It's not very distracting and isn't terribly noticeable unless you're looking for it.
Price and Value
Milwaukee doesn't have a ton of competition with this light style from other major tool manufacturers. Still, at $30, it's about half the price of the rechargeable version.
The Bottom Line
Stick it, clip it, or stand it, the Milwaukee Rover Magnetic Flood Light is very useful for lighting up small spaces from a close distance. It fits easily into your pocket, in your toolbox, or clipped to your backpack, making it a lot more manageable to carry around for jobs that don't require a lot of output.
Milwaukee Rover Magnetic Flood Light Key Features
Two light output modes: High mode: 300 lumens- 5 hours; Low mode: 100 lumens- 16 hours
Rotating metal pocket clip functions as base
4m (12 ft) drop rated and corrosion resistant body and lens
Powered by (2) AA batteries (Included)
Limited lifetime warranty on Light and LEDs
Milwaukee Rover Magnetic Flood Light Specifications
Model: Milwaukee 2108
Type: Cordless
Height: 0.65″
Length: 5.39″
Width: 0.65″
Weight: 0.14 lbs.
Warranty: limited lifetime
Price: $23.99
Shop Amazon