Southwire's ProBuilt may not be a jobsite name you're familiar with, but you know their flagship lighting solution, the WobbleLight. They make more than just WobbleLights and have a large lineup of options to cover just about your entire jobsite. On the flood side of things, Southwire makes the ProBuilt ProLight XLE Series Dual Head Work Light with Tripod.
I got my hands on this model because of a need for a bright, filling light. We've been using Festool's Syslite Duo, but as we expand, we need more lighting. And we're not the type of guys to just keep doing the same thing and ProBuilt appears to have a solution that might exceed the capabilities of what we're already using.
Design
The Southwire ProBuilt ProLight XLE series builds around their base light that looks similar to the halogen lights we're used to seeing on the jobsite. Instead, this light uses LED chips instead of bulbs which run cooler and use less energy. Those LEDs are also rated to run 50,000 hours. That's 5,000 ten-hour days – or 13.7 years working 365 days per year.
When it comes to energy savings, you're looking at a pair of 50-watt lights that each draw 1.4 amps. That's low enough for even a small generator to easily run several.
With the Southwire ProBuilt ProLight XLE Dual Head and Tripod setup, two of these lights attach to a base floor stand frame that you can use as a standalone setup on the floor or flat surface. Then you add a tripod to get those lights up in the air up to 7 feet.
The power cord splits so both lights are on one cord. That's convenient, but also means you can't use the individual light completely separate of each other.
Each light does have its own power switch, though. So you can use either one or both at the same time.
The lights also rotate to spread the light out however you want, including in completely opposite directions.
Overall, the build looks and feels very solid. The entire unit carries an IP65 rating against water and dust, and that's a very good rating for a jobsite work light.
Light Output
Lumens
Lumen output is a big deal on any work light. It's a simple matter of the more, the brighter. Each of the ProBuilt XLE Series lights puts out 6,500 lumens for a total of 13,000 available lumens.
Color Temperature
Color temperature also matters. You measure color temperature in Kelvin rather than Celsius of Fahrenheit, which is why the numbers are so high. Cooler temperatures tend to look bluer the lower they go. On the other end, higher color temperatures trend toward the orange end of the spectrum.
Southwire's ProBuilt ProLight XLE Series Dual Head with Tripod setup (and each ProLight XLE light on its own) is set to 5000 Kelvin. This temperature most closely mimics the overhead sun and gives some of the best true color identification to our eyes.
Heat Buildup
One of the big draws to using LED light is the lower heat levels they generate. But how much lower do the Southwire ProBuilt ProLight Series lights go?
After being on for several hours, I measured the hottest part of the light at 113 degrees Fahrenheit. That's cool enough to grab anywhere with your bare hand. I have other LED lights that run as much as 140 degrees, but that's still much cooler than the halogen lights that can easily burn your hand.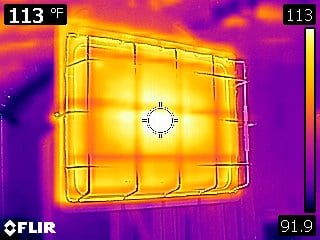 Realistic Performance
When you put it all together, what do you get?
With 13,000 lumens thrown in a flood beam, you get enough light to be able to work on even intricate details with the light 25 feet away from you.
For simple safety, the dual light system lights up our 40 x 60 shop with enough light to see any obstacle in the way.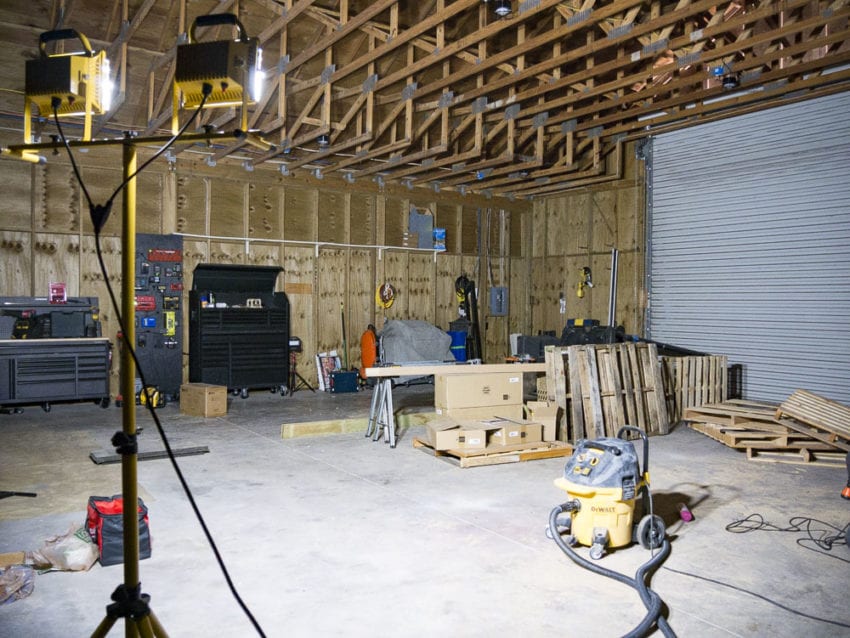 And thanks to the color temperature, you can see true color with what you're working on. This is essential for painters and electricians. But any Pro that needs to see true color or match colors in a darker area wants to have this color of light. It's such a great light that we're also using a pair to light up our video set for our YouTube channel.
The Bottom Line
Southwire's ProBuilt ProLight XLE Dual Head with Tripod work light really is Pro Built. The build quality is excellent and there's an expectation of durability that comes with that construction. Because of the use of LEDs, it will be years – even well over a decade – before the chips will fail.
The light output of 13,000 lumens casts plenty of light for detail work on the darkest jobsites. No matter what that job is, the 5000K color temperature means you'll see what you're working on with an accurate color definition.
For the build quality, light quality, and output, there's not a whole lot of players in the class and this premium light comes with a premium price tag of $499. However, that includes an upgrade to the LED chipset without increasing the price over the previous model. But when you look at the performance you get and the expectation of how long this light will last, it's an investment Pros can feel good about.
Related Content
Southwire ProBuilt ProLight XLE Key Features
Weatherproof, sealed on and off switch
Durable alloy aluminum and tempered glass
No hot surfaces
Multiple mounting options
5x more energy efficient than halogen bulbs
Integrated power cord
Southwire ProBuilt ProLight XLE Specifications
Model: ProLight XLE 111005
Lumens: 6,500 each/13,000 total
Lighting Range: 20 – 25 ft.
Bulb Type: LED
Lamp Life: 50,000 Hrs
Color Temperature: 5,000 K
Wattage: 50 W
Amp Draw: 1.4 Amp
Voltage: 120V
Temp Rated: -30°F to 120°F
Tested Certified: cUL
IP Rating: IP65
Cord Type: SJTW
Price: $606.53
Shop Amazon