It's coming. You know it because you've seen the movies. A mad scientist commissioned by some half-baked government entity in the Middle East (or New York—same deal) will try to cure the common cold. Or stop the aging gene. Or trigger limb regeneration for the poor souls who never learned how to properly use a table saw and cut off all their fingers. But instead, he'll create a genetic mutation that will quickly grow out of control, break containment, and create lifeless zombies that will roam the earth, eating your brains and rendering the entire planet a living nightmare. It's not science fiction or fantasy… it's simply a matter of time. These are the top 10 tools you need for the zombie apocalypse.
Prepare with the Top 10 Tools You Need for the Zombie Apocalypse
So what do you do? Simple. You can't prevent it, but like all responsible citizens, you can arm and prepare yourself for the worst by gearing up for the battle ahead. And we're not talking about katanas and all those ridiculous fake lists that are either impractical, unattainable, or just plain require years of training in order to be useful. No, we're Pro Tool Reviews – and that means we're going to arm you with the right tools you need.
To survive.
We know the first thing you did is run down to the gun shop and clean it out so we'll just assume you have an arsenal large enough to equip a small militia. So, without any further ado, here's our list – and an explanation of why each tool was specifically selected. You may not agree with our list, but then again, you're probably the one who's going to be brain-food while we're A-Teaming our vehicles with zombie impaling spikes, armor plates, and flame throwers.
Husqvarna 120 Mark II 16″ Gas Chainsaw
Look, I don't care what the movies say, the chainsaw is the worst melee weapon for zombie attacks. It's not going to allow you to slice a zombie in half in a timely manner. What it will do is slow you down enough for fifteen of his buddies to grab you from behind. No, we chose this tool because it will give you the cutting power to slice through doors as needed to escape and survive (we recommend this 16″ model for its best blend of power and maneuverability).
With cities deserted, who needs doors when you have a chainsaw? This beauty is top of our top 10 tools you need for the zombie apocalypse and sports a gas-sipping 38.2cc 2-stroke motor that will run on a 50:1 gas/oil mix and remain more or less indestructible over the long haul. But you know what? Since Husqvarna dealers are just about everywhere, you can just pick up a new one if you, I dunno, get it embedded in the femur of a former-NFL-nose-tackle-gone-undead.
SOG Tactical Tomahawk F01T-N
If you're going to be fighting off flesh-eating zombies, you're going to get up close and personal. This isn't because you woke up and thought "Hey, I wonder what a dead person's breath smells like after munching down on slow runners for a few weeks." It's because it's inevitable. That's right, try as you might, you'll eventually end up in close quarters combat with an animated corpse that is trying to treat himself to a walking Big Mac. For those situations, there's the SOG Tactical Tomahawk F01T-N.
Now, we reviewed the 12.5″ FastHawk tomahawk several years ago, but the Tactical is a full 3-1/4″ longer, so it gives you some additional reach. That reach could make the difference between decapitating a zombie or having one take a chunk out of the back of your neck. We also like the SOG Tactical Tomahawk because it's lightweight and easy to carry. The head is stainless steel, so it's going to last you forever—and the blade can be sharpened easier and faster than you can split a melon with a machete…
Speaking of machete…
Review: SOG FastHawk Tomahawk Review
SOGfari 18″ Machete MC-02
This tool is no joke. No, seriously—there's simply no way to make a machete funny… it's been used too many times for horrific purposes. Still, the machete is the passive melee weapon to beat if you're going hand-to-hand with zombies. SOG's SOGfari model features a "real working saw on the back of the blades with teeth that cut deep". I think I'm in love.
As far as the top 10 tools you need for the zombie apocalypse—you may even want to start here. All you have to worry about with this tool is your overswing. Beyond that, you're likely to rack up a high "kill score" of dead zombies simply by the fact that this weapon has a nice reach and an extremely durable 3CR13 stainless steel blade. You might want one for each hand so you can go all "Darth Maul" on them. Great for when zombies are reaching in through boarded-up windows. They'll have a hard time breaking down the door and holding you still for a bite when you've hacked off all their arms.
CRKT M16-14SF Special Forces Tanto Knife
If you're going to live in a post-apocalyptic world, you need a knife that is combat-ready, but also versatile… After all, you're going to have a lot of gear to carry. While we don't begrudge the use of a full-size holstered tactical knife (perhaps a 7″ Chris Reeve Green Beret S30V?), the Kit Carsen-designed CRKT M16-14SF Special Forces Tanto offers a lot of versatility that we think will be important as you're splitting duty between survival and… well, that's pretty much it, isn't it?
From the aluminum handle to the serrated blade, the M16-14SF Is a great folding knife. It's even available in a spear point. In the zombie-infested world of survival-of-the-fittest, the EDC knife gets redefined to a slightly larger and more versatile category.
Review: CRKT M16-12ZER EMT tanto knife review
Review: CRKT M21-02GL Kit Carson folding knife review
Vaughan 15-inch Multi-function Demolition Tool
Listen, I'm not saying you have to carry around all this stuff at once, but you may want to consider the Vaughan 15-inch multi-function demolition tool for your arsenal. There's bound to be a lot of demolition required if you're going to commit to living in a post-apocalyptic world of decaying structures and rampant disregard for sanitary engineering. Need to rip apart a wall or rebuild a safe house?
The Vaughan 15-inch multi-function demolition tool is made with carbon steel. It's sure to be your go-to tool. Certainly not a precision device, the Vaughan demo bar tears apart wood and steel studs like nothing else—and the tapered hammer face is certain to come in handy should something unsavory lurch up behind you while you're contemplating your next move. If you can't stand the extra weight, Vaughan also makes traditional crowbars—but what's the fun in that?
Also see: Stanley Fubar Utility Bar review
Ford F-650 Crew Cab Cummins Diesel Work Truck
Who says you have to fight the undead in a station wagon or minivan? No, seriously, who? I want to kill them first, even if they're already dead. No, if we're going to store our arsenal and be able to pick up the occasional stray along the path, we've got to have the ability to get through roadblocks without worrying about denting the preciously dainty radiator on our insufficient vehicle. We also need horsepower—lots of it. No, while some may dream of driving unused Ferrari's or the untamed muscle car, we're lifting ourselves "upwards" into a diesel machine that's fit to drive the roads strewn with so much discarded humanity.
Of our top 10 tools you need for the zombie apocalypse, you might want to get this one early…you know, to practice driving it. In a world where EVs become less than useless overnight, diesel rules.
The F-650 is a known powerhouse, and the engine is built to last. It should plow through cement barriers and the occasional Toyota Prius that might block the Interstate. This truck rules our top 10 tools you need for the zombie apocalypse. Nobody likes to fight zombies solo—at least not for long. Toss in the crew cab option to ensure plenty of space to pick up friends along the way. And I know what you're thinking—why not go for the obvious choice, the Hummer H1? Because we like to ride in style, that's why. Besides, if we wanted a tank we'd go to the nearest base and grab a real one.
Shop the F-650… (who are you kidding, you can't afford one).
Dremel 2200-01 Versa Flame Butane Torch
Hey, if you can't get a fire started, you might not survive very long. It's not like the electricity is going to stay on, and there's no telling how much traction you'll get out of a cheap lighter when the wind picks up or it starts to get cold and wet. The Dremel 2200-01 Versa Flame Butane Torch is designed to fire up quickly, thanks to its quick-start ignition.
It has a one-touch operation and the tabletop stand gives you hands-free use when you need it. On top of that, the piezoelectric ignition system requires no electrical connection. It fires up a blue-torch flame for well over an hour. Not only can you make fire, but you can also set a walking corpse on fire in 3 seconds flat—assuming they still have some flammable clothing left on their lumbering hides. Oh, and if the zombies end up more like the full-out sprinting Dawn of the Dead variety as opposed to Romero's one-footstep-per-minute Night of the Living Dead walking corpses, then you may want to bring along some propellant.
Of our top 10 tools needed for the zombie apocalypse, you may already have this one. If so, great. Buy a few more tanks of butane, though.
Coast HP7 LED Flashlight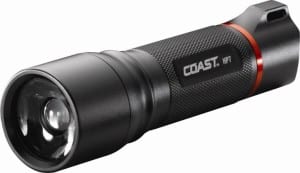 I don't care what anybody says, this is the flashlight I'll be taking with me through my food-and-supplies-hunting adventures. In the decimated remains of the global economic and social collapse, the HP7 is my go-to flashlight primarily because it will practically burn a hole in the sky, so powerful is its 207-lumen output beam.
At the same time, you can twist the lens hood and allow it to provide a wide, even beam of light that will cover an incredibly large area while you scope out bad guys, and maybe some places to hide. Did I also mention that any eyeballs will light up within a 1/4 mile radius? Nothing… and I mean nothing will sneak up on you while you have this light. Coast makes larger and brighter flashlights, too, but the HP7 has that perfect middle ground that won't weigh you down and brings versatility that is – in our opinion – difficult to match.
For those more military-minded, you may want to know why our top 10 tools you need for the zombie apocalypse didn't include a pair of night vision goggles. Honestly, we have no idea—that's a great suggestion. Put them on the list, too.
Review: Coast HP7 LED Flashlight Review
Red Wing EXOS Lite Boots
When you're walking around in the shattered remains of a bygone world, watching your back constantly and evading the recently deceased at a moment's notice, you don't have time to worry about your feet failing you. And by "feet" we mean boots. Work boots. You want them waterproof, safety-toed, and thick enough to handle significant penetration by nails, glass, and the occasionally shattered jawbone.
Red Wing boots have been on our short list for a while. The Red Wing EXOS Lite Boots look to combine comfort with safety—and believe me, you should be wanting both. The EXOS Lite boots are lightweight (as the name implies). They won't slow you down when you're sprinting for the nearest doorway or weapon. And they "lace up" quickly thanks to the BOA system. That means you won't get caught with your eyes on your boots when they should be scanning the horizon for moving targets. Above all, they're waterproof… and, consequently, blood-proof, which is slightly more significant in this case.
Also see: Timberland Pro Helix Work Boots with Safety Toe Review
Carhartt Carthage Vented Safety Eyewear
You can't take on a world full of wandering souls without suffering through your fair share of blood and gore. I don't know about you, but I can't stand getting random and sundry flying body parts in the eyes. Blood stings far worse than shampoo and it has a bunch more staying power. Plus, depending on the strain, a bit of blood in the eye could mean you're next up for zombification.
You may just want a decent pair of safety glasses, but we opted for a great pair of stylish goggles. We like Carhartt Carthage Vented Safety Goggles. They look more like sunglasses than goggles, but they afford you that wrap-around protection that won't allow anything to blind you while you and your buddy are hacking off limbs or otherwise rendering that former human incapable of stuffing you into his already half-eaten face. The Carhartt Carthage Vented Safety Eyewear comes in a couple of shades, but you know what—the world is now your oyster, so feel free to grab one in every color and style. For general purpose use, we recommend the bronze lenses, but they also come in gray.
Gorilla Duct Tape
That's right. We reserved an entire slot for duct tape, the ultimate tool for a world covered in reanimated corpses who care more about taking a bite out of you than, I dunno, wearing clothes or finding something productive to do with their remaining days of functional zombiehood. Now, when we say "get some duct tape" we don't mean just a few rolls. I mean, go find the distribution center and load up the back of your F-650… or better yet, just take one of the trucks parked at the loading dock that is pulling the contents of the duct tape shipping container. You're going to need a lot of this stuff.
Duct tape works perfectly for so many things. Use it for rigging and securing booby traps to steel and metal. Tie up your recently-bitten comrade who's a goner but doesn't know it yet. You can even just cover up that broken side window that you had to kick out of your vehicle to clear a path for your escape. And if you're feeling fancy, Gorilla Duct Tape even comes in various colors… Hey, whatever floats your boat.
Honorable Mentions
For those of you who want more, we've added a couple more things to our list as "honorable mentions." These items made our initial list. They quickly dropped off when more important tools came to light. When we say "more important", we generally mean they had greater practical value. Others were simply easier to write about (wait, did I just say that out loud?) In either case, let's not forget the…
MTech USA Xtreme Tactical Knife
Nothing says "I love killin' me some zombies!" like a close-combat tactical knife. These knives were made popular in World War I but they look far more aggressive these days. We have to admit, we really couldn't let this list go by without putting this one in as an honorable mention.
In a Top 10 Tools You Need for the Zombie Apocalypse list, a good knife seems essential. This particular tactical knife is black and features a G10 handle, with a 5.5-inch 440 stainless-steel blade. The knife also comes with a black nylon sheath, a fully adjustable nylon sheath that lets you carry this knife around in any style you see fit. All told, the knife measures 11-inches from the handle base to the tip. This isn't a killing machine, but in your hands, you might just become one.
Gerber Apocalypse Kit
Of course, we couldn't pass up mentioning Gerber's Apocalypse Kit, based on weapons seen on The Walking Dead TV show. While the kit itself is no longer available, you can pick up each and every item it contains and, honestly, why would you not want to? Well, for one, a lot of the tools are impractical and somewhat duplicated – but still, we've got to give them points for putting it all together and making a canvas case to hold it all.
The kit includes three machetes, including the Gator and the Gator Pro – differing vastly in design (though we think the Pro while looking absolutely incredible, would be a difficult weapon to wield due to its short length and U-turn edge). It also features the 17″ long Camp Axe II and the Parang, which is the third machete and looks like it was dropped by someone in the Royal Moroccan Army. The LMF II Infantry is a decent-looking 10-1/2″ knife that looks like it means business and the DMF Folder is your general-purpose EDK knife. The last item in the kit is another knife, the Epic, which we felt was strictly Hollywood – too small to do any good, except, of course, for the rear-mounted bottle opener… that might make it all worthwhile.
Concluding Thoughts
So you made it this far. We know that there's no way everyone will completely agree with our selections. Of course, no one will ever be fully prepared to fight the zombie hoards once the virus begins mutating and spreading throughout the continents. There's just too much unknown to prepare completely for it all. Of course, we do recommend fleeing to rural areas and setting up some bunkers.
That's all we got. Go get 'em—or at least get prepared so you don't become part of the problem – know what I mean?