Last Updated on April 28, 2020
Nothing can so quickly spruce up a space like a new coat of paint. It's satisfying to make such a big improvement, in a short time, and with a lot of bang for the buck. Those big improvements have been my bread and butter for years now. I'm thankful for all of my residential and commercial customers who've kept me in business. Once in a while, though, a homeowner decides to tackle the job him- or herself. But it wouldn't be economical to buy a true professional's sprayer setup for one job. And it'd be a miserable experience – and an inferior result – to use brushes and rollers. Titan – one of the biggest names in paint application products – has a solution in its residential product category. Today, I've got the Titan ControlMax 1700 Pro Sprayer to review.
Now, I'd suggest that the homeowner keep my number! But for the ambitious, the residential product category includes solutions that aren't quite professional grade but aren't as expensive. Some refer to this segment as prosumer, that is, straddling the quality/performance fence of professional and consumer products. A clue to this classification is in Titan's marketing, where it suggests the Titan ControlMax 1700 Pro Sprayer will allow you to paint like a Pro. Well, I am one!  Admittedly, I'll probably be pushing the Titan to its limits, but doing so will reveal the best uses for it. Let's get to work.
Top Features
Pump It Up
The Titan ControlMax 1700 Pro Sprayer is a member of Titan's High-Efficiency Airless (HEA) product line, which we'll discuss in a moment. The heart of the sprayer is its 0.6 horsepower HEA pump designed for unthinned coatings. There's a rebuildable fluid section which the company claims will maximize sprayer life. The system can pump out 0.33 gallons per minute and 300 gallons per year. As a comparison, a professional model can pump around 0.6 GPM and 1,500 gallons per year.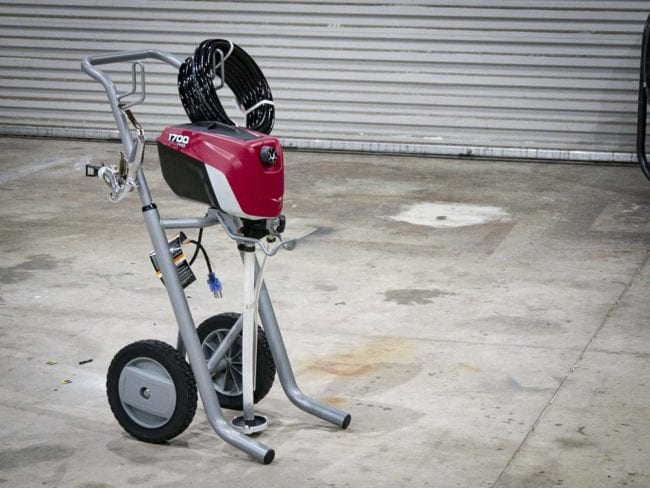 Welcome To The Gun Show
A ControlMax Spray Gun makes up the business end of the system. Pros will recognize it as a bare-bones, utilitarian design, not unlike many other spray guns. It's certainly a no-frills design but it has an ergonomically correct, decently comfortable handle and a hook. A lock prevents errant spraying and potential messes. But it's much different than Titan's high-end RX-PRO that Richard Nicholson reviewed last summer.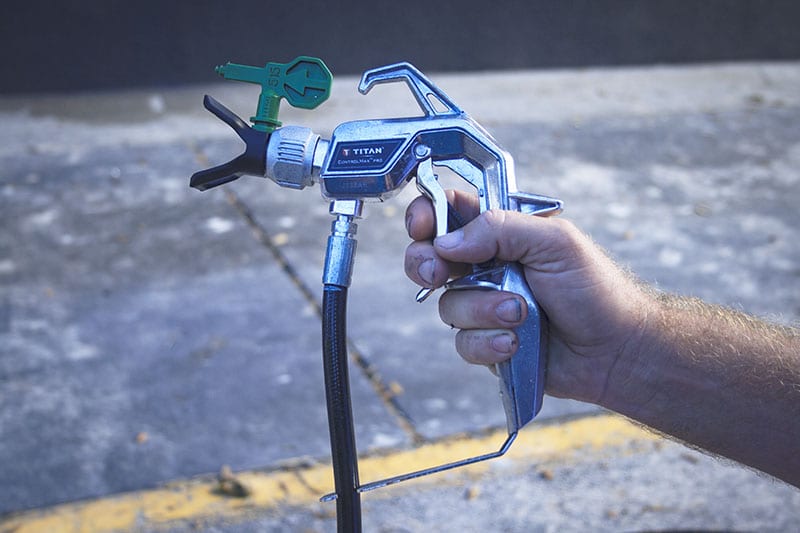 Here's A Tip
The ControlMax gun includes a tip guard and accommodates a maximum tip size of 0.017 inches. Titan's HEA tip is designed to produce 55% less overspray than a common tip. That means the pump can operate at a lower PSI (1500 PSI max) and if you're working indoors, much less overspray and fewer paint particles polluting the air. Available tip sizes include 311, 413, 515, and 517.
Other Notable Features
Of the four ControlMax Residential sprayers Titan offers, the 1700 Pro and 1900 Pro are mounted on two-wheeled carts for mobility and convenient adjustment. The pump is enclosed in a polymer casing with a storage compartment on top. You can store extra tips, tip guards, your keys, wallet, or whatever in there. The red button is the Sureflo Pusher Valve that ensures priming. The spray gun and pump are connected with a 50-foot hose and the whole system has a 2-year warranty.
Performance
Assemble and Get Pumped
As they say with other products, some assembly required. But it's really not too bad. Here's a quick start guide. First, put the covers on the storage space on top of the pump housing. Attach the handle by sliding the tubes together until they lock in place. Then attach the suction and return tubes, being sure to use the clamps to secure them. The next step is very important: attach the hose to the pump. You won't get very far if you miss that one. Likewise, attach the hose to the spray gun.
Then you'll press the Sureflo Pusher Valve's red button, which is designed to be a foolproof priming system. The suction tube goes into your paint bucket, the prime/spray valve goes to the prime position, and the pressure control knob goes to 2 (don't try to crank it to 11). You can verify proper function if the paint pumps through the suction tube and out of the return tube.
Then turn the control knob to 0, remove the spray gun's tip, point the gun into your waste bucket, turn the control knob back to 2, turn the prime/spray valve to spray, and pull the trigger. When paint sprays out, release the trigger, and replace the tip, making sure it's pointed forward. Once you turn the control knob to 5, you're ready to paint!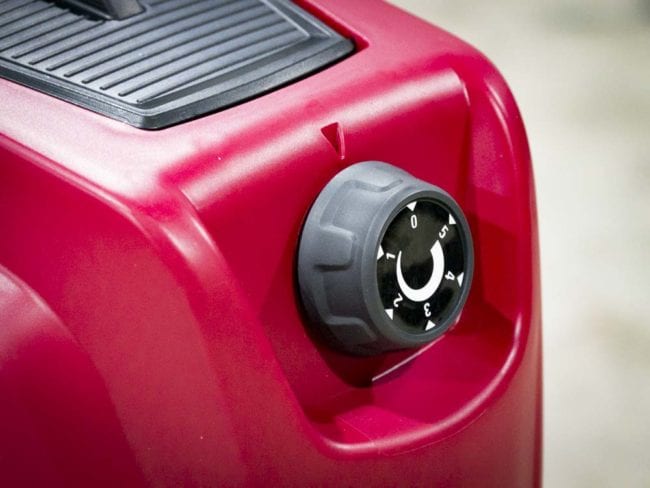 Spray It, Don't Say It
Lately, I've been busy at a McDonald's store in Winter Haven, Florida. The Golden Arches are undergoing a refurbishment and I've been painting the exterior. I try to work as efficiently as possible and that's especially important on this job: the store's not closing during the facelift. So my tools have to be efficient, too.
The main benefits of a paint sprayer are speed, control, and an even application. I couldn't help but notice that the HEA did indeed result in a very low overspray. In turn, that results in less waste and less cleanup. You can rotate the tip/tip guard to generate a vertical or horizontal spray pattern.
The electric pump is very quiet, which is always nice on a jobsite. Who wants to listen to a loud compressor all day? Larger, professional grade sprayers can have gas-powered pumps, but this one was well-powered as it was designed. It can handle a 100-foot hose and sprays solidly through a 0.017-inch tip.
Pro Tip:

Good spray guns help you achieve consistent coverage but you must keep the gun moving to ensure it!
No Filter
I don't think I've ever seen a Professional sprayer – or even a prosumer one, for that matter – without an inline filter before the tip. But the Titan ControlMax 1700 Pro Sprayer lacks one, and it might be an Achilles Heel in the long run. I experienced several clogs with the included tip and ultimately I replaced it with one of my own and it improved the performance. Now I use Pro grade exterior paint and it might just be a little too thick for this unit. It's a pain in the neck to reverse the tip and shoot the clog out so I'd highly recommend adding a fliter to the next version. I know it's likely a concession that had to be made to meet the right price point – and as I mentioned I'm stretching the Titan's abilities – but a filter would extend tip life and improve performance.
The Bottom Line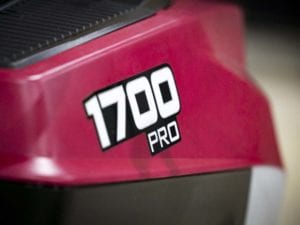 There's little doubt a consumer or homeowner will be happy with the Titan ControlMax 1700 Pro Sprayer's performance. It's a fine tool for moderate use. It can handle an entire home but it would really excel at painting a set of doors, spraying wood furniture, or even sealing a fence. I even think a Professional remodeler could be happy with it – at around 300 gallons per year, it might be a good fit.
The fact that it's not designed for commercial applications is just fine – Titan didn't build it for that or claim it was anything more than it is. As a prosumer model, this is one of the better models you can get your hands on before jumping up to Pro level prices. Hobbyists and adventurous consumers might very well find the $379 price tag to be a good deal.
Titan ControlMax 1700 Pro Sprayer Features
Decreases overspray up to 55 percent compared to standard airless sprayers
Softer spray improves control for a more consistent finish
Durable pump lasts up to 3x longer than competitive sprayers
The easy-to-replace fluid section maximizes sprayer life
Sureflo Pusher Valve ensures priming every time
Industry's best and longest two-year warranty
Titan ControlMax 1700 Pro Sprayer Specifications
Max Operating Pressure: 1,500 PSI
Motor Horsepower: 0.6
Max Tip Size: 0.017 inches
Hose Length: 50 feet
Gallons Per Minute: 0.33
Gallons Per Year: 300
Shop Amazon