Get a Good Look at the Feast You're Grilling with the Monument Grills ClearView 6-Burner Grill
We recently got a close look at the new Monument Grills ClearView 6-burner propane gas grill at the 2019 National Hardware Show in Las Vegas. We already got a chance to review the Monument 4-burner gas grill, but this new version adds two more burners with a total capacity of 96,000 BTUs. At just $599, the build quality and features of this grill make it really competitive and a solid choice for anyone looking for a good-sized grilling solution for those upcoming summer get-togethers.
Don't Mess Around: Check out our best grill article for our top recommendations!
What's the Big Deal?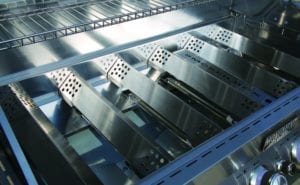 There are a few things worth mentioning here, but let's start with the mass amount of burners that come with the Monument Grills 6-Burner Grill. If the name is any indication, you can guess that this grill comes with 6, yes, 6 stainless steel main burners, complete with 304 Stainless steel cooking grates and flame tamers. These main burners can generate up to 72,000 BTU.
But that's not all of its cooking surfaces. It features a stainless steel side burner and a stainless steel ceramic sear side burner.
I really like the brand's built-in ClearView window so that I can get a good look at what's going on without having to lose any heat by opening the lid. A handy thermometer lets you keep an eye on those cooking temps.
Other Features
This grill also includes some convenience features. It has an electronic ignition for easier startups and it gives you rear access to the zinc-coated grease tray and removable catch pan.
Your LP tank hides neatly in the stainless steel painted enclosed steel cabinet. Plus, the grill includes 4 heavy-duty front swivel casters that lock down so that your food doesn't run away without you. All that and the dials light up for easier visibility in night time conditions (or just to show off to your friends over a beer).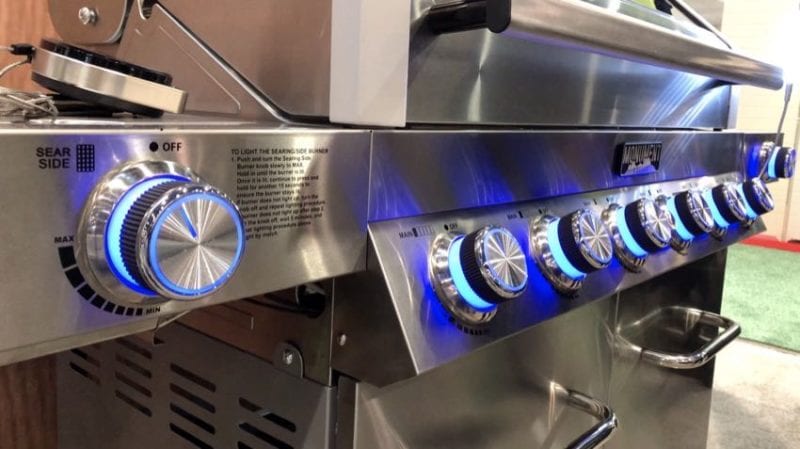 Pricing
Right now, the Monument Grills 6-Burner Grill retails for $599 exclusively from Menard's at the moment. We look forward to seeing it available from other retailers in the future as well. For the time being, Menard's is where you can find it in store or online.
It comes with an 8-year warranty on the burners.
Monument Grills ClearView 6-Burner Grill Specs
Depth: 23.6″
Height: 45.9″
Width: 61.8″
Weight: 118 lbs
Assembly Required: Yes
Burner Material: Stainless Steel
Grill Material: Stainless Steel
Fuel Type: Propane
Ignition Type: Electrical
Main Burners: 6
Side Burners: 2 (1 side burner, 1 ceramic sear burner)
Primary Burner BTU's: 72,000 (96,000 BTU total with side burners)
Warranty: 8-Year Warranty on burners
MSRP: $599 at Menard's