In the realm of professional power tools, there are common ones that you see everywhere: drills, impact drivers, circular saws, table saws, etc. There are also some products that seem pretty specialized but are very common on the job site. One of those that you'll see in nearly every home improvement and hardware store is the oscillating multi-tool. So what is an oscillating tool exactly? Better yet, what do you use it for and what should you look for when buying one?
What is an Oscillating Tool?
The official name of this power tool is the oscillating multi-tool. It often goes by oscillating tool or multi-tool. You can even call it an OMT if you want to show off (and likely confuse your friends). Some brands have proprietary names for their models. Examples include the Ridgid Job Max and the former Festool Vecturo.
Most oscillating tools are built around what looks like a grinder body with varying diameters. There are a few that stray from the norm. Ridgid, Ryobi, and DeWalt all go for a thinner design, but it still looks like a grinder with a rat tail design.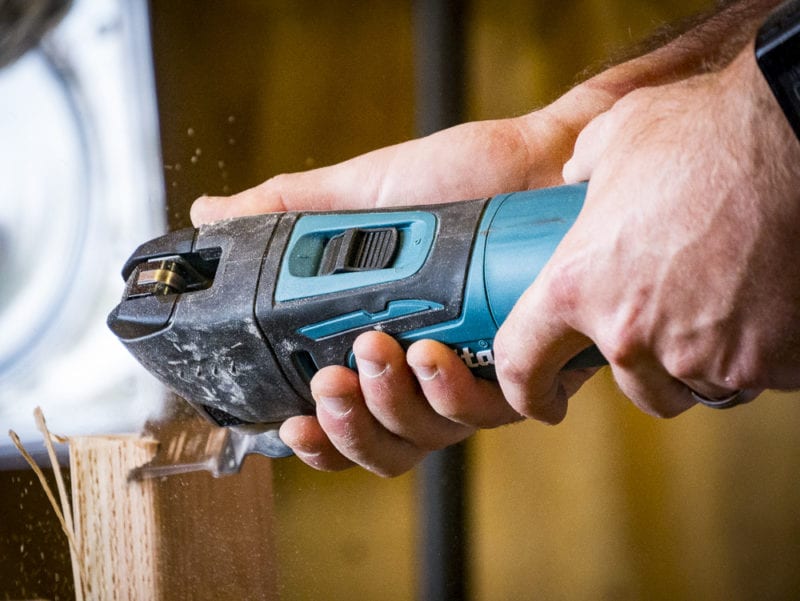 The major difference is at the head. In some form, a mechanism needs to secure or clamp the attachment to the head. There are several different ways to make this happen from a bolt that requires a hex wrench to Bosch's and Fein's hands-free Starlock system with plenty of options in between.
What gives the oscillating tool its name is the fact that it oscillates back and forth thousands of times per minute. It's not unusual for Pro models to have an oscillation rate of 18,000 – 20,000 OPM (oscillations per minute) at the top end.
What are Oscillating Tools Used For?
Oscillating multi-tools also have "multi-tool" in the name for a reason. The majority of Pro will use some type of blade for cutting wood, metal, PVC, or other material. You can also get scraper blades specifically for grout, silicon, or a variety of other adhesives.
It's not all about the blade, though. Every oscillating tool also comes with a sanding head in the shape of a triangle along with several sanding pads. Fein's MultiMaster can even use a 4-inch round sanding pad.
While the oscillating multi-tool can cut, scrape, and sand, it's not really the best tool for any of those applications. Reciprocating saws will cut much faster, grinders will remove grout more effectively, and a delta pad finish sander will be a better bet for sanding corners.
Where the oscillating tool makes its living is in spaces where those primary tools can't fit or are tough to use. They're phenomenal for undercutting baseboards that are flush to the floor or cutting a pipe where there's not much room under a sink. They'll give you better control around finished tile and fixtures when you're removing adhesives.
What's questionable is whether or not you really need the sanding pad if you already have a delta pad sander. Realistically, if you're already a Pro using round, rectangular, and delta pad finish sanders, an oscillating tool is probably the last sanding option you'll turn to. But for those of you that aren't carpenters and may only have a round random orbit sander, the oscillating multi-tool takes care of corners and small areas well enough.
What to Look for on an Oscillating Tool
Oscillating multi-tools are pretty basic when it comes to feature sets, but there are some things to look out for.
Accessory System and Speed of Changing Blades
Changing the accessory can be very simple or overly complex. Our Pro team won't even bother with a model that requires a tool to change the blade. We also prefer Starlock for its ease of use.
Accessory Type
Check what style of accessory the multi-tool needs. Starlock tools won't work with regular blades, though Starlock blades do tend to work on most tools using the older OIS interface. Festool used to have a separate propriety system before they switched to Starlock around 2021.
Oscillation Rate and Angle
The higher the top speed, the faster the tool will cut. Look for at least 18,000 OPM. The higher the oscillation angle, the more aggressively it will cut. This means more speed but also more vibration and noise. 3.6°/3.7° (1.8° to either side) is a pretty good balance.
Vibration
The more vibration the tool has, the more uncomfortable it is to use. Fein is the top of the line in this category, nearly eliminating vibration in their MultiMaster oscillating multi-tool.
Noise Level
In our head-to-head comparison, we measured cutting noise levels from 92 dB(A) to 104 dB(A). We're all for using the top performers, so this is a matter of what you're comfortable with on the hearing protection side of things. In all honestly, the only thing we really don't like is a screaming high-pitched motor sound. Some of the really cheap no-name brands have this distinctly unpleasant sound.
Variable Speed Dial/Trigger
Our team prefers oscillating tools with an on/off switch and variable speed dial. However, a handful of paddle trigger styles also exist. If you're going that route, look for one with a lock-on switch. This comes in handy when sanding or scraping.
Corded vs Cordless Oscillating Tools
Cordless oscillating multi-tools seem to have caught up to their corded brethren. The best cordless models match up closely or are better than the best corded models. Even occasional users can find a cordless oscillating tool that can get the job done. But if you want the best combination of performance, vibration control, and price, there are plenty of corded models to look at first.