Work Comfortably on Concrete with Wolverine I-90 Durashocks CarbonMax Wedge Work Boots
Wolverine I-90 Duraforce CarbonMax Wedge Work Boots drive home a message of comfort. But wedge boots aren't for everyone. They do their best work on concrete, asphalt, high platforms, and other hard, flat surfaces. They're excellent at tracking less dirt and have greater surface contact to spread your weight out more.
However, they're not as good on varying surfaces like we see on many jobsites. You want the deeper lugs of a traditional boot there. If you're still thinking wedge, take a look and see if Wolverine's I-90s get your attention.
Editor's Note: Check out our best work boots review article for our favorite products for all applications.
Pros
More comfortable on flat, hard surfaces
Wear lighter than they really are
Classy look for a work boot
Welted construction
Carbonmax composite toe keeps the weight down
Cons
Material around the tongue can fold and create a pressure point around your metatarsal
Comfort
I've been on a search for boots comfortable enough to wear for 10-hour days on concrete and the Wolverine I-90 Durashocks CarbonMax Wedge Work Boots are a big step forward in that hunt.
Part of it is the wedge design. The entire bottom has contact with the ground, spreading your weight over a larger surface area.
Part of it is the Durashocks concept. With Durashocks, areas around the forefoot and heel have a compression zone to absorb some of the pressure when you're walking. The same way an efficient running style allows a runner to avoid fatigue longer, Durashocks does the same for contractors.
Wolverine also uses what they call an Advanced Comfort PU midsole. Those three things plus a dual-density PU insole really do make these a comfortable pair of boots to wear on hard surfaces.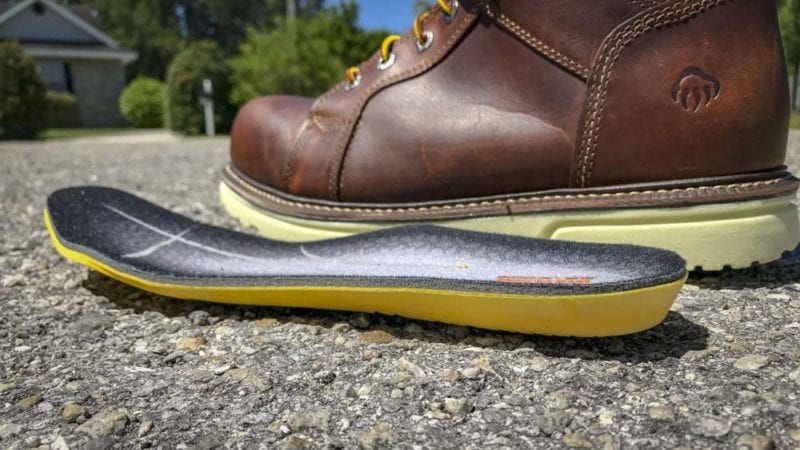 Looking at other boots I wear, only the Keen Utility Dover has a more cushioned ride than these, but they aren't wedge boots.
One thing to look out for is the material around the tongue. It can fold over on your metatarsal and create an uncomfortable pressure point. Just be sure it doesn't fold and it's not an issue.
Fit
Wolverine is one brand that I tend to go down a size with. I'm a 12-1/2, so it's either a 12 or 13 since almost no one makes half sizes after 12. The 13 was a bit too big, something I confirmed when one of our guys that wears a 14 said they were comfortable on him. On the other hand, 12 fits me great.
If you're in doubt, go a half size down.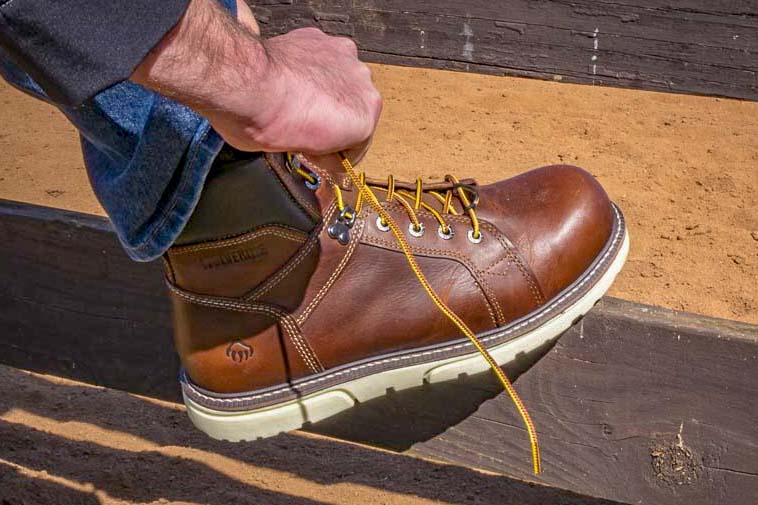 The fit around your foot is a balance in the midsection between a running shoe-type fit that lines your foot securely and a generous fit that gives it plenty of breathing room. Personally, I'm a running shoe fit kinda guy. However, the Wolverine I-90 Duraforce CarbonMax Wedge Work Boots sit in a happy medium that doesn't leave your foot feeling claustrophobic or like it's going to let your foot slip.
Style
As a wedge boot, these look quite a bit different than a heeled boot and that becomes even more noticeable with the cream coloring on the outsole. It might take a little getting used, but it's pretty much the direction that most current wedges are taking in the work boot sector.
I normally go for the outdoorsman look of a hiker-style boot and stay away from traditional work boot styles. But the I-90 has a look I just like. Is it an irrational attraction? Judge for yourself and tell us what you think!
Build
Wolverine I-90 Duraforce CarbonMax Wedge Work Boots use mostly double and triple stitching around the upper with a touch of single-stitching for the label on the tongue.
Goodyear welting holds the rest together. Welting is the strongest of the major connections but tends to be less flexible than direct attach or cement. There's noticeably less flexibility in the forefoot area than glued boots.
Putting your body weight on it and walking around doesn't really feel too restrictive, though. Where I notice it most is when I squat down. That's the trade-off for any welted boot and I'll take the extra strength of its connection every time.
My size 12 build weighs in at 35 ounces. It's heavier than I expected but it doesn't feel that bulky. Wolverine deserves major kudos for a design that wears lighter than it is.
The downside for a wedge boot like the I-90 is that the outsole tread isn't as aggressive and it's going to need replacing more frequently. While that's a characteristic of all wedge boots, Wolverine looks like they're giving you a deeper tread than many, so these should outlast similar wedge boots.
Additional Features
CarbonMax lightweight composite safety toe
Water, oil, chemical, and heat resistant outsole
Nylon stability shank
Price
Price is a bright spot for wedge boots in general. At $160 MSRP, it's a price break over traditional heeled work boots with welted construction. Here's where a few other welted wedge boots fall in:
Carhartt 6-Inch Steel Toe Wedge: $144.99 (steel toe)
Georgia Boot Wedge Chukka: $152 (composite toe)
Irish Setter Ashby: $154.99 (aluminum toe)
Keen Utility San Jose: $155 (aluminum toe)
Wolverine I-90 Durashocks Carbonomax Wedge Work Boots: $160 (composite toe)
While Wolverine sits on the top of this price list, only $15 separates the top from the bottom.
The Bottom Line
I really like the look and feel of the Wolverine I-90 Durashocks CarbonMax Wedge Work Boots. They're a go-to boot for Pros that work on concrete and asphalt along with ironworkers and anyone else that's on hard, flat surfaces all day. If that sounds like you and you're looking for a more comfortable ride from your work boots, definitely give these a shot. Just order a half size down if you can't try them on first.
Wolverine I-90 Durashocks CarbonMax Wedge Work Boots Specifications
Upper Material: Full-grain leather
Insole Material: Dual-density polyurethane
Midsole Material: Advanced comfort polyurethane
Outsole: DuraShocks high-abrasion thermal polyurethane
Construction: Goodyear welting
Shank: Nylon
Certification: ASTM F2413-18 M I/75 C/75 EH composite toe
Price: $160