We've used hundreds of the best drill bits to see which excelled in wood, steel, aluminum, and other materials. First of all, tons of drill bit options exist on the market—weeding through the choices can be tough. We broke down our picks by application, covering everything from materials to type of user.
So whether you're into woodworking, DIY projects, plumbing, electrical, or something else, we have you covered. Our Pro team has extensive experience using these bits in just about every type of setting.
Best Drill Bits for Wood
Milwaukee Shockwave Titanium Drill Bits
Milwaukee Shockwave Titanium drill bits are our choice for the best drill bits for wood. The 1/4″ hex shaft makes them suitable for use in both drills and impact drivers. Milwaukee uses what they call Red Helix variable-width flutes to eject chips better than standard designs. They also go with a 135° tip to help cut in more quickly and reduce bit walking on metal.
Also the Best Titanium Drill Bits
Now, just because we dedicated these for our wood-drilling pick doesn't mean they can't drill through metal. The titanium coating is great for thinner steels and non-hardened metals. They also have excellent chip ejection and don't heat up as quickly as other bits we've used.
These bits run $29.97 for a 14-piece kit with several others up to a 29-piece kit for $84.97.
Also Consider:
DeWalt 21 pc Titanium PP Drill Bit Set (DW1361)
Makita Impact Gold 14 pc Titanium Drill Bit Set (B-65399)
We really like the Pilot Point tip on DeWalt's titanium bits. They drill quickly—mostly because they do a good job dissipating heat buildup. You also get nice, burr-free holes. For thin/soft metal, wood, and plastic you really can't go wrong.
Pick up a 21-pc kit for $34.99
The Makita Impact Gold Titanium drill bits come in a set that almost seems too good to be true. The 14-piece kit has every key size you'll likely need from 1/16- up to 1/2-inch. Performance and durability put these near the top of our list.
Best Drill Bits for the Money
Ryobi Black Oxide Drill Bits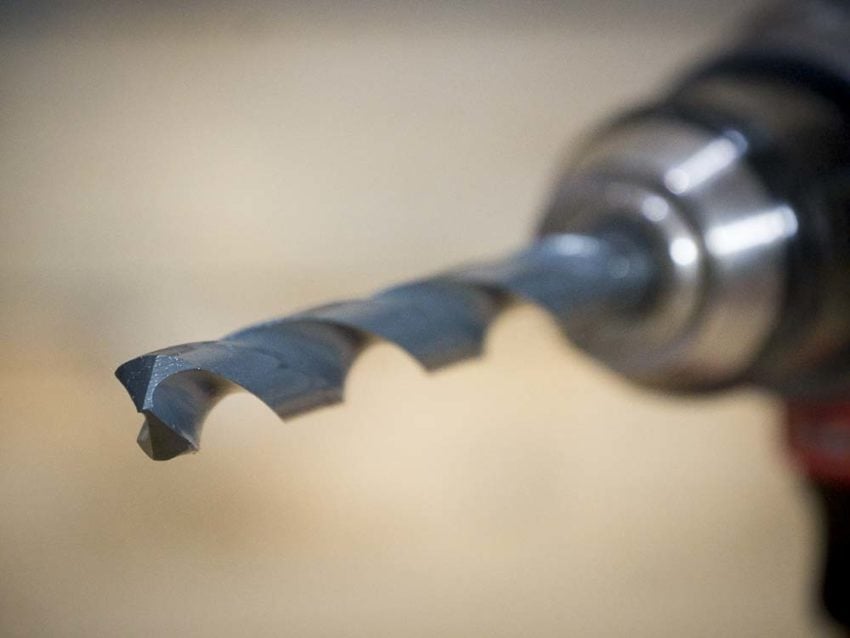 Whether you're in a pinch or just need to replace a set, Ryobi's Black Oxide Drill Bits are less than $15 for a set with 21 pieces that cover 1/16″ to 1/2″. Their 135° tips help reduce walking at the start of your hole. These are the best drill bits for the money if you stay away from thick metal. You can get better bits, but we like this for Pros and DIYers on a budget.
Pick these up for $10.97
Also Consider:
DeWalt 20-piece Black Oxide Drill Bit Set (DW1177)
Bosch 60pc Black Oxide Index Drill Bit Set (BL0060)
For a basic drill bit set, you get some decent features in DeWalt's DW1177 kit. The 135° Split-point tip resists walking when you drill. The coating doesn't do much to reduce heat or friction, but it does keep the bits from rusting as easily. Finally, DeWalt puts 3-flat spots on the shank to better lock into drill chucks.
You can find these online for just $22.99
We also wanted to include the excellent Bosch 60-piece Black Oxide Index Drill Bit Set. This kit works great for having every conceivable size from #1 to #60 wire gauges and everything in between. It also comes in a handy metal index case.
Shop Bosch Black Oxide bits starting at $19.99
Milwaukee Red Helix Cobalt Drill Bits
The best drill bits for metal, and particularly for carbon steels, goes to Milwaukee for their excellent cobalt bits. Just like their titanium bits, they have the Red Helix variable flute design. They also have a 135° QuadEdge Tip that helps it drill much faster than other cobalt bits we tested and still keep the walking to a minimum.
Milwaukee updated these bits with Enhanced Tapered Web. This new core design strengthens it with better flute durability.
They don't have a 1/4″ hex, however, so you won't use these in your impact driver. Their primary goal in life is to drill well in thicker, harder metals.
If you want to drill in hardened steel, you might want to check out the Drill America D/A29J-CO-PC 29-pc Cobalt Set.
Also the Best Cobalt Drill Bits (for the money)
When the tips on these bits dull, consider sharpening them since cobalt runs throughout the steel. Avoid using them when you don't need them to prolong their life for when you do. When you're looking for the best cobalt drill bits for the money, the 15-piece kit presents a compelling option.
You can find the 15-piece kit for $34.97 or the 29-piece kit for $149.99.
Also Consider:
DeWalt 29 pc Industrial Cobalt Pilot Point Drill Bit Set (DWA1269)
We love the build quality on the DeWalt 29-piece cobalt pilot point drill bit set. It has a tapered core that gradually adds stiffness to the bit as it gets closer to the base. If you plan to cut stainless, give these bits a shot—they won't disappoint and make truly clean holes.
This kit runs about $109.99.
Best Masonry Drill Bits and Concrete Bits (non-SDS)
Bosch Daredevil Multi-Purpose Drill Bits
SDS-Plus and SDS-Max rotary hammers do best for drilling on concrete and masonry materials. Hammer drills, however, more than suffice for drilling smaller diameter holes. When you start looking for the best concrete drill bits and the best masonry drill bits, the need for handling multiple materials arises. For that, our Pros consistently turn to Bosch Daredevil Multi-Purpose Drill Bits.
Just like SDS-plus and SDS-max bits, these use tungsten carbide cutting tips. The carbide tips on the Daredevil Multi-Purpose Drill Bits are tough enough to cut through almost any material. We use these when drilling through combinations of wood, metal, tile, composites, and—of course—concrete. We also frequently pop them into impact drivers to quickly get through various materials.
These bits run considerably more than black oxide, titanium, or even cobalt bits on average. The cost may leave you buying just the specific sizes you need as needed—and that makes sense. However, the 5-piece set covers the most common sizes you may need without turning to a rotary hammer.
Grab the 5-piece set for just $22.99.
Best Drill Bits for Brick and Cinder Block (only)
DeWalt Percussion Masonry Drill Bit Set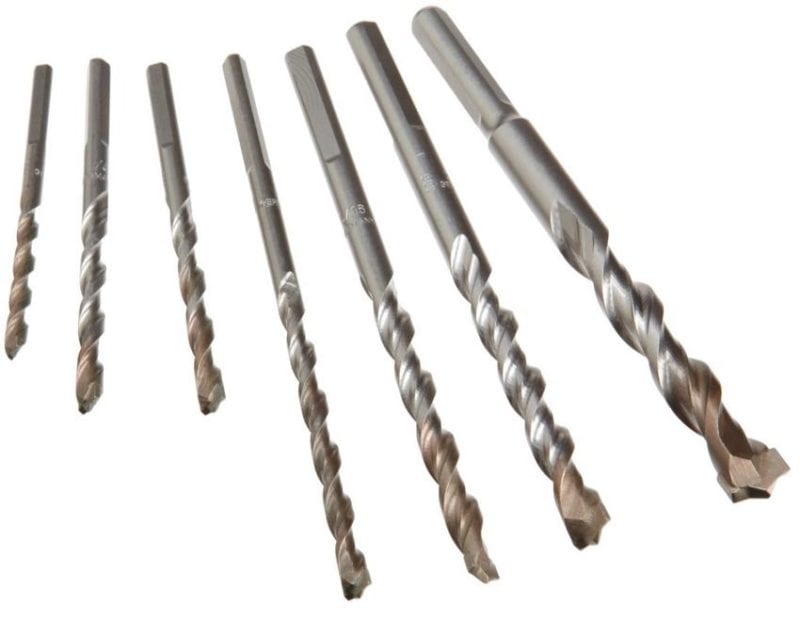 When you know you need to drill into brick and cinderblock alone, having a dedicated set of bits makes sense. In this case, we feel one of the best drill bits for brick comes under the DeWalt brand. Mostly, we feel they simply hold up well for the price. You can pay more—and possibly get longer life, but if you bill your accessories to the job—these get the work done.
When paired with a cordless hammer drill, the DeWalt 7-piece percussion masonry drill bit set gives you some key advantages. The set includes a 3/16-inch x 3 bit, a 1/4-inch x 4 bit, and five 6-inch bits from 1/2-inch down to two 1/4-inch bits. From Tapcons to anchors, these bits fill a much-needed gap.
Grab the 7-piece bit set for $18.99.
Best Drill Bit for Tile and Glass
Bosch 8-piece Glass and Tile Bit Set with Case (GT3000)
It takes a particular bit to get through tile and glass without shattering the workpiece. In our opinion, the best drill bit for tile (also the best drill bits for glass) can be found in the Bosch 8-piece glass and tile bit set.
These bits use a wedge-shaped high-quality carbide tip with a reinforced head. It holds the tip rock-solid in place when you start your hole. It also reduces stress to the material which prevents cracking. The diamond ground cutting edges deliver excellent durability.
Bosch uses a three-flat shank on bits 5/16 inches and larger. This keeps them from slipping in the drill. The kit includes 8 bits from 1/8-inch to 3/4-inch.
Grab the 8-piece kit for $27.97.
Best Spade Bits
Bosch Daredevil Spade Bits
In a recent head-to-head, the 2nd-generation Irwin Speedbor bits beat out the Bosch Daredevil spade bits in speed. So why don't they appear top of our list? Simple. We love the self-feeding nature of these Daredevil spade bits. They drill more smoothly and require less effort.
A threaded tip and wave design give the Bosch Daredevil an advantage over most of its competition. It cuts more smoothly and leaves a relatively clean hole compared to other spade bits. As icing on the cake, it has a 1/4″ hex shank so it fits in your impact driver.
Bosch also makes these bits up to 1-1/2 inches. They come in stubby, standard, and extended lengths for delving deeper into material.
You can get a 6-piece kit for just $11.99 (bare), $15.99 (pouch), or $25.99 for a 13-piece set.
Also Consider:
Irwin Speedbor 2nd-gen Spade Bits
As we mentioned above, if speed is your #1 priority, consider the second-generation Irwin Speedbor spade bits. They beat out Bosch Daredevil when we tested using 1-inch bits in 2x material and 3-3/4 inches of layered OSB.
Get a 13-pc Pro kit for $46.99.
Best Auger Drill Bit
Bosch Daredevil High-Speed Auger Bits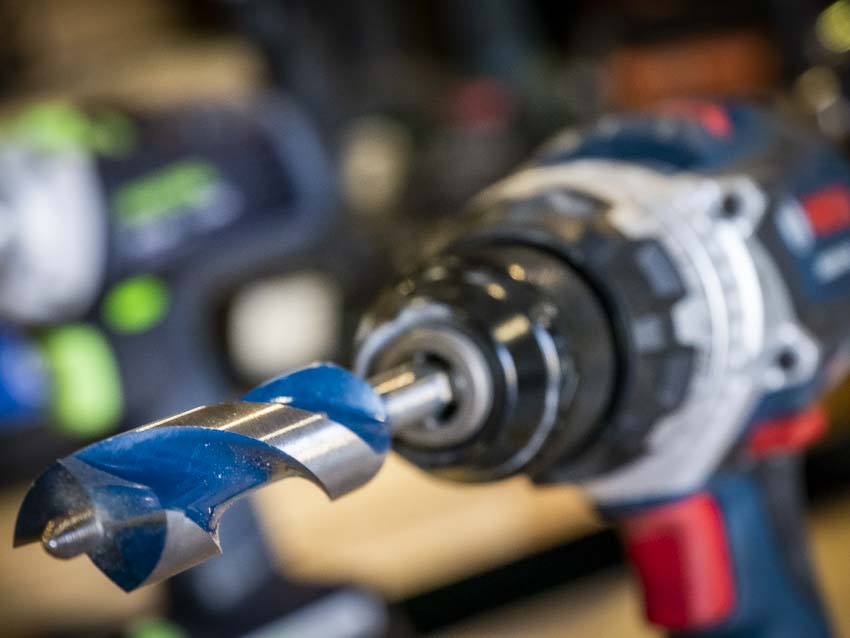 When the best drill bit for the job is an auger bit, we look to Bosch and their Daredevil lineup. Among the standard auger bit benefits, you'll find that Bosch looks specifically to enhancing performance with cordless drills. The head to keep you in high speed so you're drilling faster and the tips help improve your runtime and durability.
Price is definitely the name of the game here and most Pros will just pick the sizes they need. Bosch has a 3-piece set I carry that includes 5/8″, 3/4″, and 1″ bits for $39.99.
Best Step Bit
Irwin Unibit Cobalt Step Bits
Our team reaches for an Irwin Unibit Cobalt Step Bit when thin metal drilling is on the menu. The cobalt blend gives the bit a much longer life – an important point considering these are very difficult to sharpen.
A Speedpoint tip gets the hole started quickly and helps reduce the amount of wandering your bit does. It seems like a small thing at first, but Irwin laser etches the measurements on the inside of the flute where they won't wear off over time.
Pick up a 3-piece kit for $73.11
Also Consider:
Diablo Step Bits
Milwaukee Shockwave Step Bit Sets
Diablo's step bits start with a 132º tip that prevents walking and drills incredibly fast in our testing. Covering 1/2″ to 1-3/8″, retail prices run from $24.99 to $64.99 for individual bits.
Shop individual bits from $24.99 to $110
Milwaukee also targets walk-free starts and fast drilling with their Shockwave step bits. Taking a step up from black oxide, they use a titanium coating and have a hex shank in case you want to use your impact driver. They range in price from $89 to around $170 depending on the kit. Each kit includes common sizes you'll likely need on the job.
Shop kits starting at $89.
What are the Best Drill Bits Made of?
Black Oxide (Coating)
Black oxide is a coating over the steel drill bit to add corrosion resistance and reduce friction between the bit and workpiece. It's a good general-purpose design that's suitable for wood, softer metal, plastics, and composites that don't cost an arm and a leg. The downsides are that they don't stay sharp as long as some of the other twist bit options out there and you lose the benefits as the coating wears off the cutting edges.
When these bits go dull, you toss them. Also, don't expect to cut through metal other than softer steels under 1/8-inch in thickness.
Titanium (Coating)
Titanium nitride is a coating you can use instead of black oxide that does the same job of resisting corrosion and friction. The added benefit comes from increasing the surface hardness and creating a thermal barrier that reduces heat buildup. This type of drill bit lasts longer than black oxide.
Titanium drill bits tend to drill faster than black oxide and chips move through the flutes better. One of the downsides is that the titanium nitride is just a coating and you lose the benefits as the coating wears off the cutting edges. Another is that you'll need to pay more for these.
Titanium is a good choice for metal and wood drilling. You'll want to look elsewhere for concrete/masonry and you're better off using your inexpensive black oxide bits for plastics and composites.
Cobalt (Steel Blend)
Cobalt drill bits are made from an alloy of 5% – 8% cobalt. Because the cobalt is part of the steel blend, its benefits run through the entire bit instead of wearing away like a coating. That characteristic also makes them an excellent candidate to sharpen rather than replace. With a much higher price tag than black oxide and titanium, you'll want to go the sharpening route to save money.
Cobalt bits are capable of drilling through just about everything, though most Pros reserve them for metal drilling due to their cost. That's a good move—you don't want the one bit you own that's able to drill through cast iron getting dull on everyday tasks that less expensive bits are perfectly capable of tackling.
Matching the Drill Bit to the Hole Size
Twist Bits
Twist bits work best for drilling in a myriad of materials when the target is a hole diameter of 1/2-inch or less. As you move beyond a 1/2″ hole diameter, you move away from traditional twist bits into some different options.
Spade Bits
One of the most cost-effective is a spade bit. Sometimes called a paddle bit thanks to its shape, spade bits throw chips out as they cut rather than sending it up through the flutes. It makes for a much cooler slow-motion video but generally leaves a larger mess. Unlike your standard twist bits, spade bits are really only good for making holes in wood.
Auger Bits
Auger bits closely mirror spade bits but work better for deeper holes that require lots of chip removal at the point of entry. The full-fluted design makes this possible. You typically need a stronger drill when using these bits. This becomes very apparent when drilling deep holes or holes that exceed 3/4-inches in diameter.
Auger bits have a threaded tip that pulls the bit forward as it rotates in the wood. Its strong, full-fluted design also makes it easier to drill nice and straight.
Step Bits
Stepping away from wood and moving back into metal, you'll find a need for step bits (AKA unibits). These are among the best drill bits for making holes in thin metal, like sheet metal or breaker boxes. A step bit starts with a short pilot, then moves through a series of increasing widths as you move from one step to the next.
They're great for moving beyond your standard twist bit sizes and eliminating the need for a punch for holes up to 1-1/4″ or a little more. They also feature a flat flute with a slight taper at each step. This gives you the ability to drill in sheet metal and other thin metals that might deform if you cut through at an angle. In addition to making new holes, they also excel at enlarging existing ones.
The downside is that you're limited to around 1/8″ as your thickest material. These bits also cost more than other bits you likely own. Prices often exceed $50 for some sizes. Just keep in mind that each step bit you buy covers multiple hole sizes.
Best Drill Bits, But What About…?
We know we didn't cover every category of hole-making accessories like hole saws and didn't touch driver bits, either. While we chose to draw the line where we did, keep your eyes open for more buying guides to cover those accessories down the road!
Disagree With Our Choices?
That's okay! We know personal preferences take a front seat in determining the best drill bit, and every Pro is different. Do Pro Tool Nation a favor and tell us what your top pick is and why you love it. Feel free to put it in the comments below or on Facebook, Instagram, and Twitter!
Why You Can Trust Pro Tool Reviews
Ever check out a "review" site and you can't tell if they actually tested the tools or if they're just "recommending" the Amazon top sellers? That's not us. We won't recommend anything unless we'd actually use it ourselves and we don't really care who the primary retailer is. It's all about giving you a legitimate recommendation and our honest opinion of each product.
We've been in business since 2008 covering tools, writing reviews, and reporting on industry news in the construction, automotive, and lawn care industries. Our Pro reviewers work in the trades and have the skills and experience to know whether tools can perform well in the field.
Each year, we bring in and review more than 250 individual products. Our team will put our hands on hundreds of additional tools at media events and trade shows throughout the year.
We consult with innovators in the technology and design of tools to gain a broader grasp of where these products fit and how they work.
We work with more than two dozen professional contractors around the United States who review products for us on real job sites and consult with us on testing methods, categories, and weighting.
We'll provide more than 500 pieces of new content this year absolutely free for our readers—including objective evaluations of individual tools and products.
The end result is information you can trust because of the editorial, scientific, and real-world professional experience we collectively utilize each and every time we pick up and test a tool.