In this day and age of OSHA silica dust rules, jobsites get all the dust extractor attention. What about the professional and amateur woodworker? What do they need in a dust extractor? While larger dust collectors take care of large table saws and thickness planers, dust extractors rule the domain of sanders. When we wanted to scale up our sanding capabilities, we turned to the Festool WCR 1000 Workcenter Organizer and Boom Arm. It let us configure a rig that collects dust while also managing our tools and accessories. In our opinion, this is one of the best Festool Vacuum accessories you can purchase.
Dust Collection and So Much More
When it comes to sanding, we wanted a system that could serve as an "all-in-one" solution. It needed to handle dust collection, of course. We also wanted it to store our most-used accessories—and our tools as well. We imagined a dust extractor as much more than just the collection point of the system. Festool had such a solution with their WCR 1000 Mobile Workcenter… sort of. It still needed a bit more to solve all our issues. Below, we go over how we upgraded a Festool CT vacuum to make it into a true workstation.
You can see if it makes sense for your own workshop.
The Festool STM 1800 Mobile Sawing Table lets you manage large sheet goods more easily and without a helper. It tips forward while retaining its stability, letting you load and align large sheets of plywood by yourself. The Mobile Sawing Table also features an assortment of adjustable parts, including panel cleats, casters, and table leg heights. Festool implements easily-identifiable green knobs and clasps for every adjustable part.
Festool WCR 1000 Workcenter Organizer for CT Vacuums
We started with the Festool WCR 1000 Mobile Workcenter. Like a crowded city that doesn't have room to expand outward, Festool goes up. If you want a way to get more out of your CT dust extractor, the WCR 1000 Mobile WOrkcenter is one of the best Festool vacuum accessories you can buy. Once you add a Festool Workcenter organizer, it gives you storage capability. That storage then goes wherever you roll your Festool CT vacuum.
The Festool WCR 1000 starts with a storage base that accepts Systainers. It then adds an adjustable height top shelf and a swinging adjustable shelf. Finally, two metal pegboards along with a handful of hooks let you hang both sanders and accessories like pads. Since we focused our efforts on decking out our Festool CT36 for sanding duties, we quickly covered it in the accessories needed to do our work.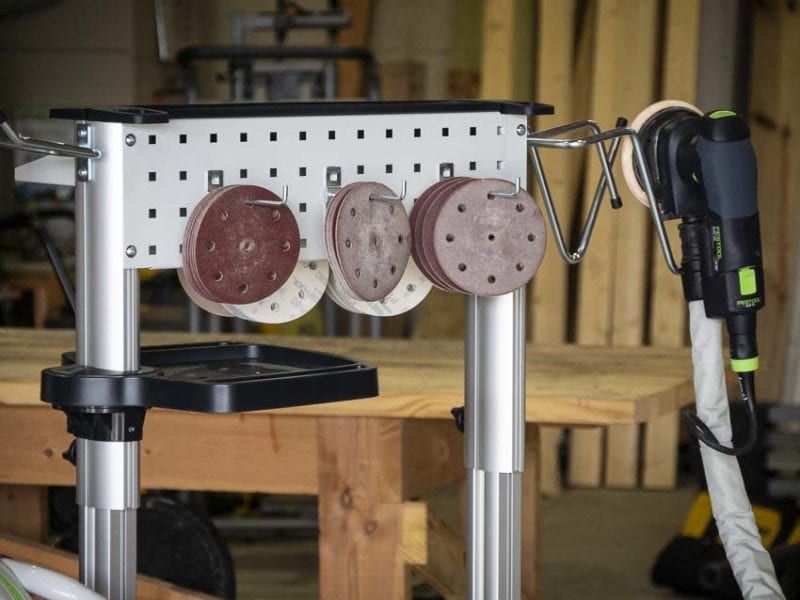 The WCR 1000 Workcenter Organizer is compatible with Festool CT 22, CT 33, CT 26, CT 36, and CT 48 vacuums and costs around $415.
Festool Boom Arm CT-ASA
Tool and accessory storage only solved part of the problem. To take things a giant leap forward, add a Festool Boom Arm (CT-ASA) to your Festool CT vacuum. The magic happening here is that you get both the tool cord and hose up and out of the way while retaining 140° of motion around the vacuum. It lets us work around larger workpieces like tables or exterior doors without dragging the hose and cord across the wood as we sand.
For others, it might help you work around a vehicle or while building furniture. Our friend, John Bucklew, over at Seventeen 20 uses this exact same Festool sanding rig with both pneumatic sanders and battery-powered brushless sanders.
In addition to getting hoses and cords out of the way, you also remove the weight of them. It's not that their respective weights are overbearing, but losing the weight lets you apply a smoother finish in your sanding. It also lets you complete smoother cuts with your track saw.
The Festool Boom Arm CT-ASA is ready to go for a CT 48, but you'll need a couple of extra accessories when working with other CT models. The CT 22 and CT 33 require an additional handle while the CT 26 and CT 36 need a handle and boom arm support bracket. Depending on what you need, the Festool Boom Arm starts at $375. You can use it alone on your CT or combine it with the WCR 1000 Workcenter for an even better sanding rig.
Festool Tool Holder
If you just happen to grab the Boom Arm, you can also pick up Festool tool holders that mount to the pole. These let you hang a couple of sanders right on the boom pole—keeping them at the ready. Even with the Festool Mobile Workstation, having a couple more mounts handy only gives you more flexibility while working.
The Festool tool holder might be one of the best Festool vacuum accessories if you want to have the benefits of the boom system without the bulk or cost of the Workcenter. It installs quickly with no tools. Its simplicity and its price (just $69) make it an easy purchase.
Possibly one of the most innovative and best vacuum accessories from Festool is their Bluetooth Remote Control. It lets you activate the CT dust extractor remotely when using a battery-powered tool. Dust extractors can turn on automatically when you plug a power tool into their power-sensing outlet. For battery-powered tools, however, a wireless interface seems the only solution.
By installing a module to your CT dust extractor and then activating a remote control button, you can turn on your CT dust extractor as needed while using your cordless power tools.
Festool Tradesman Installer Vacuum Set
The Festool Tradesman Installer Vacuum Set turns your CT into a powerhouse for shop cleanup. It gives you a floor nozzle, crevice nozzle, and a suction brush. You get a strong antistatic 3.5-meter long D36 suction hose and three stainless steel extension tubes.
Possibly the best part? Everything comes in a Systainer 5 case that can mount right to the top of most CT dust extractors.
Festool Suction Hose Plug-it
If you use any sort of corded tools with your CT vacuum, the Festool Suction Hose Plug-it system wraps hose and cord in a convenient package. It lets you use the single hose/power combo when sanding. The hoses are antistatic and the nozzle auto-rotates to stay untangled while you work.
You can find these hoses in several configurations and lengths. Pricing ranges between $250 and $400. Of course, at that price, many guys will roll their own with zip-ties. In either case, it definitely simplifies the process of having two separate cords.
The Bottom Line
You can tangibly extend the function of your CT vacuum by taking advantage of the best Festool vacuum accessories. Our favorite is the Festool Mobile Workcenter (WCR 1000) and Boom Arm, but the Bluetooth remote and tool holders also come in handy. All of these can help you create a system that takes your work to the next level of professionalism.